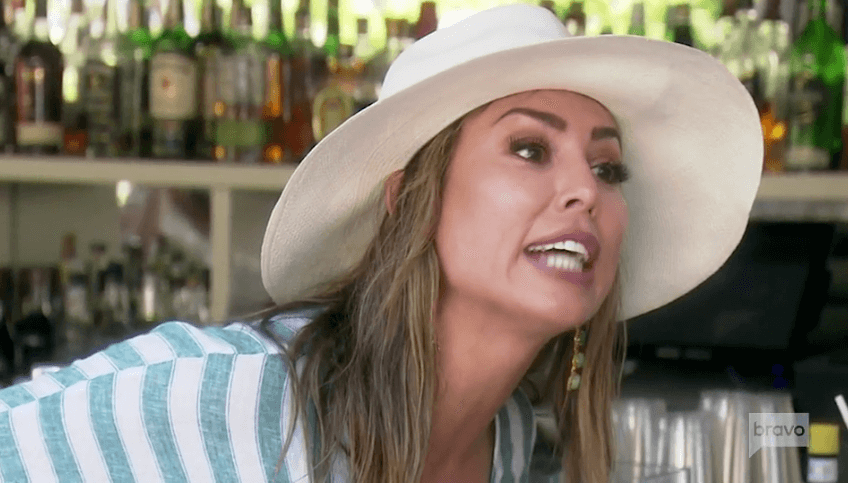 We open this week's episode of the Real Housewives of Orange County by getting right down to business. No opening snippets of the ladies in real life, just Kelly Dodd wrapped in a plaid blanket. She meets with Braunwyn Windham-Burke for lunch and Braunwynn can't stop talking about the upcoming trip to Florida with the other women. But Kelly doesn't want to go. She doesn't trust the other ladies — especially the Tres Amigas (Shannon Beador, Tamra Judge, and Vicki Gunvalson.) But girl, how are you going to continue to be in the show if you don't show up?
Braunwyn Windham-Burke encourages Kelly to come along and deal with each woman individually, not as a group. But Kelly swears she doesn't have catty women in her life. She hilariously says she's tried not engaging with the women, but it just didn't work. Remind me again when she tried that tactic? Kelly has a short fuse and is beyond reactionary. 
Braunwynn tells Kelly to take the high road and she'll have Kelly's back against the other women. She asserts that Tamra loves Kelly. Braunwynn's hopeful they can get their friendship back on track. A railroad track, perhaps? And if the reconciliation doesn't work, Braunwynn will never ask Kelly to get together with the other ladies again. Finally, Kelly agrees.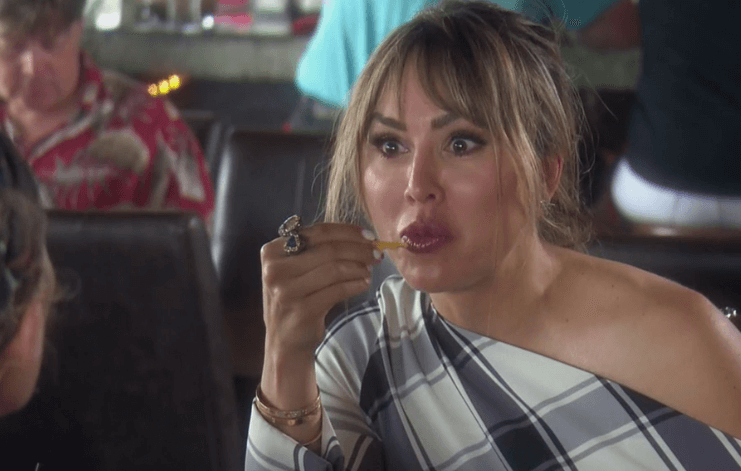 At a boutique called Callie Girl, Gina Kerschenheiter (along with her unfortunate extensions) and Tamra are shopping for the trip. They discuss whether or not Kelly will attend. It's been three weeks since Kelly's eyes were opened to Tamra's backstabbing ways. Tamra is guilty of repeating rumors. But just a couple of seasons ago, Tamra castigated Vicki for doing the exact same thing. 
Tamra Judge just can't understand her own role in her ongoing fight with Kelly. What made Kelly flip?! Um…could be that Tamra was trashing Kelly every chance she got? Just a guess. And when Kelly inserted herself via social media into the lawsuit between Shannon, Tamra, and Jim Bellino, she crossed a line. (Big shout out to All About The Tea for getting a nod during this scene!) And she claims Kelly is impulsive, stupid, and can only parrot other people's arguments — basically Kelly doesn't have a mind of her own. She's going to love hearing that.
Shannon Beador is wearing her tweed power jacket for her divorce hearing. It's been two years since she filed, and now she either has to settle or go to trial. The process has been an emotional roller coaster and she's ready to wash David out of her life forever. We're treated to flashbacks of their horrible, painful marriage. I have to give Shannon credit for trying to keep her family together, but David was nasty. A passive aggressive cheater who never deserved her in the first place. There. I said it, and I'm not taking it back. Now, seeing Shannon stomp into court like a she's walking the runway, in her tight black pants and high-heeled boots, she seems much more confident in herself.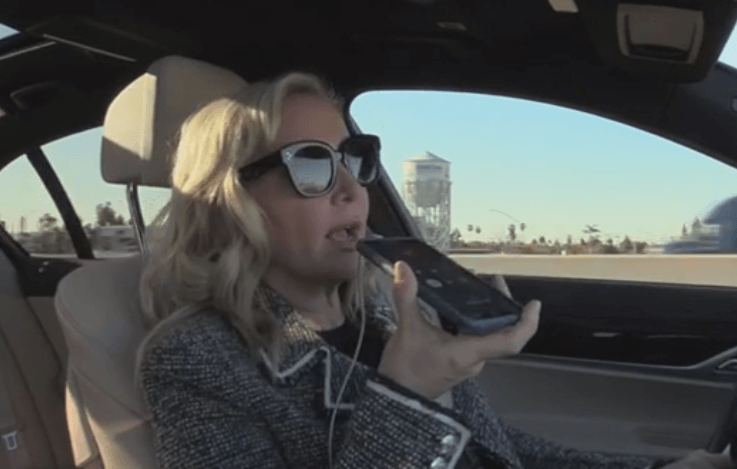 Gina and Tamra head over to Vicki's house for a big surprise. Emily arrives first. Kelly and Braunwynn didn't rate an invite. For snacks, Vicki bought farafel. *record scratch* What now? Oh, falafel. Anyway, Vicki complains about being hot and smooths her hair back, only to reveal an engagement ring. Yep, Steve finally popped the question. But Emily snarkily says Vicki bought her own ring. Not nice, Emily. Especially since you're married to the dudliest dud in Orange County since Slade Smiley greased his way onto our screens.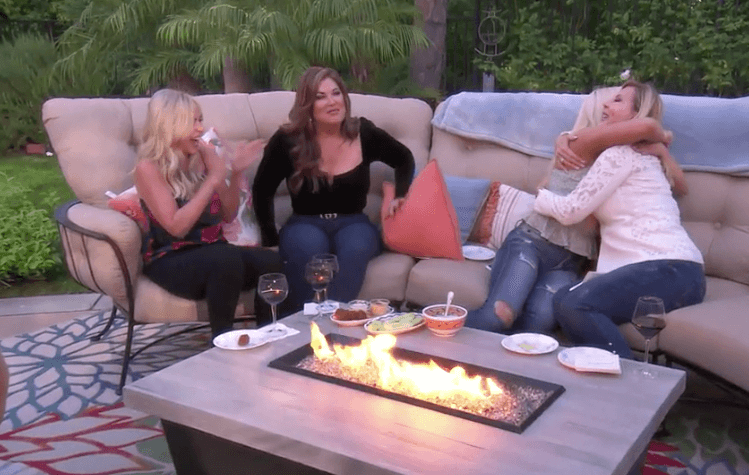 Shannon finally shows up after her day in court. She oohs over Vicki's ring, but remains somber. She's signed the papers, though, and received a whopping 1.4 million in settlement and 10k a month in child and spousal support.
After court, David sent Shannon an email, telling her he's proud of her. He wants to move forward and wishes the best for her. She feels validated. Finally. That's all she wanted while they were married. Too bad he didn't acknowledge it earlier, when it could have mattered.
Though Shannon was adamant about not going with the women to Key West, she's now changed her mind. She wants to make her own memories, not dwell on David's affair. We'll see how that goes.
In the kitchen, Emily talks to Gina about the state of her marriage. It seems Matt stayed with Gina for a few days and waited on her hand and foot. He bought flowers and breakfast in bed. They snuck off to a hotel room, and she thinks he's made permanent changes. She even believes he'd never cheat on her again. Denial is real, people.
Outside, Vicki keeps mispronouncing the names of Greek food and says she's not sorry she didn't invite Braunwynn for the engagement announcement. Talk turns to the trip. If Kelly decides to go to Miami, Shannon and Tamra aren't supposed to talk to her — under the advisement of their attorney. Tamra declares she will never be friends with Kelly again. She's too low and dirty for Tamra's delicate sensibilities.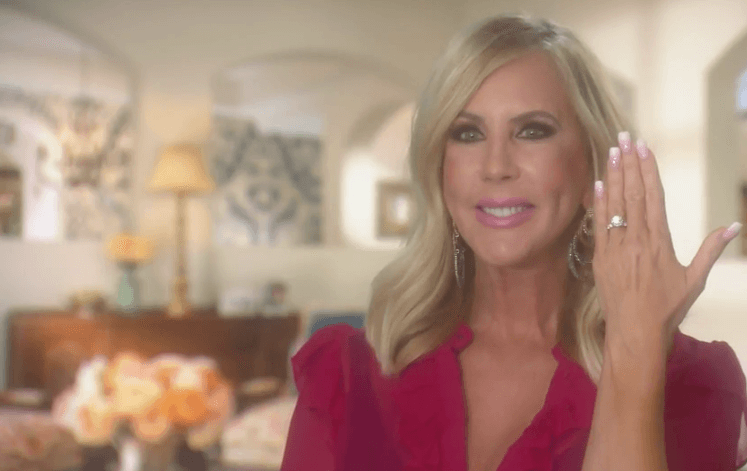 The next day we have a packing scene, where Braunwynn asks her husband, Sean's, advice on what to wear. He tells her how cute her clothes are and that she'll look like a proper Miami chick in her rainbow maxi dress. But Braunwynn admits that Sean has no fashion sense. So…why is she asking his opinion again? Braunwynn takes credit for his transformation from frat boy to stylish man. Has she forgotten about those horrible statement necklaces he wears? Because I sure haven't. 
Braunwynn complains that she wasn't invited to Vicki's engagement announcement. On the trip, Braunwynn hopes that she and Vicki will become better acquainted. At least enough that Vicki will remember her name in the future. 
Tamra Judge hops on her bike and heads over to Vicki's house. Michael and Briana are home for a visit. Briana looks great. North Carolina agrees with her, and her health has improved significantly. She loves it so much, she has no plans on moving back to the OC. Ever! Besides, her lupus is under control, and she's lost 60 lbs.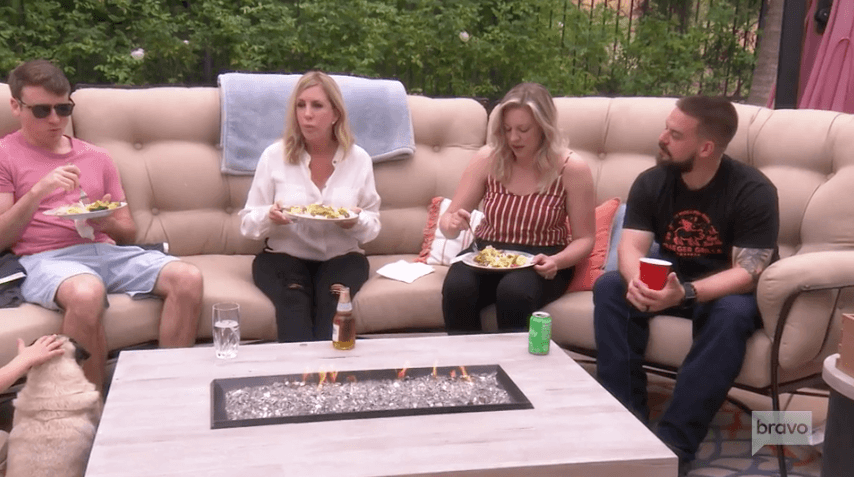 Tamra trots in and hugs Briana and her husband, Ryan. Steve joins the family and sits in the hot seat as Vicki questions him about a wedding date. Steve thinks next year will be fine, but Briana wonders what he and her mom are waiting for. They've been together for three years. Chop chop, kids!
When Vicki dips into the kitchen to grab her phone, Tamra and Briana discuss how happy they are that Vicki's found a nice guy. We get a flashback of that loser, Brooks, talking about Vicki's "vergina." Tamra thinks Vicki has changed and settled down since she dumped Brooks and latched onto Steve. Briana looks back on Vicki's marriage to Donn. She never saw them in love. And of course, Briana had nothing nice to say about Brooks. Now, Vicki's found someone who will treat her right. Tamra takes a family photo as they all group around the pool.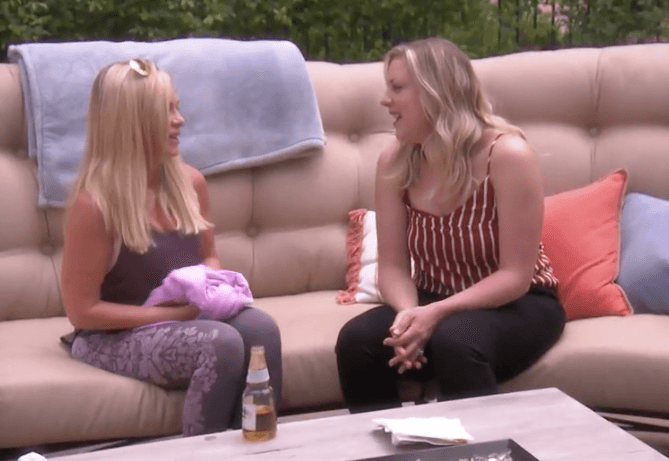 Braunwynn and Sean landed in Florida a few days before the other women. Hanging out in their hotel room, they reminisce over their Miami past. Braunwynn hopes that the ocean view and copious amounts of booze will help the ladies have a good time.
Over at Shannon's house, she's packing in her room, along with Sophie, Stella, Sophie's friend, and Archie, the handsomest dog in Orange County. Sophie thinks Shannon should pack sexy lingerie and borrow Stella's shirt. It shows a woman on a motorcycle and says Put something exciting between your legs. Since Stella's only 14, Shannon's not amused. Sophie then encourages Shannon to get laid while on vacay. Yikes!
Kelly Dodd, Shannon, Gina, and Tamra arrive in Miami. Oh, and there's Emily. Didn't even notice her before they boarded the flight. Anyway, Kelly is separating herself from the others as they wait for Braunwynn to pick them up. 
Driving two convertible Maseratis, Braunwynn and Sean speed the ladies through Miami. Gina's worried about her eyelashes, but Kelly thinks Gina should be worried about her bad extensions. See, I'm not the only who noticed. 
They arrive at the hotel in time for complimentary mojitos. Braunwynn allows the women to settle in and freshen up before heading out to a nightclub. Vicki's impressed that Braunwynn had flowers and champagne waiting in her room.
Vicki Gunvalson calls Steve. As she chatting with him, she pulls the tab off the bottle and nearly loses an eyeball. I snort laughed as she stumbled and let out a little shriek of surprise. Then she heads to Braunwynn's room to thank her. It was a smart gesture on Braunwynn's part, because Vicki now thinks they need to start over.
They all meet up in the lobby, kissing each other on the cheek. Kelly continues to act aloof, but does think that Shannon needs to stop with the hair extensions. She's over 50, for God's sake! With her high ponytail, Shannon compares herself to an old Charo. Gina doesn't know what that is. A Mexican dessert with cinnamon sugar, maybe? No, honey, that's a churro.
Braunwynn takes them to a non-strip club, strip club. Tamra's dress is so short, we could practically see her cervix. Then she starts licking Emily's tongue. Braunwynn is having her own party, dancing by herself. And Emily is letting it rain over the dancers. 
As she continues to drink, Tamra gets up on the back of their booth and shows off her panties. Vicki and Shannon are on snatch duty. That's not a job I'd sign up for. Kelly thinks Tamra's being thirsty. And when the Tres Amigas are posing for a picture, Kelly approaches and says she doesn't understand why Tamra's angry with her. 
Shannon calls bullshit. Kelly Dodd knows exactly what she's done, but she doesn't like being on the outs with the other women. It's more fun when they're all partying together. Can't have it both ways, though. Either Tamra is the evil pot stirrer or she's a good drinking buddy. Pick one, Kelly!
It's 2:15 and the women head back to the hotel. Kelly decides now would be a good time to tell Gina that her hair is ugly. Too blonde, too long, too fake. Like Barbie. Only not as cute. When she walks past Shannon, Kelly tells her that her hair looks like shit, too. Kelly says that Shannon is like, 60. Cut it short already. Needless to say, Shannon doesn't take the criticism well and storms off.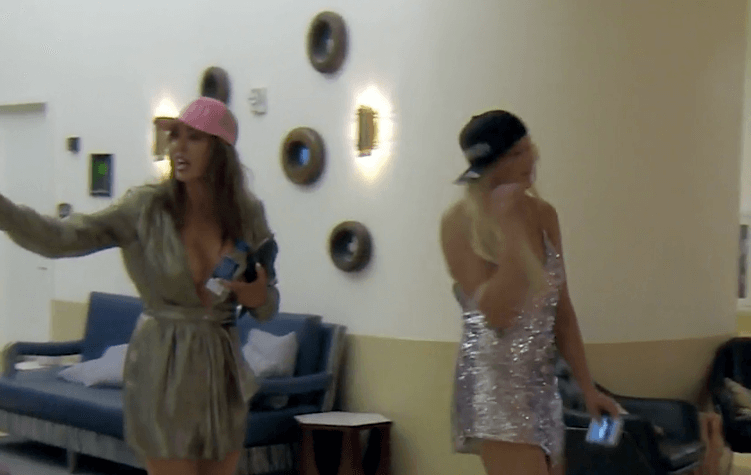 The next morning as Braunwynn makes Sean repack her suitcase before he leaves for Cali. Then she knocks on Shannon's door to see how she's doing. They discuss Kelly's behavior from the night before. Braunwynn sticks up for Kelly, saying she was offering constructive criticism about Shannon's sense of style. 
Poolside, Gina says she had fun with Kelly the night before. She thinks Kelly has a good heart, but she needs to stop talking shit to people. Just then, Braunwynn and Kelly arrive. They all head to the bar, but Kelly says she's working. She has her computer out and is sitting ten feet from the other women. Braunwynn thinks Kelly should apologize to Shannon. For what?! Kelly insists she did nothing wrong. When Shannon flits by, Kelly calls her over.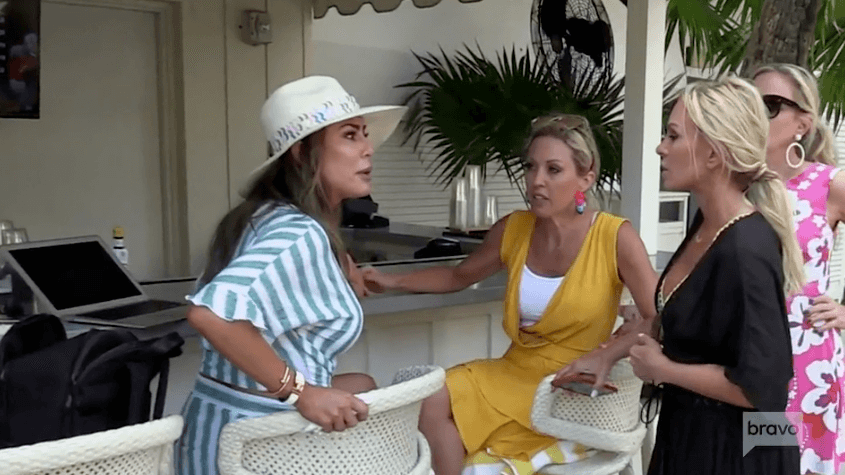 Kelly Dodd talks about bringing Jim Bellino into her argument with Tamra. She tells Shannon that it had nothing to do with her. Shannon has no reason to be angry with Kelly. As Shannon sputters, Tamra butts in, confronting Kelly. But Kelly says her back was against the wall, so she came out swinging and she used Jim Bellino as a bat.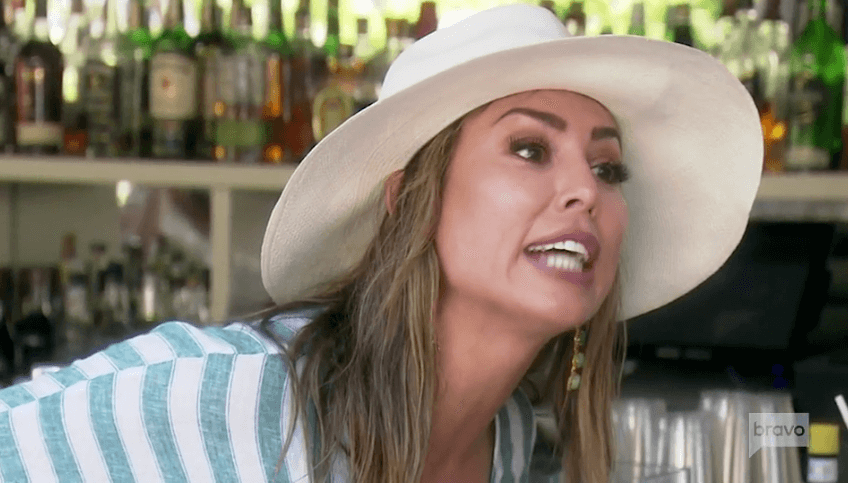 Kelly's pissed that Tamra repeated the train rumors. And telling Shannon that Kelly broke a girl's hand in a bar wasn't cool! But Tamra insists she was standing up for Kelly. In fact, she screeches it so loudly, the palm trees rattle. Kelly reminds them that people who lie get sued. Tamra huffs off, proclaiming Kelly "dirty" and saying she should go suck some more dick for money. Always keeping it classy, these women.
That's the end of our episode. So, what are your thoughts? Who's right in this argument: Kelly Dodd or Tamra? Or are there any winners?
Stay Connected With All About The Tea: Twitter Ι Instagram Ι YouTube