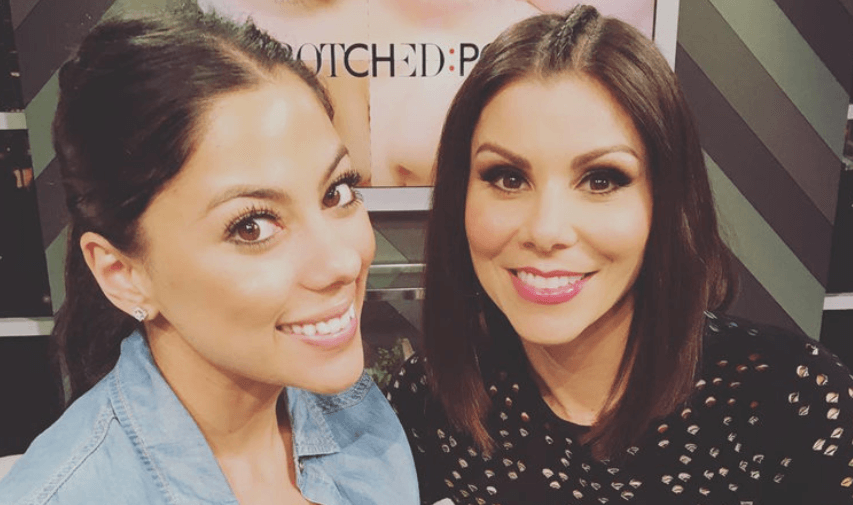 Heather Dubrow is telling her side on the messy firing of her longtime assistant, Natalie Puche!
As AllAboutTheTEA.com readers know, Natalie Puche blasted Heather Dubrow this week for abruptly giving her the boot while on maternity leave.
Natalie Puche took to Instagram on Wednesday and announced that she had been let go, "This is a tough one….For those who have followed my journey on the HDW Podcast / Heather's Assistant for the past 4/8 years , my journey is sadly coming to an end. I'm sorry I won't be able to say my proper goodbyes (as this was not by choice) but I hope to be able to still connect with you on my journey into motherhood, an unforeseen career adjustment and all of the beautiful, hideous and honest moments in between. I have so much love for you guys and have truly appreciated having you all on this crazy journey of mine! So with that, I won't say goodbye, just see you soon! ??♥️?." 
As reported, Natalie Puche's termination occurred while she was on maternity leave and the firing came as a complete shock based on her comments on social media. Read below.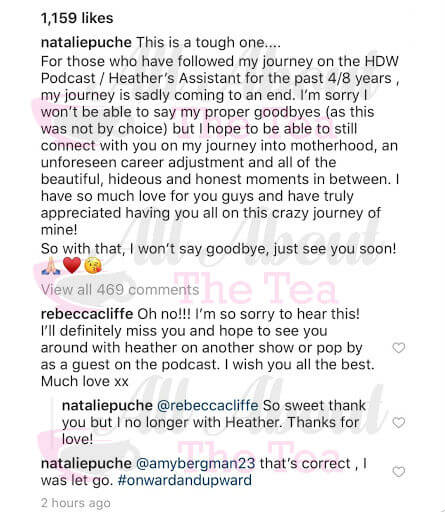 On November 21, Heather Dubrow responded to Natalie Puche's accusations, she wrote on Twitter: "Unfortunately, she is posting lies about me. I will have to tell the whole story at some point. For the record: AFTER her maternity leave, I offered her a full time job with full salary and full benefits in a different capacity until she figured out what she wanted to do."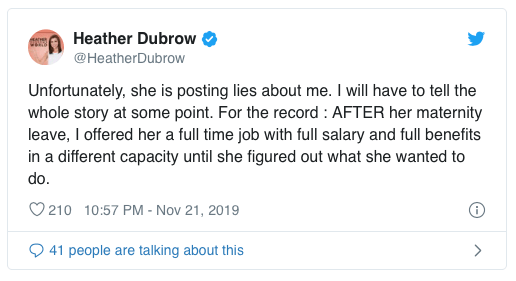 She explained in another tweet that she offered Natalie Puche another position, "She [Natalie] declined. I would never leave her in the lurch. I love her and it's been very upsetting to see her post in this fashion when I've swallowed her disloyalty over the last year and I have said nothing. Trying to figure out how to handle this."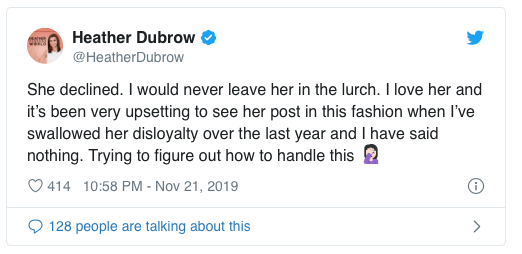 One fan commented on Twitter, "This stuff with @HeatherDubrow and @nataliepuche is breaking my heart," to which Natalie Puche replied, "Mine too."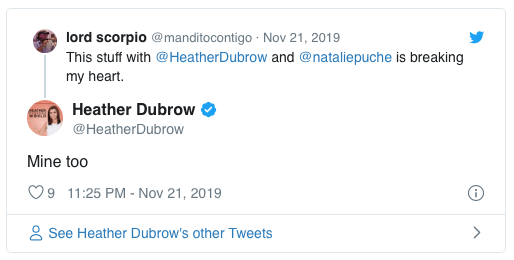 Heather Dubrow further addressed the scandal on the latest episode of her podcast, Heather Dubrow's World — addressing the "elephant in the room." 
Heather and Natalie, who the RHOC alum said has "been a part of my family and always very, very important to me," met eight years ago after she applied to be Heather's assistant on Craigslist. "Thus started this incredible relationship that we had together of her being my assistant and friend and confidante and like another daughter to me, really," Heather shared. "We have laughed together and cried together and eaten lots of caviar and drank lots of champagne together over the years."
Over the years, Natalie Puche played the role of Heather's personal assistant, executive director, and co-host of Heather Dubrow's World podcast — and she simply got tired of acting in all those positions without the proper compensation.
"She always just was up for any challenge, and I was always very, very appreciative of all of that. And she took on more and more and more," Heather said. "And then about a year ago, she sat me down and said, 'You know what, I just don't want to do the personal [assistant] stuff anymore.' Because that's really how she started out, and she was doing so much, that it made sense to me."
According to Heather Dubrow, she and Natalie were in the process of reevaluating their careers over the past year.
"Everyone needs growth and everyone needs to be moving in a good, positive direction, and I know that Natalie has so many amazing ideas and so many amazing things that she wants to do with her life and so do I. And I've talked a lot over the last few months about things that weren't working for me and projects that I had to let go, which was really hard for me," Heather explained. "But I've been doing a really big evaluation. I've turned 50 this year, and I've kind of reevaluated everything I'm doing and the things that I think are working, the things that I'm doing just because I've always done them, and the things that I'd really like to do. And so I feel like we've been a bit in flux this year."
Heather said this transition "has been very hard" for her. "I've had a very emotional, I don't know, four, five, six [months], maybe even the whole year. It's been a bit of a roller coaster. So now here I am, and a lot of really exciting things happening that I'm really excited about, but unfortunately the position that Natalie, the job she was doing before, just doesn't exist because we're not doing those projects anymore."
Heather Dubrow claims that she offered Natalie a full-time position with a full salary and benefits shortly after she gave birth.
"That way, she doesn't skip a beat, she's got all of her money, she's got her benefits, she's good, and it gives her a cushion to figure out her next step because I know there's lots and lots of projects that she wants to do, and she's ready for that growth, and she's talked about that a lot over the last couple years, like what is her purpose, what is her path," Heather said. "And I know having a child was part of that purpose and that path, and I know that's gonna lead her in a lot of really beautiful directions."
"The most important thing to me was, number one, to make sure she was OK financially and that, number two, that our relationship stayed intact. And that's why even right now as I'm telling you all this, I'm not going into the nitty-gritty of all things because it's just not important, it's just not relevant," she explained. "I think what's relevant is I love Natalie, I always have, always will, and I told her I will always be here for you if you want advice on something, you want to run something by me and need help with something, I'm happy. I'm gonna be standing on the sidelines cheering you on just like everyone else, and I'm excited for your next chapter and your successes and your future and all of that. I never felt like this was supposed to be like a goodbye."
After Heather saw Natalie's post on Instagram, she said it seemed "so punitive" to her. "I wanted you all to know this is not how I feel. I love Natalie. I wish her all the best. I want her to be so successful, and I really do hope that even though everything's very raw right now — she's obviously very upset, I'm very upset with how I'm being portrayed," Heather shared. "I mean, come on. You think I would let her go with no money on maternity leave?"
In regards to Natalie Puche's salary after her position changed. 
"I go, 'I'll tell you what, we've been together so long, I'm not gonna nickel and dime you. Let's just see how the first quarter goes, and then we can reevaluate. We can sit down, are you working more, are you working less, what is the value of this new position?'" Heather recalled. "And she got pregnant the following month, and we never talked about it again. I intentionally never brought it up again. I just paid her the same for doing half of the job. I have never in my life done anything to hurt someone in a way like that, and I would never do that to Natalie."
Despite everything, Heather Dubrow is still hopeful they can restore their friendship in the future.
"And at the end of it, I'm just telling you, there may be other things to this that I don't want to talk about, but I'll just tell you that I am choosing to move on with so much love and respect and gratitude for everything that she's added to my life and my family's life," she said. "I truly, truly hope that we will circle back and move forward."
"I don't blame her. It just is what it is. It just is what it is, but there's just ways of handling things in personal relationships, in business, and even in seasons with friends," she said. "When you have mutual respect and you have love, you get through them. But here's the other thing: Everyone has to be accountable for their sides in what goes on in a business relationship and in a personal relationship. Period."
After Heather Dubrow confirmed that they had parted ways, Natalie shared a video on her Instagram Story showing her breaking down in tears.
"Sorry this is just really hard. Obviously, I'm not able to talk in detail about why these days have been so difficult but just know I appreciate the beautiful messages, love and support!" she wrote on her Instagram Story after sharing the video. "You made me realize I had a voice this whole time and I never even knew it."
On September 23, Natalie Puche welcomed her baby girl, Piper Rose. 
Stay Connected With All About The Tea: Twitter Ι Instagram Ι YouTube