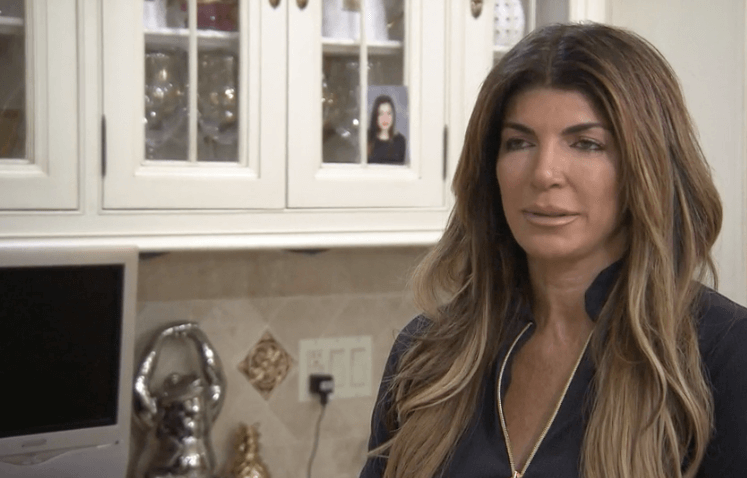 We begin this episode of the The Real Housewives of New Jersey with Jennifer Ayden's boys scaling the side of her Paramus mansion. Jackie Goldschneider drives her kids around town while they tell her dirty jokes. And Dolores Catania needs her ex-husband, Frank's, help to squeeze into a waist trainer. She lies on the bed as he zips her up, because that's what good ex-husbands in NJ do.
Meanwhile, Joe Gorga is cooking a birthday breakfast for Melissa Gorga. She claims she's mastered being a mom and a business woman, so turning forty should be a breeze. She's planned a huge "sexy…classy, never trashy" party. But the other women aren't getting along, so things could go sideways and ruin her good time.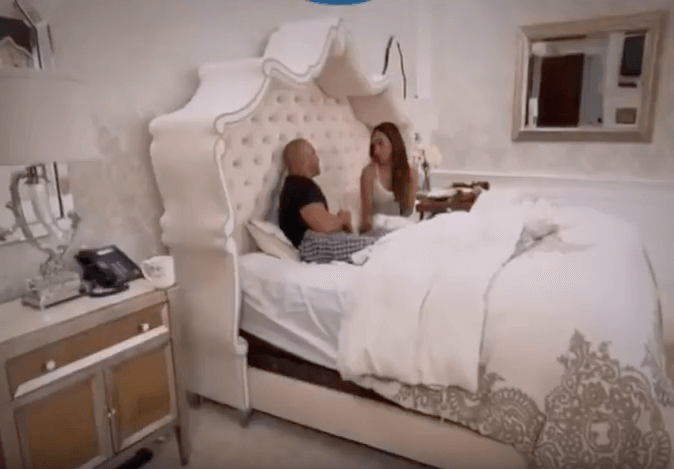 Teresa Giudice and Jackie aren't on speaking terms. Jackie thinks Teresa is running around on her jailbird husband, Juicy Joe. Teresa thinks Jackie should keep her trap shut. Joe Gorga and Melissa are still saying they believe Teresa, that the man she's been seen with is just a friend. Sure. We all believe, that. Right? *crickets*
Then there's Margaret Josephs. As Joe, her hubby, brings her coffee in bed, Marge shows off her bruises from last week's obstacle course. But sore thighs aside, Marge has other problems. Her mother, Marge Sr., needs a new apartment ASAP. Mainly because Joe won't allow Marge Sr. to move into the house with them.
Marge Sr. has taken a job in the city, leaving Margaret to find a new bestie and bookkeeper. And who's going to listen to her Danielle Staub problems? You'll remember that after the obstacle course, Danielle Staub called out Marge for sleeping with Joe while she was still married to her previous husband, Jan. But not so fast, sister! Danielle isn't exactly a nun. She's stolen her former friend's fiancé, and Marge won't let anyone forget it. Danielle slammed out in a huff, and when Teresa went trotting after Danielle, Marge felt betrayed. She hopes to calmly talk to Teresa about all this at the party.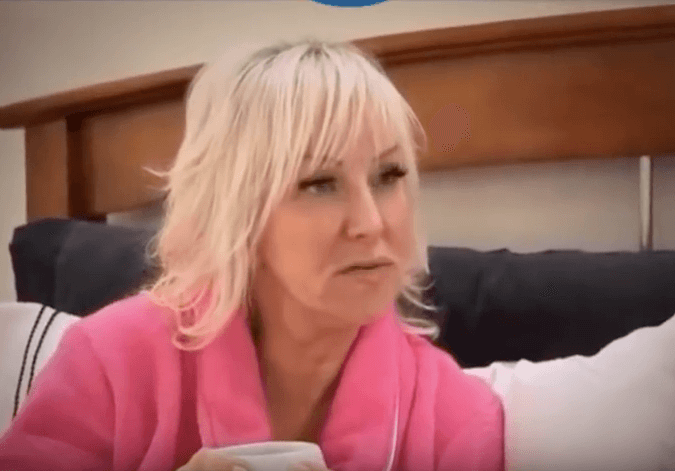 Meanwhile, Joe Gorga and Melissa talk about Teresa's volatility. The woman is under a lot of pressure — which means she's a ticking timebomb waiting to explode. The Gorgas just hope that it won't happen at Melissa's birthday party. Joe insists he'll talk to Teresa and try to calm her down. Good luck with that, Joe.
And speaking of Teresa Giudice, she and Nono are hanging out in the kitchen when Juicy Joe calls from ICE custody. Joe's anger is palpable. He's done his time and he wants out. Now! But Teresa says that Joe has put the family through enough. The least he can do is to fight to stay in the country. Even Nono thinks Joe is letting down his family. Nono told Joe for years to get his citizenship, but Joe refused. And now he's experiencing the consequences of that decision.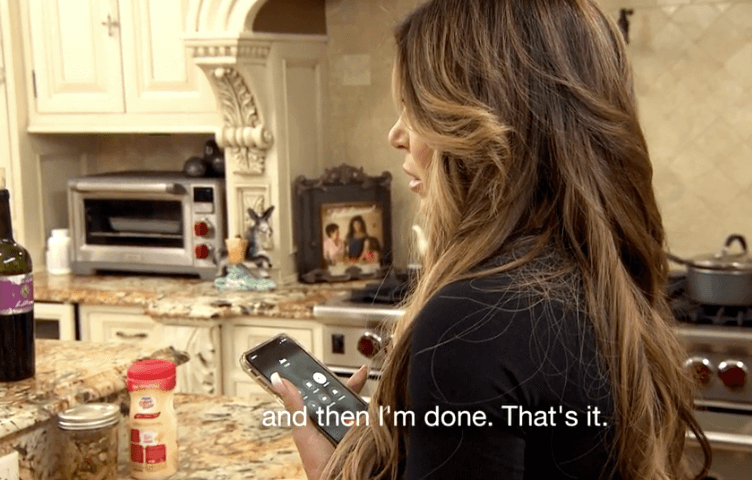 Margaret, Marge Sr., and Joe squeeze into a Mini Cooper and head out to look at apartments. When handsome realator, Ben, shows them a 900 square foot unit, Marge Sr. thinks size matters. She feels more comfortable in a three-bedroom, 1600 square foot flat. But like Goldilocks, Margaret thinks this unit is too big, but the last unit was too small — and she doesn't want to have to chip in for her mom's rent.
When Margaret Josephs wants to take her mom to a few more apartments, Marge Sr. informs her daughter that she has an event in the city. And that's more important than finding accommodations. Margaret feels like her mom is pushing her aside.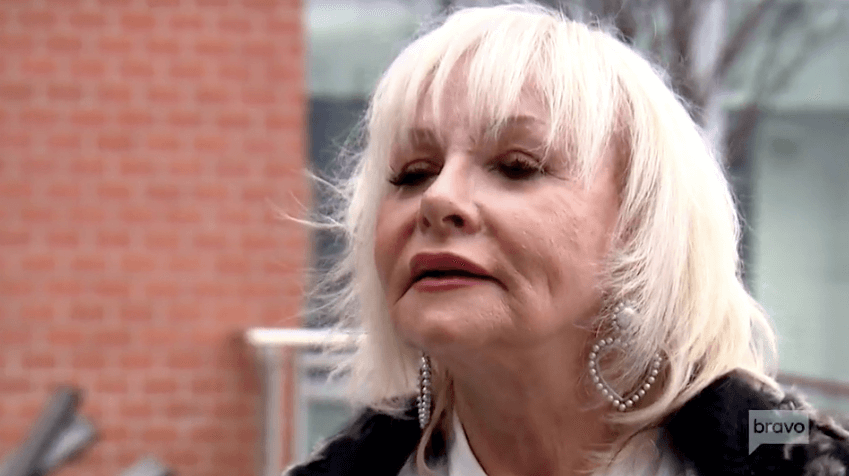 We catch up with Dolores Catania and her father ducking into a nice restaurant for dinner. Dad's spent his day with Dolores's mom at Costco. Fun times for a man who recently found out he has three clogged arteries. So, is he eating fish and salad in an effort to improve his diet? Well, no. Instead, he orders the hot sausage and fried zucchini flowers smothered in cheese. 
Dolores Catania is worried about her parents' health. They don't know how to eat properly. Dad might be a tough old cop, but he needs to start taking care of himself. He's beginning rehab therapy the next day, so he's having one last hurrah. And that hurrah involves red wine.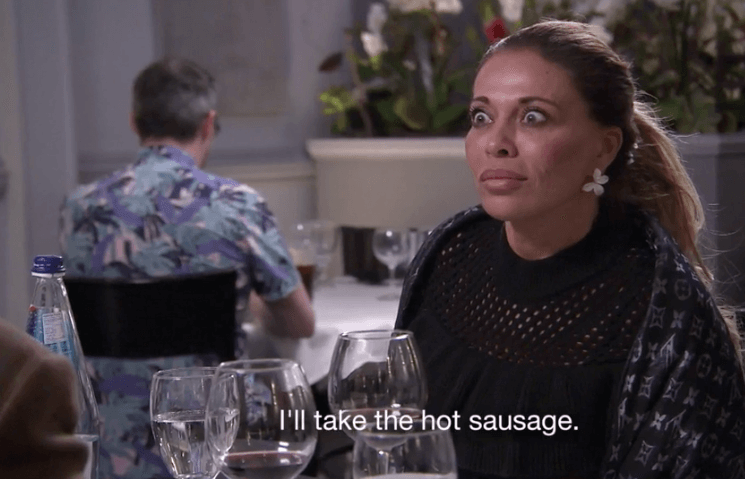 They discuss Dolores's boyfriend, David. Her dad thinks he works too much and Dolores has to take a backseat to David's career. But Dolores is coasting, and right now, that's all right with her. She points out that while her dad was a great father, his work always came first. So, why is he busting David's balls for doing the same thing?
Over in Paramus, Jennifer's daughter, Olivia, helps her cook bulger wheat. Her husband, Bill, has to head to the hospital to see a patient. Before he can go, Jennifer complains that her body is sore from the obstacle course. It might be a good idea to take her daughter, Gabby, to do the course, too.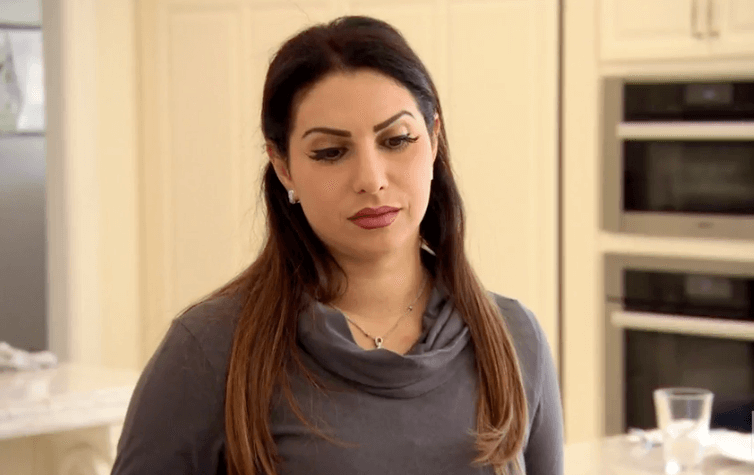 Gabby's had a hard time in school since her former friends have been bullying her. When Jen shows Gabby the video where she's doing an impersonation of Jackie, Gabby says it's not nice. She wouldn't like it if her friends made a video like that about her. That changes Jennifer's opinion about everything. She finally sees Jackie's point of view.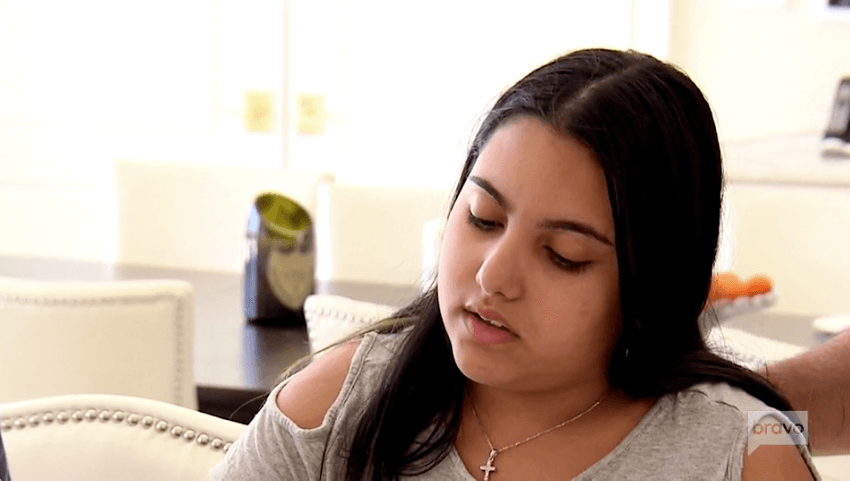 Margaret Josephs and Jackie meet up to find Melissa a birthday gift. They discuss the video and Jackie gripes that it was mean spirited. Meanwhile, Marge gives Jackie all the tea from the obstacle course. Jackie's upset she didn't receive an invite. And Marge is irritated that Jennifer still has her oversized lips glued to Teresa's ass. Get a backbone, Jen!
At the Giudice house, Teresa's old boyfriend and current contractor, Tony, is working on getting her pool finished. They're out in the yard when Joe Gorga shows up. Joe wants to know how much a pool is going to cost. According to Tony, it should cost a cool 150k, but Teresa is getting the friends and family discount, which will bring her bill down to a comfortable 50-60k. And so what if she's picking the most expensive marble stone to surround the pool instead of pavers? That's her bee's wax, Joe!
Joe thinks Teresa Giudice doesn't have a head for money. The rest of America agrees. He questions her decision making abilities. After all, she's still friends with Danielle, right? Look what a dumb idea that is.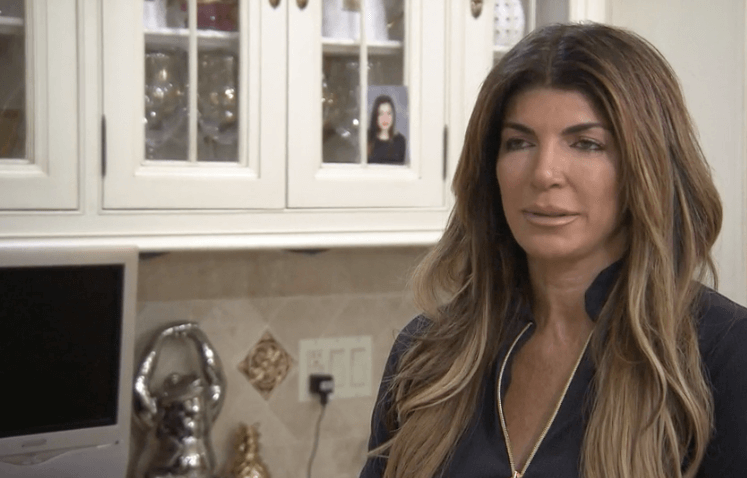 Joe heads inside the house with Teresa Giudice and greets Nono. Joe wants to know what happened after the obstacle course. Teresa thinks it's pretty shitty that Margaret called Danielle a prostitute. (But calling her a prostitution whore would have been just peachy.) Joe tells Teresa that Danielle is a snake and she needs to watch her back around the older woman. He also reminds Teresa that Jackie will be attending Melissa's party. She'd better be on her best behavior.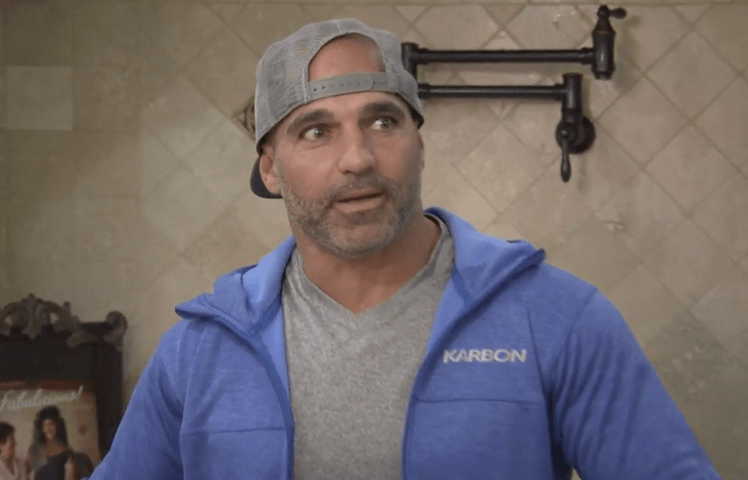 Later that evening, Dolores tells her ex, Frank, to wear dark jeans to the party. In fact, she needs to buy him a pair of skinny jeans. That's what David wears. And since he's working at a hospital in Hoboken, he might be able to swing by the party later. Frank is fine with that. He doesn't mind being a third wheel. What does he mind? Skinny jeans. His legs are too muscular for that crap.
As Teresa gets ready that evening, she explains the Margaret situation to Gia. Gia, the voice of reason, tells her mother to that when multiple people are coming for Danielle, it's Teresa's duty to stand up for her. Not sure I agree with that sentiment, no matter how civil Gia is.
Jennifer is having her makeup and hair done as she talks about her own upcoming birthday plans. In lieu of a party, she wants to take a girls' trip to the Mediterranean. She mentions to Gabby that she plans on apologizing to Jackie. Knowing how hard it is to say the S-word, sweet Gabby gives her mom a few pointers.
Dressed in a sequined jumpsuit, Melissa arrives at the venue and is thrilled with the results. The waitstaff is covered in gold lame and the room is filled with golden accents. See? Classy. Never trashy.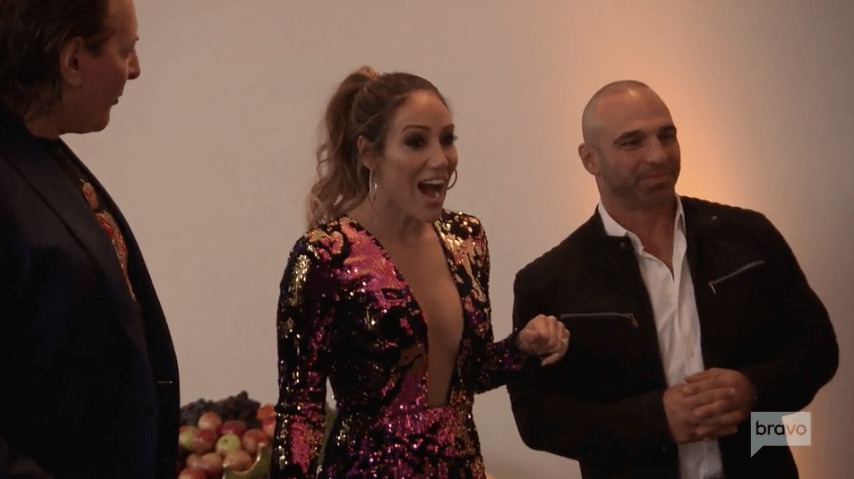 Jackie, Margaret, and Melissa share a group lovefest before the drinks start flowing. Teresa arrives with Nono. Before they all make eye contact with Teresa, Margaret expresses that she's tired of sticking up for Teresa and never receiving backup in return.  As Melissa makes the rounds, greeting friends and family, we see New York Housewife, Ramona Singer has made the guest list. But trouble is brewing as Joe Gorga approaches Teresa and notices that she looks pissed off. 
Melissa's getting blitzed and taking selfies. Marge Sr. greets Melissa's mom, Donna, before she even thinks about looking for Margaret. Margaret tells us this is old news. Marge Sr. was a partier back in the day. She'd leave the kids at home to go out and kick up her heels. With tears in her eyes, Margaret feels rejected now, just like she did as a little girl.
Jennifer and Bill show up. Bill promises to throttle Jennifer's drinking, so she doesn't throw a glass at another Housewife. But Jennifer is getting liquored up behind Bill's back. She's working up her courage for the big apology to Jackie. She knocks backs a few tequila shots, and as we all know, Jennifer and tequila aren't always a good mix.
A drunk Jen minces over to Jackie. Jennifer tries to apologize, but everything she says is another excuse. The impersonation was just a joke. Jennifer is a comedian. She didn't mean to hurt Jackie. And at last…she's sorry. There you go, Jen! That wasn't so painful, now was it?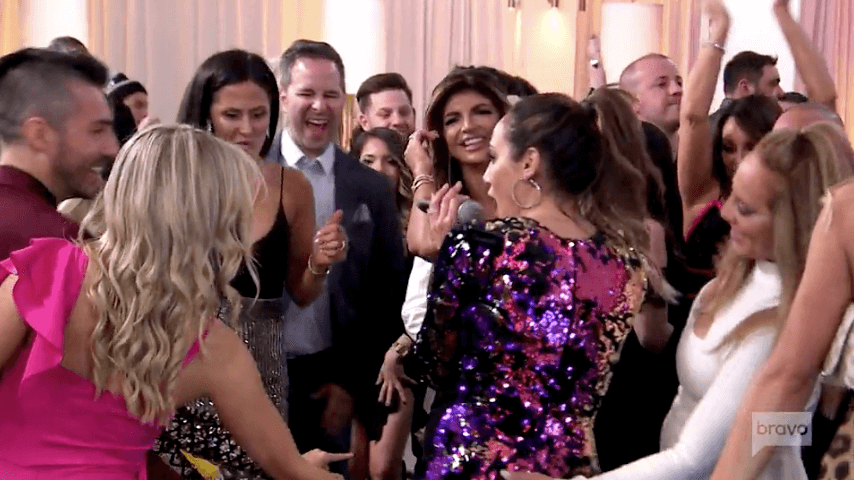 Teresa pulls Margaret aside, as she completely ignores Jackie. Margaret is tired of Danielle coming for her. She sees Danielle as the aggressor, and she will retaliate. Teresa tells Marge not to let it bother her. So, Danielle called her a whore and accused her of sleeping with married men. Let it go, already. Riiiiight. Because Teresa would just let an insult like that slide. Uh huh.
Teresa swears she's not taking Danielle's side over Margaret. She declares Margaret a good friend, and they decide to party in peace.
Margaret drifts over to join Jackie, Jennifer, and Dolores. They quiz Dolores about David. No, he's not going to make it tonight. Kind of like every other event on this show. Then Teresa sidles up to the group, and Melissa soon breaks in, too. 
EXCLUSIVE: #RHONJ Star Teresa Giudice Allegedly Caught By Bravo Having An Affair — Mystery Side Piece Identified!
Jennifer Ayden thinks the party is nice and all, but she plans on using her husband's money to take the girls to Jamaica. Which is not in the Mediterranean. But Jen probably doesn't know that, and the ladies are excited, so I guess it doesn't really matter. 
Finally, Joe Gorga gives his wife a sentimental toast by saying that when he's 90, he still hopes to be banging her every day. Ahhh! Romance, am I right? Melissa grabs the mic and demands the DJ play On Display. At 40, she's more confident than she's ever been. Viva la middle age!
Next week, the women go to Jamaica. And it looks like things will get ugly. I can't wait!
So, do you think Jackie and Teresa Giudice will come to blows? And will Jennifer learn how to properly apologize?
The Real Housewives of New Jersey airs Wednesdays at 8 p.m. on Bravo.
Stay Connected With All About The Tea: Twitter Ι Instagram Ι YouTube