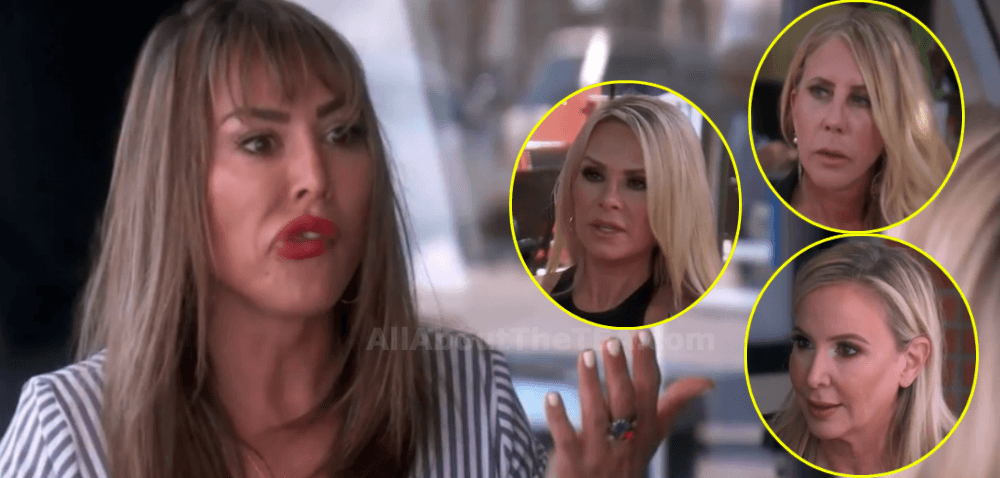 Welcome back to the tangled web we like to call the Real Housewives of Orange County. Don't let the sunshine and surfboards fool you. Tamra Judge is out for blood tonight, and Kelly Dodd isn't far behind her. 
Tamra Judge meets up with Vicki Gunvalson and Emily Simpson for lunch — and to find out what Kelly Dodd has been saying about her. But little does she know, the other ladies are questioning backstabbing claims made by Kelly.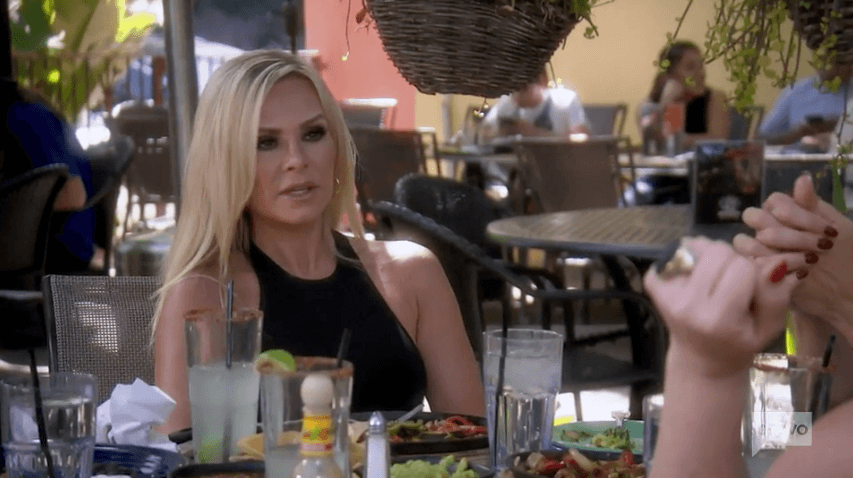 Kelly Dodd takes to social media, saying Tamra had started rumors about Kelly shoving her elderly mother down the stairs, and Tamra blocked Kelly for it. Evidently, while Shannon and Tamra were having coffee last week, someone secretly recorded their convo and leaked it. Gasp! 
Emily Simpson joins the drama as she settles in with the ladies. She nods silently as Tamra calls Kelly psychotic because Kelly went so far as to tag Jim Bellino, who was suing Tamra and Shannon Beador at the time. (Between the two of them, they're out a half a million bucks in legal fees.) And remember that Emily is friends with Jim's ex and former RHOC alum, Alexis.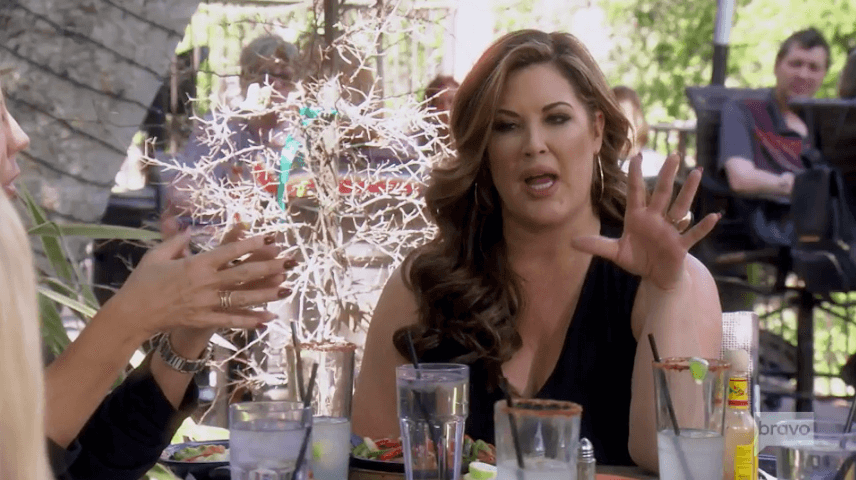 Emily gives us a little insight into the lawsuit. Tamra and Shannon went on a podcast and spouted some negatives about Jim's life and business. (But hey, who hasn't?!) Jim got angry, then got a lawyer. Now, Kelly has brought Jim into the conversation. Tamra's livid that she's had to spend her kids' college funds on legal fees, and Kelly's making things worse. 
Meanwhile, Kelly is across town and facetiming her mom and brother. She cries as she talks to her mother for the first time in two years. Sipping on her Bloody Mary, Kelly even apologizes to her mom — and then gives herself a pat on the back for being the bigger person. Kelly denies throwing her mom down the stairs — she simply picked her little mama up and put her out the door. And I'm certain she was calm and coolheaded as she did so.
Vicki Gunvalson believes Kelly needs a good shrink. But Emily thinks Kelly is a hurt individual. And as we all know kids, hurt people hurt people. M'I right? Emily isn't taking sides, but if she has to choose, she's in Kelly's corner.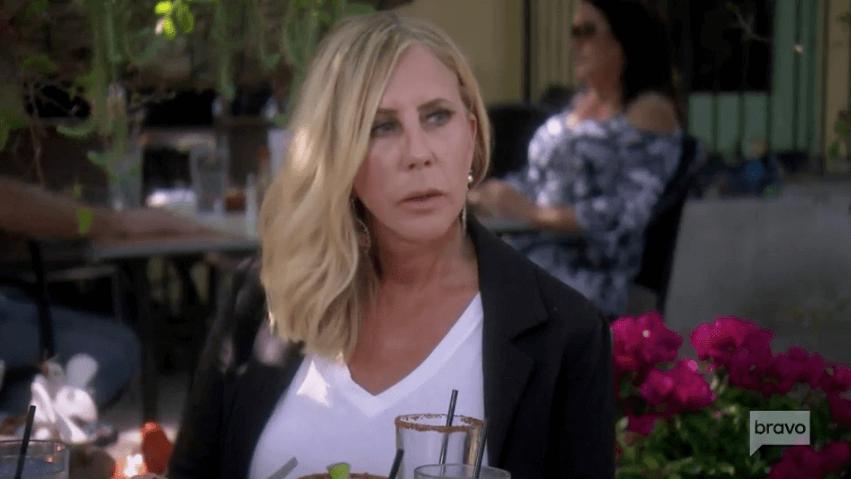 Shannon arrives to meet Kelly Dodd for lunch. Apparently even the waitress has heard the rumors about Kelly, because she asks Shannon to hop on the Bloody Mary train. And we all know Kelly supposedly loves a train. Anyhoodle, Shannon awoke to Kelly's hateful texts about Tamra. Shannon, of course, defends Tamra, saying all those mean things Kelly overheard Tamra saying were taken out of context. But Kelly ain't buying it.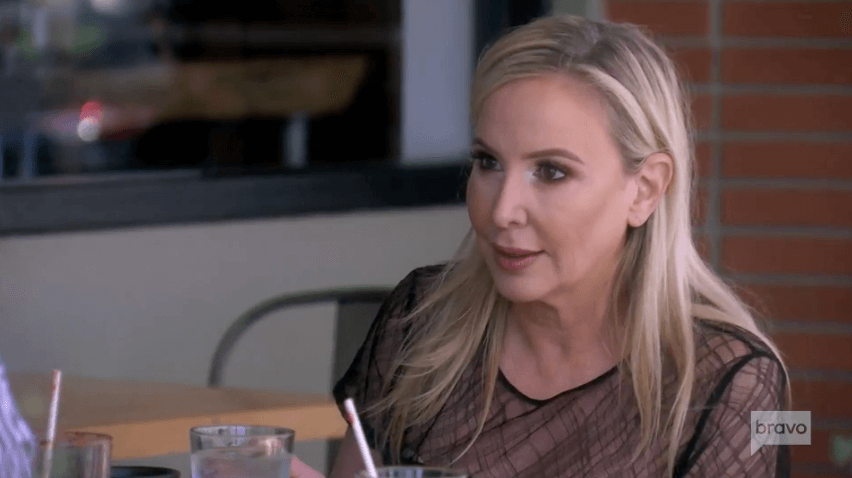 Shannon Beador resents the fact that Kelly brought Jim Bellino into this mess. Sure, Shannon might have won her case, but it's being appealed. Kelly calls Tamra trailer trash and thinks Shannon's being manipulated. And she's not wrong. She lets Shannon know that Tamra has been shit talking her behind her back, calling her a drunk. Shannon, stupidly, doesn't believe it. If it's true, show her the texts, Kelly! But Kelly refuses to show proof, which makes her lose the argument, IMO.
Kelly Dodd's frustrated by Shannon's refusal to see her point of view. In tears, she gets up and walks away. And she gives Shannon a parting blow: her mom has always hated Tamra. And her mom was right  — Tamra is evil.
Next up is Braunwyn Windham-Burke and her hubby, Sean. She's planning a weaning party. (And if you don't know what that is, don't worry. Braunwyn made it up.) She's been nursing for 18 long and drippy years. She's finally drying those titties out and she's ready to celebrate with the ladies. She and Sean head to a rustic tchotchke shop and giggle over novelty T-towels. Why? Because other than her love of threesomes, Braunwyn lacks an interesting storyline. The only thing Sean has going for him are his blue eyes and statement necklaces. Yawn.They talk about Tamra and her supposedly trash talking Braunwyn. According to Kelly, who's spilling all Tamra's dirty secrets, Tamra now hates Braunwyn. She thinks Braunwyn is a drunk, too. (Psst. You all are a bunch of lushes.)
Later, we pick up with Emily driving Gina Kirschenheither around town. Gina talks about her weekend date with Dr. Hottie. But of course, her ex, Matt, is jelly. He even cried when he found out she was dating a new man. And that touched Gina. She's torn about whether she should move on or give Matt another chance. Even though he repeatedly cheated and broke up their family.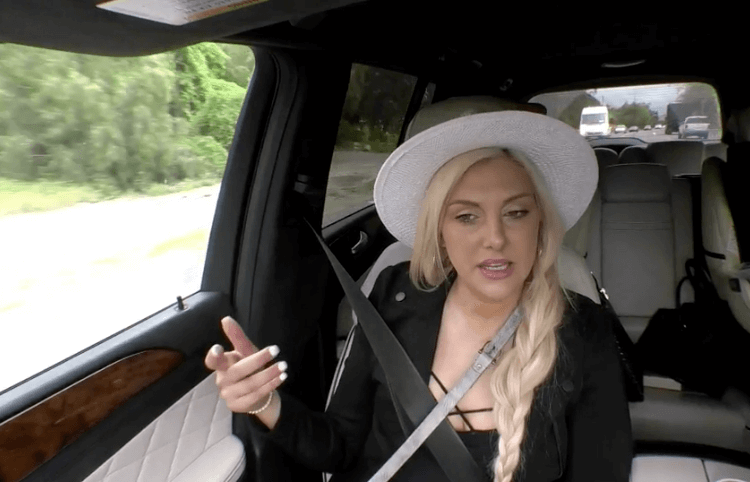 The two stop by a sex store to find some inappropriate gifts for Braunwyn — because that's what she asked for. Nothing says "Happy Dry Boob Day" like a dildo. But Emily is more interested in a leather mama hat and matching bikini. For God's sake, woman. Shane doesn't even drink. You think he's going to go for that?
In the meantime, Shannon is getting ready for a deposition for her divorce from David. Talking to her business manager, Shannon misses her exit, but she's in the right spot to promote her low cal food line. She's got a website planned and hopes that she won't have to depend on David for her financial future. 
Tamra Judge and Braunwyn meet up for lunch. They give one another a fake hug, and Braunwyn is willing to hear Tamra's side. But she still wants to know why Tamra called her a liar and tried to paint her in a negative light to Kelly. Braunwyn points out that Emily brought up Kelly and her boyfriend at the tea party a few weeks ago. But no, Tamra isn't talking about that. She wants to know about the Kelly sitch. Why is Kelly suddenly against her?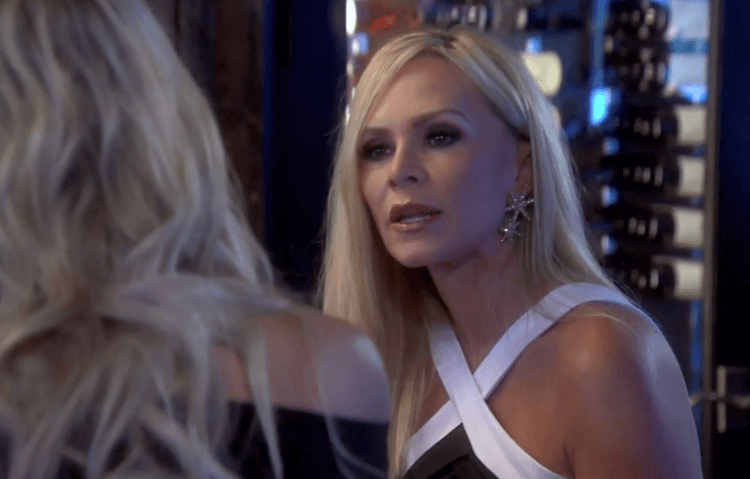 Braunwyn tells Tamra how she, Shannon, Kelly, and Emily met for dinner. Kelly spilled all the tea that night, all the supposed nasty things Tamra has been saying behind Braunwyn's back. Tamra denies it all. Braunwyn just wants Tamra to say it to her face, and Tamra swears if she has a problem, she won't talk about it to the other women but will come straight to Braunwyn to work it out. Uh huh. Braunwyn has no idea who to believe. Like Emily, she's trying to stay neutral.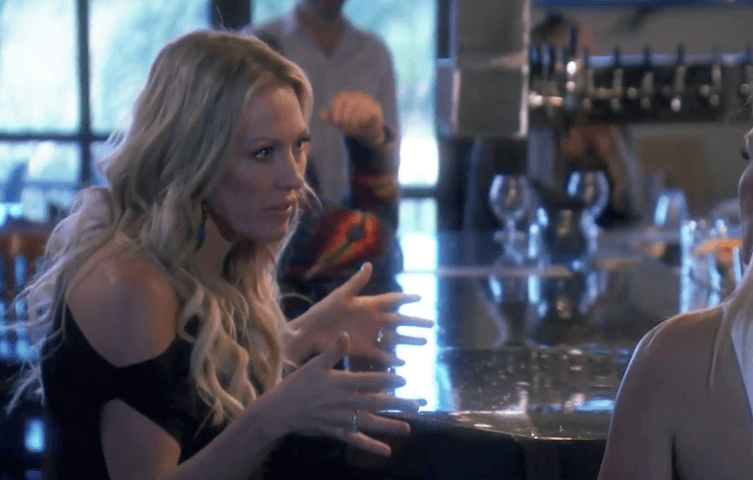 Braunwyn brings up her weaning party, but Tamra's hesitant. Kelly's anger is scary, and right now, she has Tamra in her sites. At the first sign of trouble, Tamra promises to leave. They wind up giving each other a genuine hug this time.
As the ladies are getting ready for the party, Braunwyn and her friends are pre-gaming at her sex den. Tamra calls up and orders strippers, like she would a pizza if she actually ate carbs. And  Kelly Dodd tells her buddy that she helped daughter, Jolie, use a tampon for the first time. Jolie is absolutely thrilled her mother is talking about this on TV.
Over at Tamra's house, she's getting her hair and makeup done when Vicki arrives. She's confused about lactating parties. (This is an un-lactating party, Vic. Get with it!) Then Shannon calls in tears. Sure, she made money last year with her food line, so now her forensic accountant thinks she might not get a settlement from David. And because David started his business before they married, the law might consider it his sole property. Tamra says, "It's just money." Um…I don't think Tamra would be saying that if it was her future on the line.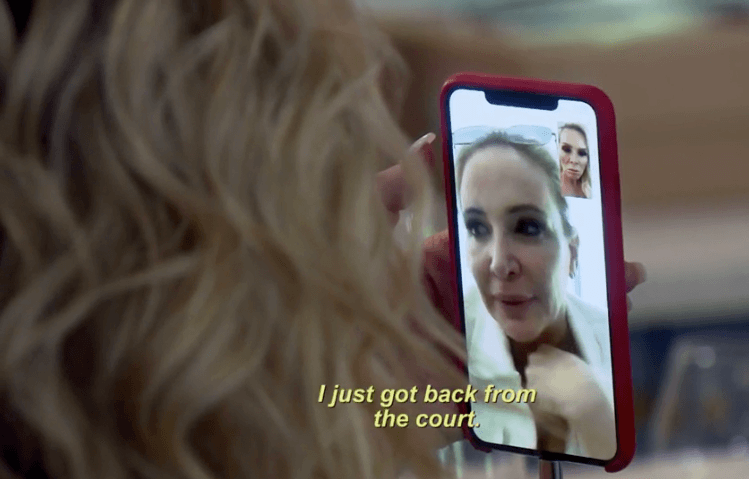 When Braunwyn sends Tamra a picture of her boob, Vicki sighs in disgust. She's had enough of the breasticles, thank you very much. Vicki points out that her party invite came courtesy of Tamra, not Braunwyn, and Vicki's not too happy about it. And by the way, she wants to drug test her Kelly. Yeah, that's the way to kick off any party.
At Braunwyn's, the shirtless bartenders arrive. Then Tamra shows up with her boob cake and her eyes nearly pop out of her head at the sight of the hot bartenders.
Tamra Judge needn't have worried about seeing Kelly, because she decided not to attend. Instead, she went with her gal pals to dinner. Kelly knows herself well enough to remain absent—otherwise, Tamra would get a beatdown. She tells her friends all the gossip Tamra's been spouting. For the record: she didn't toss her mom down the stairs, she didn't pull a train, and she doesn't do coke. Her brother was putting those stories out, yet Kelly's forgiven him. Because she's the bigger person.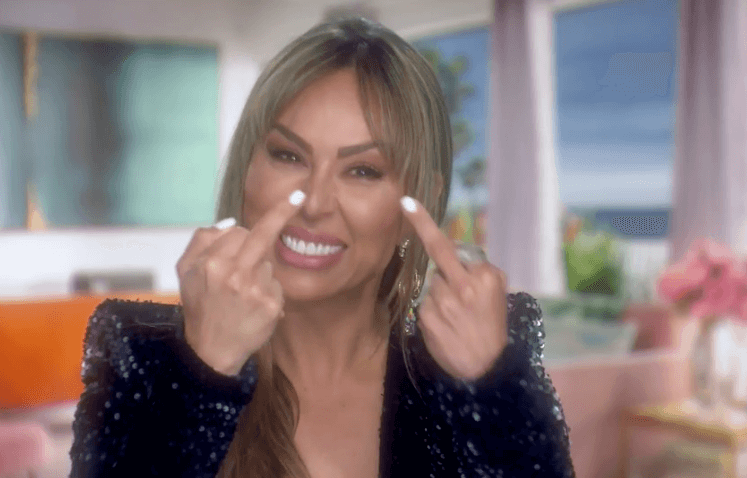 Gina and Emily show up and are surprised to find Kelly is a no show. Shannon comes wearing a high pony and is worried about her upcoming divorce trial. But she's diverted from her own drama when Braunwyn invites all the women to Miami. Until Shannon learns Key West is on the agenda. Key West is where David started his affair. She refuses to go, and Tamra promises to stay home with her.
Emily is in her own world, having fun by spanking the bartenders when the strippers show up. Dressed as cops. They should have dressed as doctors and offered to give Braunwyn a breast exam. When the female stripper shakes her ass in Shannon's face, she literally cringes. Vicki is grossed out by all of it and leaves. Best scene of the night: a bartender picking up Emily, who straddles him, as he bounces her up and down on his crotch. For once she gets rid of that stank face and smiles. Braunwyn Windham-Burke gets drunk off her ass and starts playing with the dildos, lets her nipples hang out, and shoves her face in the boob cake. I guess she's pretty damn excited about her milk drying up.
When things settle down for a minute, Braunwyn asks the ladies if they're excited about the Miami trip. Shannon says she won't be going to Key West and states her reasons. Emily thinks Shannon should go, that it will be healing. Has this woman just met Shannon?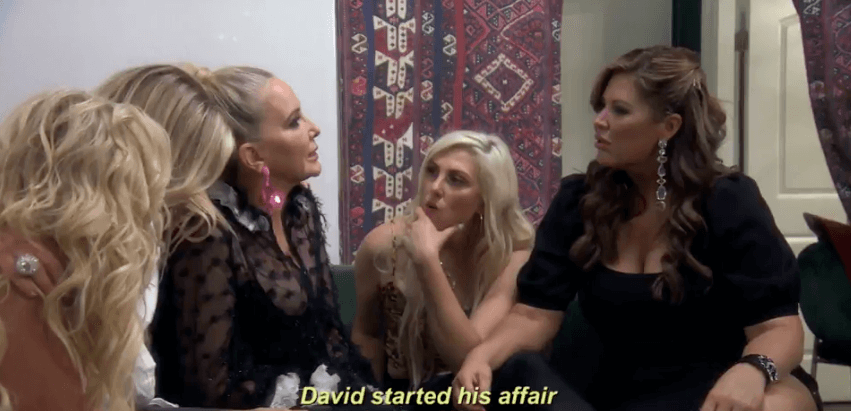 The next day, Shannon meets with her lawyer. She discusses David's behavior at the deposition. Shannon kept a poker face while David laughed and smirked his way through the testimony. She doesn't want this to get any uglier than it already is. She wants to co-parent in a positive way, but that doesn't seem likely. Her lawyer brings up the possible financial outcome of the trial. She says that she helped David grow his business. Why isn't she entitled to a portion of the proceeds? I agree!
Next week on The Real Housewives of Orange County, Braunwyn convinces Kelly to go on the Florida trip. Tamra, Gina, and Emily learn exciting news about Vicki. And Shannon shares the results of her divorce hearing. Vicki's daughter Briana visits.
Stay Connected With All About The Tea: Twitter Ι Instagram Ι YouTube