Married To Medicine
RECAP: 'Married To Medicine' Buffie Purselle Breaks Down After Dr. Jackie Reveals She's Infertile!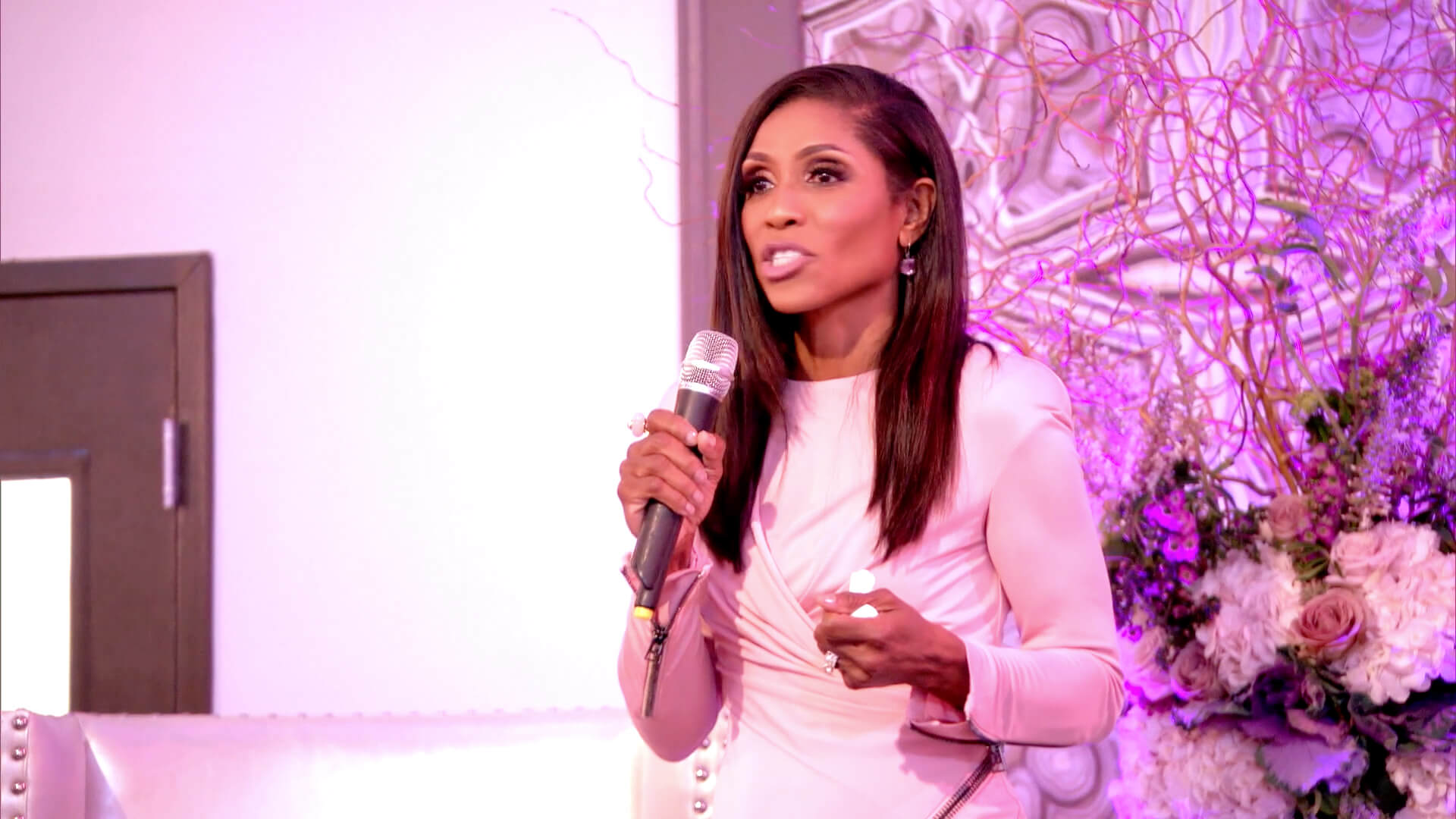 Finally, they're baaack! After a week-long hiatus, our Atlanta Married To Medicine ladies are back!
This week's episode starts out with a Dr. Simone Whitmore and husband Cecil attending a quiet dinner party at Toya Bush-Harris' and husband Eugene's palatial 9000 square foot home, equipped with 6 bedrooms, eight bathrooms, a custom wine cellar and of course the infamous two-story closet Toya has been dreaming of.
New real estate agent, Cecil, is sure that if things don't work out for the Bush-Harris' couple he can for sure sell the home. But do they need to pressure wash it first?
Dr. Jackie Walters is working hard planning a cover reveal party for her new book, The Queen V: Everything You Need to Know About Sex, Intimacy, and Down There Health Care. She instructs all of the ladies and men to wear pink, specifically vaginal pink, to the party. Dr. Heavenly Kimes declares "her stuff ain't pink." She says hers is brown to which Jackie is quick to clarify that's her labia. Maybe Jackie should go ahead and let Heavenly read the anatomy chapter before the book comes out.
Back at the dinner party Simone and Toya have a disagreement regarding Simone inviting everyone (including Quad Webb) on the couples' trip to Cabo San Lucas this year. According to Simone, they have been friends for years and she's not going to cut her off just because she's going through a divorce. Cecil, interjects that Eugene and Quad could learn a lot on the couples' trip from Quad, like what not to do in a marriage.
Speaking of what not to do, add answering your work phone during a much-needed couples therapy session with your wife. Dr. Contessa Metcalfe and her husband Dr. Scott sit down with a therapist to discuss the "disconnect in their relationship." But of course, they are interrupted when Scott excuses himself to take a phone call. Contessa confides in the therapist that this is a regular occurrence in their marriage and she no longer feels important to him. The therapy session seems to go well, however, as the couple makes a resolution to be less judgmental of each other and hug more.
The Married To Medicine ladies all trickle in at Jackie's cover party dressed in varying shades of vaginal pink. According to Dr. Heavenly, Mariah Huq wore a bright, fuschia pink because she probably has an infection. Something tells me that's not going to land well.
Jackie takes a moment to address the guests at her party with an awkward albeit well-meaning speech. She starts out by talking about her personal battle with breast cancer and then even calls out Buffie Purselle and her struggle with infertility. Insert sideways looks all around the room here. Buffie seems to be most taken aback by the revelation, as she later reveals that she has only had very surface-level conversations with Dr. Jackie about her struggles and doesn't understand why Jackie thinks it's okay to tell a group of stranger's her personal business.
Once the party starts to wrap up, the ladies all sit down together and Simone takes the moment to have a discussion about the couples' trip to Cabo. Toya interrupts Simone and demands that she "stop referring to it as a 'couples' trip.' Are we gonna share our husbands with Quad?" Quad puts the kibosh on that real quick, begging them to PLEASE not share their husbands with her. So is she saying that Eugene is not her type or…? Simone admits that last year she had a bad attitude and had a problem with Quad coming on the trip but feels very different now. Quad proved her wrong last year by having a good attitude on the trip. Simone ends the conversation by saying that she hopes the trip is better than the current conversation they're having about it. Well, here's to hoping.
Fast forward to the couples' finally arriving at their destination but of course, in proper couples trip fashion, the transportation from the airport to the hotel is less than ideal. Think RHOC Vicki Gunvalson family van vibes, if you will. Contessa and Scott confess that they've never gotten the transportation right for any of the trips. The van MUST have been a Groupon.
Upon their arrival at the boutique hotel, Simone reveals that one of the couples will be lucky enough to stay in the penthouse suite. Just one caveat, they have to participate and win a dance-off for it. Mariah Huq and Jackie decline to share their dance moves with this crowd.
Let the dance contest BEGIN. Buffie Purselle and David aka "The Great White Hype and Taxalicious" put up a good fight but it becomes apparent that poor David is lacking in the rhythm and soul department. Next up is "MC Scott and Commander Contessa." Dr. Scott employs a few break dancing moves and even concludes with the worm but unfortunately, the couple still falls short. In a surprising turn of events, the winners of the dance contest AND ultimately the luxurious penthouse suite are none other than Dr. Heavenly and Daddy Damon also known as "D. Pain and Dr. Smilez."
Dr. Heavenly's plan of action is for Daddy to stand behind her and catch it when she throws it, but dare I say that he is the one who successfully brings home the W by balancing his entire body weight on his head, much to Dr. Jackie's dismay. According to Dr. Jackie, "That's a lot of body to be putting on one head."
And that concludes this week's episode of Married To Medicine. Tune into next week as the fun (and drama) continues. Viva la Mexico!
Stay Connected With All About The Tea: Twitter Ι Instagram Ι YouTube