Real Housewives of Dallas
'RHOD' Newbie Kary Brittingham Attacks LeeAnne Locken's Wedding Planner 'Go Lick Leeanne's Asshole' & Threatens To 'Go Mexican' On Him!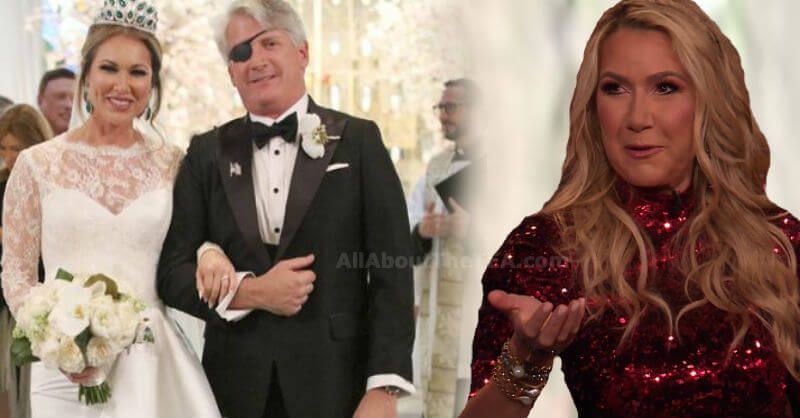 Real Housewives of Dallas newbie Kary Brittingham has already proven that she has much to learn when it comes to navigating the social media minefield that comes with life as a Bravoleb.
The Real Housewives of Dallas rookie has targeted LeeAnne Locken in recent episodes and it appears LeeAnne's supporters are not off limits to Kary Brittingham's hate brigrade. In the following now-deleted tweets, Kary goes after LeeAnne's wedding planner, Steve Kemble, who defended LeeAnne after Kary threw shade at the wedding and complained about food at the reception, "Wow!!!!! I thought you were better than this! Go lick Leeanne's asshole ! That's what you are good at!" She tweeted on November 7. 
Kary Brittingham followed up with a threatening comment directed at the Dallas wedding planner, "Steve you are the biggest fake!!!!! Don't ever talk to me again! Or I will go Mexican on you!"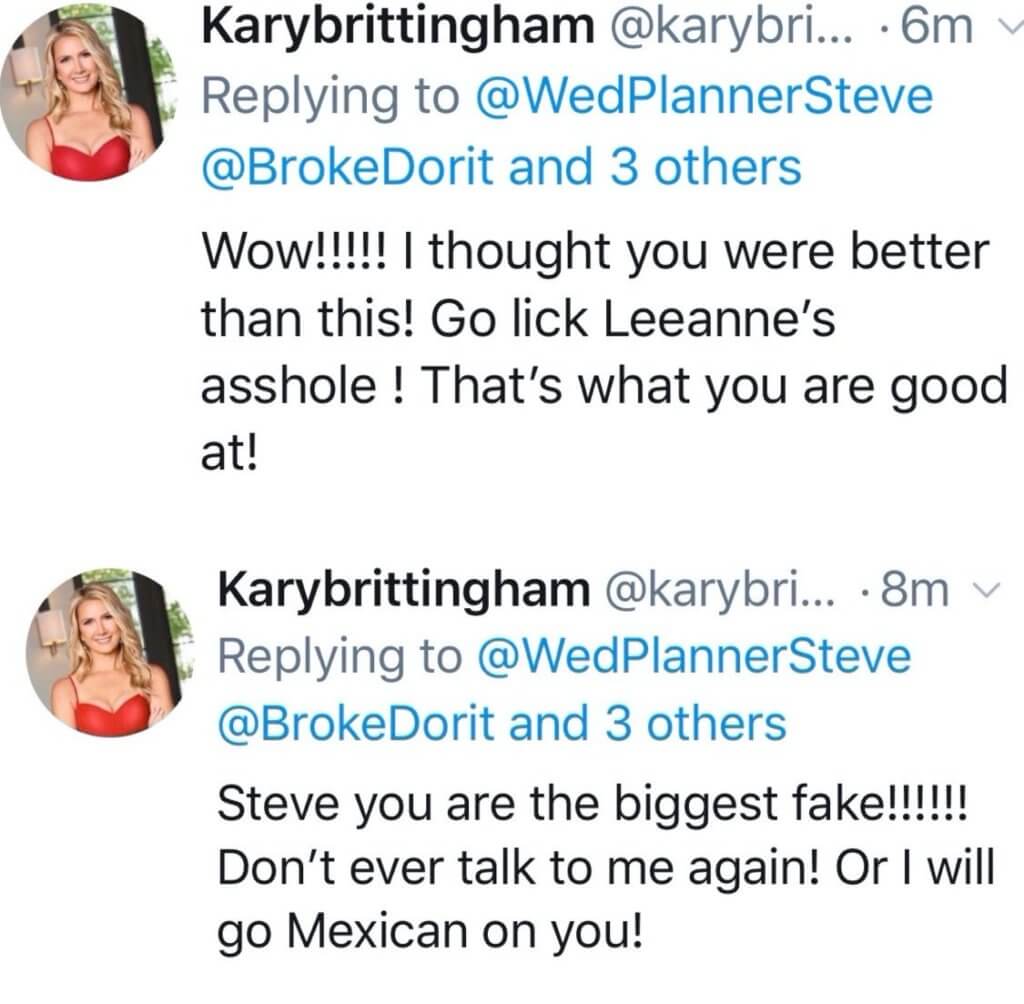 LeeAnne Locken's wedding planner, Steve Kemble, who was featured on Real Housewives of Dallas, clapped back at Kary Brittingham's name calling and threats. He tweeted on November 7, "There is no place in this world & certainly NOT IN DALLAS for bullying, rudeness, meanness, threats, cruelty, hate speech & race baiting. Kindness & politeness are not overated at all. They're underused. #RHOD #BravoTv #WWHL." Steve Kemble tagged RHOD executive producer, Andy Cohen, and included a screenshot of Kary Brittingham's mean girl comments.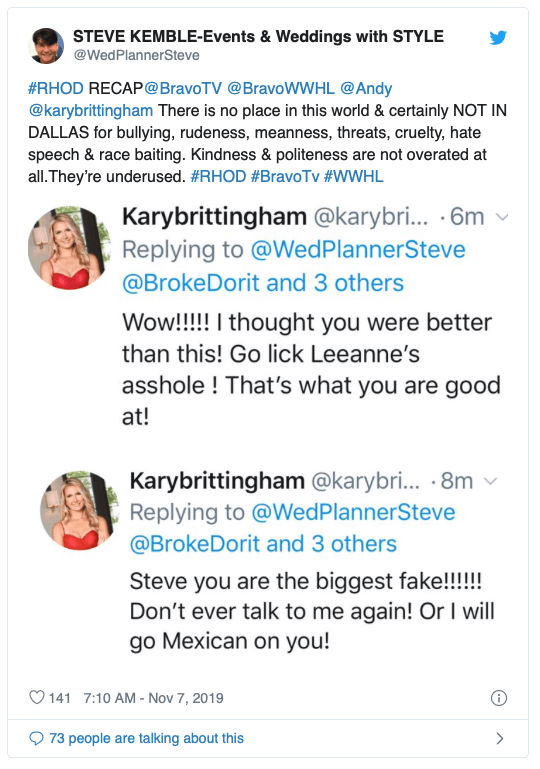 Following in D'Andra Simmons' footsteps, Kary Brittingham has made hating LeeAnne Locken her primary goal since joining the Dallas ensemble. Kary even commented that she only attended LeeAnne Locken's wedding because she "had nothing else to do" — in addition to insulting the wedding venue, decor, entertainment and food. 
Steve revealed that not only did Kary Brittingham hurl insults about the wedding, she displayed poor manners by showing up without a gift!
Twitter unleashed on Kary Brittingham's bad attitude — the norm when any Housewife fails to connect with the typical viewer.

In the season four midseason trailer of The Real Housewives of Dallas, LeeAnne Locken received flack for referring to Kary Brittingham as a  "chirpy Mexican," but based on Kary's own words in the tweet above, she throws around the word 'Mexican' in reference to herself often.
The Real Housewives of Dallas airs Wednesdays, at 9 p.m. ET, on Bravo.
Stay Connected With All About The Tea: Twitter Ι Instagram Ι YouTube