'RHONJ' RECAP: Teresa Giudice's Daughter Is Crushed Joe Will Miss Three Major Milestones!
We opened this season of Real Housewives of New Jersey with shots of Teresa Giudice losing her shit and drinking too much. She's fighting with Margaret Josephs in several scenes…and then we rewind three months to see where it all went wrong.
Jackie Goldschneider and her husband, Evan, are watching their eight-year-old, Hudson, chug a soda. Fascinating. Jennifer Aydin is in Paramus, forcing her nanny to help her into a liposuction suit — which makes me wonder if this nanny is there to take care of Jennifer or her five unruly children. Dolores Catania meets Frank and Frankie in the gym. And Margaret is at home, asking Marleny, our favorite sassy housekeeper, to bring coffee for Margaret's creative director, Lexi. Lexi has a new baby, Nino, who is absolutely adorable.
Lexi and Margaret discuss Teresa Giudice's cheating scandals. We've seen the pics of Teresa holding hands with a younger man, but she denies screwing around on Juicy Joe. Marge understands it if Teresa decides to step out. After all, Joe is most likely headed to Italy, and he's been away for three years. What's a gal to do, remain faithful?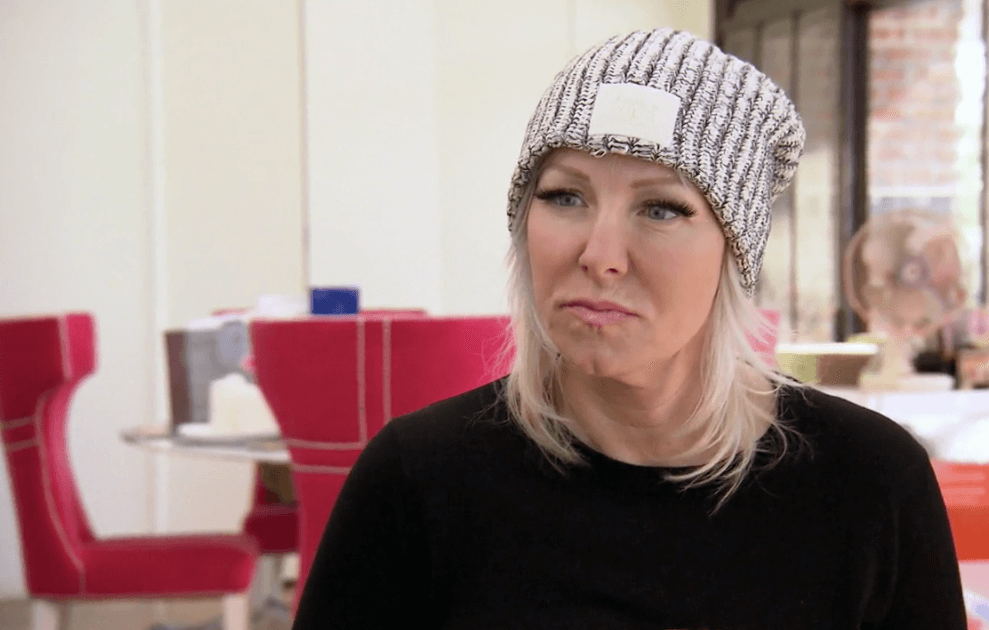 Over at Dolores Catania's house, Frankie is working out. Because he placed first in a bodybuilding competition last year, he's now modeling part-time. And though Dolores claimed she was moving out of the house and into an apartment last season, she's not going anywhere. She's still shacking up with Frank, her ex-husband, and telling him how cute he looks in his gray t-shirt. And she's still seeing her boyfriend, David, who joins her in the kitchen, sharing bro hugs with the two Franks.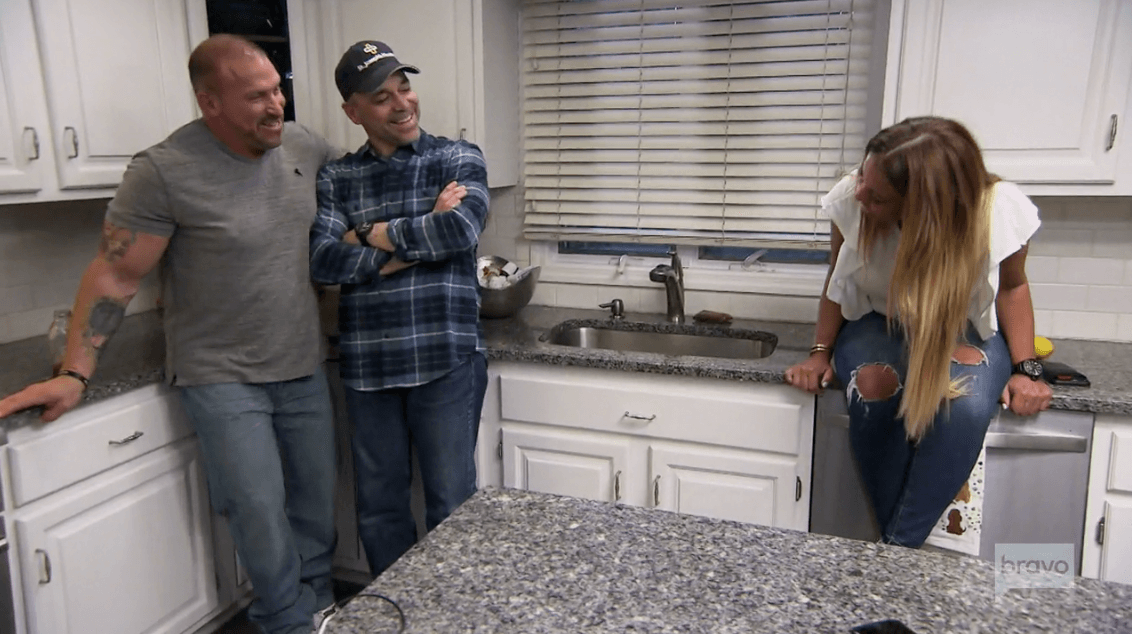 David is a high-risk pregnancy doctor. His career has always been his first priority, but lately he's been spending more time with Dolores. He's now part of the family. In fact, she and Frank are building David a new house. Frank and David are even best buds. And it's not awkward at all — no seriously. They all seem quite happy with the living arrangements.
Melissa Gorga comes home with sushi only to find her kitchen demolished. Joe promised her cabinets would be finished by now, but the doors are still off their hinges and Lady Boss isn't pleased! Melissa is running her boutique and has spent the day in NY picking out inventory for Envy. Instead of belittling her, Joe actually praises her for being a business owner.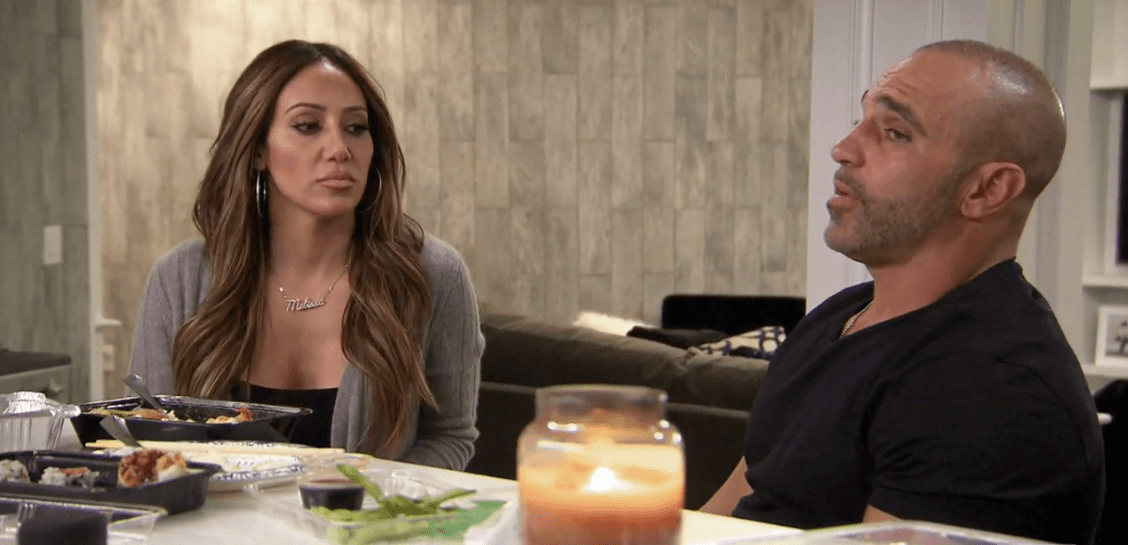 Joe spent the day with Teresa. Joe Giudice will be detained by ICE and Teresa Giudice is fighting his deportation as best she can. On top of that, Joe Gorga says the cheating allegations are detrimental to her daughters. Joe's asked if the rumors are true, and Teresa says the man she was photographed with is just a friend. Melissa may not believe it, but she's toeing the family line. What else can she do? After last season's reunion, where Teresa and Melissa were once again battling over Joe Gorga, Teresa actually apologized to Melissa. 
Back in Paramus, Jennifer's youngest, six-year-old Olivia, is wearing makeup. On the plus side, she's helping Jennifer set the table. As for her husband, Bill is still working crazy hours, but he's making time for the family and acting more romantic toward Jennifer.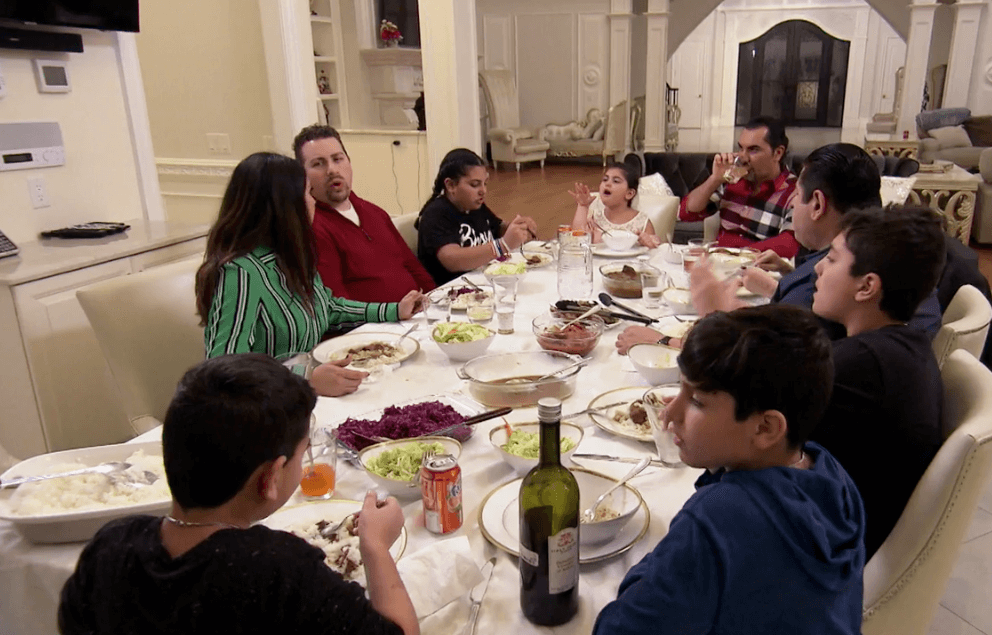 What is Jennifer's idea of romantic? Oh, I'm so glad you asked. Bill will call and remind her when it's time for fresh Botox injections. And when Jennifer complained about her back fat, he performed lipo. Jennifer enjoys being a trophy wife, so…good for her, I guess? She's planning a business appreciation party to celebrate his five years in private practice. Naturally, the party must be over the top, as all of Jennifer's parties tend to be. 
Over at Teresa Giudice's house, she's making dinner for her girls and her dad. Gia is going to Rutger's, which is only forty-five minutes from home, but Teresa's sad her oldest is leaving the nest. Gia's thinking about going into law, probably for obvious reasons—to work for people like her dad, who need a good defense attorney.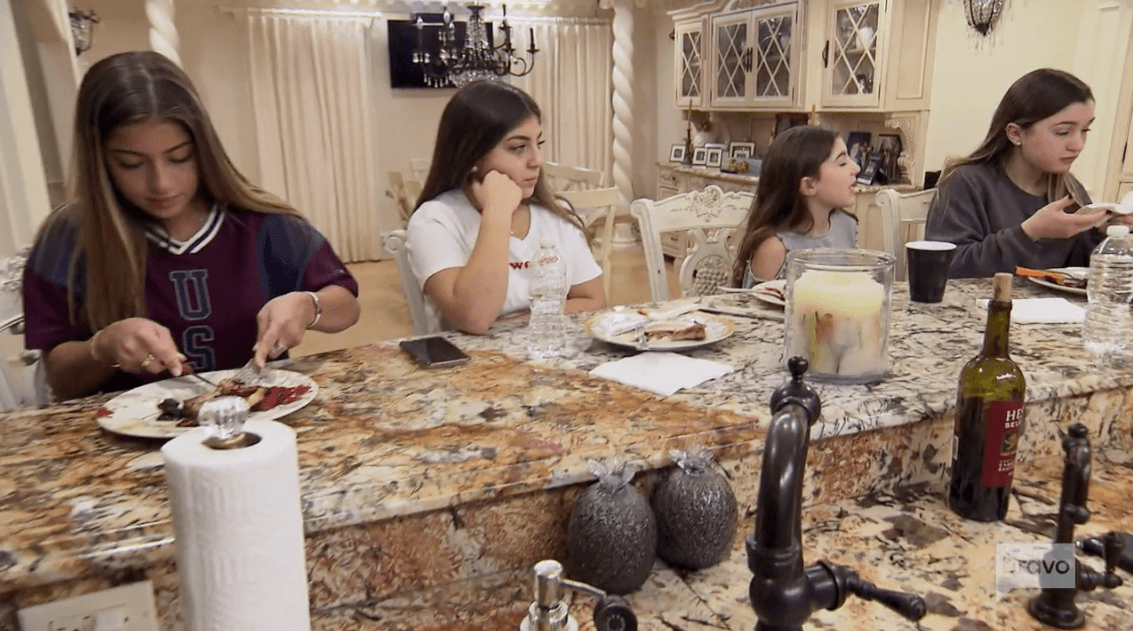 Teresa Giudice plans on appealing Joe's ICE deportation ruling, because once he leaves America, he can never come back. Gia wants him to fight as long as it takes, even telling Joe that if he gives up and leaves the country, his relationship with her will be over. Gia has little sympathy for her dad, saying he should have applied for citizenship years ago. As this is her senior year, she wants her dad to see her graduate. Milania doesn't understand why it's so important, and when Gia tries to explain, Milania flounces out of the kitchen.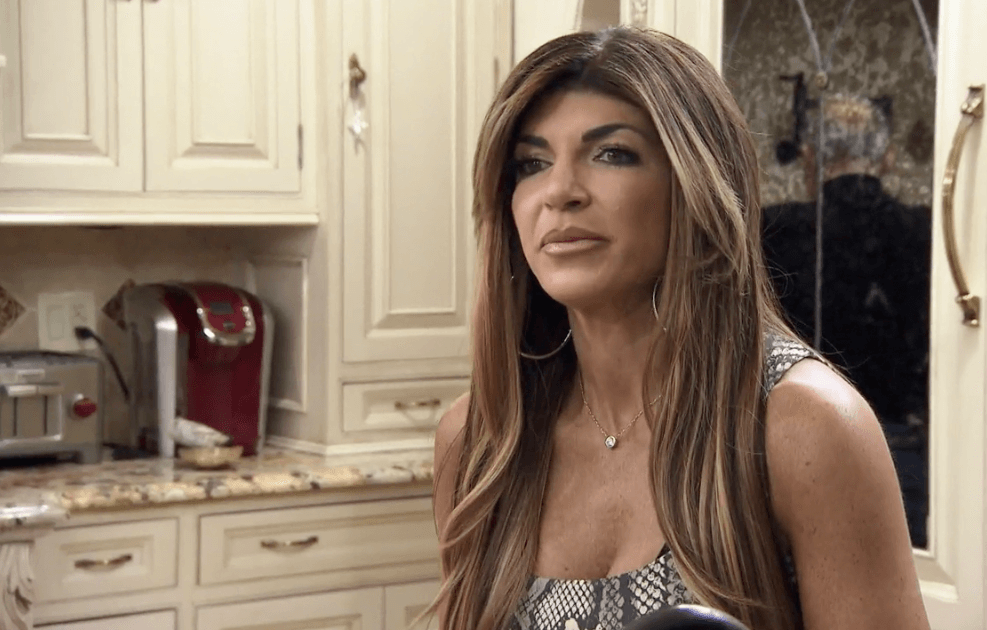 Teresa Giudice defends Milania, saying she's super sensitive and misses Joe. Gia starts tearing up, knowing her dad won't be around for her important milestones. Nono says he'll be there for her, and he's crying on the inside for what the family has gone through.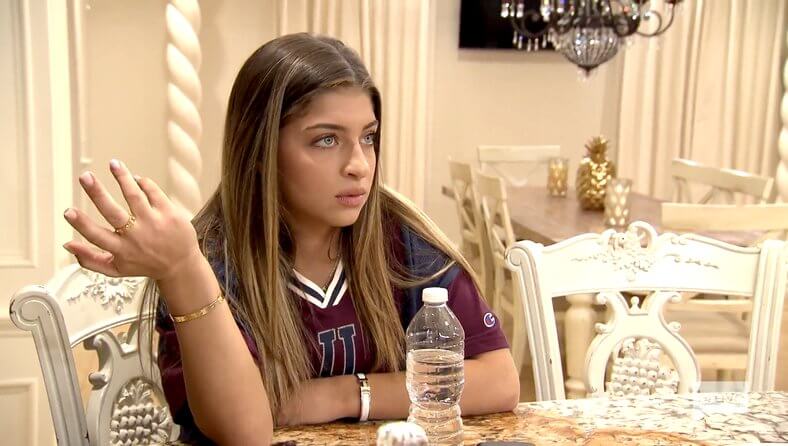 Jennifer Aydin stops in to see Bill at the office. Since family is so important to the Aydins, Bill offered Jennifer's widowed sister a job. Tina is glad to have this office manager gig, and Jennifer praises her husband for being so gracious.
Jennifer talks about the upcoming party. There's going to be an ab sculpt machine, and since Jennifer hates doing sit ups, she's eager to give it a whirl.  Of course the ladies are invited, but Jackie might be a no show. Apparently, she's angry with Jennifer and even went so far to cancel a playdate between their daughters. The reason for the contention? Jennifer did an impersonation for Jackie, and Teresa captured it on her phone. And then they posted it. Jennifer thinks Jackie just can't take a joke. Bill points out that Jackie questioned Jennifer's parenting skills last season, so now they're even.
Across town, Jackie, Margaret, and Melissa meet up for dinner. They discuss Jennifer's party and watch the video. Why would Teresa and Jennifer post something like that? Despite their rocky start, Jennifer and Jackie have grown close. Their kids like to play together, and the ladies have put the past behind them…or so Jackie thought. Jackie accuses Jennifer of cyber bullying — which is ridiculous. And Jackie also has her sites turned on Teresa. Why is this former felon out and about with younger men when she should be at home with her girls? Whoa! Them's fighting words, Jackie. Teresa will be coming for you.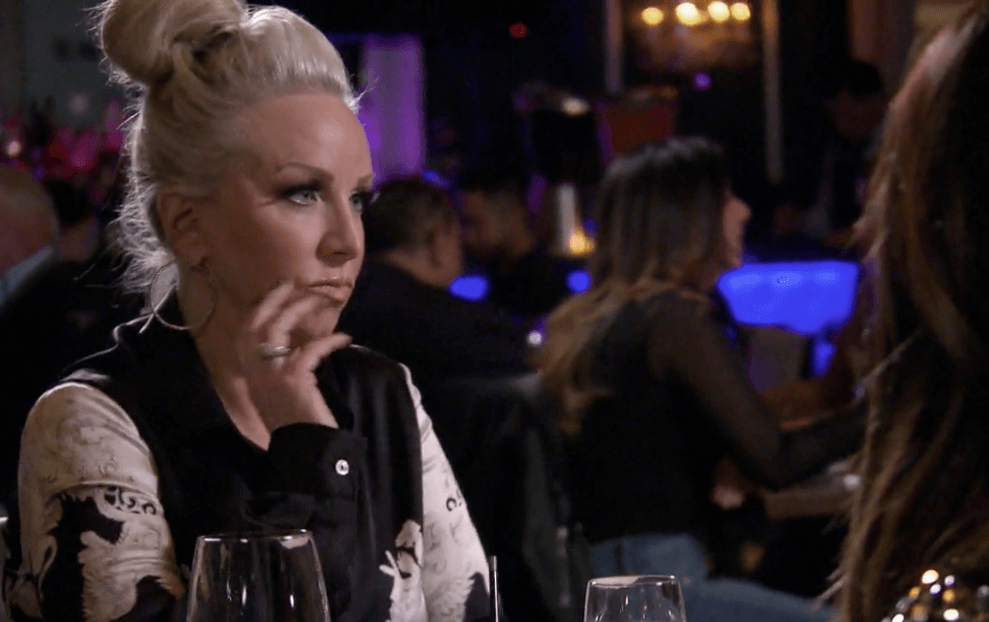 Melissa defends Teresa, who's under a tremendous amount of stress and isn't really thinking before she acts. But Margaret wants to know why Teresa is putting out such negative energy. Melissa also says this guy Teresa's been hanging with is just a friend. Margaret and Jackie aren't buying that bullshit, which puts Melissa in a weird position. She has to stand up for her sister-in-law, whether she wants to or not.
Despite the snow, Teresa is getting ready to put in a pool out back. She's paid off her restitution and has a little extra cash to spend. Sure, it won't bring back Juicy Joe, but it will fill a void for the girls. Ummm! Dolores stops by Teresa's house and drops news that Teresa used to date Tony the pool dude back in the day. Dolores doesn't understand why this pool is necessary when Teresa has four girls to get through college, but whatever.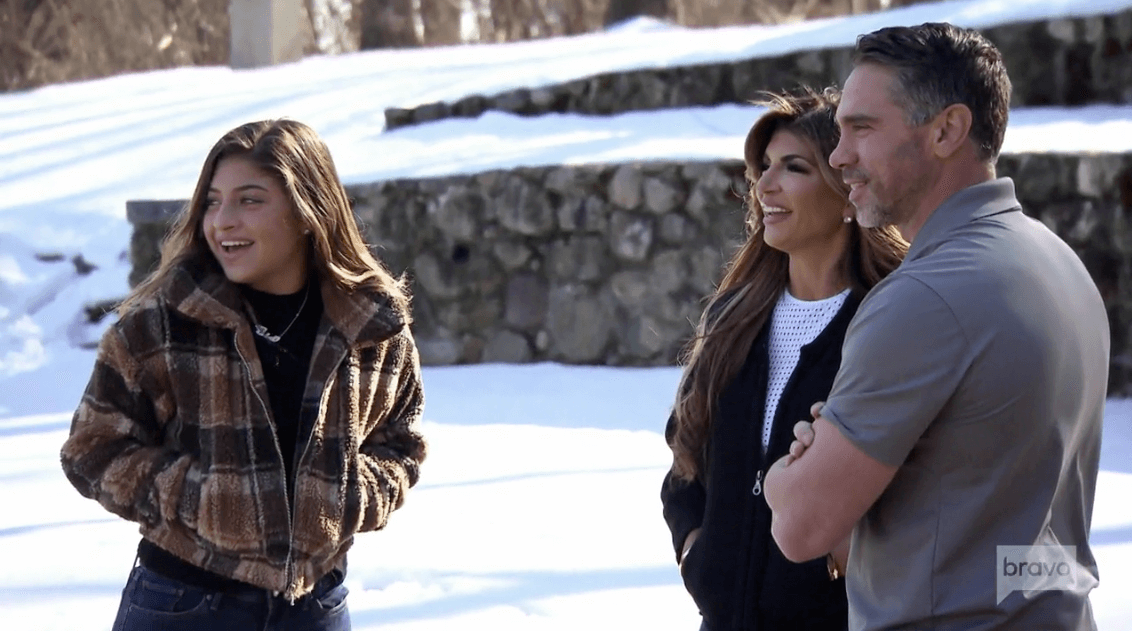 Teresa Giudice talks about Joe's fight with ICE. She understands why he might give up, and it's costing her a fortune to appeal the process. Dolores points out that Teresa isn't in love with her husband, but she's doing the right thing for her daughters. Dolores tells Teresa that Melissa, Jackie, and Margaret had a girls' night out. They discussed the cheating rumors and Jackie believes them. Teresa is livid that Jackie is spreading gossip about her fidelity.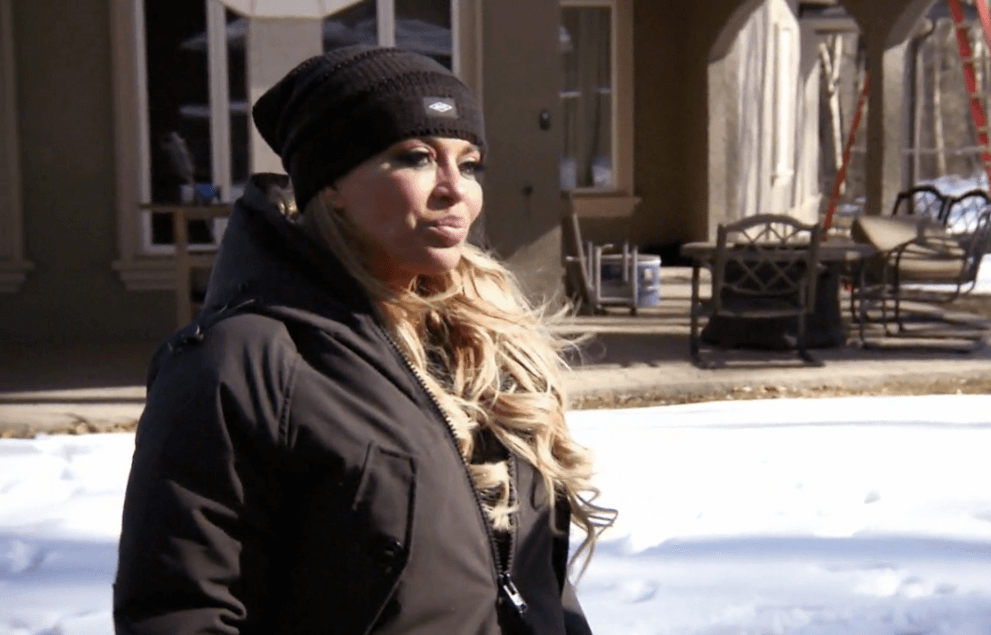 At the party venue, Bill and Jennifer arrive early. While her sister, Tina, works to put the finishing touches on the party, Jennifer takes advantage of the ab sculptor. She sees herself as a brand ambassador for her husband's practice. 
Melissa arrives first. She tells Jennifer that Jackie is still annoyed at being mocked, and Melissa understands Jackie's point of view. Meanwhile, Jackie pulls up in a chauffeured car to pick up Margaret. Jackie has no plan to start a fight at the party. Uh huh.
Teresa and Dolores arrive. Teresa is pissed off that she had to hear about Jackie's gossip from Dolores. Melissa should have called her and told her, damn it! Now Teresa is about to give everyone a piece of her mind — and she doesn't have much of a mind to begin with. Jackie and Margaret cruise into the party. They greet Melissa first. Then they join Jennifer, Dolores, and Teresa across the room. Jackie is acting pretty standoffish and refuses to give her hostess a fake hug.
When Teresa gets Margaret alone, she mentions that she doesn't like Jackie. Margaret points out that the video was mean. How can Margaret take Jackie's side?
Jennifer approaches Jackie, and Melissa hightails it out of there so the two women can hash it out amongst themselves. Jennifer says she's glad Jackie showed up for the party, but doesn't understand why Jackie is so upset. After all, Jackie wrote an article about Jennifer spoiling her children, and Jackie chastised her for taking it so seriously. So, how is this different?
But Jackie isn't having it. She points out that Jennifer was doing that impression to make Teresa laugh. And since Teresa hates Jackie, it was meanspirited. Hey, Jennifer didn't post the video and it was a spur of the moment thing. When Jennifer wags her finger, Jackie walks away. But Jennifer isn't done. She follows Jackie around the room, yelling at her, calling Jackie condescending.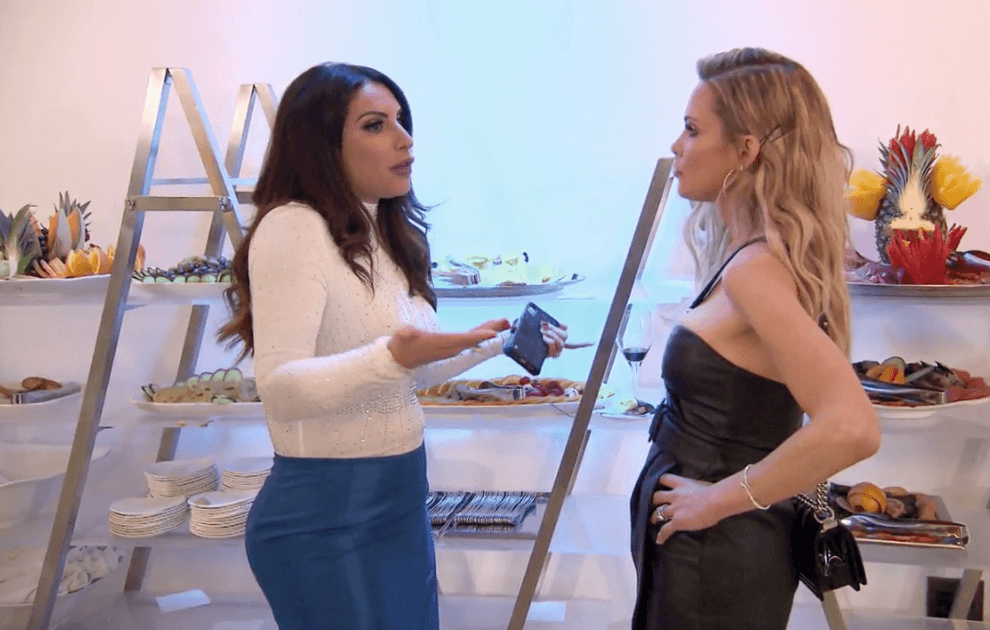 Margaret tries to intervene and keep Jennifer from making a fool of herself. Jennifer refuses to apologize. She didn't so anything wrong—she's a comedienne! It was funny. Take that stick out of your ass, Jackie!
Melissa heads over to speak to Teresa. They talk about the video. Melissa says Jackie was hurt, but Teresa doesn't care. Why didn't Melissa defend her when Jackie started throwing around those cheating rumors that have been all over the blogs? People only respect Melissa because she's related to Teresa, after all. Melissa rolls her eyes at that comment and says that she did indeed stick up for Teresa. 
Teresa is now making a beeline for Jackie, to put her in her place. Jackie denies spreading rumors. Teresa tells Jackie to stop talking about her, and Jackie wants Teresa to return the favor. What?! Teresa doesn't even think about Jackie. Well sure, there's that Insta video. Teresa is still siting last season as to why she doesn't like Jackie. Jackie thinks Teresa is using it as an excuse to be an asshole. They make a pact not to talk about each other, but it won't last.
As the party breaks up, Jackie doesn't tell Jennifer goodbye. They haven't resolved their argument and things aren't okay between them. 
At 12:01 a.m. Juicy Joe is released from prison, but into ICE custody. He's done his time, but he's not free. He calls Teresa and is frustrated that he's still locked up. And that ends our episode.
So, is Jackie making a big deal out of nothing? Do you think Melissa and Teresa can make it work this time or will they have another falling out? What did you make of this first episode?
FOLLOW All About The Tea: Twitter Ι Instagram Ι YouTube
I'm a fiction writer by day and a reality TV addict by night.