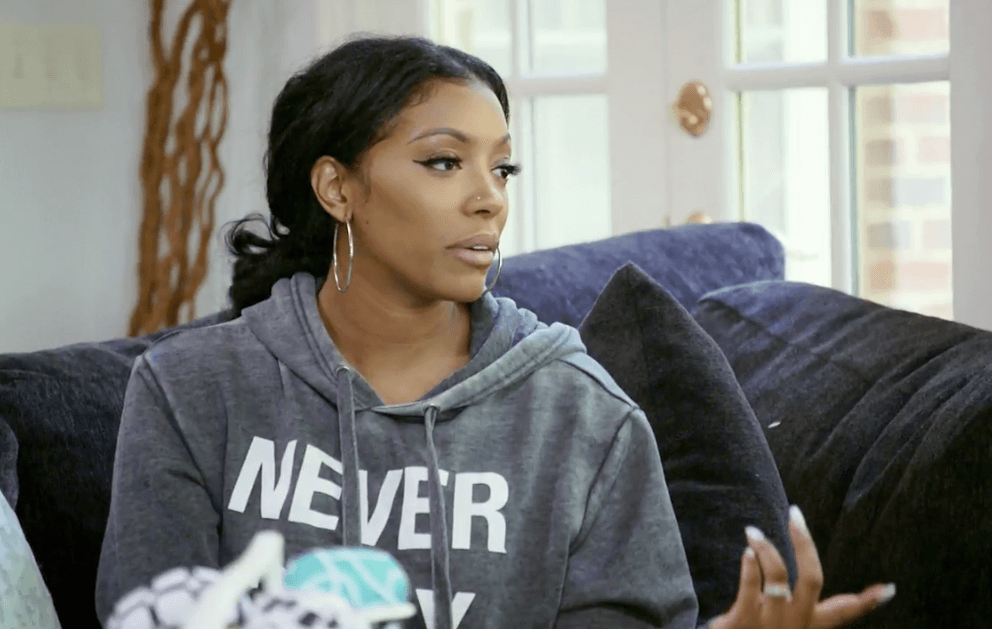 The ladies of The Real Housewives of Atlanta are BACK and there must be something in the water. Both Kenya Moore and Porsha Williams are new moms, Eva Marcille is six months pregnant with baby number three and Kandi Burruss is thirteen weeks pregnant via a surrogate.
Kenya Moore is adjusting to being a new mom while also navigating a long-distance relationship with her husband, Marc Daly who is rarely present. She admits the distance is putting a serious strain on their marriage. Just like Kenya, Marc is GONE with the wind fabulous.
Porsha Williams is also navigating the waters of being a brand new mom while also dealing with the demise of her relationship with her boyfriend Dennis. According to Porsha, she and Dennis broke up after she found inappropriate things on his phone and uncovered that he was unfaithful while she was carrying their child. There's also those pesky beastiality rumors floating around all over the blogs too. YIKES. Porsha Williams remains careful regarding what she shares with her mother and her sister because she doesn't want to change their perception of her daughter's father.
We learn in this episode that Kandi does go forward with the same surrogate, Shadina, that we met last season. We also learn that they implanted both of the embryos they her and Todd had left but only one ended up being successful. Kandi admits that she is struggling a bit with using a surrogate and describes the experience as both "joyful and interesting." Big brother Ace also seems to be a little confused regarding the process as he asks Todd if Shadina got his sister "from the store."
Eva Marcille meets her husband Michael for dinner to discuss their never-ending search for a new home, a touchy subject after all of the rumors and accusations last season regarding their living situation and credit score.
Cynthia Bailey is on a quest to head down the aisle with her beau, Mike Hill. While she is busy Instagramming wedding dresses and marking potential wedding dates on her calendar Mike's more concerned with the logistics of their long-distance relationship, their living arrangements and their careers. Can't Cynthia just CHILL?! (See what I did there?)
Cut to Cynthia's most recent business venture, The Bailey Wine Cellar where Kenya and baby Brooklyn pay her a visit. Kenya tells Cynthia about the upcoming Barbie party she's hosting in honor of Brooklyn. All guests are required to dress as life-sized Barbie dolls. Maybe Gina Kirschenheiter from RHOC will make an appearance as Skipper.
Cynthia mentions to Kenya that she is "getting ready to get engaged" and Kenya shuts her down fast, reminding her that "she's NOT engaged" and advises her to stop posting pictures of wedding dresses on Instagram. Cynthia admits that she's thirsty and proud of it.
Back at Porsha's house her mom and sister sit down with her in an effort to understand why roses keep getting delivered by the hundreds to her home. Porsha remains tight-lipped regarding the details of the break up but confesses that it's difficult for her to even leave the house right now and that she's having a hard time dealing with the reality of it all. Sorry Dennis, I think it's going to take more than roses to make things better.
Cynthia, Kandi and Eva meet at OLG for lunch and FYI Eva's baby came to EAT. Hopefully Joyce, Bertha and Nora made enough food. During the meal, Sincerely, a woman that Kandi admits to knowing but can't remember how she knows her (shady), comes over to tell them that she was named on the blogs as Dennis' mistress but that she has never even met him and doesn't want to be associated with the break up of a family. She admits that she hasn't tried to contact Porsha Williams because she thought it would be too weird but did want them to relay the information to her in hopes of clearing her name.
On the day of Brooklyn's Barbie Bash, Marc is once again nowhere to be seen. Porsha admits that she was almost a no-show as well due to all of the cheating rumors but ultimately decided to go since her and Kenya are working hard to build a friendship.
During the party, Porsha Williams asks Eva where her son is and Eva explains that she didn't feel comfortable bringing him due to the group events sometimes getting crazy. Cynthia pipes in and explains that this is also the first time for Eva being around Kenya and Eva just needed to make sure the energy was right. M-E-S-S-Y!
Kandi, Cynthia and Eva debate as to whether or not they should tell Porsha about their talk with Sincerely. Meanwhile, Kenya and Porsha have a heart to heart and it appears they are both genuinely working to honor and protect their newfound friendship. Ladies and gentleman, hell is indeed freezing over. Kenya takes the moment to tell Porsha Williams what she learned from the other ladies regarding Sincerely in hopes to make Porsha feel somewhat better regarding the rumors but her hopes fall flat as Porsha doesn't seem too thrilled with the information. According to Porsha there is someone else that Dennis cheated with. When asked in her talking head why she continues to remain secretive about the details of the cheating, she admits that she's just embarassed.
BUCKLE UP PEACHES. IT'S GONNA BE A BUMPY RIDE THIS SEASON.
"Follow" us on Twitter and on Instagram