90 Day Fiance
'90 Day Fiance: Before the 90 Days' Avery Mills Accuses Angela Deem of Attacking Her On Tell-All After Explosive Fight!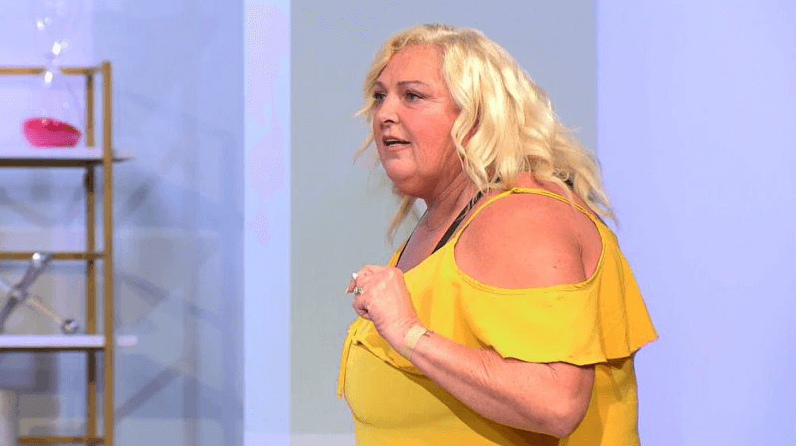 Angela Deem Explodes!
90 Day Fiance: Before the 90 Days wrapped its season on Monday with a classic TLC Tell-All episode — a post-season rollercoaster ride of emotions and surprises. 
Darcey and Tom….and Jesse
Darcey Silva and Tom revealed that they are still kinda-sorta together. Darcey's twin sis, Stacy, dropped in to share her thoughts, as did Tom's sister, Emma. Meanwhile, Jesse was wreaking havoc backstage by simply showing his face. Avery Mills and Timothy Malcolm lashed out at Jesse for taking TLC's comeback bait — which prompted Angela to swoop in and slam her cast mates for bullying Darcey's innocent ex. A heated series of confrontations between Angela and Avery, Angela and Rebecca and Angela and Avery's mom went down on the reunion stage next. Angela enthusiastically admitted that she was trashy-trashy-trashy, before inviting Rebecca to kiss her ass. Rebecca passed on the offer. 
Jesse updated viewers on what he's been up to — personal training, love coaching, and boring patient seniors with his personal story.  In a filmed clip with friends, Jesse quipped that Darcey was a bonafide stalker, adding that he might file a lawsuit if she doesn't quit blowing up his phone. Darcey and Jesse did not cross paths during the Tell-All taping. 
Angela Deem and Michael Ilesanmi
Angela Deem's daughter, Skyla, made an appearance, and confirmed that she would not be donating any of her eggs to Angela Deem's doomed pregnancy cause. We learned that Michael Ilesanmi is awaiting his visa interview, and that he hopes to be on American soil by the end of the year. Angela Deem made an early exit, seemingly aware that she had created enough chaos for one day. 
Benjamin Taylor and Akinyi Obala
It's revealed that Benjamin Taylor still owes money to Akinyi Obala's family for her hand in marriage — and that he plans to return to Africa to pay up. Akinyi's brother, Fidel, popped in to confirm that no one is forgetting about the vaguely defined debt. Akinyi hopes to interview for her visa during Benjamin's next trip. She nudged her American ticket to hit the gym before his return.
Timothy Malcolm and Jeniffer Tarazona
The couple confirmed that they had not yet had sex, and Timothy Malcolm clarified that it was not because he was gay or a former woman. Jeniffer Tarazona said that she knew that Tim was not gay — just overly concerned with treating her with respect. Flying Jeniffer to the United States for a visit is the couple's plan — because Tim still loves her.  
Avery Mills and Omar Albakour
Avery Mills wept her way through the first part of the post-season party, linking  Jesse's return to a past abusive relationship. Her marriage appears to be at a standstill, but Avery did confirm that she planned to visit Omar in Lebanon soon, so they could work out a way to live on the same side of the world. 
Rebecca Parrott and Zied Hakimi
Rebecca Parrott revealed that her divorce is technically not finalized, and Zied is still waiting to be interviewed for his visa. She explained that she kept her marital status hush-hush in order to not ruin the trip, and dropped the bomb about her girl romance to read Zied's homophobia meter. Zied admitted that he was angry about how it all went down, and they both confessed that they're nervous about Zied's family discovering Rebecca's secrets. Rebecca plans to return to Tunisia in the coming months.  
Caesar Mack and Maria
Yes…Maria is REAL. Caesar Mack began his segment by confirming that the love affair was over, commenting that it was "heartbreaking" to look back on the painful romance. The cast weighed in, and agreed that Caesar was duped. Caesar revealed that he still had the ring before Maria appeared, in all her glory. Maria admitted that she talks to lots of men, but that her dream is to make it to America. She denied having a replacement beau, but encouraged Caesar to move the heck on. Maria disputed Caesar Mack's $40k payout claim, estimating the figure to be only a few thousand dollars. Caesar promised to shut down Maria's cash flow, but remained in denial about her Mexico no-show. Caesar tearfully vowed to get to Ukraine to salvage their pretend relationship, but Maria was bugged that she had been tagged as the TLC villain. Caesar begged for another chance — but finally agreed to cut off communication with the Ukrainian beauty. Maria almost rolled her eyes in relief.  
A brand new season of TLC original, 90 Day Fiance, begins November 3rd at 8 pm, ET, on TLC. 
"Follow" us on Twitter and on Instagram