Married To Medicine
RECAP: 'Married to Medicine' Mariah Sister Calls Quad a 'Hoe' For Sleeping With Her Husband!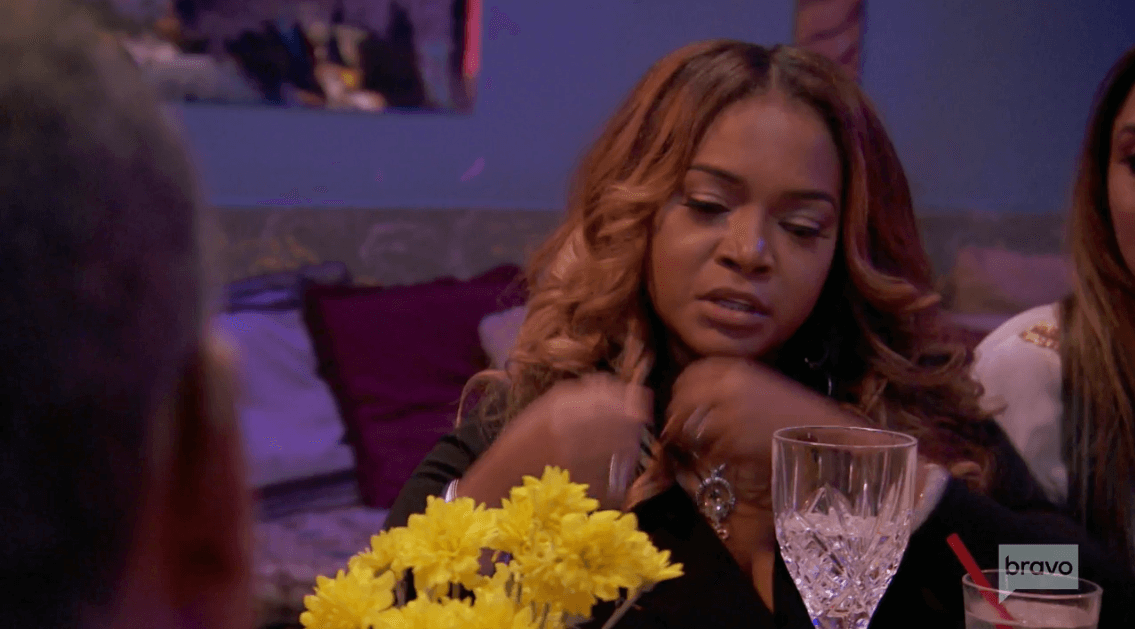 Married To Medicine Recap!
Welcome back to another episode of Married To Medicine. This week's episode opens with Quad Webb hosting a book signing for her new book, "Cooking with Miss Quad" at the local Barnes & Noble. Dr. Contessa Metcalfe and Dr. Heavenly Kimes stop by the signing to demonstrate their unwavering support and show just how proud they are of their friend. Not proud enough to wait in the hour-long line though. Instead, they skip straight to the front. Tisk tisk. According to Dr. Heavenly, Quad has experienced a few failures in her life including Picture Perfect Pup, her friendship with Mariah and even her marriage but she never let any of that deter her. How sweet of her to remind us of all of those big fat failures.
Meanwhile, Dr. Jackie Walters and her husband Curtis sit down for a very tense meeting with their design team to discuss their home "renovation" or home "refresh" depending upon who you actually talk to. Dr. Jackie prefers to spare no expense while Curtis errs on the more conservative side. The team breaks the renovation down into two phases. The first phase includes a new glam room (for Jackie) and larger master bedroom with seating area (for Jackie), a new master closet (mostly for Jackie) and a large master bathroom (again, mainly for Jackie.) The second phase includes a larger kitchen (probably not for Jackie as she has demonstrated in the past she does not know how to preheat an oven) and a third car garage (for Curtis.) Then the design team throws the hammer down. They estimate the entire renovation to cost around $260,000. Curtis looks like he needs to go throw up but Dr. Jackie doesn't flinch. She casually reminds Curtis that she was unable to have kids so now because of that she can afford to have some of the things she wants, like a six-figure home renovation apparently. Mic drop.
Next up is an awkward family lunch with Dr. Contessa and her husband Dr. Scott along with their children and Dr. Contessa's father, Gerald. It is evident early on in the dinner that Dr. Contessa is still harboring some resentment towards her husband for quitting her program in Nashville. Dr. Scott seems none too pleased to be discussing the subject in front of their children or his father in law. Yikes.
Back at the Whitmore residence the current topic of discussion centers around Miles being ready to transfer to another school. Miles is confident that he is ready to leave the nest (again) but Dr. Simone Whitmore is not sure since she and Cecil are the ones still doing his laundry and waking him up for class every day. According to Dr. Simone, she will need to see some serious changes before she will agree to Miles transferring schools again.
In a rare piece of footage, we catch Dr. Heavenly seeing patients at her practice. Dr. Contessa brings her father in and Dr. Heavenly transforms his entire smile. Contessa admits that his past substance abuse really took a toll on his teeth and she feels that by being able to fix his teeth she is able to fix a small part of what was broken in his life. Good job, Dr. Heavenly. Now to more important matters, who got to keep the gold grill???
Toya Bush-Harris and her husband, Dr. Eugene, have a heart to heart in her brand new two-story closet while getting ready for Quad's party. She finds herself in quite the predicament as she feels that by going to the party it appears that she is supporting Quad, even after the damaging accusations she made about Mariah Huq. She ultimately decides that she is making the right decision by going since at the end of the day, Quad did invite her and she really does just want everyone to get along.
The topic of the other women supporting Quad does indeed come up in conversation while Mariah and her husband, Dr. Aydin, celebrate Ramadan with their family and close friends. 
According to Mariah Huq, she doesn't want the ladies to feel like they can't support Quad's endeavors or that they need to pick sides. She just hoped they would have picked the "right side." Mariah's sister, Lake, and her mama Lucy have joined Mariah to break fast for Ramadan and share their thoughts on Quad. Lake pulls no punches, and tells the ladies that it's no secret that Quad is a 'hoe.'
As exclusively reported by AllAboutTheTEA.com, Lake caught Quad having an affair with her then-husband and whooped her tail. 
Quad Webb arrives at her bundled Married To Medicine birthday/book release party ready to turn ALL the way up, but not before taste testing all of her recipes that she did not cook. The party is in full swing complete with a foot massage section, acrobats and dancing butterflies as the guests start to trickle in. Once everyone arrives, Quad takes the floor for another one of her infamous long-winded speeches. She starts off by thanking her Sister Circle co-hosts for being there for her during a difficult time and restoring her faith in women and friendship. SHOTS FIRED.
Dr. Simone and Toya are having NONE OF IT and make a swift exit right out the door. At least Dr. Eugene got to take advantage of the massage station before they had to leave. Quad eventually does take a moment to show her love for the rest of the ladies but only Dr. Jackie, Dr. Contessa and Dr. Heavenly are left to hear it.
In the most bizarre and cringe-worthy turn of events, the party ends with the crowd rushing to follow Quad outside as she surprises herself with a brand new candy apple red Lexus LC500. Think MTV's My Super Sweet Sixteen vibes. The guests then circle around her and cheer while Quad poses in front of it. Quad mentions that for once even she's at a loss for words and honestly, so am I. Until next time…
"Follow" us on Twitter and on Instagram