This week's episode of The Real Housewives of Dallas starts out very somber as Brandi Redmond and her family lay their beloved Playboy "BunBun" Redmond to rest. Stephanie Hollman, Travis and their two sons are also in attendance.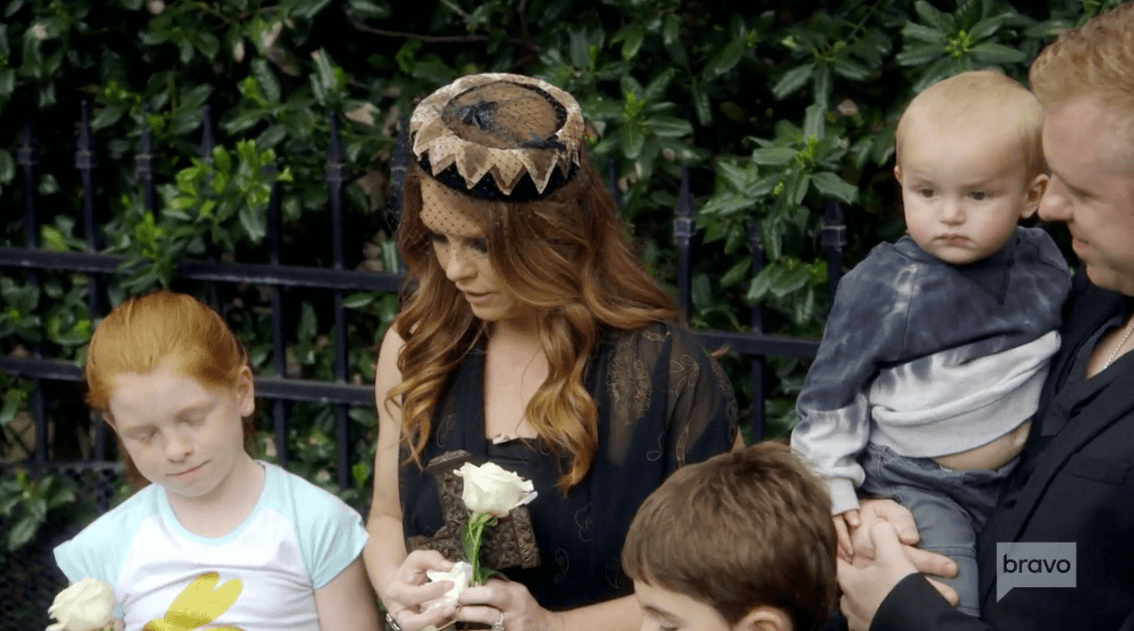 Turns out BunBun actually passed away six months prior and up until the funeral was being preserved in the family's freezer while Brandi decided between burying or stuffing her. Anyone else getting RHONY Tinsley Mortimer vibes or is it just me? RIP, Bambi.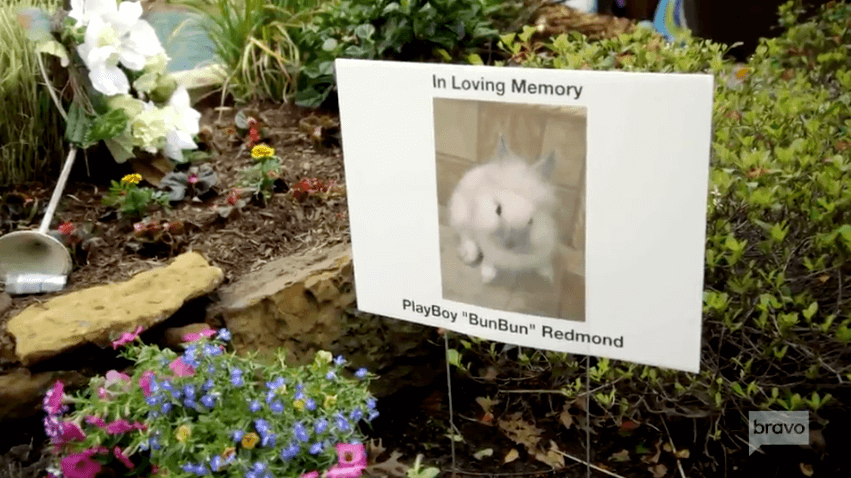 Speaking of dogs, LeeAnne Locken's dog Chief, is on the mend this episode after developing an ulcer on his eye. Maybe Rich will let him borrow one of his eye patches. Not to worry though, I suspect sweet Chief will be feeling much better after Kameron Westcott shows up bearing CBD dog treats. According to Kameron, they are meant to help calm those with anxiety. In that case, maybe she should take Stephanie some too. Oh wait, they're only "surface level friends."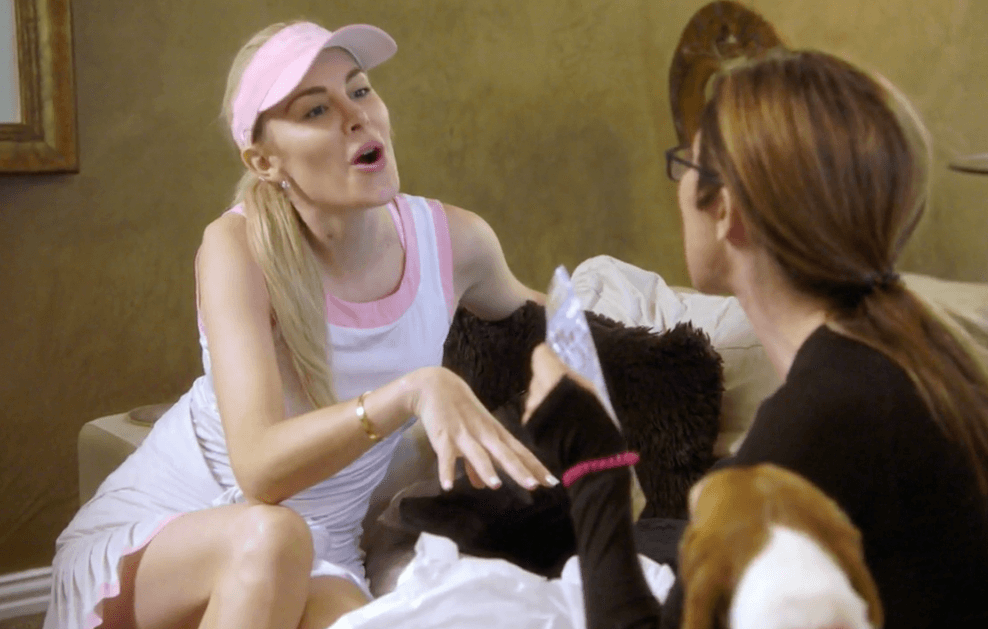 Kameron Westcott wastes no time getting down to business with LeeAnne to discuss the details regarding the upcoming couples' shower she and Court are hosting for her and Rich. She makes it very clear, that she is none too pleased to have received last-minute regrets from both Stephanie and Brandi especially after RSVPing weeks prior AND even picking out their menu options. The nerve. Children's Easter egg hunts and school pageants are no excuse in the book of etiquette.
While shower-gate is unfolding, no-invite D'Andra Simmons pays Mama Dee a visit to discuss the current state of the business. She confesses to Mama Dee that she actually had made plans to move the office into her home before realizing that she was unable to break the lease. Rookie move, Princess. Maybe Travis should have explained that part of business to her as well.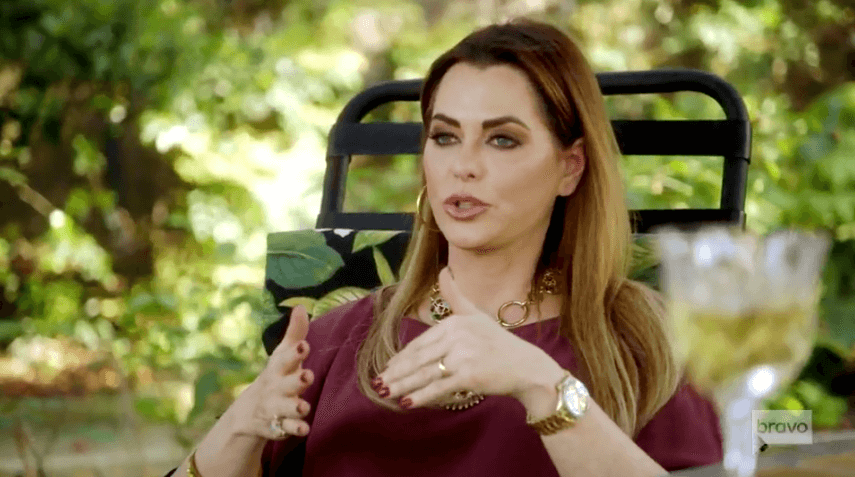 D'Andra confides to Mama Dee that her only other option to try and save the company is to take out a loan. Mama Dee tells her she didn't realize they gave out loans to people that didn't have any money. Ouch. Mama Dee then accuses D'Andra Simmons of not knowing how to budget and that says that refuses to be her bank anymore. Well that went well.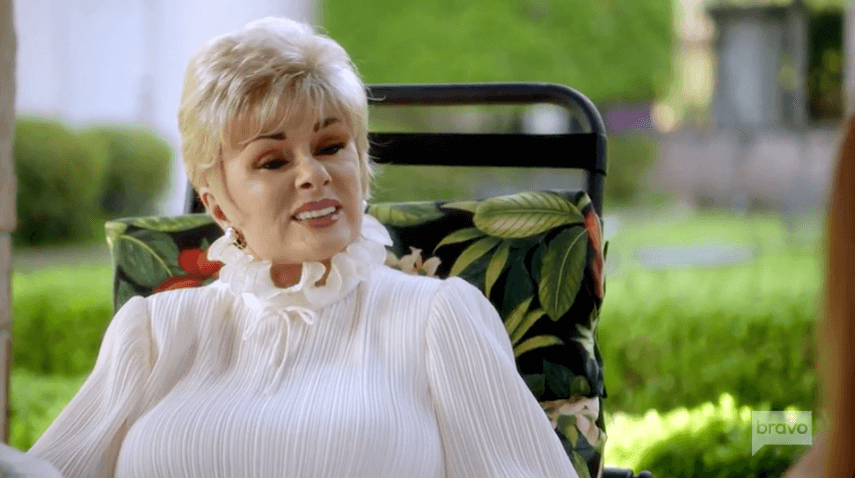 Kameron and Court go out for lunch and discuss the upcoming shower for LeeAnne and Rich. Kameron stress eats fried foods while venting to Court about her frustrations with Brandi and Stephanie for canceling at the last minute. Whatever will she do now with their monogrammed linens and place settings?
Back at the Hollman residence, Travis surprises Stephanie with an Hermes gift box for their anniversary… filled with men's toiletries. According to Travis, these are all of the things she steals from him. To be fair, besides the deodorant, razor, toothbrush and toenail cutters, he did also include one thousand dollars cash in five-dollar bills. How romantic. The conversation turns dark when they start to discuss Travis' father, whom he hasn't heard from in two weeks. Stephanie confesses in her talking head interview that Travis' dad often goes off to his condo in Thailand, ceases all communication, refuses to take his medicine, gets very ill and then Travis is eventually expected to go rescue him.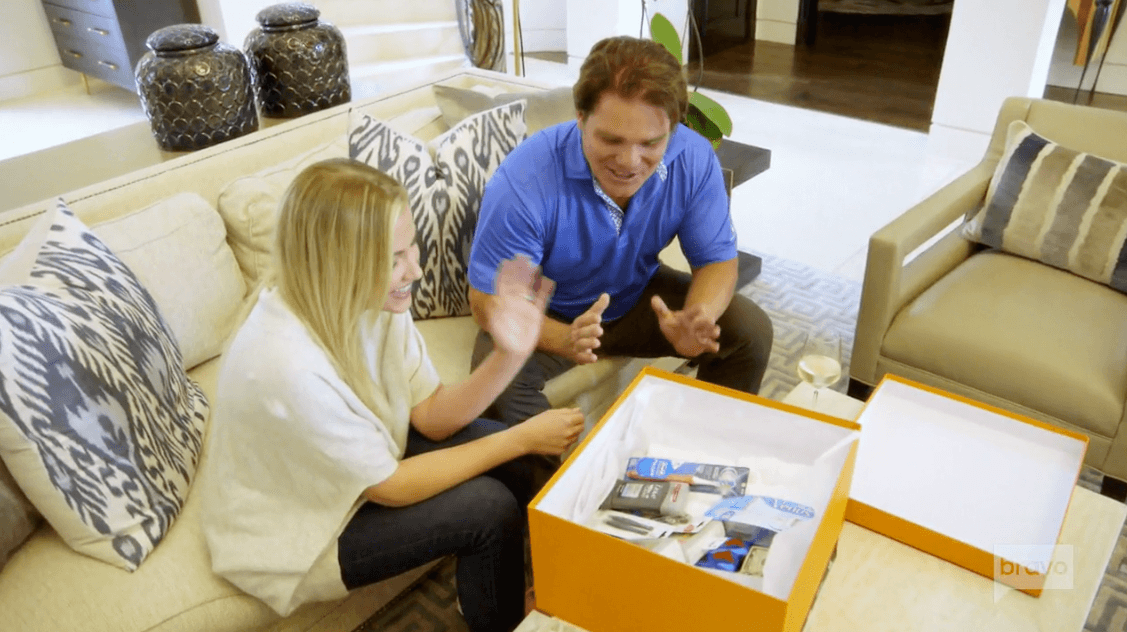 The big day arrives, and hostess with the mostess, Kameron, is in all her glory as she and her mother in law scurry around to put the finishing touches on LeeAnne and Rich's couples' shower. Kameron has spared no expense as the shower is filled with with crystal candelabras, metallic colors, and signature "carny" cocktails garnished with cotton candy on top. According to Kameron, although this shower may not be LeeAnne's personal taste, it is indeed timeless. Deep down I bet LeeAnne still wished that Kameron sprang for Cardi B as the entertainment instead of the string quartet AKA trio.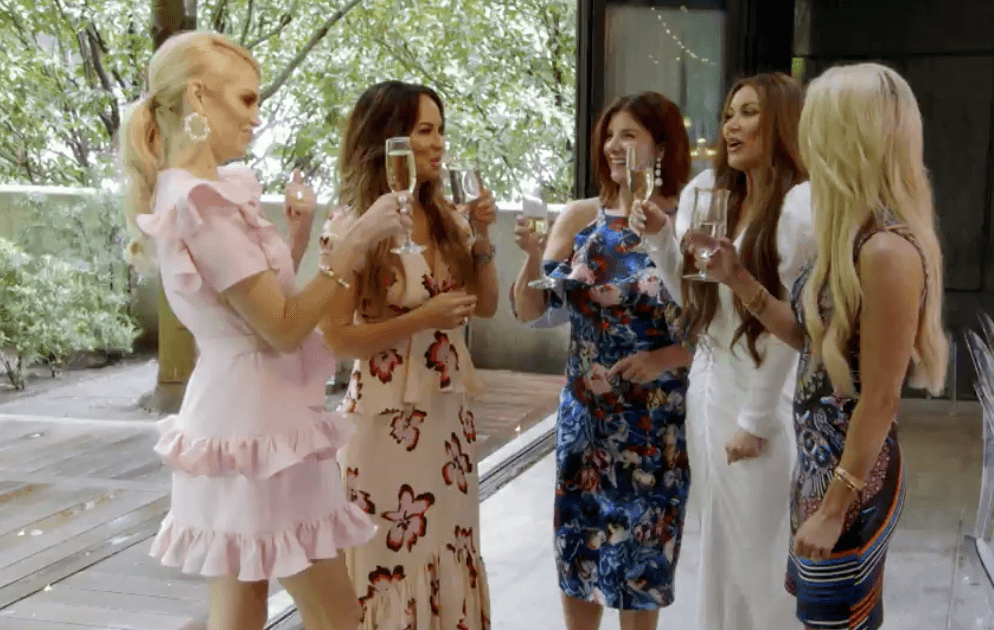 The shower goes off without a hitch, that is until Kameron mentions to both LeeAnne and Cary Deuber that Kary Brittingham invited her to girl's night out that same evening. LeeAnne and Cary are visibly upset that they were not invited. The ladies devise a plan to crash it. Cary asks if in doing so will they come off "desperate and weird looking." That's really rich coming from a "friend of" who's wormed her way into the past three or four episodes.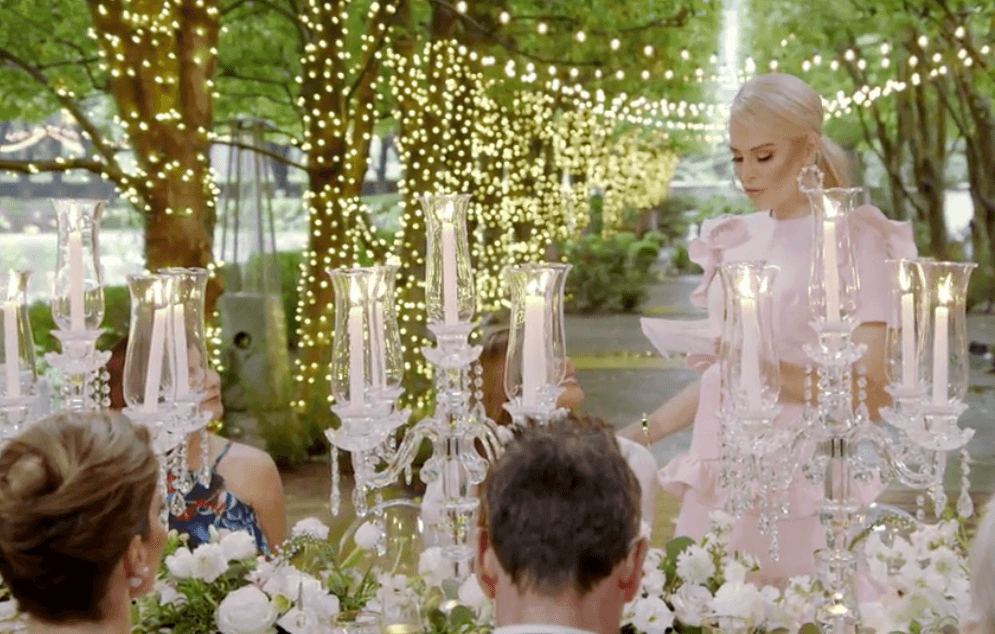 Cut to geriatric happy hour at 5:15 pm girls night out. Kary and Stephanie arrive first. Kary confides to Stephanie that she's always dreamed of having her own little place since the home she and Eduardo live in is not actually in their name but belongs to the family trust. She explains that she's frustrated by his unwillingness to put the home in each of their names or give her something of her own. I smell T-R-O-U-B-L-E.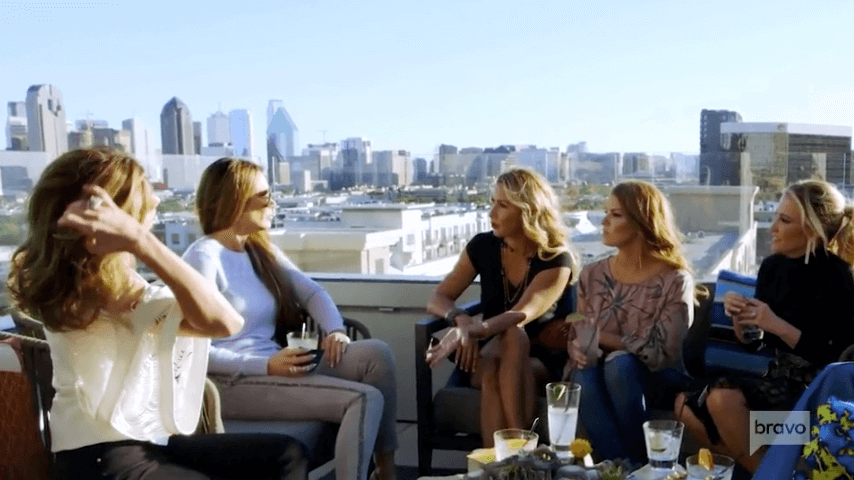 Brandi and D'Andra Simmons show up soon after and the ladies discuss the wedding invitation via text that both Kary and Brandi received a mere ten days before the nuptials. Per D'Andra this goes against all wedding invitation etiquette. However, in LeeAnne's defense, text messages are a much more secure route than the United States Postal service and their aforementioned 30% percent failure rate. Sounds like text message invites are a no-brainer in that case.
It's not long before Kameron shows up with her uninvited guests in tow. Cue the fireworks. Kary is shocked that Kameron would bring people with her that were not invited and asks LeeAnne how she would feel if she showed up to her shower or reception uninvited and accuses her of ruining her girl's night out.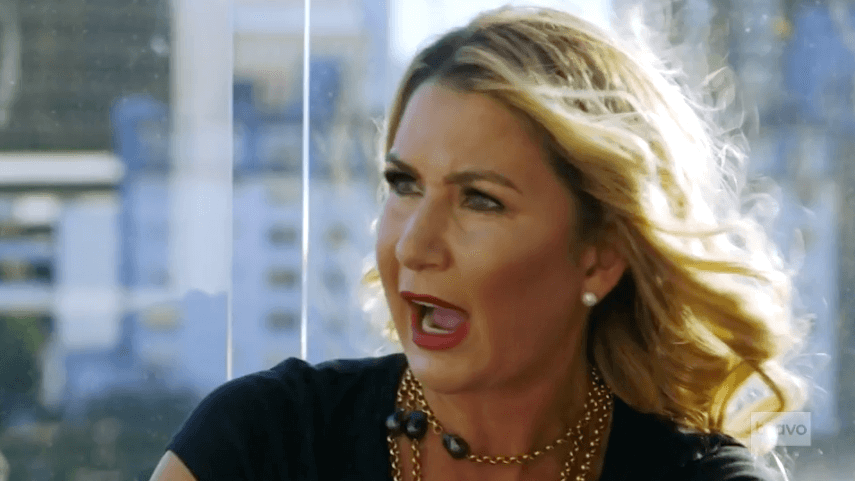 Kameron then takes the opportunity to chastise both Stephanie and Brandi for not reaching out to LeeAnne to let her know they would not be in attendance at her shower and also for reneging on their RSVP even AFTER choosing chicken or beef. Again, the nerve. Brandi and Kameron butt heads as Brandi pulls out receipts that she did in fact let Kameron know in advance that she would not be in attendance.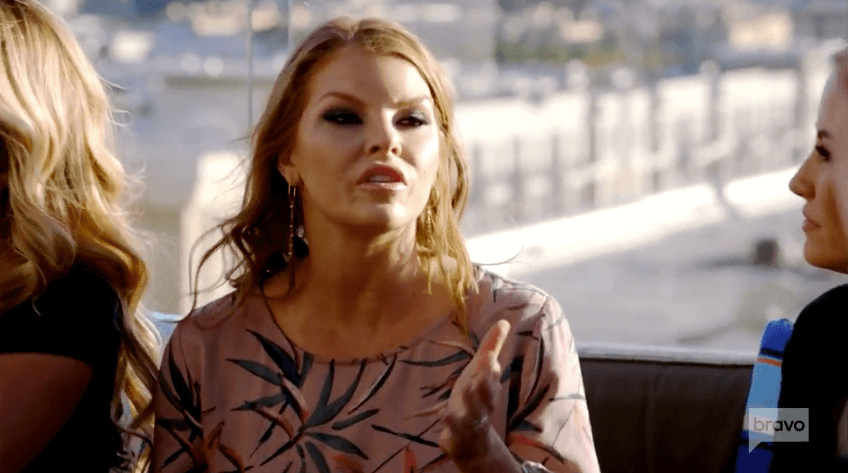 She also says that someone text her from an unknown number regarding her preference for chicken or beef and she thought this was just a general question and did not connect it to the couples' shower. Stephanie apologizes to LeeAnne and acknowledges that she probably should have reached out to LeeAnne and personally let her know that she wasn't coming.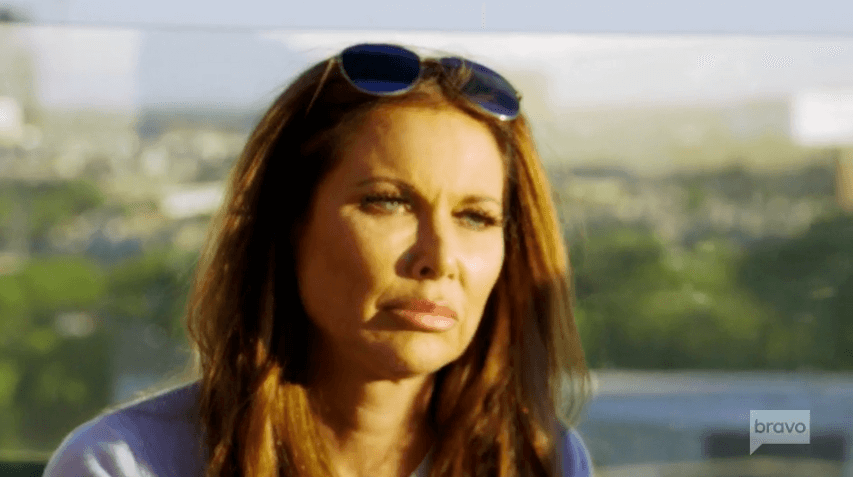 Kameron pulls Stephanie aside to further lecture her and says that her actions have not been that of someone who wants to pursue something more than a "surface-level" friendship. Stephanie explains again that she didn't realize her son had a school program until the last minute, but it's obvious that she doesn't believe her. Kameron accuses Stephanie of being insecure and playing the victim and Stephanie says Kameron's full of it.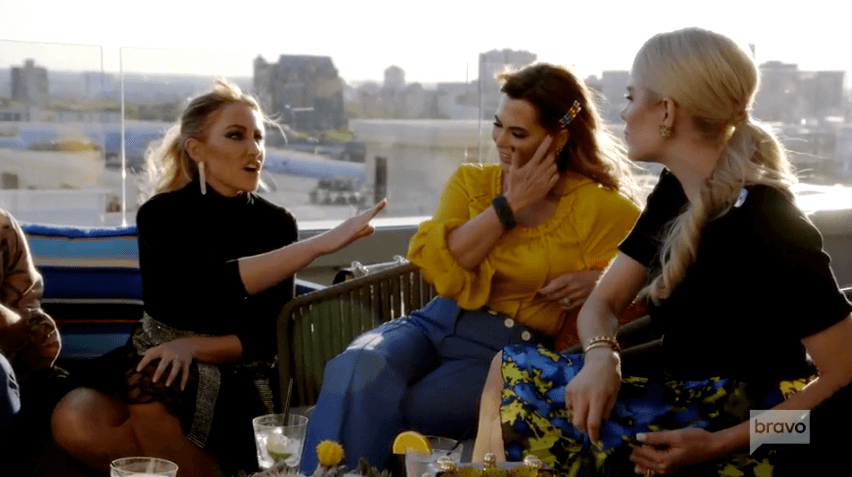 Kameron concludes her hamster wheel argument stating that if Stephanie wants to be more than a surface-level friend than she needs to put in the effort. The ladies half-heartedly cheers in an effort to put the argument past them. Meanwhile, across the table, Kary and LeeAnne seem to come to some sort of mutual agreement that they need to spend more time with one another and get to know each other better. D'Andra Simmons sits back watching the drama unfold, happy that for once it doesn't involve her. Cary Deuber's also sitting back watching too, albeit not willingly. I suspect she'd probably gnaw off her right arm to be in on all the action. Until next time Dallas…
"Like" us on Facebook "Follow" us on Twitter and on Instagram