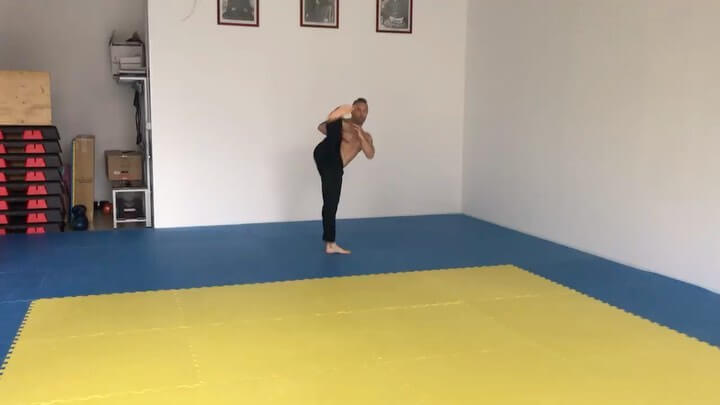 Joe Giudice's MMA aspirations may not be a pipe dream after all.
On Wednesday, the Real Housewives of New Jersey dad was seen boxing with his coach in a video posted by his teen daughter, Gia Giudice.
In the video below, Joe Giudice practices his moves shirtless —  looking trim and fit. "We come back stronger than before❤️ the fights [sic] just starting?? zio pete your [sic] a great coach :)" Gia, 18, wrote in the caption.
EXCLUSIVE: Joe Giudice's Mother Will Live In Italy With Her Son Amid His Troubled Marriage!
In the video below, Joe Giudice's brother, Pete Giudice, is seen coaching his older brother in a rigorous kickboxing routine.  
In a second video, Joe flings high kicks around the room with precision.
Joe Giudice was released from Clinton County Correctional Facility in McElhattan, Pennsylvania on October 11 — and flown to Rome, Italy, on an economy ticket.
His daughters and family have rallied around the convicted fraudster with the exception of his estranged wife, who is reportedly gearing up to divorce Joe.
His brother Pete Giudice, mother Filomena Giudice, his sister Maria Giudice Fazliu are all in Italy — Gia and her sisters, however, will reunite with their father soon.
In an episode of The Real Housewives of New Jersey, Gia clapped back at mom Teresa, 47, when she tried to bad-mouth her estranged husband.
"That's your personal business with my father, so enough," Gia tells her mother, clearly upset by the divorce and cheating drama.
Readers know Teresa Giudice recently admitted to hooking up with a hunky man in a RHONJ preview clip. She further said she hadn't been happy in a very long time.
Joe Giudice's family have been giving Teresa Giudice the side-eye over her lack of support of their beloved Juicy Joe. Teresa Giudice has been spotted holding hands with a man and partying recklessly since Joe's imprisonment. She seldom visited her husband behind bars.
"Like" us on Facebook  "Follow" us on Twitter and on Instagram