'RHOD' RECAP: Brandi Redmond Accuses LeeAnne Locken of Wanting People To Feel Sorry For Her!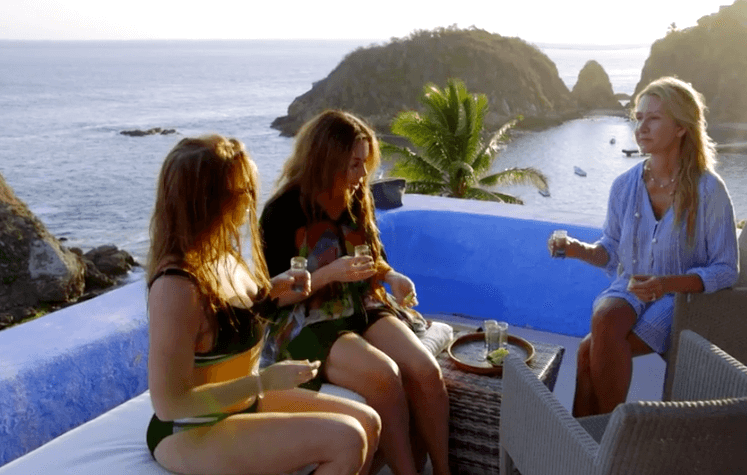 Welcome back to another episode of The Real Housewives of Dallas. The episode opens with a very nauseated D'Andra Simmons, who seems to have brought her fledgling business with her all the way to Mexico as she does indeed have a hard night but not so good morning. Let the hangover commence.
LeeAnne Locken and Kameron Westcott discuss the previous night's drama over a green juice. Kameron confesses that she almost left her room and bunked with LeeAnne instead but ultimately decided against it so as not to cause further drama between her and Stephanie Hollman. Much to her surprise, however, she woke up and found Stephanie's bed empty. She goes on to say that she suspects Stephanie didn't sleep there at all. Tisk tisk.
The ladies leave the house for a busy beach day Kary Brittingham has planned complete with a sweat lodge ceremony and spa treatments. Once in the van, LeeAnne questions Stephanie regarding her whereabouts the night before and Stephanie quickly shuts down Kameron's suspicions about sleeping out as she explains that she woke up at 7 am and went to Kary's room for a chat.
D'Andra Simmons, Karyn and Stephanie are the first to participate in the sweat lodge ceremony but not before rubbing clay mud all over their skin from head to toe. So luxurious. While they bond over sweating, chanting and healing, Brandi Redmond, Kameron and LeeAnne are left to sit out on the beach in awkward silence. Eventually, Kameron confesses that she didn't sleep well and Brandi asks if they can talk privately. Kameron agrees and the two start to unpack the drama from the night before.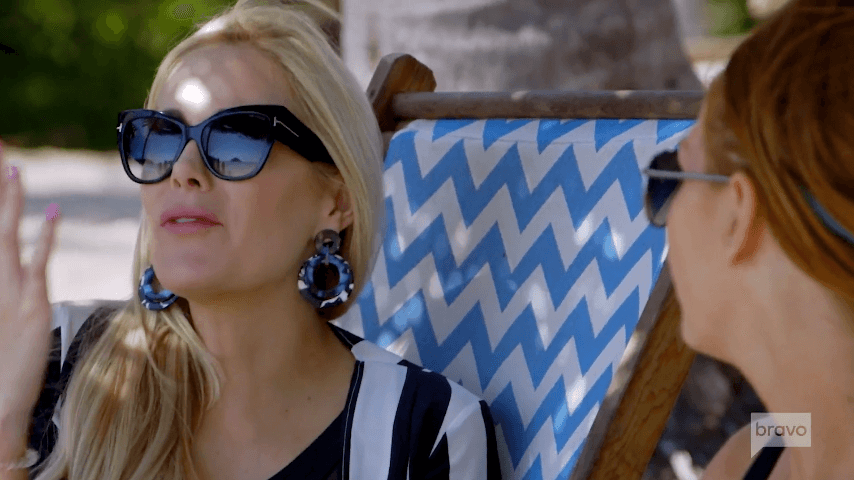 Kameron starts getting emotional and LeeAnne takes notice and quickly comes over to console her, but Brandi Redmond asks that LeeAnne let them finish before interrupting. LeeAnne does in fact leave, but not before making it clear that she was not shown that same respect the night before when she tried to speak with Kary privately. Kameron and Brandi eventually decide to bury the hatchet and apologize to one another. As they frolic back to their beach chairs, LeeAnne decides to make a swift exit right out into the ocean. Maybe she was hoping for another flesh-eating bacteria so she could leave the trip early?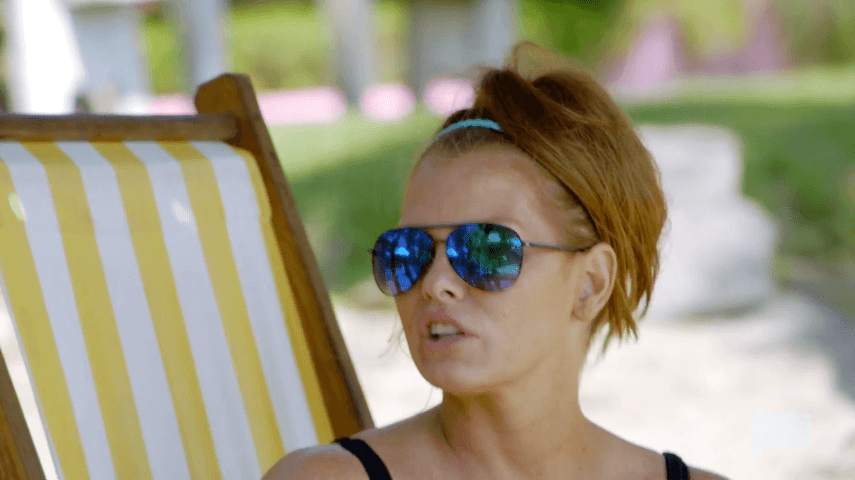 Later, Kameron Westcott and Brandi take their turn in the sweat lodge. LeeAnne declines to join them. She admits to Stephanie and Kary that her feelings were hurt when Brandi took Kameron away privately to discuss their drama and that it ignited deep feelings of abandonment within her. Kary advises LeeAnne that she will only get back what she puts into these relationships. LeeAnne seems to take this advice to heart later on and really open up to the ladies — cut to the rowdy shower scene back at the house where LeeAnne shows the ladies that the carpet does indeed match the drapes. Not to worry though, later in the evening Stephanie asserts that in a contest between LeeAnne and D'Andra it is D'Andra who takes the prize for the hairiest bush. She knows because she's seen them both.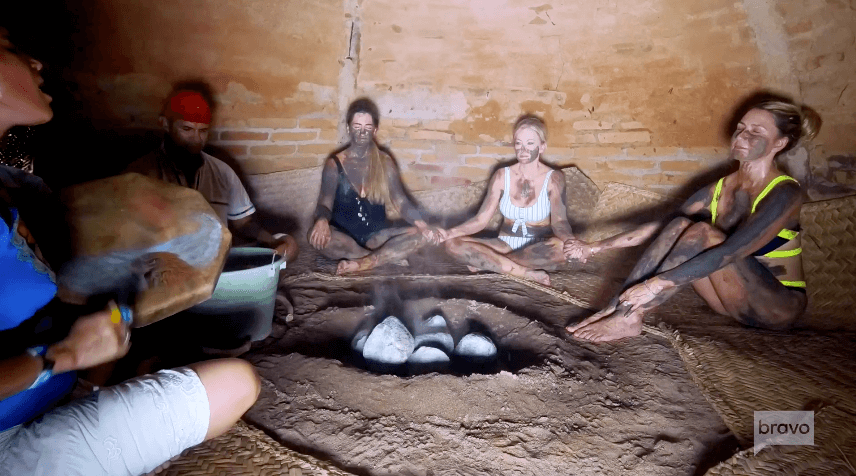 The antics continue when Kameron and Brandi decide to pull a prank on the rest of the ladies.  Much to Brandi's dismay, this prank does not include any dildos. Instead, they come up with a plan in which Brandi distracts the ladies with tequila shots while Kameron fills the barrel of a hairdryer with flour. Ultimately it is Kary who ends up being on the receiving end of the prank and takes it in stride like the champ she is. Girl is killing the Housewives' game.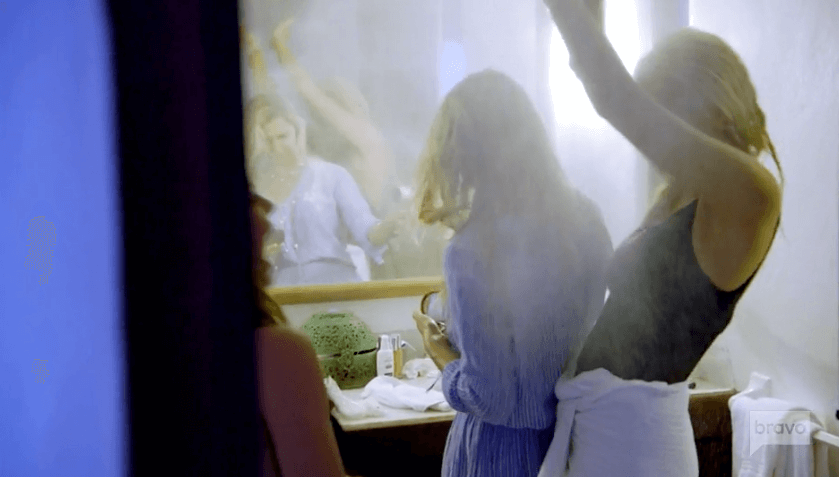 Once all ready, the ladies climb back in the van and head out for a candlelit dinner in the same spot Kary got married ten years before. Awwwwww. The ladies all seem to be getting along but if you thought the drama was over for the remainder of the evening you're anything but right.
While in the van, LeeAnne Locken expresses regret that she didn't participate in the sweat lodge ceremony and Brandi agrees that she should have joined her and Kameron. LeeAnne responds that she didn't feel like Brandi wanted her there which in turn upsets Brandi. As the ladies file off of the bus, Stephanie tries to lighten the mood by asking that Brandi let the "Pube Sisters" AKA D'Andra and LeeAnne out of the van first.
The ladies sit down at dinner and Kary gives a beautiful toast, possibly in hopes that everyone's napkin will stay on their lap. But it's not long before the peaceful dinner is interrupted. This time it's Brandi and LeeAnne's turn to talk privately.
LeeAnne and Brandi spar back and forth regarding whether or not Brandi Redmond thinks LeeAnne wants people to feel sorry for her. Brandi finally admits that she does. A screaming match ensues between the two and Brandi claims that she knows everything about LeeAnne to which LeeAnne responds "When's my period?" This question genuinely seems to stump Brandi. Guess she doesn't know everything after all.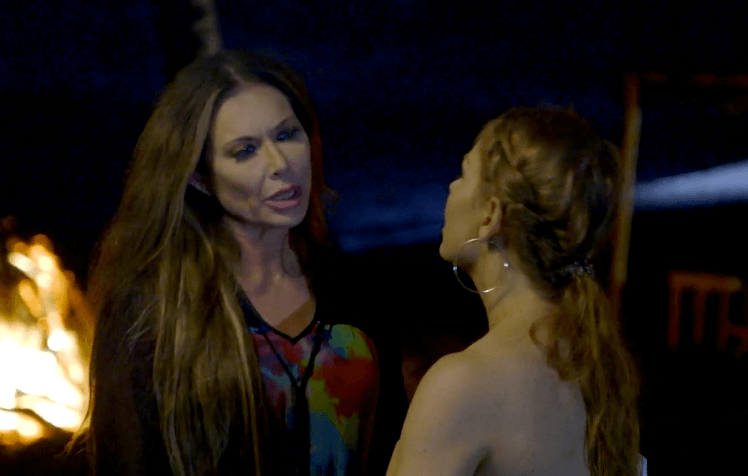 Back at the table, D'Andra takes the opportunity to rev the drama back up by stating that she is very upset that LeeAnne chose not to participate with them in the sweat lodge ceremony. LeeAnne responds by stating that she is also upset because the trip has been more focused around D'Andra's 50th birthday and not at all about the important event coming up in her own life i.e. her wedding. D'Andra responds that she doesn't even know anything about her wedding to which  LeeAnne astutely points out that she doesn't understand why D'Andra would have any interest in celebrating a union that she tried to separate. The argument is (thankfully) brought to an abrupt halt as dinner is served.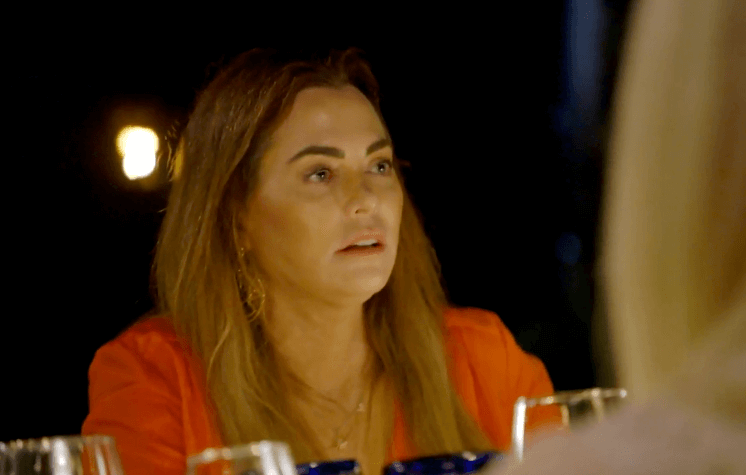 The dinner concludes with Kary gifting D'Andra with a necklace from her jewelry line that looks eerily similar to anal beads, a dinosaur analogy by LeeAnne and Kameron making sweet, sweet love to her Mexican spaghetti. I hope Court doesn't make her weigh in for her allowance when she gets home.
"Like" us on Facebook  "Follow" us on Twitter and on Instagram 
Amanda Byerly focuses on Reality TV recaps for All About The Tea. Amanda is a 30-year-old wife, mother and self-proclaimed Bravo TV junkie. When she's not watching Bravo, she's writing about it, reading about it, or listening to podcasts about it. "I get by with a little help from Bravo TV."