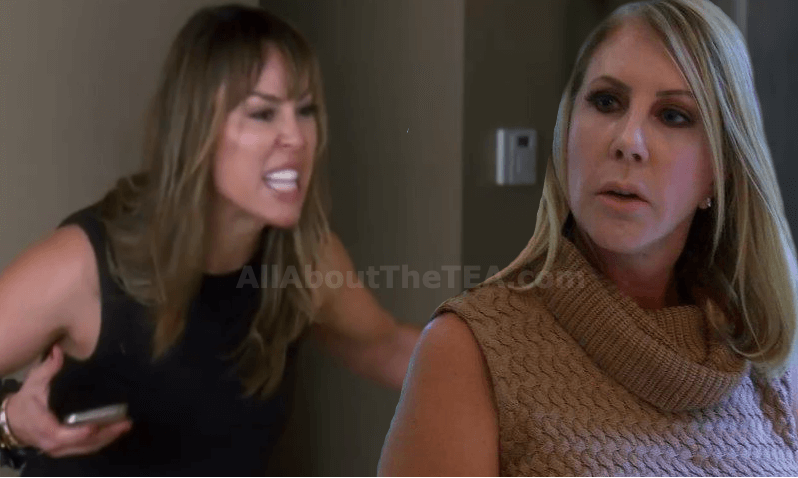 When the cast of the Real Housewives of Orange County decided to head to Arizona for a health retreat, things didn't go according to plan. First, Kelly Dodd  bonked Shannon Beador on the head with a mallet, besties Emily Simpson and Gina Kirschenheiter have been at each other's throats since day one, and Vicki Gunvalson and Kelly aren't even on speaking terms. In fact, we start off this episode with Kelly flouncing out of the yoga studio in a fit of anger, after Vicki says she has no desire to hurt anyone in the group.
According to Kelly Dodd, Vicki Gunvalson has been spreading the rumor that she pulled a train. And as a single gal, if that's her thing, so what? But apparently, Kelly's behavior is affecting her daughter, Jolie. According to Vicki, Kelly is banned from Jolie's school. But when attorney, Emily, tries to pin Vicki on specifics like whether Kelly is legally banned from stepping foot on school property, Vicki wiggles her head and says, "Schematics." Vicki defends herself, saying she's not the one ruining Kelly's reputation. Kelly is doing a fine job of that on her own.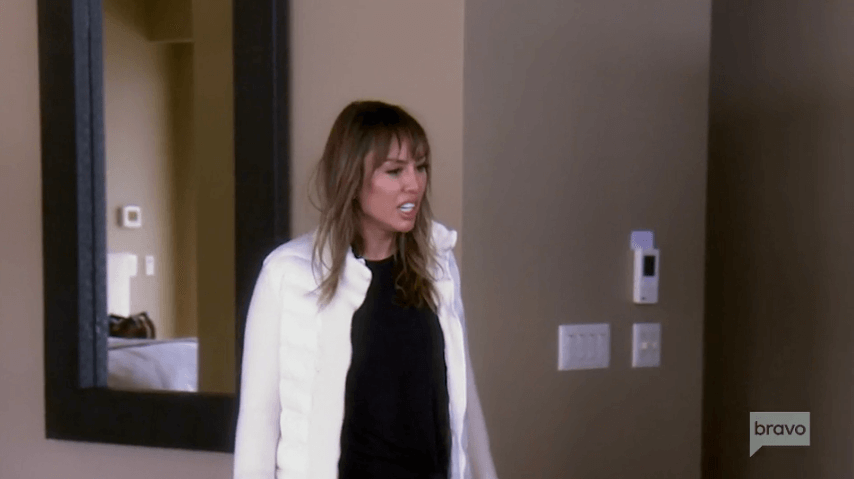 When Emily Simpson returns to her villa, Braynwyn Windham-Burke assures Emily that her friendship with Gina will withstand this latest argument. But before Emily can sink deeper into her own drama, Kelly starts complaining about Vicki. Again.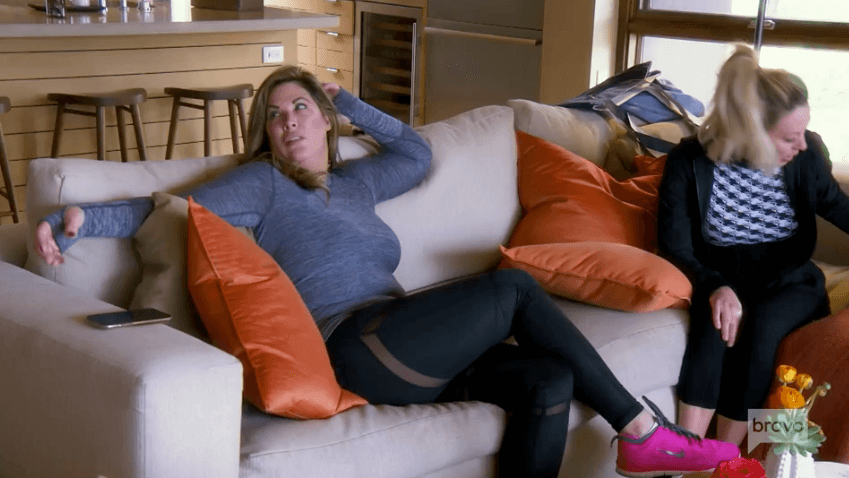 Emily shares the latest rumor with Kelly — the one about her not being able to step foot in her daughter's school. Kelly starts squealing in protest. She phones up ex-husband Michael and puts him on speaker. He says the rumor is bullshit and backs up Kelly's version of the truth.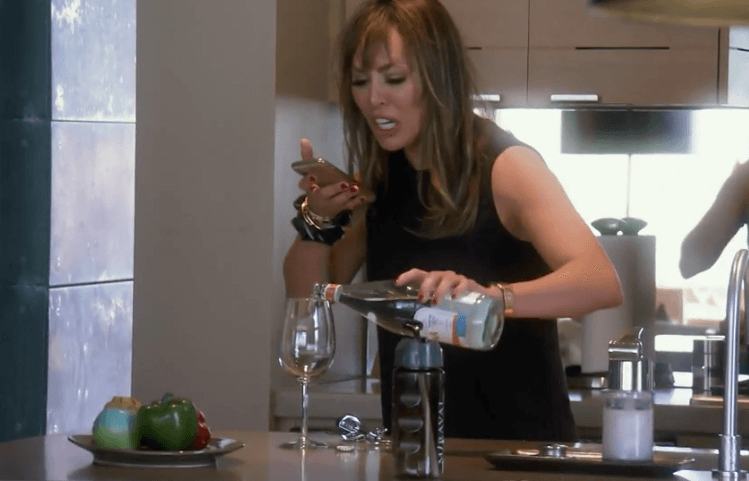 Over at Tamra Judge's villa, Vicki discloses where she heard the latest tea about Kelly: at the salon. The woman sitting next to Vicki claimed to have a daughter who attends Jolie's school. She's the source of the information, saying Kelly is not nice and is banned from school property. Tamra thinks Vicki has gone too far by spreading this rumor.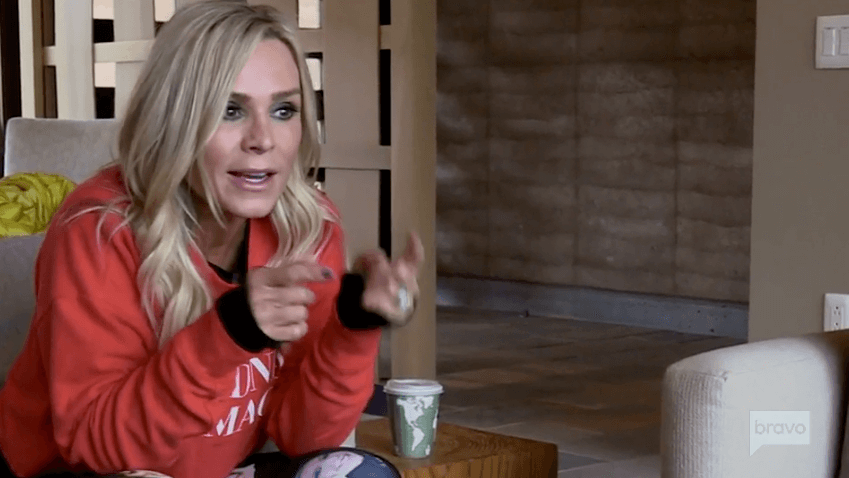 Kelly Dodd calls Shannon to defend herself. Shannon clarifies, saying this ban on school property was a long time ago and not a recent event. Kelly insists it's all a bunch of lies. Of course, Shannon has her speaker on and Vicki sits there and listens to the whole conversation. Tamra backs up Kelly. Then, Vicki takes the phone, insisting she's not the psycho Kelly claims she is. Kelly calls Vicki a pig, a liar, and the c-word.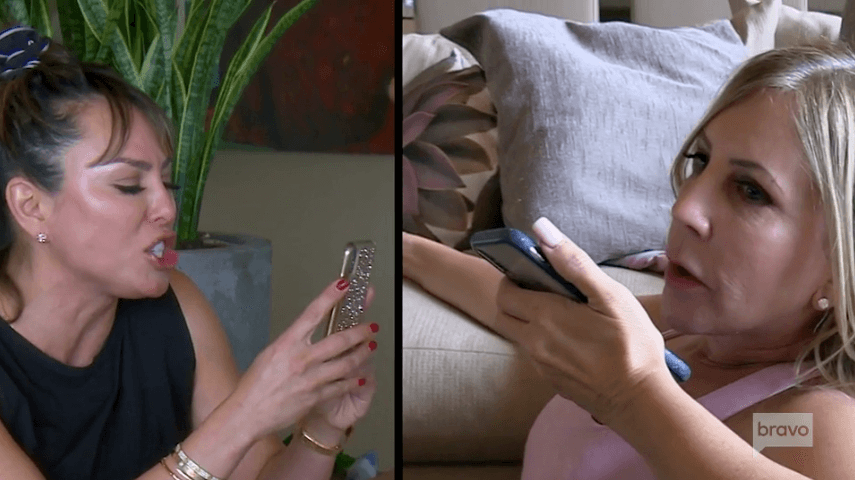 Vicki demands that Tamra take sides between the two women. Tamra refuses to defend either one of them. Vicki thinks it's all Emily's fault, for stirring the pot by repeating the gossip to Kelly. Tamra vetoes that idea. If Vicki had never brought it up in the first place, Emily wouldn't have relayed it to Kelly. 
The staff arrives to Kelly, Braunwyn, and Emily's villa with food and bloody marys. Shannon has sent an invite to the women for later that afternoon. And she instructs them to behave themselves. Kelly refuses to go.
For their outing, Shannon insists that everyone wear the RHOC leggings she bought, the ones with the faces of the Housewives printed on them. (By the way, where can I get those leggings? I need some, STAT!) So, clothed in the likeness of each other, the women head toward the bee hives. Except for Kelly, who hops into the pool buck ass naked. She facetimes Jolie and complains about Vicki. Jolie blows off the latest rumor and hangs up.
The ladies find the beekeeper, Noel, to be attractive. I'd call their assessment more desperate than discerning, but that's just me. Shannon thinks he's funny, so Tamra asks if he's single. But Noel says his relationship status is complicated, and Shannon gets embarrassed. The ladies don their white beekeeper suits and follow Noel to the hives. He laughs maniacally as he smokes out the bees. He holds the queen by her wings and explains how bees make sweet, sweet love to each other. The drone mates with the queen and dies, going out with a bang.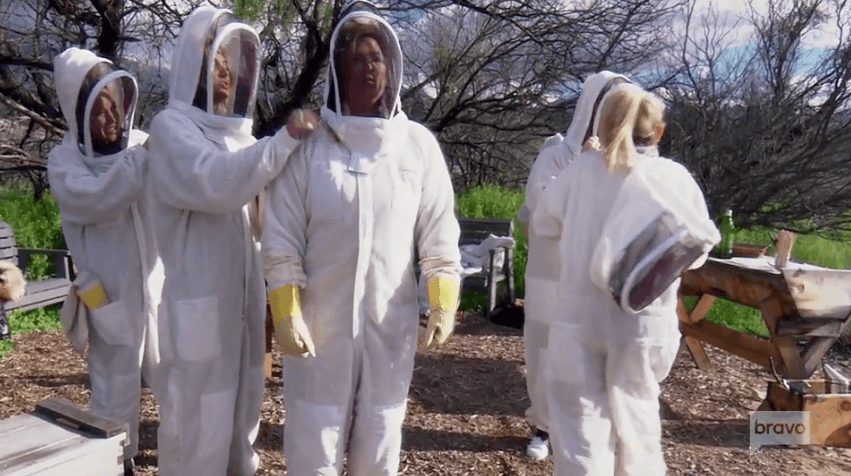 Instead of heading back to the villas, Gina and Emily talk out their problems. Gina admits she hurled some pretty mean words at her best bud. Emily is hurt and jealous that Gina has become friends with Shannon and Tamra. Emily's been Gina's ally since the beginning. On top of that, Emily has been having marital problems. Sure, she danced onstage for her mother and father-in-law, but Shane showed up in Vegas after all. Why doesn't Gina understand what a big deal that is?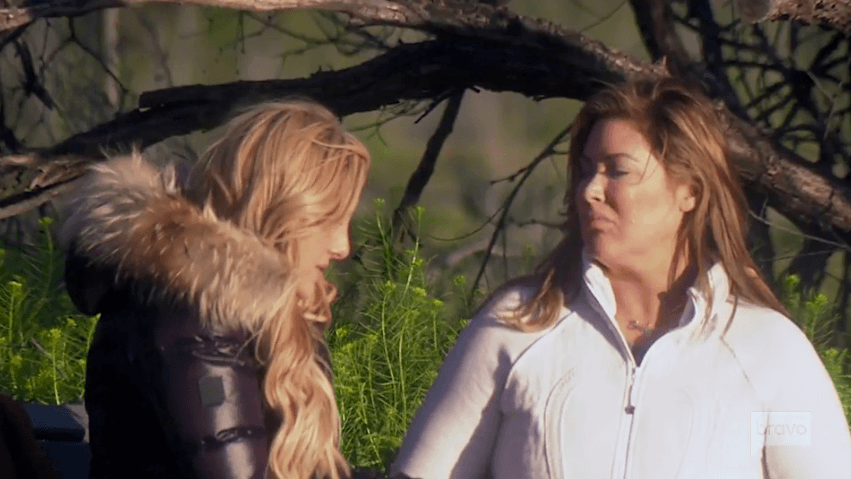 Gina has her own problems, and since separating from Matt, Emily hasn't been very supportive. If Gina finds comfort in Tamra and Shannon, so be it. Ultimately, they hug it out and decide to get their friendship back on track.
Before dinner, Kelly Dodd calls her boyfriend, Dr. Brian. He encourages Kelly to stay calm in the face of Vicki. He makes choo-choo noises to mock the train rumor. Emily and Braunwynn also give her a pep talk and agree that Kelly needs to rise above the drama. But Kelly is upset that her good gal pals, Tamra and Shannon, would even invite Vicki in the first place. What were they thinking?! Her roommates instruct Kelly to simply smile and nod. 
The women meet in Shannon's villa for a pre-dinner drink. Awkward silence stretches between Kelly and Vicki, but Emily and Tamra seem to be making a new connection with each other. 
The beverage manager, Tilynn, waits for the women with all sorts of alcoholic beverages on hand. She plans to show the ladies how to make some wicked cocktails. They pair up, and Emily is all over Tamra like a bad rash, hugging her and slapping her ass. Shannon and Kelly are giggling like teenagers at their first kegger.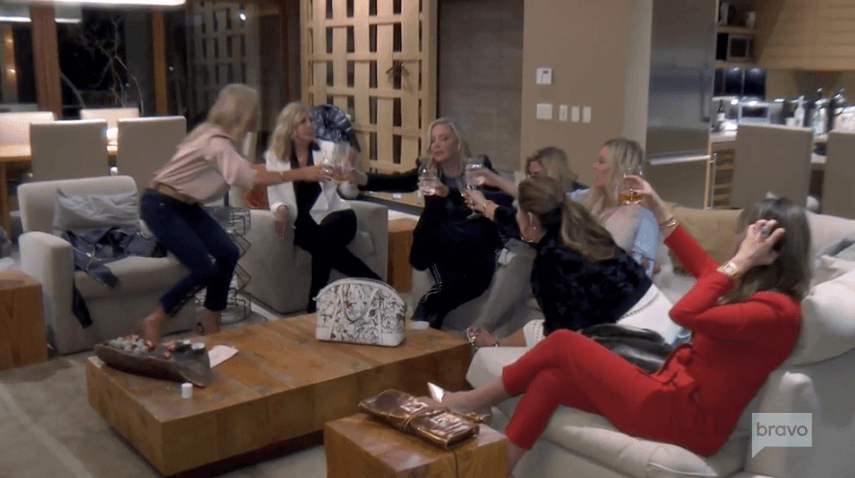 Gabe, the chef, forces the women to make their own appetizers. No one seems particularly happy about this event. They'd rather just eat. And Emily is worried about these semi-drunk women waving around big, sharp knives. In the corner, Tamra defends herself to Kelly. She tells Kelly that she doesn't agree with Vicki's nonsense, but to Kelly, talk is cheap. She wants Tamra to pick between her and Vicki. And the choice should be an easy one. Tamra has no answer for that.
As the women sit down to eat the salad they just made, they're impressed at their own culinary skills. Talk over dinner turns to Braunwyn, her dozens of children, and her lactating boobs. She bares those boobs to Kelly, who gives them a squeeze. Braunwyn claims she's been nursing for 19 years. Put those udders away, lady! 
Kelly Dodd admits that earlier in the week, she and Braunwyn went to a place where she painted a pig on a car hood and put Vicki's name next to it. Then she crushed the car with a crane. That brings the conversation to a halt. And despite saying Vicki looks like a pig, Kelly now says Vicki is pretty. Vicki tears up and then Kelly starts crying. They were such good friends, but Kelly admits she can now barely look at Vicki, because she's so hurt. Vicki gets up from her seat and gives Kelly a big hug. They cry together, as Kelly begs Vicki to stop spreading rumors. Shannon tells both women to make a pact against throwing any more low blows.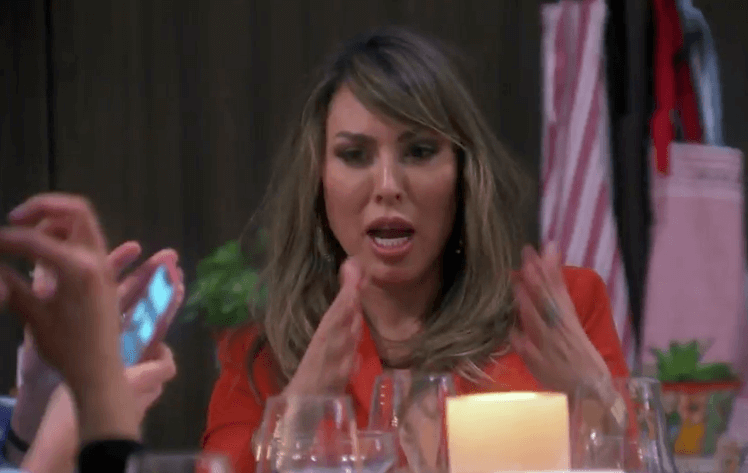 Kelly is almost inconsolable as she tries to describe the pain Vicki has caused Jolie. Vicki denies it and tries to soothe Kelly. But Vicki finally apologizes, and they keep hugging. It seems we have a truce.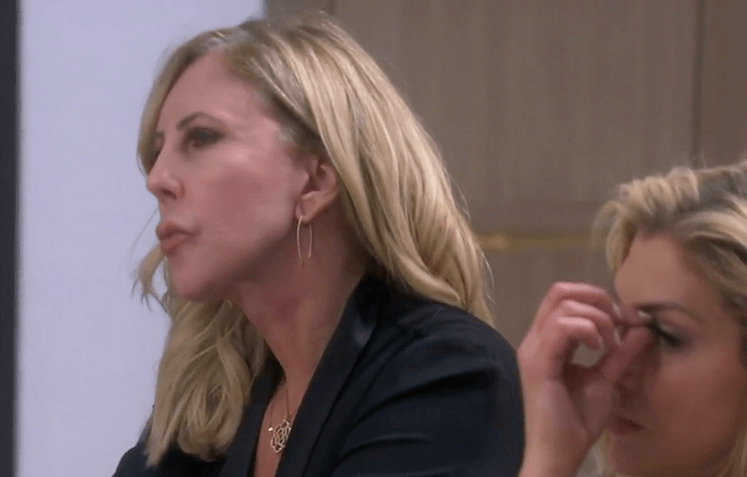 Now that Kelly and Vicki finally settled their differences, Tamra and Braunwyn get naked and jump in the pool. Vicki thinks Tamra should keep her clothes on, now that she's a grandmother. I don't see that happening. 
Meanwhile, Gina and Emily are hanging out in the hot tub. A shivering, naked Braunwyn joins them. Next, a topless Tamra hops in. Inside, Shannon, Vicki, and Kelly decide they're too old to get naked and wet in public.
Talk in the hot tub turns to kinks. Furries, the ladies decide, are weird. But Braunwyn defends threesomes. *record scratch* What's that? Braunwyn and her husband bring in special guests every now and then? Apparently, the mother of approximately 62 children brings other woman into her marriage — but only for special occasions, like her husband's birthday. And where does Braunwyn find these women? Well, she knows them. And it's not about her husband having sex with another woman. He's not allowed to do that. It's simply a chance for Braunwyn to dip her toe in the lady pond — and he gets to watch.
Braunwyn defends herself, saying she's totally straight. Even though she likes to make out with other women. And you know, other stuff. If she had to invite one of the Housewives into her bed, it'd be Tamra. Where is the mind bleach when you need it?
This ends our episode. So, are Kelly and Vicki really reunited? Would you invite another woman into your relationship? And next week we'll see the return of Alexis Bellino. Are you excited to see her again or not?
"Like" us on Facebook  "Follow" us on Twitter and on Instagram