Exclusive
EXCLUSIVE: Thomas Ravenel DENIES Taking 'Hallucinogenic Drugs' & Drinking Around Kids!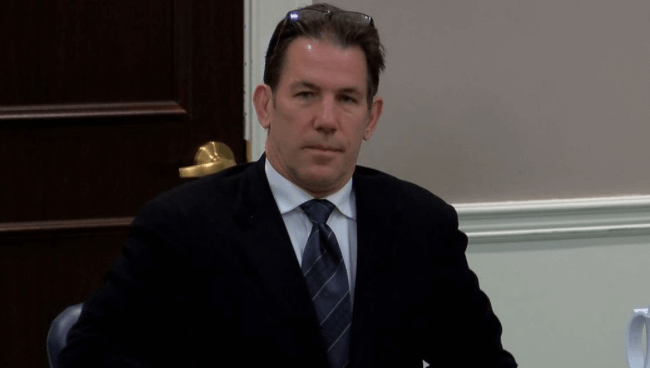 A video has surfaced of Thomas Ravenel allegedly experimenting with hallucinogenic drugs at a party in his home from 2015.
In the grainy video published by the Daily Mail, supposedly Thomas Ravenel, 57, ingest magic mushrooms during a gathering at his Charleston home according to his Southern Charm ex girlfriend, Kathryn Dennis.
The two are currently fighting for sole custody of their two children — Kensington, 5, and Saint, 3.
Thomas Ravenel, 57, spoke to AllAboutTheTEA.com exclusively about the alleged drug use in the video and additional allegations.
"The video has been taken out of context." Thomas Ravenel told AllAboutTheTEA.com."I had a party in my home but I never promoted or engaged in any illegal drug as being portrayed in the egregious article published by the Daily Mail."
Press play to watch below.
According to the affidavit filed by Kathryn Dennis in support of her bid to gain full custody of her children, "various people have sent me all kinds of things regarding Thomas over the years."
In another video, which Thomas Ravenel sent directly to Kathryn, Thomas seemingly refers to their son Saint by their daughter's name — she claims Thomas is intoxicated or under the influence while caring for their children.
"The video with Saint, I'm talking to Kensie who's out of the video but sitting next to me." Thomas Ravenel shared with AllAboutTheTEA.com. "I'm reminding Kensie of the video we used to show her before Saint was born. Kathryn clearly knows this because I sent the video to her to be nice. And she tries to turn it into me calling Saint 'Kensie' drunkenly. This is false."
Kathryn Dennis used the video to argue in her affidavit that Thomas Ravenel has violated their terms of agreement for caring for their children.
"Like" us on Facebook  "Follow" us on Twitter and on Instagram