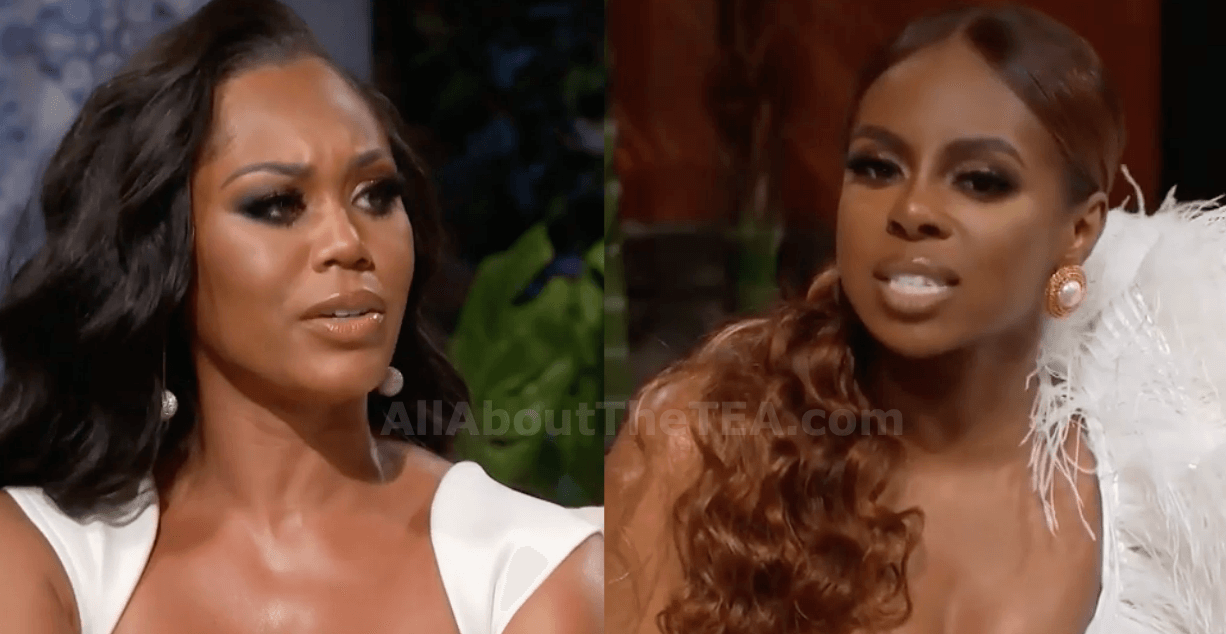 Candiace Dillard and Ashley Darby's feud will take a break tonight on part two of the The Real Housewives of Potomac reunion.
The spotlight will shift to her friendship fallout with Monique Samuels. Monique Samuels and Candiace Dillard rehash their friendship fallout and Candiace's emotional outbursts all season. As reported, Monique did not sugar-coat anything and let Candiace have it for accusing her of forging an alliance with Ashley Darby while dropping her as a friend. Monique really questioned things after Candiace took the Amistad comment out of context and tensions escalated at Katie Rost's backyard hoedown.
Click Here To Get Exclusive RHOP Reunion Spoilers
During part two, Candiace Dillard accuses Monique of using her to patch things up with Ashley but Monique dismisses her claims as bogus.
Reunion host Andy Cohen, questions Candiace Dillard why she said Monique used her as a vehicle to make up with Ashley Darby. Candiace explains that Monique chastised her in front of people who don't care for her and conspired to take her down. But Monique believes Candiace took herself down. She also doesn't understand why Candiace cares that she made up with Ashley Darby.
'RHOP' Fans Accuse Katie Rost of Bleaching Her Skin to Look 'White'
After their friendship hit the skids on-screen, Twitter drama erupted between the former friends. In an exclusive AllAboutTheTEA.com interview, Monique tells  us that she's no longer on speaking terms with Candiace and was forced to "block her on IG," amid their feud.
"I blocked her on IG because I don't want her stalking my page. She wants attention and I refuse to give it to her." Monique tells AllAboutTheTEA.com. "I don't give in to temper tantrums… I laugh at them! Ask my kids."
Monique, 35, noted, "She's mad at herself for looking so crazy on TV."
The former friends started feuding after Monique voiced concerns over Candiace's explosive outburst during a knife wielding incident with Ashley Darby — Candiace misconstrued Monique's advice and lashed out at her friend.
"I tried to warn her during filming not to become Ashley, Jr. Now she's projecting who she is on to me so that she doesn't have to be accountable for HER actions." Monique tells AllAboutTheTEA.com.
Fans have witnessed Candiace lash out on-screen at her co-stars and her husband during unhinged fits of rage. Monique feels Candiace's behavior may be deflection stemming from her toxic relationship with her mother, Dorothy Dillard.
"She can take this battle to the appropriate source- her mommy."
Press play below to watch the preview.
The Real Housewives of Potomac airs Sunday nights, on Bravo, at 8:00 p.m. ET.
"Like" us on Facebook  "Follow" us on Twitter and on Instagram