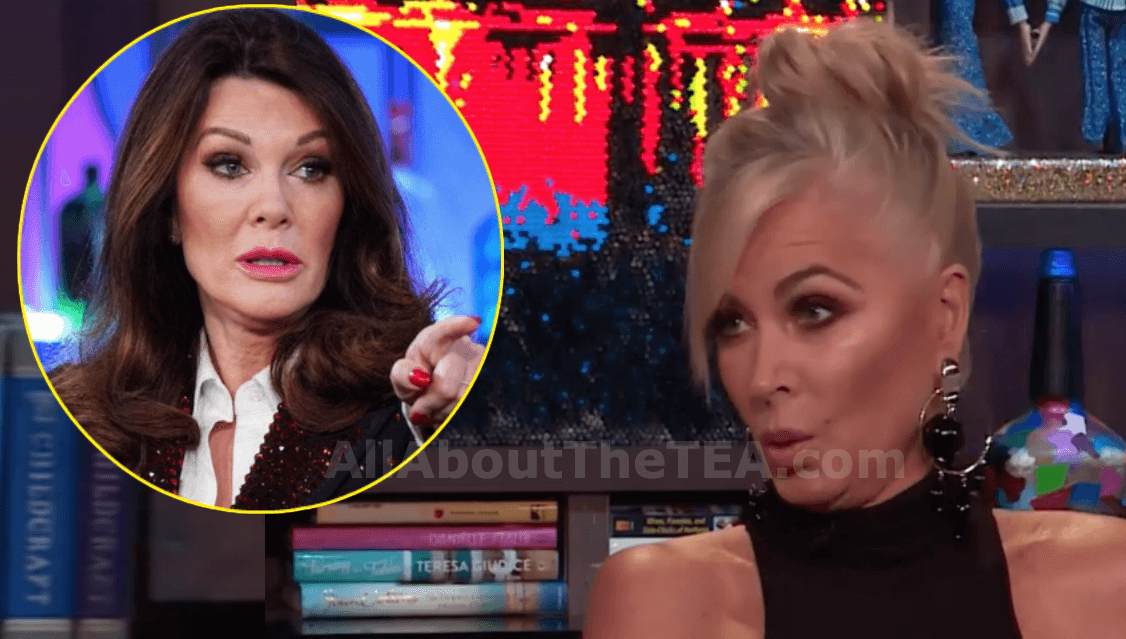 Say what now, Eileen Davidson?
Eileen Davidson appeared on Watch What Happens Live on September 17 and shaded Lisa Vanderpump during a rapid fire game of 'Spill on the Hills.'
The soap star, 60, weighed in on the drama surrounding Lisa Vanderpump — and revealed that she's not Team Vanderpump. Host Andy Cohen first asked about #PuppyGate —  the scandal that left Lisa estranged from the group. "Who do you think was more in the wrong [about "puppygate"], LVP or Dorit [Kemsley]?", Andy asked. Eileen stared straight at the camera, and without hesitation said, "Yeah, Lisa Vanderpump."
Andy then continued with the game and later asked Eileen Davidson her thoughts "on LVP ditching the reunion and quitting the show." Eileen added that Lisa quitting the show "a pussy move." 
Press play below to watch.
Twitter was quick to chime in about Eileen Davidson's comments and dragged her like yesterday's trash.
@eileen_davidson hated on LVP her entire time on #RHOBH, is anyone surprised that nothing has changed?!? #wwhl

— Libby ? (@libby_d15) September 18, 2019
I keep seeing ppl say they thought @eileen_davidson had more class. Eileen cheated on her husband, Eileen is a HOME WRECKER! Eileen cant formulate her own opinion without the help of Lisa Rinna. So no, Eileen never had any class & is still bitter over stupid shit #rhobh #beast

— Elaine Mark (@JerseyGurl0310) September 18, 2019
Growth is a beautiful thing! But it's so sad that Eileen hasn't grown since leaving #RHOBH saying all those nasty things about LVP on #WWHL was totally not classy and uncalled for. I have not been tweeting about that nasty show for a bit but this really pissed me off!

— Legally Fit (@legallyfitt) September 18, 2019
Eileen was fired #RHOBH https://t.co/TnTUVrVC0Q

— Reality TV Bliss (@RealityTVBliss) September 18, 2019
I thought #RHOBH alum @eileen_davidson had more class than to crawl out of obscurity and slam @LisaVanderpump
on #WWHL. Clearly, Eileen is no different than her trashy bud, @lisarinna. To borrow a phrase from @mommadeesimmons of #RHOD: Eileen…nobody gives a rip what you think. pic.twitter.com/i4UtZ0Rv0D

— The Bravo Bitch (@ISayWhatISee) September 18, 2019
#rhobh keep watching from the sidelines bitch @eileen_davidson pic.twitter.com/HmKiUxB5TD

— ☔️ (@pussybeaux) September 18, 2019
I'm surprised they had you on, did someone cancel last minute? We see you reaching for that friend of diamond ? ????‍♀️ #RHOBH pic.twitter.com/DYNAnx2ywy

— J (@j_renee_m4) September 18, 2019
When asked about Kyle Richards and Lisa Vanderpump's friendship fallout, Eileen threw more shade at the restauranteur, "Do you really think it's over for LVP and Kyle?" Andy asked.
"I've seen so many things about that friendship," Eileen said, adding, "I don't know. I think it's over."
Eileen Davidson was fired from The RealHousewives of Beverly Hills at the end of season seven. She and Lisa Vanderpump feuded during season 6 after LVP brought up the affair that led to her marriage to Vincent Van Patten.  
As previously reported, Vince was married to Betsy Russell from 1989-2001, and the couple shares two children. They were both actors, and the couple wed in North Hollywood at Dick Van Patten's father's Sherman Oaks home. Vince, a retired tennis pro, met Eileen Davidson on the set of 'The Young and the Restless.' When Vince and Eileen got together, Eileen had supposedly just filed for divorce, after a three-year marriage to Jon Lindstrom, seemingly because of the undeniable chemistry with Van Patten. The papers were filed in November of 2000.
Eileen Davidson and Vincent were captured taking off on a getaway, soon after, while Van Patten was still married to Russell. Their two children, Richard and Vince Jr., were seven and five, at the time. Van Patten was photographed picking up Davidson, to take her to LAX to board a flight to Las Vegas.
"They both looked like they were wearing disguises," a source told Star magazine, back in December of 2000. "It was obvious they were afraid someone might recognize them."
The secret couple checked into the romantic Bellagio Hotel, seemingly on top of the world. Van Patten was even captured commenting that he was feeling  lucky — obviously in more ways than one.
The photos were published in early January, and Russell filed for divorce soon after, citing January 6, 2001, as the official date of the split. Reportedly, the divorce documents reveal that both Van Patten and Russell agreed to a gag order, preventing them both from making "disparaging remarks" about each other, to the media or to their children, in the wake of the scandal.
"Like" us on Facebook  "Follow" us on Twitter and on Instagram