Eric Nichols Exposes Larissa's Lies About Their Breakup and Colt Johnson Sides With Eric!
90 Day Fiance star Colt Johnson is sharing his unsolicited two cents on the split between Eric Nichols and Larissa Dos Santos Lima.
After a whirlwind eight-month romance, Larissa Dos Santos Lima dumped her boyfriend, Eric Nichols on Instagram on September 11. Though she deleted all of their photos together, she claimed there were "no hard feelings" between them and that things simply didn't work out. Read her entire now-deleted post below.
90 Day Fiance: Larissa Dos Santos Lima – Eric Nichols Shares His Side
Now Ericee is speaking out and claims he was blindsided by Larissa's breakup announcement and calls the reality diva a liar. He took to Instagram and explained his side in detail. He wrote, "This is the final reasoning why my most recent X lost her cool and made an abrupt, rash decision to break up which is A-ok with me. After posting this to my story, she DM'd me via Instagram very upset, accusing me that I didn't invite her, so on and so forth, although if most fans remember, she herself had been sharing excitement in her stories over the upcoming Colorado trip for the past couple months and was literally talking with one of my brothers about it THE NIGHT BEFORE. When I had put my phone down to shower and show my house to a future tenant, I got a call from my mother about an hour later asking "are you doing okay?" And she said "I saw a post from :&@:% on FB that you're parting ways" I didn't think much of it and said "I'm not sure, I haven't seen it yet, but will soon. We'll be okay, these arguments happen between us often" like when she archives our photos from Instagram when she's upset. Continuing my conversation with mother "Debie/Duke" for another 20-30 minutes, not realizing when we got off the phone, I'd be going back to my DM's to find multiple messages from my X stating a finalized break up on her "now" terms. From there, I realized I was blocked and the apology DM's were already packed."
Eric Nichols claims she dumped him out of the blue on September 11, without a warning and his mother notified him about the breakup post. 
He continued, "Here's the thing…. lots of fabrication, secrets, stress, endless arguments, and hoops that turned into spirals, but there were some high level times. I don't wish this girl good luck or bad luck, I just wish her a new boyfriend…. or husband. In the history of an 8 month ordeal I am appreciative of certain outcomes. All in all, I do want to give a big shout out to the haters who are instigator traders that balance out the positives. Lastly, I want to give a monstrous THANK YOU TO ALL supportive friends who follow with love&synergy! ?❤️."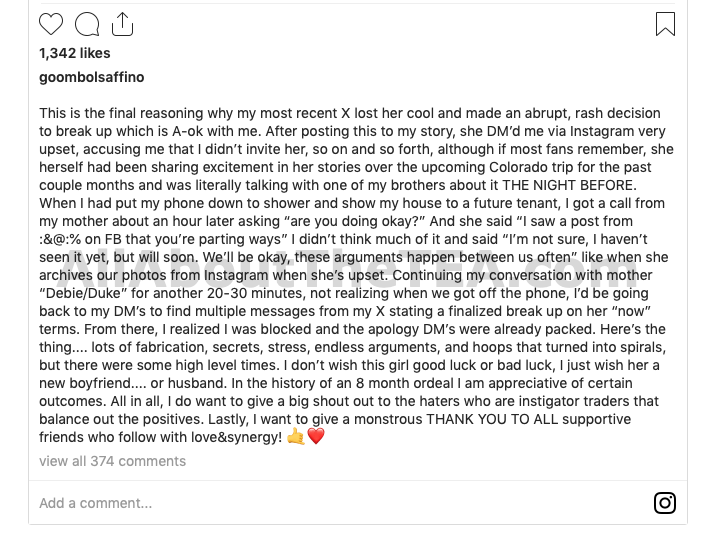 90 Day Fiance: Larissa Dos Santos Lima – Eric Nichols Has Receipts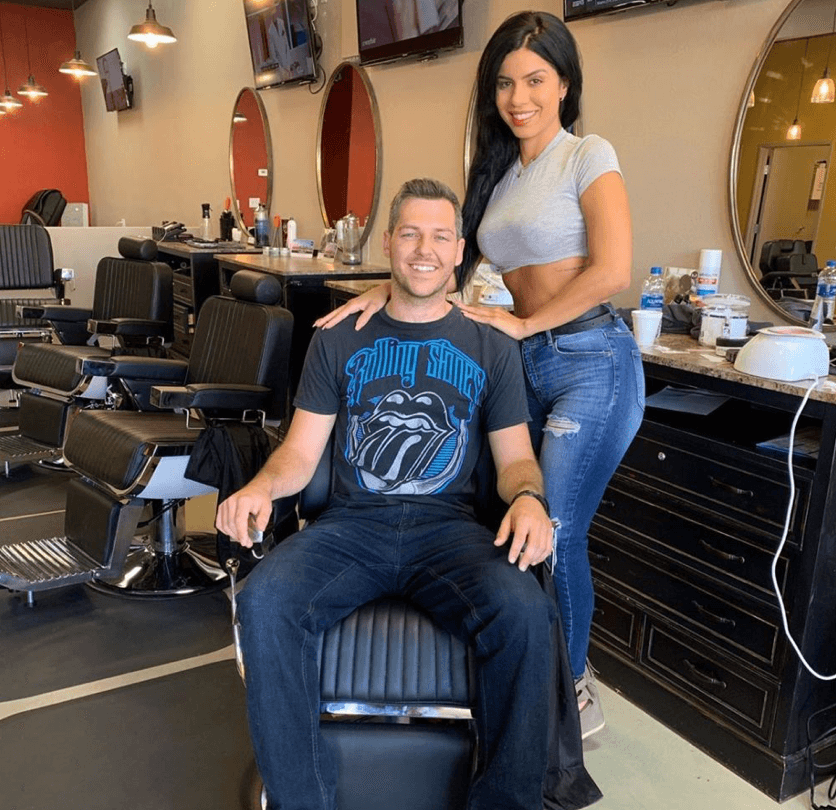 Eric backed up his claims with receipts. Appearently, the former couple had a trip planned to go to Colorado to visit his family. He shared a pic of his flight info for the trip from Las Vegas to Colorado Springs, Colorado. He said Larissa DM'd him claiming he didn't invite her. But he also said she'd been talking on her IG for months about the trip they were taking.
90 Day Fiance: Larissa Dos Santos Lima – Colt Johnson Sides With Eric Nichols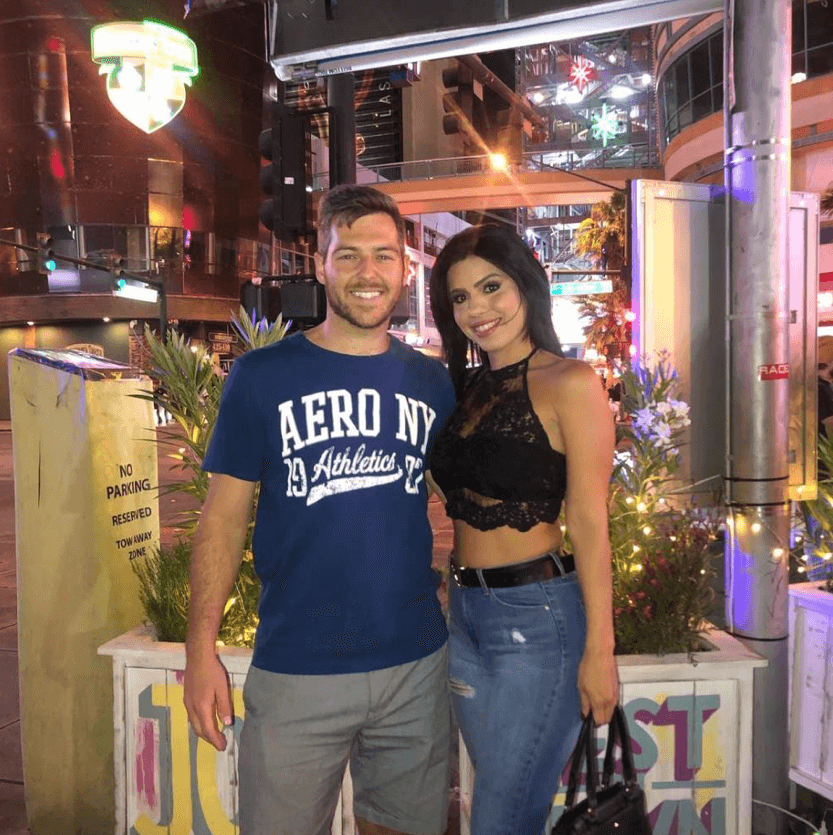 No surprise that Larissa's ex-husband is on Eric Nichols' side. Colt Johnson reposted Eric's account of the breakup and added his two-cents, "the truth shall set you free" and added "Good luck, Eric" with a peace sign emoji. Colt sees Eric's post as vindication as he accused Larissa of lying also.
90 Day Fiance: Larissa Dos Santos Lima Responds to Colt Johnson and Eric Nichols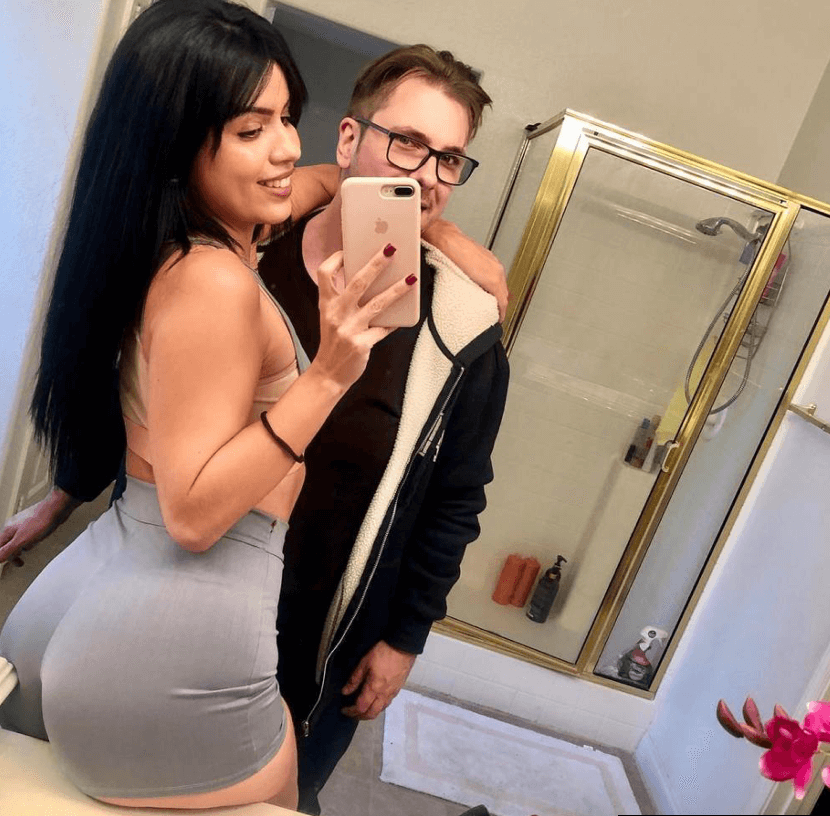 Larissa Dos Santos Lima took to her Instagram Story to post a series of texts between her and Colt Johnson. First, Colt re-followed his ex-wife on IG again. Another text is a message of Colt wishing her the best and Larissa stating she's done with men. Other messages show the former couple arguing and Colt calling her a loser. 
"Like" us on Facebook  "Follow" us on Twitter and on Instagram 
Nancy Zhāng is an Entertainment Blogger for All About The Tea. Nancy covers hot topics, recaps and celeb news. She loves to multi-task as a writer and a private chef. She received a B.S. in Mass Communications from LSU. Nancy's married and the proud mom of 2 German Shepherds.