Vanderpump Rules
50 Cent Accuses 'Vanderpump Rules' Star Lala Kent of Cocaine Use!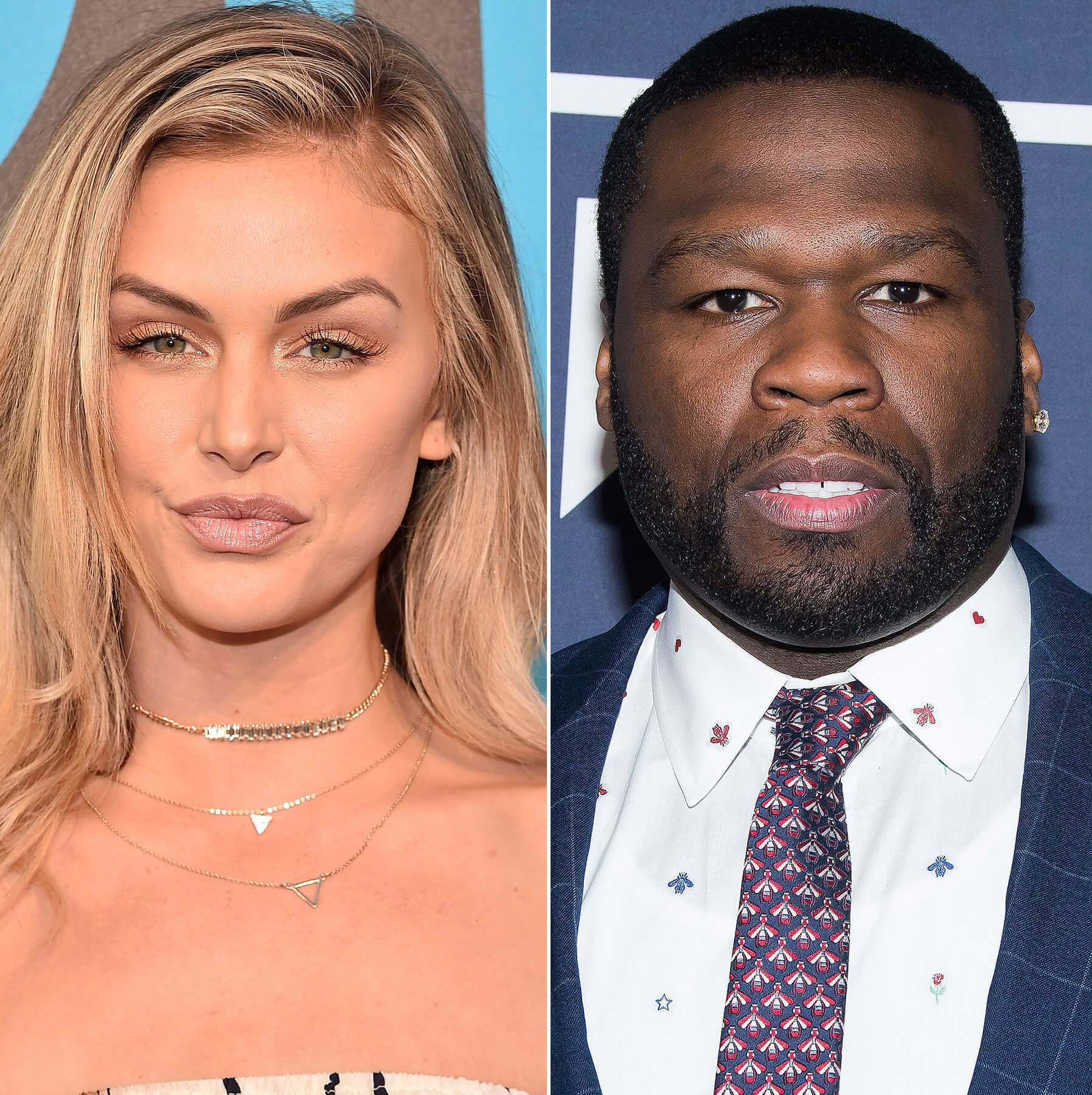 The feud between rapper 50 Cent, Vanderpump Rules star Lala Kent, and her producer fiance, Randall Emmett rekindled over the weekend — and this time, he's accusing her of drug use.
How The Beef Started Between 50 Cent, Lala Kent and Randall Emmett 
The beef started up again after Lala Kent said on Watch What Happens Live that she had "receipts" from their last epic showdown, 50 Cent shared a photo of her with the article title. He wrote, "What's wrong with this hoe, 👀 now don't say she didn't ask for it when I start tripping. #lecheminduroi #bransoncognac."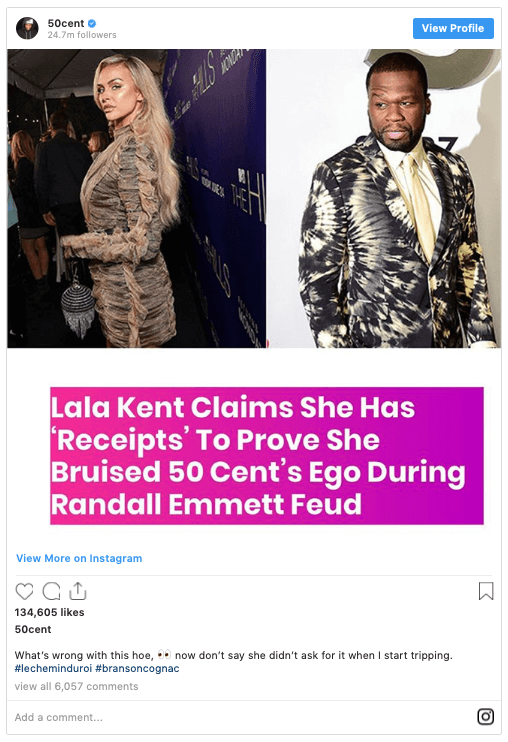 50 Cent Accuses Lala Kent of Drug Use
Fifty upped his social media attack by sharing a photo of Lala from the Watch What Happens Live appearance when she came clean about her alcohol abuse. Making fun of her for being "drunk 4 days straight," 50 accused her of doing much more than just consuming alcohol. "Have a drink, hit da powda, have a drink, hit da powda have a drink hit da powda 4 days straight," he wrote in his caption.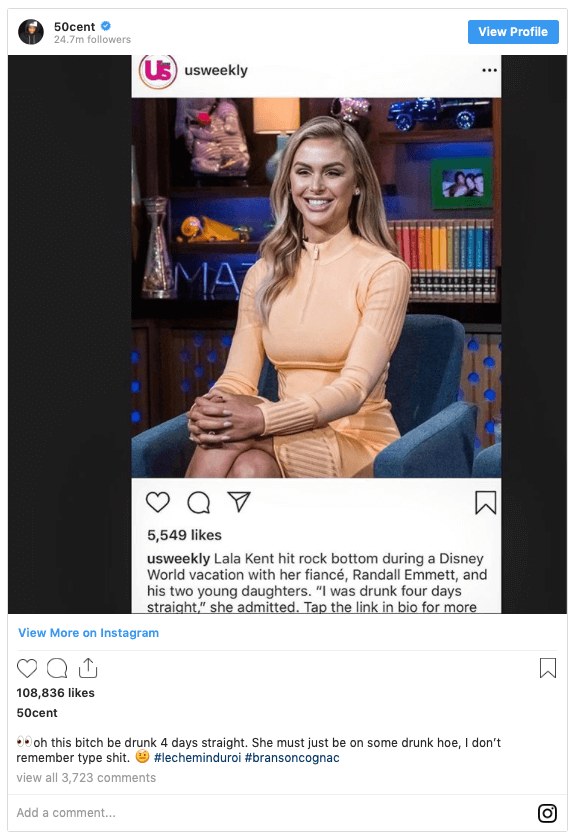 The drug accusations just kept coming with each post — acting like he was having a conversation with the producer, 50 wrote. "Randell: I'm sorry Fofty this bitch is drunk and high. I told her put that damn phone down she don't listen.🤔50:Shut the fuck up Randell.🤨 #lecheminduroi #bransoncognac."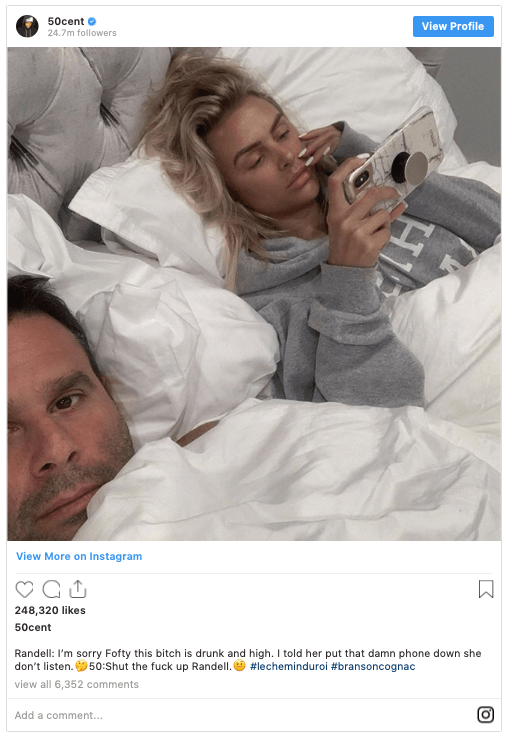 50 Cent Mocks Randall Emmett's Looks
Then Fifty mocked Randall Emmett's triple chin by posting an unflattering photo of the producer and accused the Vanderpump Rules star of culture appropriation, "The fuck is wrong with your neck buck O 🤨#lecheminduroi #bransoncognac," the snap below captioned.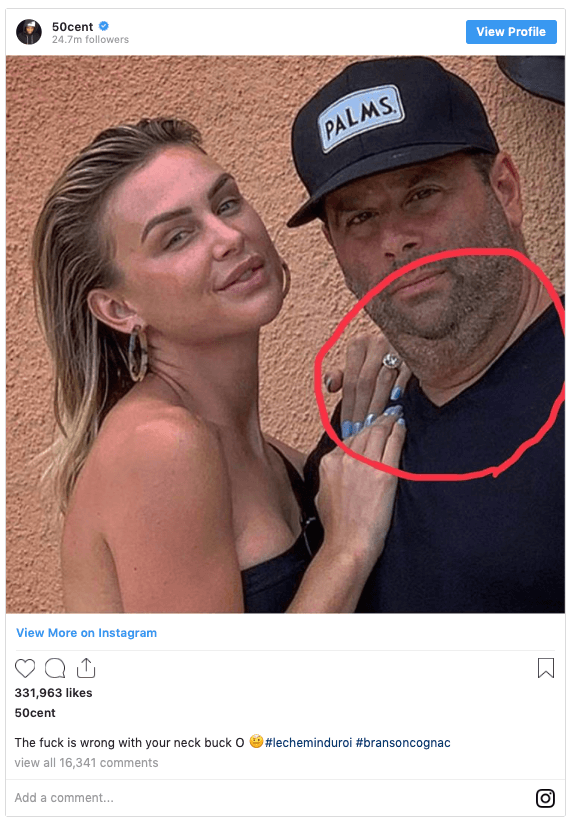 The Queens rapper also made fun of Lala for wearing her hair curly, writing, "This bitch rocking the Pimpin curly drip LOL."
50 Cent Slut Shames Lala Kent
The rapper clapped back at Lala by also posting a video of the star from the show describing how she met her fiancé Randall Emmett with the caption, "😆 No caption needed,LOL #lecheminduroi #bransoncognac."
That video was followed by another Bravo clip captioned, "Then he falls in LOVE with the hoe, and they live drunk and high happily ever after."

The threesome's explosive battle started after 50 Cent publicly accused Randall of owing him $1 million. Randall paid up and it appeared they put the feud behind them, but Lala set 50 off when she recently appeared on Watch What Happens Live, she said that she had "dinged Fofty's ego," referring to Randall's famous spelling mistake, and claimed she has "receipts" against the rapper.
Share your thoughts on 50 Cent, Lala Kent and Randall Emmett's reignited feud. Sound off below!
"Like" us on Facebook  "Follow" us on Twitter and on Instagram