'Dance Moms' Star Michelle Georgiana Talks Studio 19 Drama, Relationship with Abby & More!
Living On the Dance Floor!
Dance Moms returned this summer with a MAJOR revamp nearly two years after the last season ended.
This season we got a chance to meet a brand new cast of Moms and their star dancers that will do anything to get on the top of Abby Lee Miller's pyramid. One of those Mom/Daughter pairs is Michelle Georgiana and her daughter Sarah from Pittsburgh, Pennsylvania. Michelle is a fiery and passionate Dance Mom that always has her daughter's best interest at heart, even though Abby might not think so. AllAboutTheTea.com caught up with Michelle to get the scoop on all things Dance Moms and specifically discuss the drama with Sarah's former studio that played out on a recent episode. 
Check out AllAboutTheTEA.com's exclusive interview below to find out with Michelle Georgiana had to say.
Q: Why did you decide to have Sarah audition for the show & why did you decide to do the show? 
"Sarah started dancing at the age of 2, but didn't start having that passion and going to conventions until she was older. By that time, Abby and her team already made that move out to Los Angeles from Pittsburgh. We just went to a studio down the street from our house and she was there from age 5 to 10. It just so happened that one of Abby's students (which we didn't know when we went there) was one of the choreographers. She took an interest in Sarah and actually helped train Sarah which really comes in handy now because Sarah knows the "Abbyisms" since one of Abby's former students actually helped train Sarah. We went to some of Abby's master classes and Sarah ALWAYS said that she wanted to train with Abby and be on that team. Then, when the opportunity came around she went for it!" 
Q: Did you watch past seasons? 
"I watched the show, but I didn't watch it as religiously as Sarah. Sarah's probably seen every season multiple times, but the show was always playing in our house. I was always very infatuated with the dancing since Sarah was dancing and when Abby gave a critique or a tip I would listen to that and help apply it to Sarah's dancing." 
Q: You & Abby have not really gotten along from the start. Why do you guys butt heads so much? 
"Abby and I just have a unique relationship. I want what's best for my daughter and she thinks she knows what's best for my daughter. I agree with a lot of things Abby says! I mean I know that will shock the world, but I really do believe in what Abby has to say. Sarah ADORES Abby and she likes working with Abby. I like Abby's choreography… so I really don't have any issues with those types of things. She doesn't really like where Sarah trained since it wasn't at her ALDC studio. I'm from the Pittsburgh area and I didn't choose her studio. The reality is that there's a lot of studios in Pittsburgh and there's a lot of "backyard brawls" or rivalries and she's trying to run her business… which I get. If you're trying to run a business you want people to come to you and I didn't choose her, which she holds against me. Then when they picked up and moved to LA, I unknowingly picked her rival studio. I just picked a studio and took Sarah there for 1 year, which is a huge misconception in the world… Sarah only trained at Studio 19 for ONE year and then we went to the ALDC."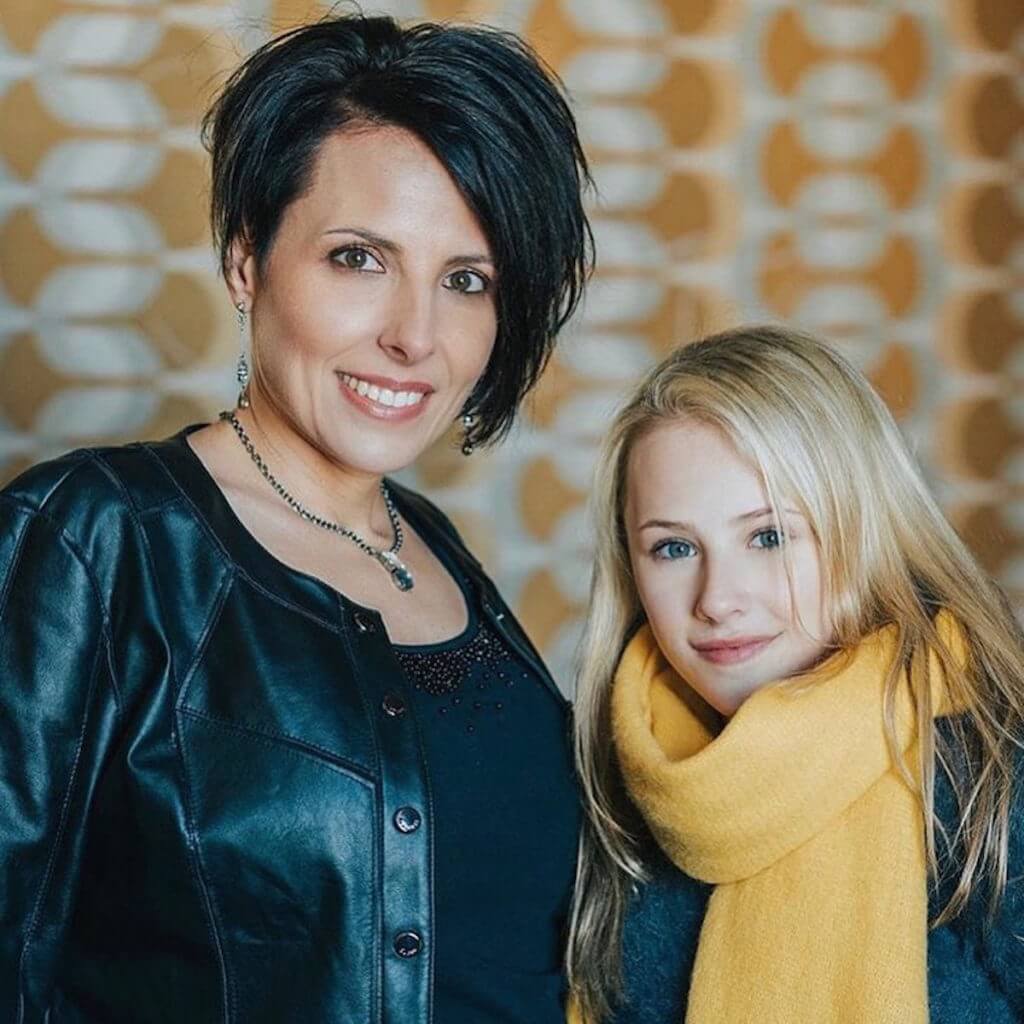 Q: What really happened with the situation with Abby saying that Sarah sucks? 
"People don't understand that there's a lot of different aspects that happen during a week when we're filming. People always ask why we (the Moms) interact with Abby and don't just keep our mouth shut… well we have to interact with Abby, otherwise people wouldn't watch the show. It's not like I wake up every day wanting Abby to be mad at me or to make my daughter's life miserable. I also realize when she tells me not to come back in the room… I mean I get all of that, I'm not an idiot! But I do have a job to do." 
"In that scene, Abby was leaving for the day and we need to have a conversation and understand why choreography wasn't finished at that point. She got upset because she kept being asked the same questions and she said some things that I found very hurtful. I don't think my daughter sucks and just because we're from Pittsburgh that shouldn't be a curse, but in some measure it has become one." 
Q: What is your opinion about the whole understudy situation? 
"There was a duo and Elliana couldn't be there so Sarah was the understudy. She learned the dance and after 'work hours' we went to another studio to learn more of the dance which didn't air on the actual episode. At the end of the night, Gianna said that Sarah did it better and the next day Sarah asked Abby if she could do the dance. I mean the thing is that Sarah just wants to dance… she LOVES to dance! Yes, it was originally supposed to be choreographed for the second part of 'The Strangler' but Sarah was there and she already knew the dance… nothing extra had to be done or arranged. She put all her heart and soul into it so she got a little upset when she couldn't do it, but life goes on. It's all water under the bridge to me… it is what it is. Both girls are great dancers." 
Q: Why do you have a lot of drama with studio 19? 
"This situation was INSANE! It was complete chaos and nonsense. Part of it was that they wanted a big thank you for what they have done for Sarah. For me, studios train kids but parents also pay… it's not an ownership. I think that sometimes it comes across as if there's an 'exclusive right' to kids, but there isn't. Sarah already trained somewhere else and she was already signed with a talent agent. We went there for a year and yes, she improved some and they taught her some things she didn't know but she also had a tumbling coach so it wasn't like she got her tumbling skills there. It's not like they gave her everything!" 
"I went to the audition in LA (for Dance Moms) and I didn't tell them because I was told not to tell anyone. They found out from an Instagram post and I got a call from them when I was literally landing in the airport coming back from LA… and it just exploded from there." 
Q: What was your reaction when Studio 19 sent Sarah flowers and a onesie at the competition? How did you feel about how the other Moms questioning your motives? 
"I was completely shocked.  The flower arrangement looked like it belonged at a funeral to be honest. She had the card, I had no idea who they were from… I really did not.  When the Moms accuse me of talking to Studio 19, I am shocked. I had not talked to them in fear of needing a studio. That had not even been in the forefront of my mind.  I was in disbelief that I am finally in the dressing room, Sarah is dancing and now I am dealing with this scenario. Will this ever end?!" 
Q: On a recent episode, you told the Moms that the owner of Studio 19 (Tammy) is a "family friend" of yours. Can you clarify your relationship with her? 
"Aunt Tammy" as one of the moms liked to scoff and joke about is a family friend.  I have known her since I was a young child. She is a close friend of my cousin, Lisa Agostini.  Her dad and my dad played baseball together and her mom and my aunt were close friends. I have known her for years.  It would not be uncommon to see her at random family events (not every single one, but some). Our families definitely had common ties.
Q: Why are the other Moms blaming you for the trouble Studio 19 is causing for the ALDC? 
"Everyone needs a scapegoat. Sarah is the most recent student that came from there.  It didn't matter if Sarah and I were present or not, anyone can come to a competition.  Whether I told them to stay away or to not come, they are allowed to enter a competition unless the competition themselves tells them they aren't allowed.  For me, calling them made me sound foolish. Yes, a conversation on my own terms, on my own time in my own way is an option, but of course that doesn't make a great reality TV show.  However, the rivalry of these two studios is long-standing. It is not just about Sarah, I have a feeling it is the straw that broke the camel's back."
Q: What do you have to say to the "haters" out there that criticize your parenting from what they see on the show? 
"I gave up my career, I left my boys, and I've given up everything for this kid to chase her dreams. For people to say things like I'm not a good Mom or I don't let Sarah spread her wings and fly… I have done EVERYTHING for this child so she can achieve her dreams." 
Watch the final part of the Dance Moms reunion airing tonight at 9:00pm EST on Lifetime.