Real Housewives of Atlanta
Millionaire Kandi Burruss Dragged By Social Media For Soliciting CashApp Donations For Daughter's Birthday!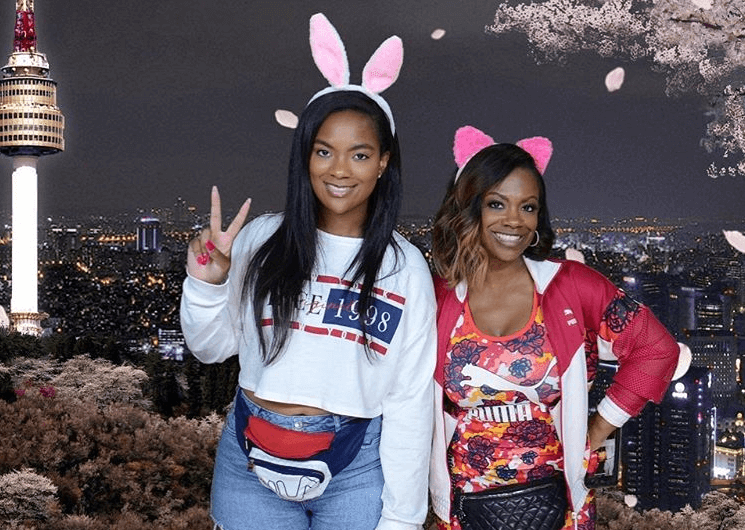 Kandi Burruss and her daughter, Riley, got a collective cyber side-eye for soliciting birthday money from fans via CashApp in since-deleted posts.
On August 22, The Real Housewives of Atlanta personality celebrated her 17th birthday and took to Instagram to beg her 692K followers to CashApp her money. "It's my birthday everyone! Show me some love! ♥♥♥ (EDIT: It's my birthday y'all. my mom has money I dont 😂😂)," Riley wrote in her caption.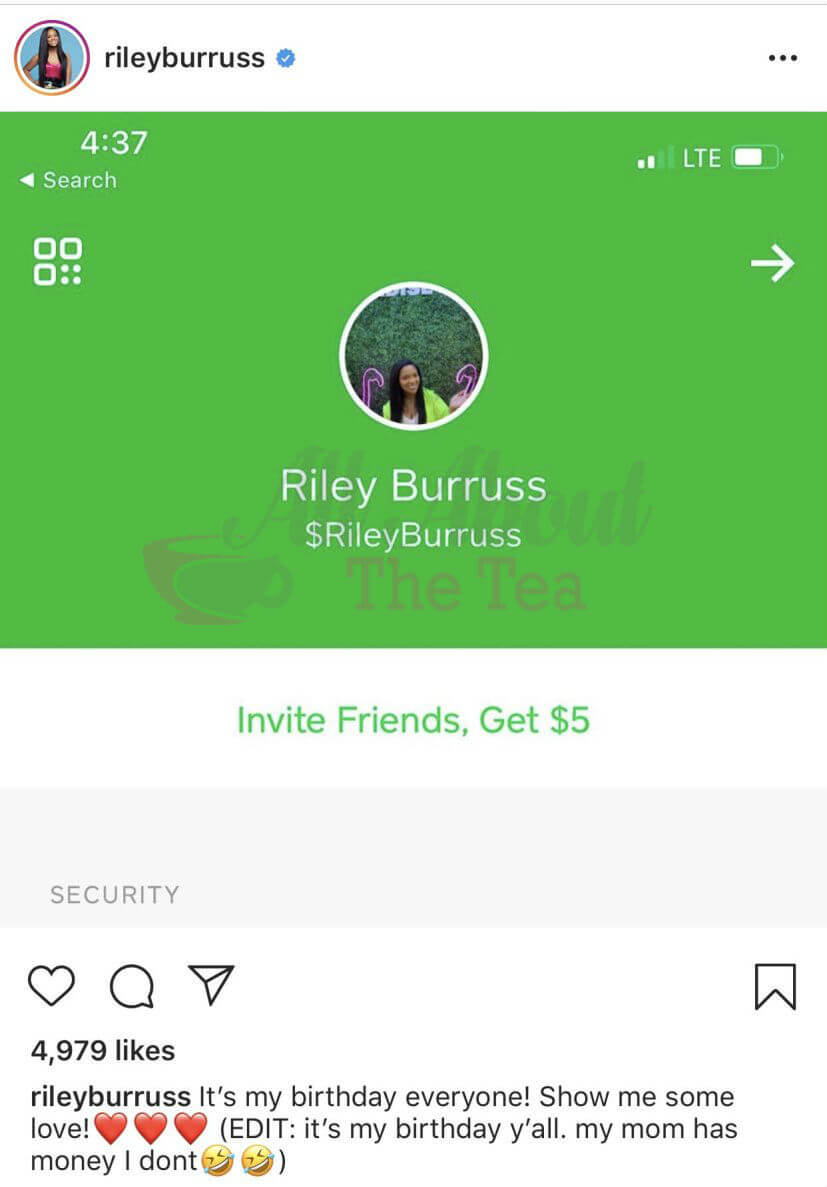 Riley's mother, Kandi Burruss, is a millionaire with multiple streams of income, lives in a mansion and drives luxury vehicles. According to Celebrity Net Worth, Kandi has an estimated net worth of $35 million. She makes around $450k per season of The Real Housewives of Atlanta. The outlet notes that a majority of her income comes from being a former member of the band Xscape, and as a songwriter and record producer.
When Kandi promoted Riley's birthday cash grab on her Instagram Story — it added insult to injury and Real Housewives of Atlanta fans erupted.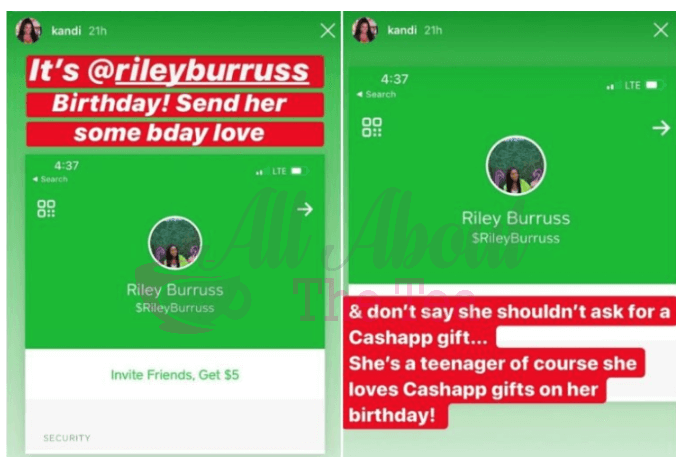 Critics were swift to call out  the wealthy birthday girl with means beyond the average person begging commoners for their hard-earned coins.
"Wait a minute lololol not the cash app sis…shidddd YOU got the money boo! 😂❤️😘🤟🏾 Happy Birthday!!!" One person wrote.
Another observer commented, "Girl your drive Porsche leave me alone … lol Happy birthday 🎉🎈"
As AllAboutTheTEA.com readers know, the same Grammy-winning multimillionaire bought her daughter Riley a $100,000 Porsche for her 16th birthday.
"Rich ppl asking for money from poor ppl. Sounds like the government."
"Girl your mother richer than all of us put together stooopp 😂"
"Ur mom co-wrote no scrubs naaaa tf 😂"
"Girl it's ppl out here STRUGGLING in REAL life and you asking for coins from the average Joe when your mom is rolling in doe⁉️ no ma'am‼️ happy birthday. Take this moment to reflect, give thanks, and GIVE BACK. Not take! Happy birthday beautiful ☺️"
After being dragged all over social media for their CashApp blunder, the mother and daughter duo offered to give away $500 to a stranger. "Hey everyone! Since a lot of y'all showed me love on my birthday, I want to spread love back to y'all: I will be cashapping one of my followers $500. So like this post, swipe up on my story and send me your cashapp, and I will pick a random person to send it to. Thanks for the love on my birthday! Love you guys! I'll send it tomorrow at noon💜." She Instagrammed on August 25.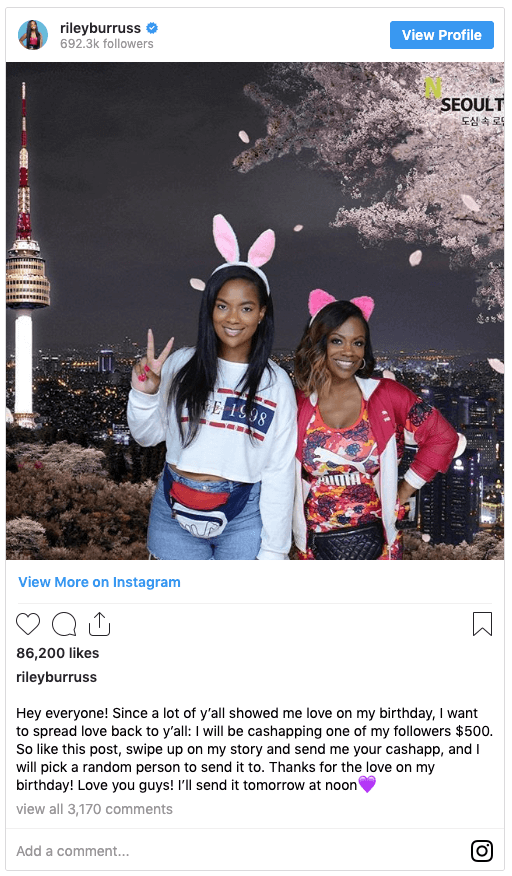 But the damage was done and many people were still salty in Riley's comments.
"Will That be From the same money you was asking people to give you? Asking for a friend." A person responded.
"@rileyburruss feeling bad about asking people for money when your mother is rich. Still shame on you girl just thinking about you putting up your cash app is making me mad all over again."
"That's a good way to fix that blooper. You cant drive a $100k then turn around and ask for $$. LoL 🤣"
Share your thoughts on Kandi and Riley Burruss' birthday CashApp begging as well as their follow-up Instagram post to give money away. Sound off below!
"Like" us on Facebook  "Follow" us on Twitter and on Instagram