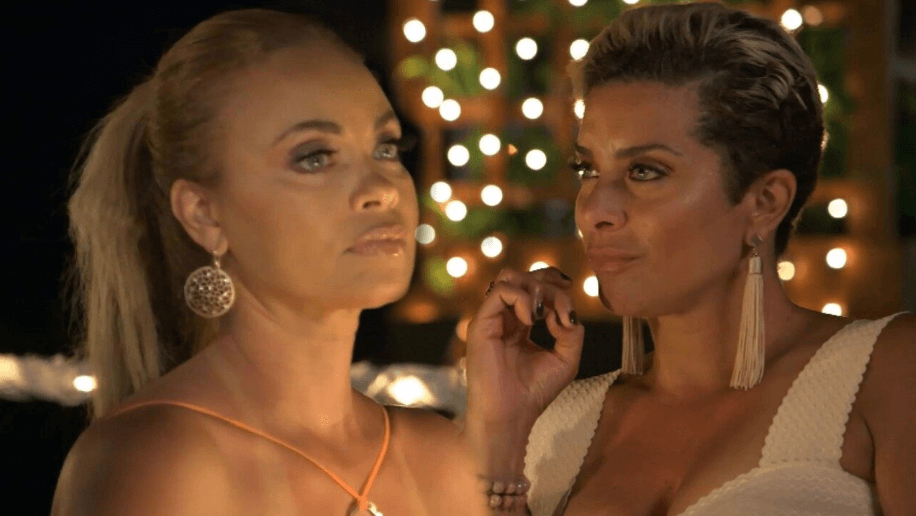 On Sunday's all-new episode of The Real Housewives of Potomac, the women are still in the Cayman Islands and Robyn Dixon  confronts Gizelle Bryant at a group dinner over her behavior at her open house.
"The other day, when you came to my open house, you walked two feet in the door and was, like, guns blazing for Monique [Samuels]," Robyn tells Gizelle, referencing Gizelle and Monique's tense interaction at a party Robyn threw to reveal her just-completed investment property ahead of the trip. When Monique tried to say hi to Gizelle at the party, Gizelle went off on Monique.
"This is a professional event for me, a huge accomplishment, and it just came out of nowhere," Robyn says of Gizelle's behavior. "Walk around the house, pat your friend on the back, say hello to the people in the room and then [go off]."
"I never thought I'd see the day when Thing 1 and Thing 2 would check each other," Candiace Dillard quips in a confessional. "They supposed to be thick as thieves!"
"There was no reason for Monique to be going around saying, 'Gizelle and Robyn don't like me…' That's a broken record," Gizelle replies, at first appearing defensive before adding that there's a time and place for the kind of behavior she exhibited at Robyn's party.
"Look, when Robyn has an issue, it's an issue," Gizelle remarks in her own confessional. "Cause Robyn doesn't get mad about the small stuff. So, that means, I really messed up. Big time. And I feel bad about it."
"That's a part of your growth, as you go through your therapy, just being compassionate and maybe just assessing a situation first," Robyn tells Gizelle.
"That was really wrong, I'mma work on that," Gizelle says. "Can you please forgive me? I'm sorry."
EXCLUSIVE: 'RHOP' Reunion Tea: Karen Huger's Husband Puts Michael Darby's 'Booty Bandit Habits' On Blast & Gizelle Bryant Back With Her Cheating Ex Husband Jamal Bryant 
Robyn Dixon forgives her but offers a stern warning to her friend to not repeat the actions in the future. "I'm sorry," Gizelle says again. "And that was actually Old Gizelle and we were trying to put her bed."
Press play to watch below.
The Real Housewives of Potomac airs Sundays at 8 p.m. ET on Bravo.
"Like" us on Facebook  "Follow" us on Twitter and on Instagram