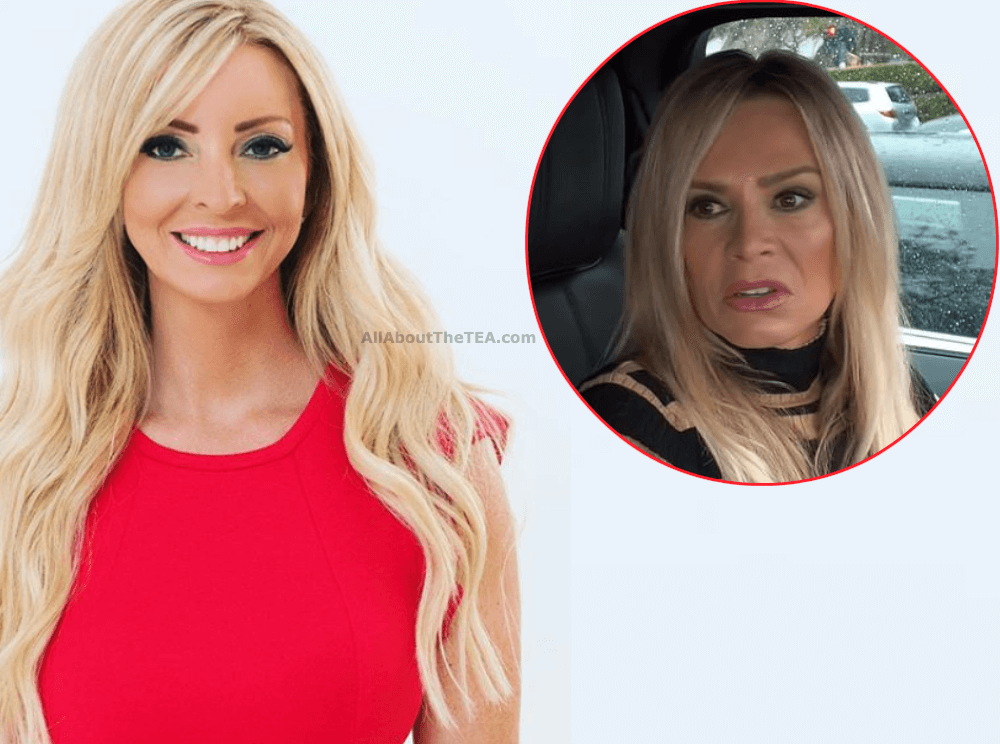 The public feud between Ryan Vieth and Sarah Rodriguez has now boiled over and taken a nasty turn!
Sarah Rodriguez claims that Ryan's mother, Real Housewives of Orange County star Tamra Judge, 'ambushed' her at her home after her Ryan accused his baby mama of refusing to hand over their daughter.
Tamra Judge's Son Ryan Vieth Responds To His Ex Leaking Death Threats & Accuses Her of Sleeping With Bristol Palin's Ex-Husband and Using Media For Sympathy!
On August 16, Sarah detailed the incident in a shocking Instagram post, "So I just go ambushed by Tamra and her mom at my door. She recorded me without my knowledge which is illegal and now she is going to take me to court to get Ava taken away from me." She wrote.
As reported, Ryan and Sarah are embroiled in a bitter social media war with accusations of Ryan threatening to kill his baby mama, Sarah cheating with former Teen Mom OG star Bristol Palin's ex-husband, Dakota Meyer and Sarah using the media for sympathy. 
Sarah's August 16th post also included a snippet of the couple's child-care settlement over the daughter she shares with Ryan, Ava Ryan. "Court order says it's my time!!! Why is it me that only has solid proof of everything," Sarah wrote in a caption on an Instagram post of her custody court documents.
Ryan Vieth followed up with a live video on his private Instagram page showing an Orange County police officer outside Sarah's home where she was with their daughter as he arrived to pick her up.
"We have 50/50 legal custody, we've had that since the beginning," he said in the video.
An officer said, "We are not going to force your daughter to go with you." Four officers were seen on the video posted by Ryan.
After speaking with officer, who said the daughter "doesn't want to go with you," Ryan said, "I'll see you in court" and left the home.
Ryan then posted a picture and claimed he was at the courthouse, writing, "It's time I stood my ground and do what I have to do."
He also posted a photo of the County of Orange State of California Superior Court building. "One thing you don't do is mess with my daughter and I," he captioned the photo. "You can play your games on social media but now I'm going to fight for what is right. I am an amazing father, everyone knows this. She is my world and to play like this is disgusting. I may not be the prefect human but to do this is lower than low. And its unfortunate that it has to be aired in the public but its time I stood my ground and do what I have to do." 
Sarah also took to her Instagram Story on August 16 to live stream her response to Ryan's police video, "So I'm getting a ton of hate messages saying I'm holding Ava within contempt of court… Court order right here." She then said while looking at the document, "Father has the child every other Friday at 2 o'clock until 2 o'clock the next day. Well it's every other Friday and it's not even 2 yet so. Whoever is messaging me and wants to see a court document. A liar is a liar is a liar. I'm the only one with proof of anything."
Earlier this week, Ryan accused his ex of having an affair with Bristol Palin's husband, Dakota Meyer — while the two were trying to save their marriage. 
The Real Housewives of Orange County airs Tuesday nights at 9 pm, ET, on Bravo.
"Like" us on Facebook "Follow" us on Twitter and on Instagram