Real Housewives of Beverly Hills
'RHOBH' RECAP: Kyle Richards Plays Victim — Claims She Paid the 'Ultimate Price' In Lisa Vanderpump Friendship Fallout On Season 9 Reunion!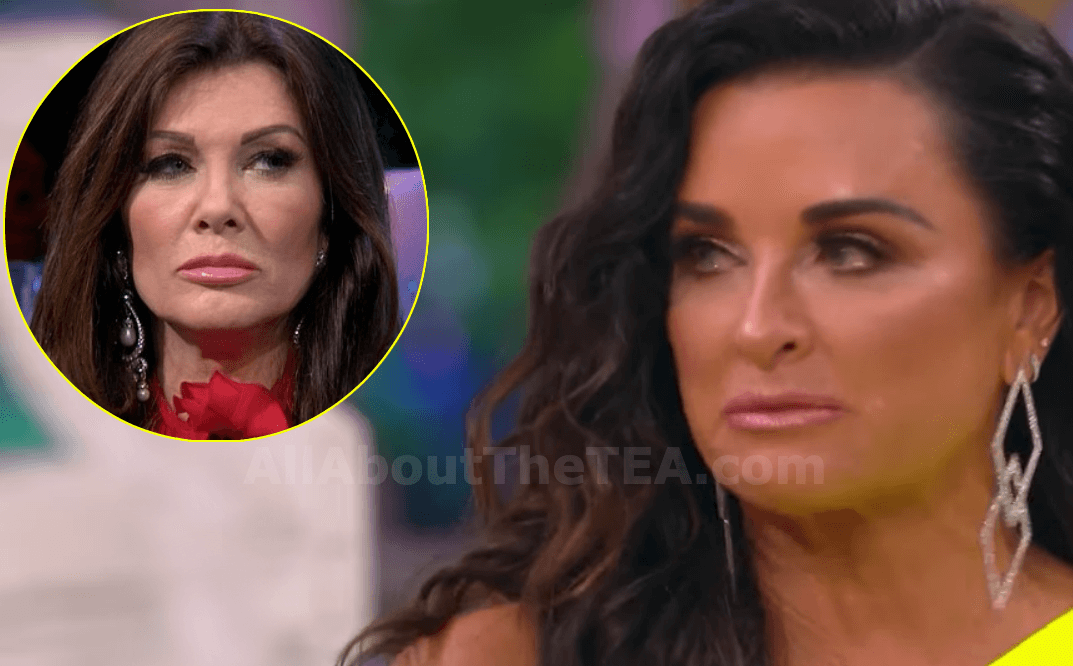 As saying goes — all good things must come to an end!
The Season 9 Real Housewives of Beverly Hills reunion concluded on Tuesday night and it was symbolic on many levels.
The episode kicked off with Camille Grammer storming off the stage after being relentlessly attacked by Denise Richards and Dorit Kemsley. Host, Andy Cohen follows Camille backstage, she's very upset and feels "set up" by the whole reunion experience.
Camille explains that she's pissed off about a "cruel" comment Teddi Mellencamp made to Kyle Richards during a RHOBH After Show — Teddi said the best part about Camille's wedding was "the departure." Camille was also shaken over Denise Richards telling Camille that she needs to tell her daughter, Mason, she was a "f–king liar." Camille cried to Andy that Denise's denial of saying any such thing made her look like a "really bad person."
"They're just so nasty, and they've been wanting me to jump on this hate train with [Lisa] Vanderpump, and I've had my issues with Vanderpump, but sometimes, Vanderpump is so nice and caring and giving, and I miss her. And there's parts — I understand what these girls are talking about, but you can still miss somebody! Andy, isn't it okay for me to say something nice about Lisa without them all jumping on me? I feel ganged up [on] because I didn't gang up on Lisa."
Andy essentially takes Kyle's side and politely tells Camille that she's a two-faced hypocrite. 
Back on the stage, the ladies were discussing what had just happened.
"I am speechless, and I am rarely speechless," Erika Jayne says, while Lisa Rinna was still recovering from Camille letting them all know she didn't actually want them at her wedding. Kyle accuses "Season 1 Camille" of using Twitter to gauge audience reaction for her RHOBH storyline.
Camille returned to the set in tears, prompting the women to show a little compassion but that didn't last for long, after Teddi tried to explain that she made the petty comment to Kyle out of retaliation for the things Camille had said about her during her confessionals.
Camille addressed discussing Dorit and PK's financial woes, "very hurtful and very mean," she apologized but Dorit wasn't very receptive.
Camille then rehashed Denise urging her to call her daughter a liar. Denise reiterated what she actually said in that moment. 
"When I saw that, I was like, 'Where is this coming from? What did I ever do to you for you to even say something like that where you wouldn't think I was empathetic?'" Denise asked. Camille simply said, "Okay." But Denise wanted an answer.
"I don't know," Camille replied. "I have no answer for you, and I'm sorry," she added with raised eyebrows and a shoulder shrug.
"This is where we think before we speak, Camille," Denise fired back sternly. "You say extremely hurtful things to us, and sometimes, there's no truth to what you're saying. You're talking out of your ass. I've been nothing but nice and kind and very supportive of you."
Camille started crying and reiterated how difficult the year had been for her. "I have been wrong, and I'm sorry if I've been cruel," she said, looking at Denise and Dorit, who said under her breath, "Very."
Andy then brings up Camille and Lisa Rinna's blowout over Brett Kavanaugh's Supreme Court nomination, "I don't know, I just feel that people need to voice — get their voices out and be heard and be believed," Camille sobs. "I think people need to be believed."
A montage of Kyle and Lisa Vanderpump's frenemy-ship throughout the years is shown. And the crocodile flow for Kyle, who claims she loved LVP — despite turning on LVP season after season. 
"It's sad to me. It's — it's — it is. It's sad to me," Kyle muttered. "It's sad to me she's not here. People tweet me pictures all the time, and every time I see something like that — of us joking, laughing — it makes me feel bad. Sorry, I can't talk right now for a second."
"I paid the ultimate price by being honest," she continued after wiping a way her tears and taking a moment to breathe. "And I've thought about if I hadn't gone to her house and not told her, and then she would've seen us sitting there. How would that have played out? It's sad to think how she's feeling right now. This must be a weird day for her, you know, knowing that we're all here and she didn't come. She's gotta be feeling bad, too."
"It's a sad end," Dorit said. Kyle agreed, noting that when she ran into LVP after shooting the season and before shooting the reunion, she truly thought they'd "broken the ice enough that she would show up."
The reunion ends with Andy Cohen joking about a gift Kyle brought to the reunion for LVP.
Lisa Vanderpump started The Real Housewives of Beverly Hills and was bullied then ran off by her so-called friends. The guilt must be eating them alive! Will you miss LVP? Sound off below.
"Like" us on Facebook  "Follow" us on Twitter and on Instagram