Real Housewives of Atlanta
PHOTOS: Cynthia Bailey Gets Engaged to Boyfriend Mike Hill & NeNe Leakes Says Engagement Is For Storyline: 'People Do Anything For Money!'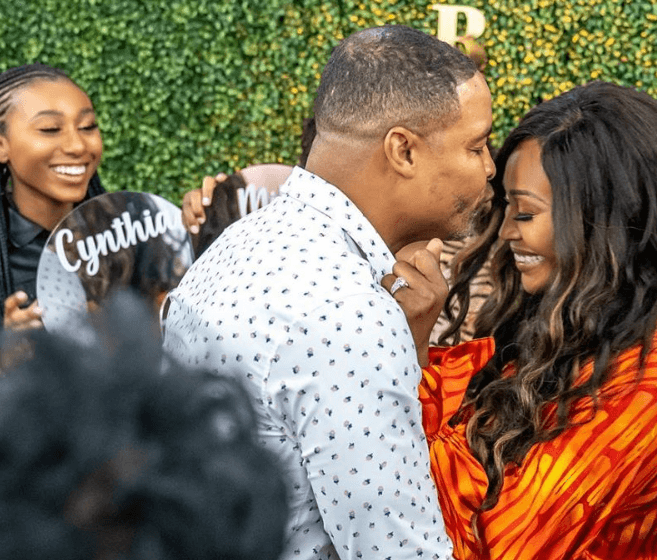 Cynthia Bailey got engaged to her boyfriend Mike Hill after 14 months of dating on Friday.
The Fox Sports sportscaster proposed to Cynthia Bailey, 52, with a five-carat diamond ring at the opening of her new wine venue, The Bailey WineCellar.
The event was filmed by Bravo and will be a part of The Real Housewives of Atlanta star's storyline for the upcoming season 12.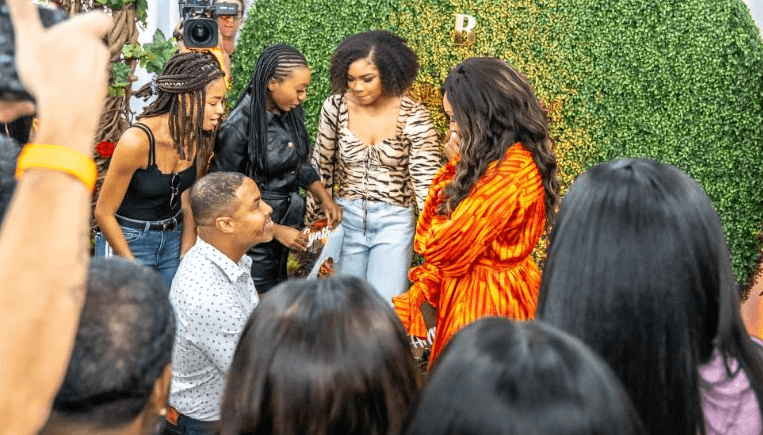 On hand for the event was Cynthia's daughter, Noelle Robinson, 19, Mike's two daughters Kayla, 17, and Ashlee, 19. As well as Cynthia's RHOA co-stars.
Mike Hill, 48, reportedly pretended he was giving a toast at the grand opening before being interrupted by the teens who presented Cynthia with a heart-shaped sign that read, "FAMILY" with Cynthia, Mike's names and their children's names.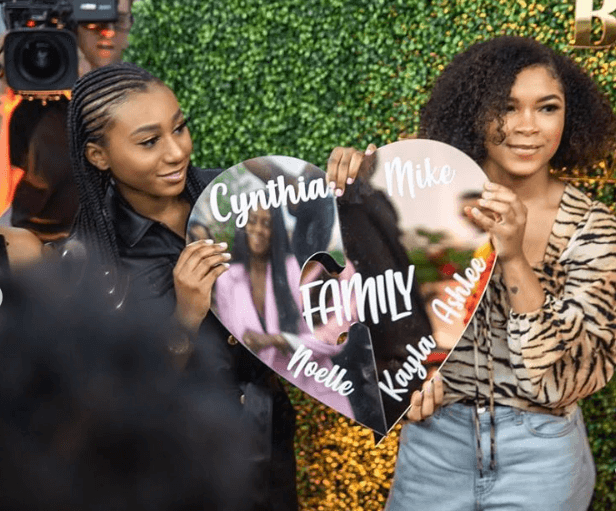 He then popped the question and Cynthia broke down into tears as she said yes. The crowd started cheering, "Congratulations Chill!" which is the nickname Cynthia created.
Cynthia was previously married to Peter Thomas from 2010 to 2017 and Mike was also previously married.
Check out more photos from the proposal below.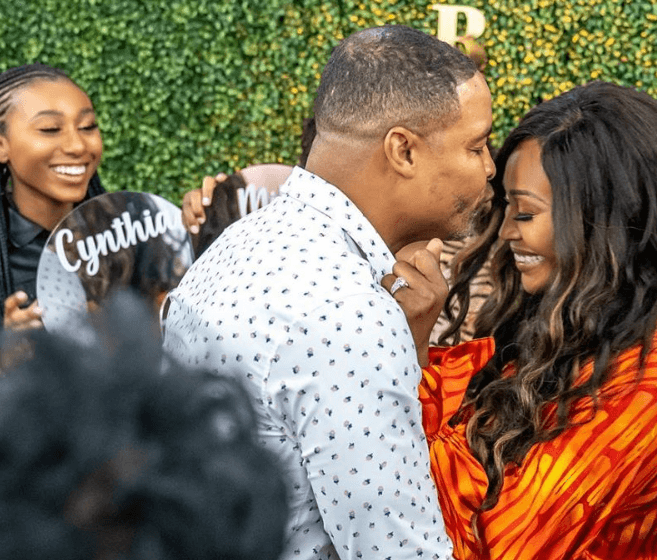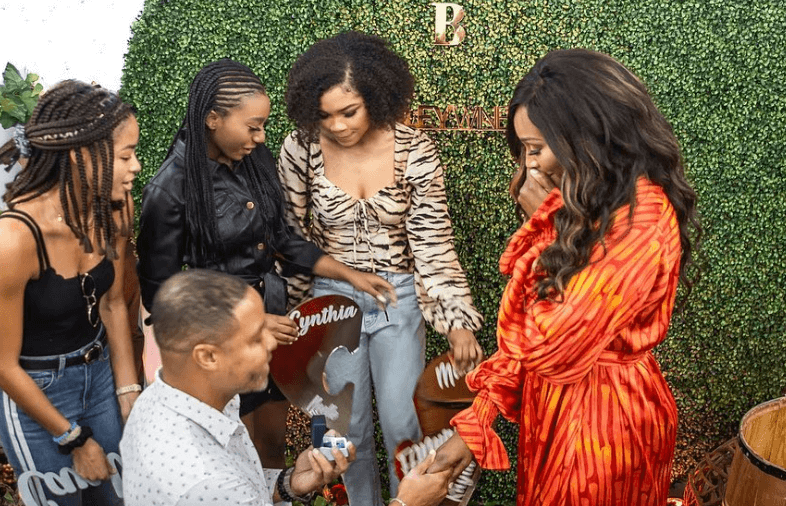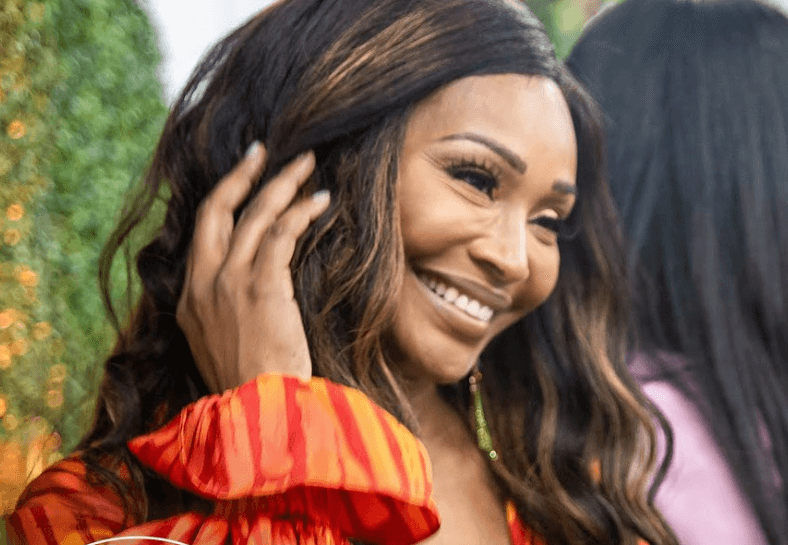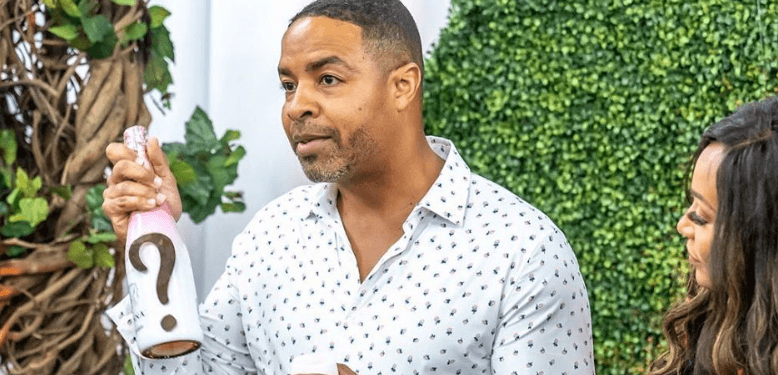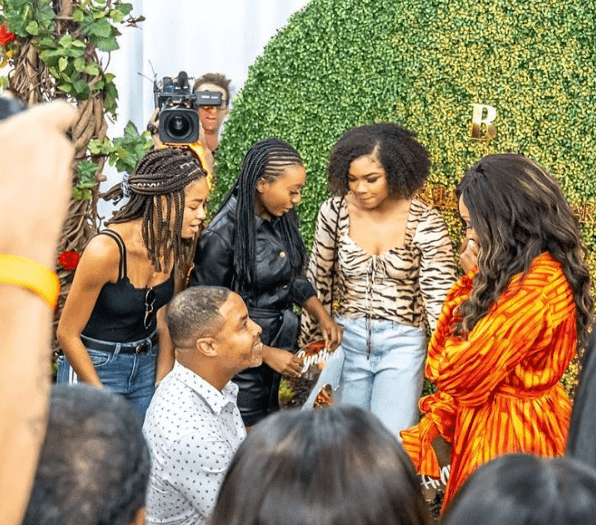 For months the reality star had been telling the world that she and her boyfriend, Mike Hill, would be engaged in 2019.
In April during an appearance on ABC's The Talk, Cynthia's former bestie Nene Leakes, spilled explosive tea about Cynthia and Mike Hill's impending engagement.
"I would announce the same thing if I was trying to get another season on the show." NeNe told The Talk co-host, Eve. "Everybody has to have a storyline." NeNe continued.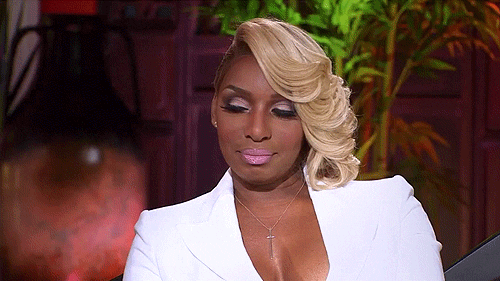 The Talk host Sheryl Underwood asked NeNe Leakes, "Are you saying [the relationship] is not real?"
"I'm not saying it's not real. I'm just saying, people do anything for money, honey." Nene responded.
Share your thoughts on Cynthia Bailey and Mike Hill's engagement — and Nene Leakes' saying it's for a RHOA storyline. Sound off below!
"Like" us on Facebook  "Follow" us on Twitter and on Instagram