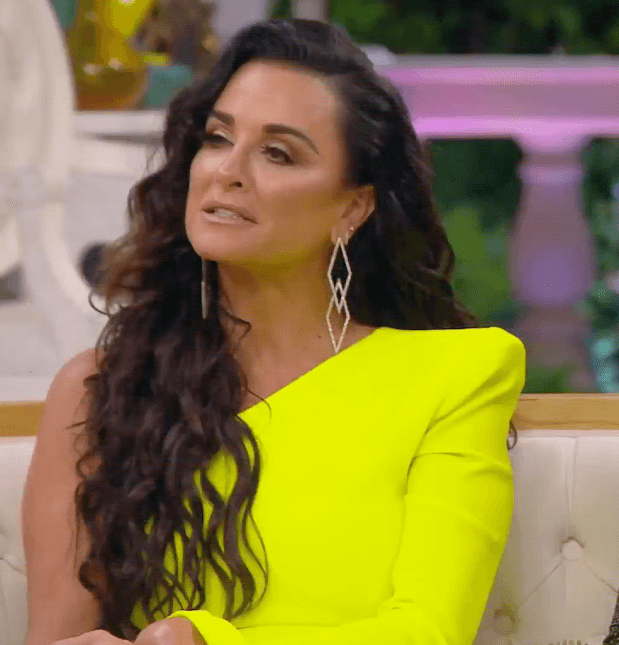 Lawsuits and PuppyGate were front and center, while Camille Grammer landed in the hot seat on part two of the Season 9 Real Housewives of Beverly Hills reunion.
Part two picks up with Teddi Mellencamp being grilled for her role in PuppyGate. Andy calls her out for lying, and at first she lies to Dorit Kemsley, "Never once have I told a lie, and never will you hear me tell one;" but after some intense questioning from host, Andy Cohen, Teddi finally admits her actions were 'stupid' and cops to conspiring with Lisa Vanderpump's employee, John Blizzard, to expose Dorit for dumping Lucy Lucy Apple Juice at a kill shelter.
Andy questions Dorit on why she didn't return Lucy Lucy Apple Juice to Vanderpump Dogs. Dorit insists she thought the dog was going to "a loving home," but Camille does not let her off the hook easily and pressed the issue. Kyle Richards inserts her two-cents — insisting Dorit did not hand the dog over to a "kill shelter" — even going as far as saying all pet shelters are equipped to euthanize (this is false but it's not the only fib Kyle tells for the evening). Dorit reassures that Lucy Lucy Apple Juice was "never in danger," of being put down in the kill-shelter. If you say so!
Teddi's own words come back to haunt her when Andy rolls video footage that proves the Accountability Coach is a lying liar! During the season, Teddi proclaimed herself a pillar of truth — a wholesome gal above reproach but evidence of the contrary was presented and she hung her head in shame. "Weren't you still lying?" Andy chirped, adding, "You're lying about lying." (Ahem Andy!)
Next, the group tackles whether Lisa Vanderpump should have fired her Vanderpump Dogs employee, John Blizzard, over his involvement in PuppyGate. "She couldn't fire him because he was doing what he was told to do," Kyle says slyly. "He has a lot of information."
Apparently, half of the cast is being sued so Andy introduces their legal drama via fan inquiry (Oh so messy Andy!).
RELATED: Erika Jayne's Husband Loses Million Dollar Lawsuit — Ordered To Pay $16 Million But He's Already Delinquent On the Payment!
"Erika's happy to talk about Lisa Vanderpump all day, but when it comes to Tom [Girardi] defaulting on a $15 million loan, she doesn't say a word," Andy reads a fan question. "How bout this…resolved, and they apologized." Erika smugly remarks. 
Andy wasn't done being messy — Kyle's husband's million dollar lawsuit is the next fan question.
"Amy from Texas said, 'I guess Kyle isn't gonna mention Mauricio [Umansky] scamming someone out of $37 million when she can just talk about Dorit's dog.'"
Based on Kyle's reaction, she was PISSED OFF!
"My husband did not scam anyone," she barked. "That causes problems because my husband's never made $36 million on a deal in his life! That's what a property sold for, okay? So your question from whoever the f–k Monty is in McGootville saying my husband's scamming people out of $36 million…"
Andy corrects Kyle, "Amy from Texas."
"Okay, Amy from Texas!" Kyle shouted. "That's a misleading question."
Recognizing Kyle's delicate sensibilities, Andy rewords his question. "There's a lawsuit relating to a dispute about a property."
"Yeah, but the way it was worded is damaging, and I don't appreciate that." Kyle snaps at Andy.
Dorit's next! Andy brings up that she's being sued by her former Beverly Beach business partner. 
"He wants a certain amount of money, and no, I can't get into numbers because it's an ongoing lawsuit," she replied.
"Andy, the judge has ordered mediation. The judge looked at it and said, 'Listen, you guys figure this out.' I am very comfortable in our position. It is in the lawyers' hands. It doesn't need to have a discussion because there's a lot of details about it that I can't really speak about."
Andy then asks the group about a lawsuit filed against Lisa Vanderpump for wrongful termination from Vanderpump Dogs.
Camille's in the hot seat next, Kyle accuses her of being two-faced with Vanderpump .
"Here's what happens," Kyle tells Camille. "When we're together, you will say things like, 'I know who Lisa is, she's done this to me, she's done that.' And when you're not with us, you're like, 'Lisa, I feel so bad with what you're going through.'"
"Can I feel both? I can feel both," Camille barks.
"You've got to have conviction," Kyle continued. "Okay, my conviction is I felt terrible that her brother passed away," Camille said, eliciting groans from everyone else.
"What human wouldn't?!" Kyle fired back.
"That was a joke, and you all laughed! And you all laughed!" Camille shouted. "And you continued with the conversation and said, 'Yes, don't get me into it, but she's always had bad breath.'"
Camille continued, "Yes, you have! That is bullshit! You've talked about that off camera with me!"
"Camille, that's such a f*cking low blow," Kyle shouted. "We've all said things privately about each other. I would never out you! If I did right now, it would be a very bad situation. I don't do that!" 
Also in the episode, Lisa Rinna opened up to the group about her possible issues with food.
Part three of The Real Housewives of Beverly Hills concludes on July 30.
"Like" us on Facebook  "Follow" us on Twitter and on Instagram