Exclusive
EXCLUSIVE: 'Southern Charm Nola' Star Jeff Charleston Explains His Explosive Outburst Over Reagan's Baby News & Drags Tamica Lee!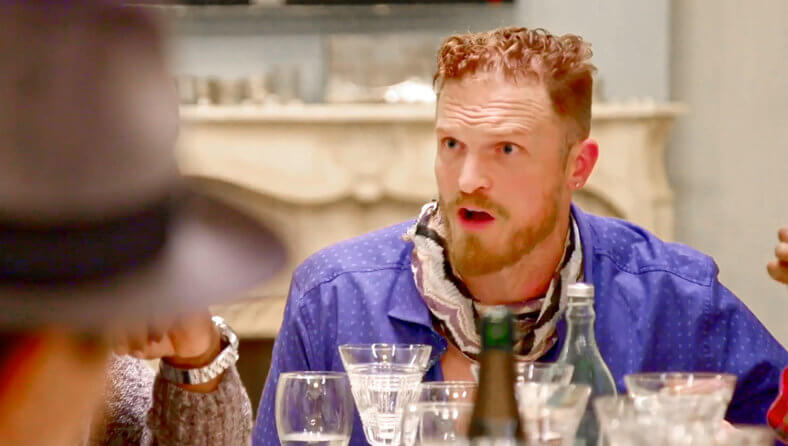 The July 21 episode of Southern Charm New Orleans was a dramatic Friendsgiving dinner hosted by Jeff Charleston.
In the episode, Jeff Charleston, 36, exploded at the dinner table after finding out that his ex-wife, Reagan Charleston, was pregnant with fiancé, Reece Thomas. Watch the emotional scene below. 
After the episode aired, Reagan, 30, took to Twitter to address the chatter surrounding her messy personal life. "The feelings police on twitter will beg to differ, but I moved out in 2017, separated, then filed for divorce. I didn't think anyone would be shocked when I started seeing [Reece]," she tweeted on July 22. "Also, is a pregnancy that shocking when two 30 somethings live [together and] are engaged?"
She added, "Was also particularly horrified to see that my pregnancy was shared at my ex-husband's dinner party and then discussed at the dinner table. Fully expecting the peanut gallery to finger wag and scold."
Southern Charm New Orleans fans and some cast members have speculated that Reagan was unfaithful with Reece Thomas during her marriage to Jeff. A claim which she denies.
Jeff explained what made him snap after learning about Reagan's pregnancy in an exclusive interview with AllAboutTheTEA.com.
"I was definitely in a fragile state after I found out and wanted the party to not go to waste." Jeff Charleston tells AllAboutTheTEA.com. "I couldn't handle Tamica calling me out and saying I was lying. Since this episode ended with me throwing the plate they will show the aftermath in the beginning of the next episode."
The 36 year-old takes major issue with costar, Tamica Lee, accusing him of knowing about the pregnancy beforehand — which he staunchly denies.
"I didn't know before Doug told me," Jeff shared with AllAboutTheTEA.com. "I had suspected because she wasn't drinking and they were rushing to get married but no one had told me before that night."
He continued: "Then you have Tamica at someone else's house just pushing and pushing like she always does. I wasn't in a place to handle it at that moment."
"I thought the party was gonna go on and we were all gonna be one big happy family but it wasn't good enough for Tamica. You could see the rest of my friends were shocked and felt bad and she had a smirk on her face when I said I found out Reagan was pregnant."
The Head Coach tells AllAboutTheTEA.com that his friendship with Doug remains intact despite his timing of the shocking pregnancy news. 
"Doug is a good friend and I'm still friends with him and he felt so bad about it after the fact due to his timing. It sucked because of all the work I put in to throw a party for a new tradition to leave the drama behind and I just couldn't get away from it."
Southern Charm New Orleans airs Sunday nights on Bravo, at 9:00 p.m. ET.
"Like" us on Facebook  "Follow" us on Twitter and on Instagram