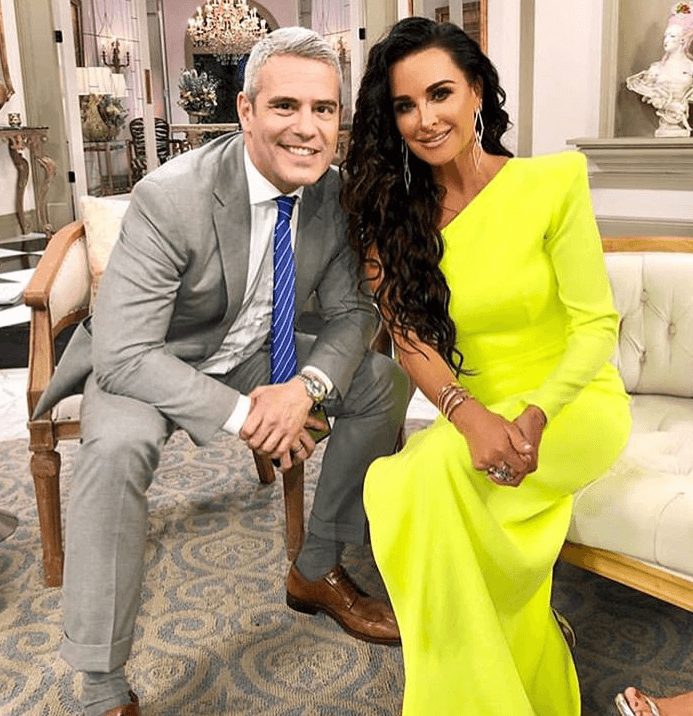 Part one of the Season 9 Real Housewives of Beverly Hills reunion kicked off with host, Andy Cohen, immediately addressing the elephant in the room — Lisa Vanderpump's absence.
All the ladies seem shocked Vanderpump chose not to face the firing squad. Andy Cohen says, Vanderpump told a reporter a day prior that she had quit the show. Kyle Richards chimes in and says her former friend quit before she was fired. Then Andy compared Vanderpump's actions to RHOBH alum, Adrienne Maloof's season 3 reunion no-show. 
"I think she gave that interview yesterday so that she could say she quit because she knew that if she didn't show up here today that you would probably do the same thing that you had to do with Adrienne and fire her," Kyle explained. "So she was preempting getting fired by saying she quit yesterday."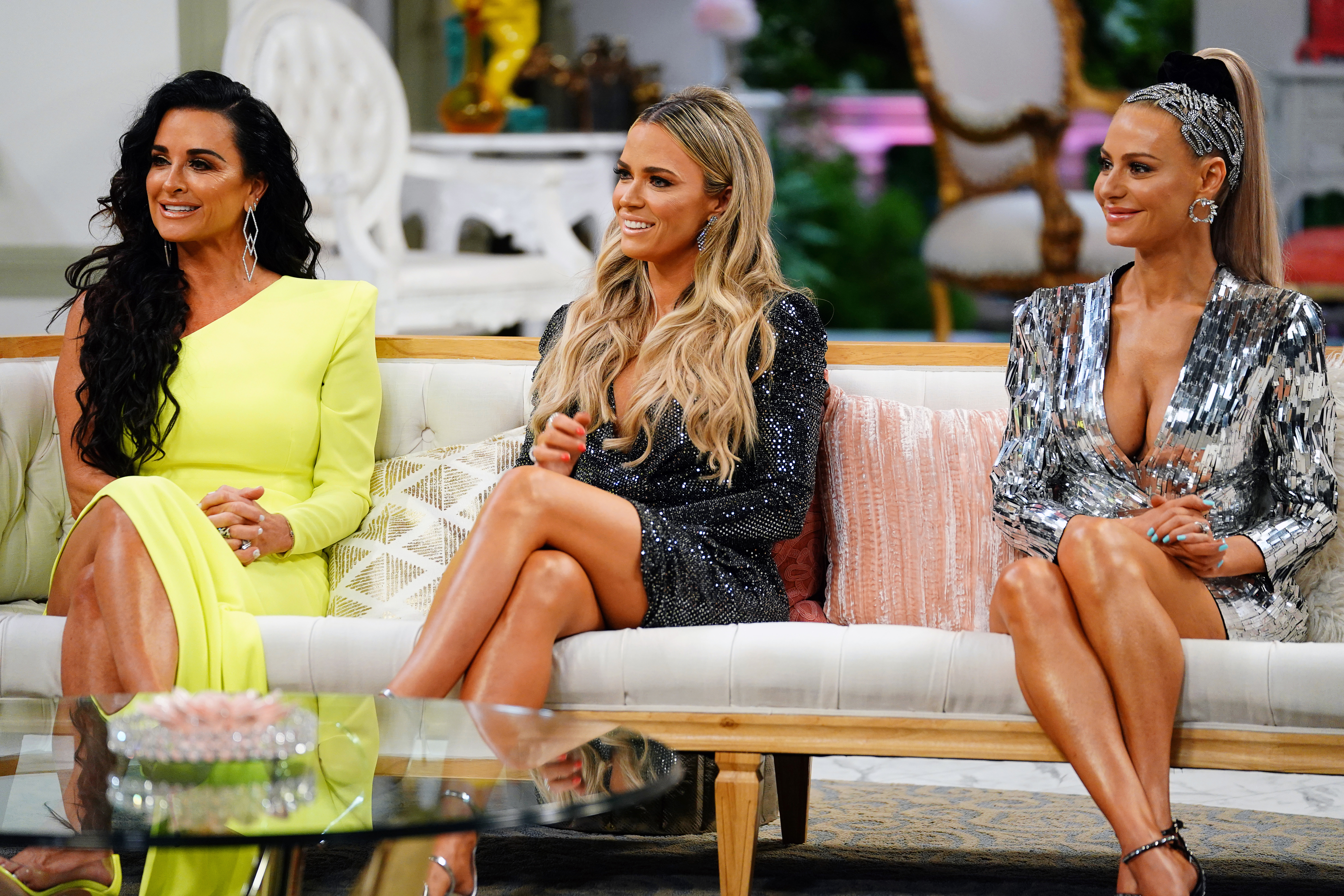 Andy then brought up a second Radar Online article (not PuppyGate) that quoted a source saying, "Lisa is being burned at the stake, nailed to the cross and stoned by her co-stars all at the same time."
"Get off the cross. We need the wood," Erika Jayne. said, referring to Vanderpump. Radar readers know the two have been feuding for a while, and their relationship only got worse when Vanderpump suggested Jayne, 48, has male reproductive parts.
"Just don't ask me if Erika's tucking or something. like that because there are some things I can't lie about" Vanderpump said while taking a lie detector test onscreen.
When Denise asked Kyle why she thought Vanderpump didn't attend the reunion, she responded with:
"I think that she doesn't wanna face any of us because she has been unmasked," Kyle said. "The fact that she was called out with what originally happened at Vanderpump Dogs — why would you do that to someone that you care about? That was the biggest issue. I think that she can't face that, so she's focusing on the Radar [Online story] over and over and over again so we cannot talk about what actually happened at Vanderpump Dogs."
Erika Jayne then says Kyle is the leader of the group. "Look at us today. She is the queen," Erika said. "It's true. Look who showed up. Not only is she the original, she's the leader of the group. She is the one that we are all connected to. She's the binding, she's the center." Kyle was touched and shamelessly blushes and says "Thank you." 
There's a lot of chatter that I really didn't pay attention to then Camille Grammer  joined the stage and I was interested again.
Andy starts comparing Camille and Denise. First their parenting styles — he tells Camille that Denise just discussed raising kids with a famous ex, and Camille responds that her mom told her to watch the way Denise always makes her relationship with Charlie Sheen about what's best for their kids because "that's the classy way to do it." 
Next, Andy brings up prenups. Denise didn't have a prenup with Charlie Sheen and she didn't take him to the cleaners because she's not "a greedy f—ing whore." "I…don't…know…her…life?" Camille says she worked hard during her marriage to Kelsey Grammar, she didn't just sit around "buying fancy clothes and shoving bonbons in my face." Messy Andy says, "Do you like bonbons, Denise?"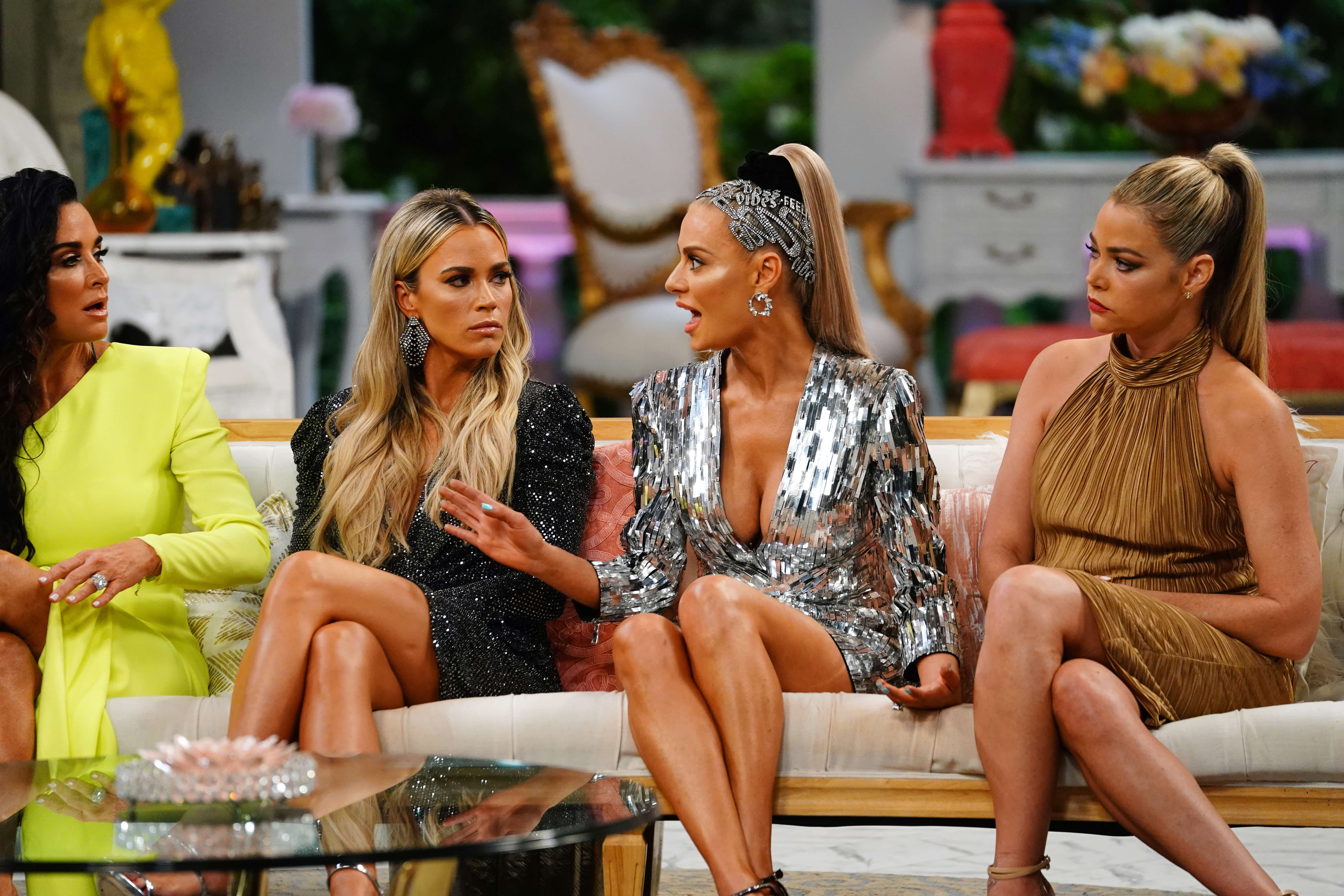 Next up is Teddi Mellencamp's feet being held to the fire for her role in #PuppyGate. Andy calls her out for lying, and at first she lies to Dorit Kemsley, "Never once have I told a lie, and never will you hear me tell one;" then Teddi finally admits to conspiring with Vanderpump's employee, John Blizzard, to expose Dorit for dumping Lucy Lucy Apple Juice at a kill shelter.
Part two of the reality merry-go-round continues next week — hang on tight!
"Like" us on Facebook  "Follow" us on Twitter and on Instagram