RHOBH RECAP: Camille Grammer Snaps & Calls Out Kyle, Lisa Rinna and Denise Richards In Dramatic Season 9 Finale!
Camille Grammer unleashed fury on Tuesday night's explosive Season 9 finale of The Real Housewives of Beverly Hills.
The season came to a dramatic close at Kyle Richards' husband's grand opening party of his 25th location for the The Agency. Camille Grammer is eager to settle the score with Erika Girardi, Dorit Kemsley, Teddi Mellencamp, Kyle Richards, Denise Richards, Lisa Rinna after the ladies pounced on her for calling out Paul Kemsley's finances and exposed that he owed money to a friend of hers.
Upon entering the party, Camille is approached by Kyle, who was standing next to Teddi. Kyle inquires if Camille's if alright after her confrontation last week with Dorit at the heated dinner party, where Lisa Rinna accused Camille of letting Lisa Vanderpump off the hook. Camille is fired up and unleashed some hardcore truth-blurts.
"No, I wasn't," Camille replied. "The other night was a shit show. I felt so ganged up on." Kyle says that was "never the intention."
"I understand, but then why did anybody bring up anything?" Camille clapped back. "It was my wedding. That was not right for them. I can be friends with…"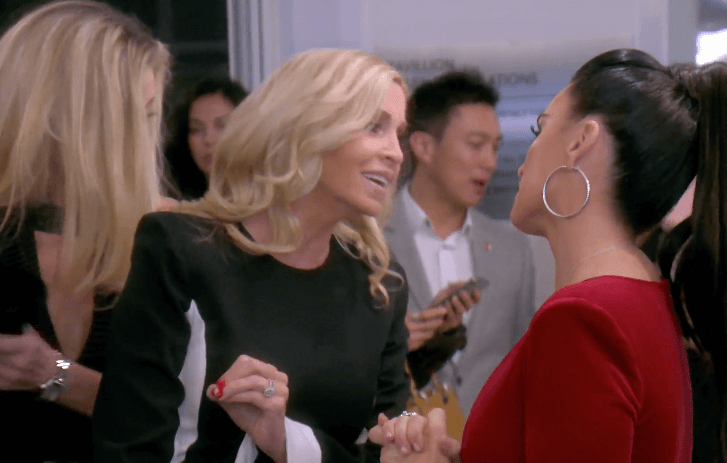 Teddi jumped in and tried to school Camille but was quickly gathered by her bad hair extensions and all hell broke loose.
"No! Shut it down, Teddi," Camille scolded Teddi.
"You don't need to be so…" Teddi tried to respond, but Camille fired back, "Shut it down! Shut it down!"
"You're not worth my time," she added as she turned toward Kyle and put her hand up in Teddi's face.
Teddi scurried away to gossip about Camille to Erika Girardi and Lisa Rinna — shaking her head , "Ohhh myyy Goddd."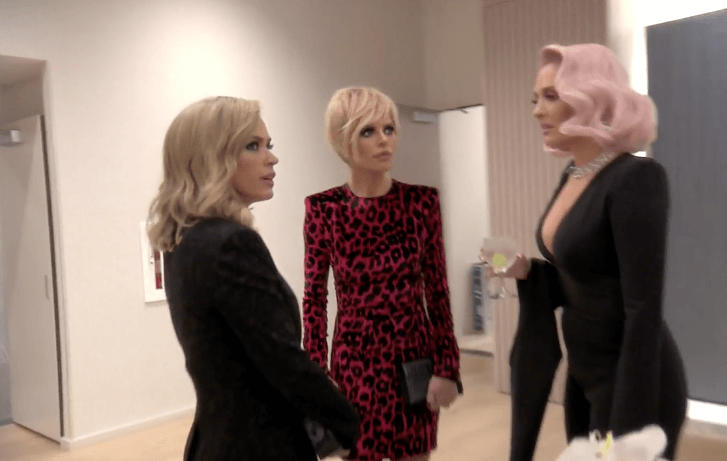 Camille then calls out Kyle for turning on her because she refused to join their vendetta against Lisa Vanderpump, "Okay, so, you and I… That's bullshit! That's bullshit! Because I'm not jumping on the Lisa Vanderpump hate train?"
"That's not fair," Kyle denied the allegation.
"It wasn't fair the other night what you guys did, and I was very disappointed in you," Camille replied, grabbing Kyle's arms.
"I think feelings are running so high right now because of everything that's going on. You see what I'm saying?" Kyle tells Camille. "It's miscommunication."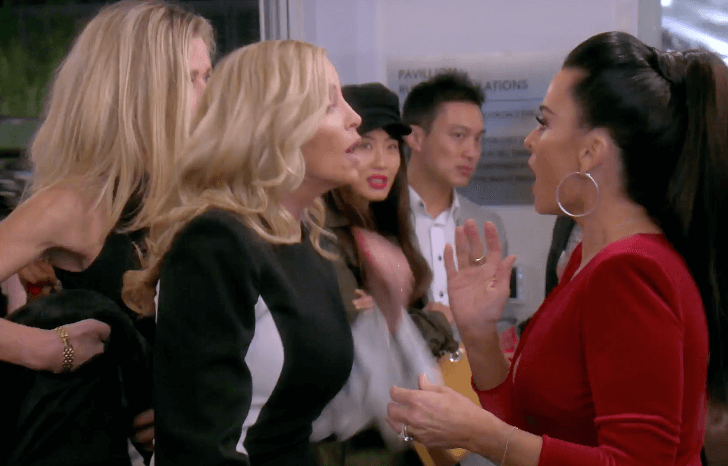 Meanwhile, Dorit and Denise walk into the party and Lisa Rinna approaches Camille, "Can I have a chat with you?" Rinna asked and Camille tells her "NO!"
"After getting attacked the other night, I think I'll wait a little while," Camille says. "Camille, we didn't attack you the other night," Rinna asserts. "You understood it the other night, and you were fine with it the other night. What changed?"
"What changed? That I actually got my balls and realized that, after thinking about it, that I don't have to say I'm sorry for saying something nice to Lisa!" Camille barked back.
"Lisa Vanderpump and I know what we've been through," Camille said as she got up in Rinna's face. Rinna replied, "Do you know what Lisa Vanderpump has done to Dorit? You're okay with that?"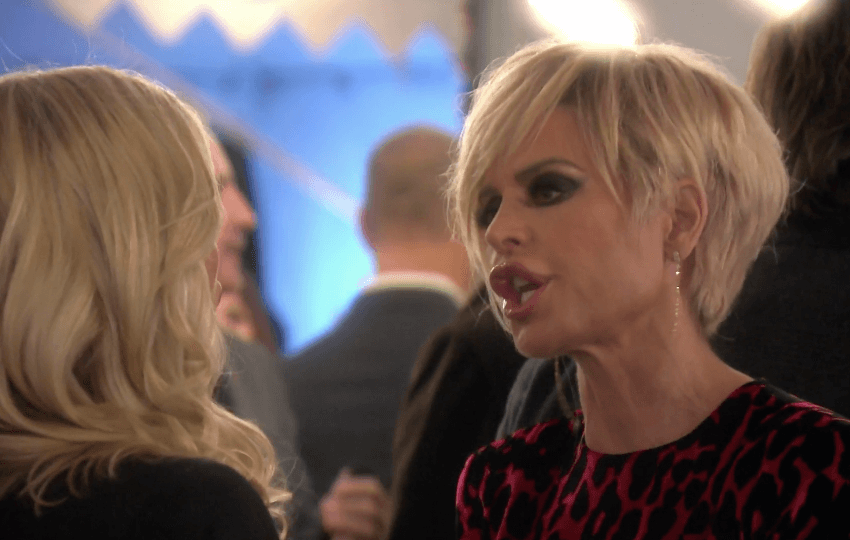 But Camille was not backing down and stood her ground.
"Why did you come after me at my most vulnerable? After I lose my house and lose my assistant of 23 years?" Camille questioned while getting up in Rinna's face. "Was that the time for you to bring up 'cause I said something nice about Lisa Vanderpump? How disgusting are you?! That's disgustingly petty and immature. So let's figure out who the mean girl really is, huh? Seems like it's you!"
Camille went to the bathroom to calm down with Denise in tow. "Mama, come here," she said in a motherly tone, but Camille wanted nothing to do with her.
"Oh, no, no, no. I'm not getting into it with you. I like you, Denise," Camille said.
"You f–ked up the other night, and you need to f–king apologize to her for that," Denise scolded Camille. "I don't know if it's f–ked up, but I went below the belt," Camille responded agreed to go find Dorit. 
During Kyle and Mauricio's speeches, Camille whispered to Denise, "Sorry that I embarrassed her. I didn't expect the ambush the other night!"
"I agree, and I had defended you for that," Denise whispered back.
"When I'm raw, right after I lost my house," Camille added. That's when Dorit turned around and hushed them for talking during the speeches.
"Dorit, I do wanna talk to you," she said loudly. "I do wanna apologize." They walked away from the group to talk.
"I am so sorry," Camille continued. "And I said something really awful to you, and I feel terrible about it. And I'm sorry. And I know it really must've hurt you. I'm so sorry."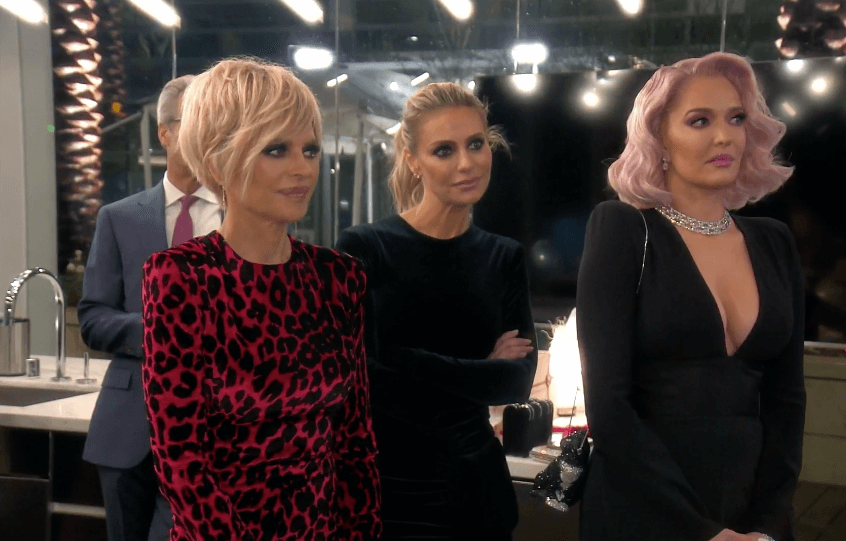 Dorit shook her head in agreement. "It really hurt me," she said.
"I know. I didn't wanna hurt you. I was just so raw, and I said something I wouldn't normally say, and I'm so sorry," Camille told Dorit, who was unmoved by Camille's apology. After this, Teddi returns to start some more with Camille and another argument ensued.
"I am so sorry for what you're going through," Teddi said. "I don't like the way you just talked to me prior, where I'm not even worth your time and all of that stuff…"
"Teddi, you have been so annoying to me. I'm sorry," Camille boldly asserts. "Oh, by the way, my daughter's upset with you. She walked up to you and said hi and you went, 'I gotta go to the bathroom.'"
"Never!" Teddi replied. "Never. I can swear to you that I walked through security with the entire group and said, 'Hi, guys!' just like everybody else."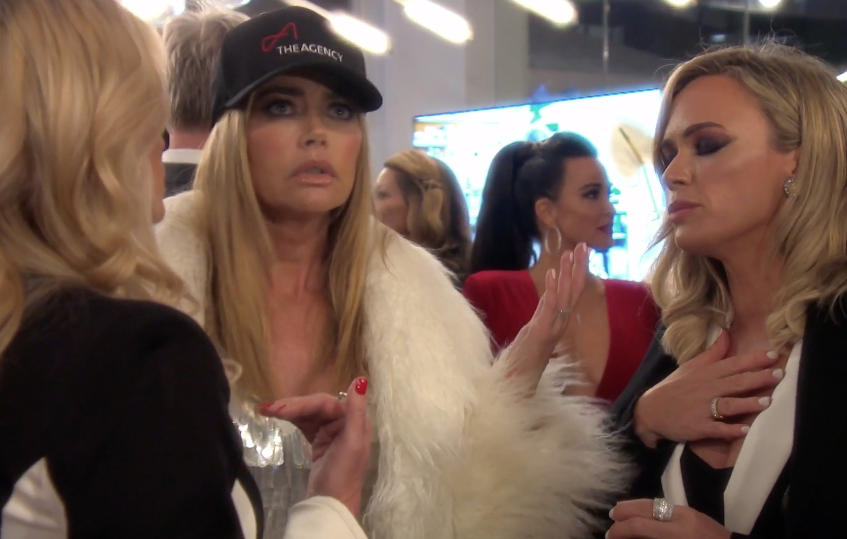 Denise inserted herself again in the drama. Camille explains to Denise that Teddi snubbed her daughter, but Denise dismissed Camille's claims.
Teddi apologized to Camille for everything she was going through then asked her to "stop grabbing me and talking down to me." 
"We're not in 7th f*cking grade," Denise said, which fires up Camille.
"Really? Really, Denise? After the other night? Who got attacked?" she shouted. "It was me, over petty shit!"
"Camille," Denise replied, "you know when we go…"
"I don't know, Denise, so back off!" Camille barked back.
"You f*cking back off!" Denise shouts. "Even if someone did, you don't f*cking say it! Don't be condescending. You're so f*cking patronizing!"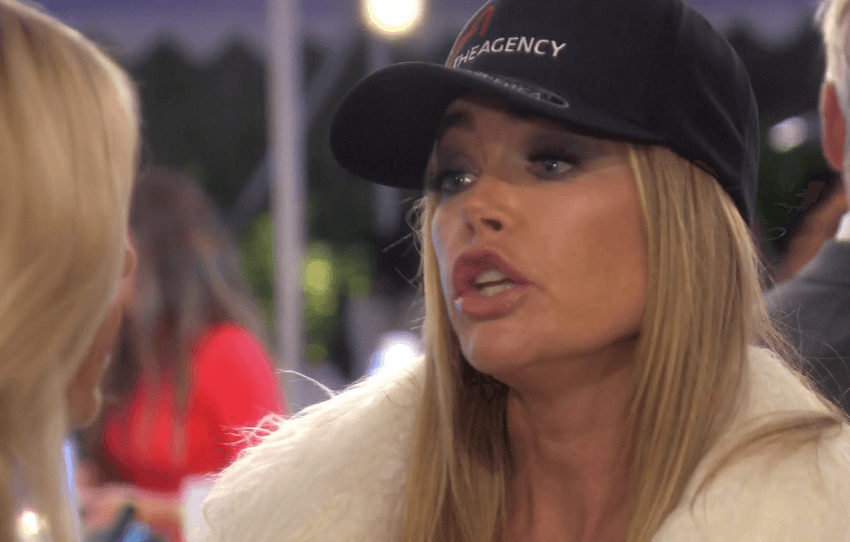 Denise later said in a talking head confessional, "I was married to Charlie Sheen, so I can handle drama. But enough's enough, and she needs to stop."
The Real Housewives of Beverly Hills Season 9 reunion kicks off Tuesday, July 16 at 9:00 p.m. ET, on Bravo.
"Follow" us on Twitter and on Instagram 
Nancy Zhāng is an Entertainment Blogger for All About The Tea. Nancy covers hot topics, recaps and celeb news. She loves to multi-task as a writer and a private chef. She received a B.S. in Mass Communications from LSU. Nancy's married and the proud mom of 2 German Shepherds.