The Real Housewives of New York picks back up in the middle of Bethenny Frankel's breakdown, where bonus stutters, gasps and tears are highlighted. Bethenny recoils at Luann de Lesseps' touch, so Dorinda Medley and Barbara Kavovit usher her away from the table. Ramona Singer diagnoses Bethenny's reaction as a rehab remorse, and implies that she would have rather rescued dreamy Dennis than loopy Luann. Ramona spells it out to Luann, while Bethenny steadies her hysterical pants with Dorinda and Barbara.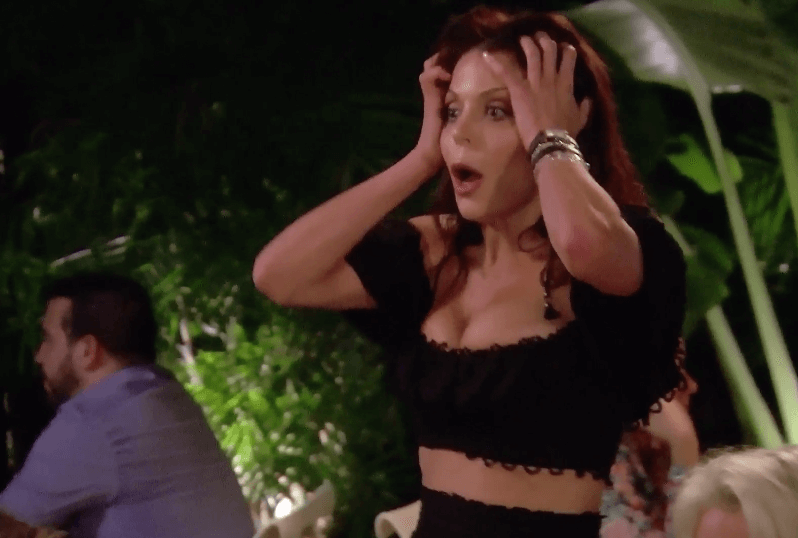 Luann continues to defend her right to swim, and points out that others in the group also took off on their own. Luann leaves to go to meet a friend, but is terrified that she might fall off the wagon again. Bethenny soaks up the group sympathy, and impresses them all when she confirms that no makeup was compromised during her emotional collapse. Luann decides to go back to avoid a bender, and is determined stand strong. Bethenny murmurs words of vague remorse, and Luann admits that she feels badly about her splintered cast relationships. She apologizes for her mirror obsession, and shares regret for not acknowledging Bethenny's pain with acceptable frequency. Bethenny assures Luann that she wants the best for her, even though strangers have her beat when it comes to sympathy points. Bethenny advises Luann to change stat, if she wants to avoid another bellow session next season.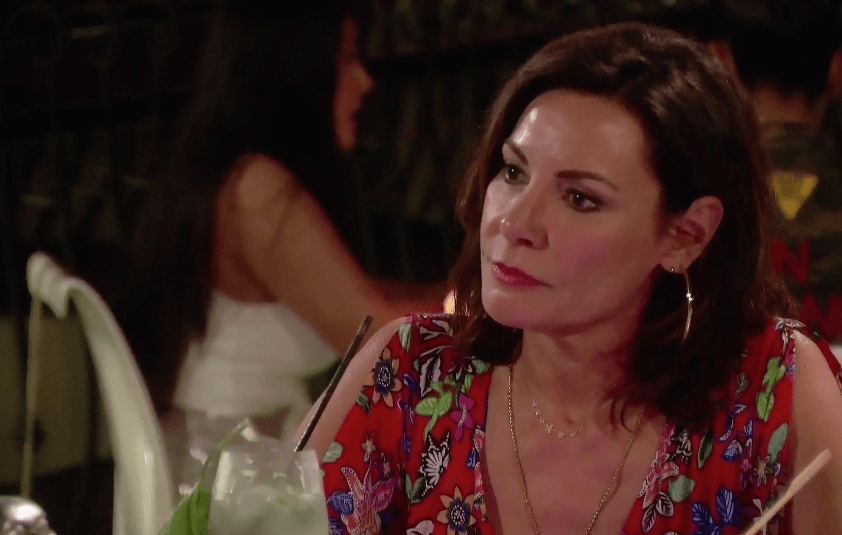 Back at the house, half the group decides to celebrate the renewed cast kumbaya by holding an impromptu dance party in the kitchen. Tinsley Mortimer's brand new Miami wardrobe is hotly debated, and Ramona and Sonja Morgan give four thumbs down to any top that flattens boobs. Tinsley cuts loose and flashes some skin, before busting some lukewarm dance moves on the kitchen counter. Sonja and Ramona enjoy some turtle time, and Barbara is thrilled to be socially elevated to their backup dancer.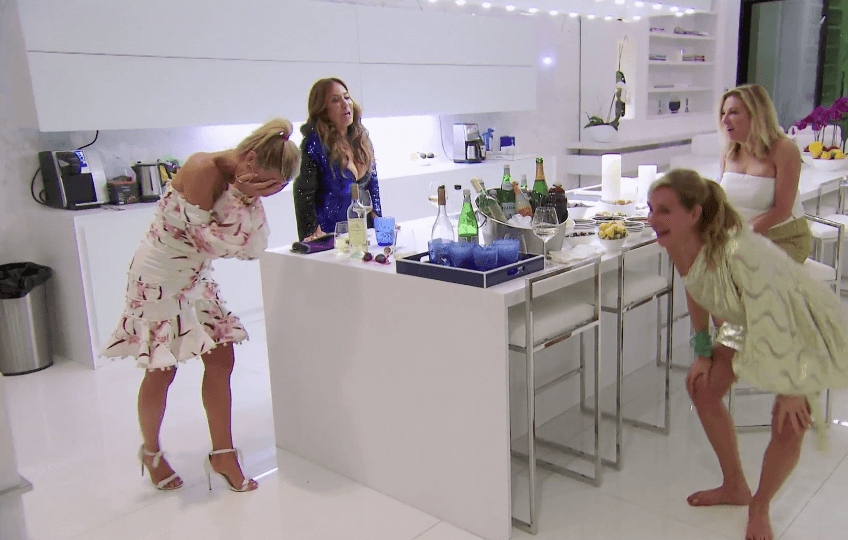 In another room, Dorinda praises Bethenny for her courageous beatdown, before reminding her to focus on the badness of Dennis' overdose death. Dorinda coaches Bethenny into more tears, and the duo chants bad-bad-bad until the scene fades. Bethenny hotfoots it out of there by sunrise, and while the others pack for the trip back to the city, Luann doubles down on her cabaret joy during a morning yoga session. Bravo cameras pan Barbara's white room, which has been carelessly tinged brown by the newbie's aerosol skin. Ramona decides to extend her trip to spend time with her real friends, and Tinsley takes off for Palm Beach to give her dying dog a hug.
The cast is back in NYC, where Bethenny is checking out Dorinda's new apartment, and Luann is in a recording studio, prepped and ready to belt out a new hit. Dorinda and Bethenny chat about John, the heavy breathing dry cleaner, and Bethenny's most recent meltdown. They compare notes on their most epic shots at Luann, and Dorinda wonders why their target so readily forgave Bethenny, but kept her begging for eight months. They vow to never be Luann's audience again, just before Bravo shoots us back to the studio, where the cabaret star is rehearsing her latest single. Luann is "feelin' Jovani" and can't wait to see if Dorinda feels the shade. We later meet Dorinda's past aerobic instructor rival, and learn that she plans to put on a series of charity aerobic classes. The duo practices some old moves, and that 80's magic is still there.
The mood crashes when sobs introduce Ramona, who is checking in on Tinsley. Tinsley is crushed over her deceased pup, so Ramona kindly listens to her tearfully describe their final shared moments. Tinsley drops the shocker that she called the fire department over a passed pet, but Ramona is even more stunned by Tinsley's naked face.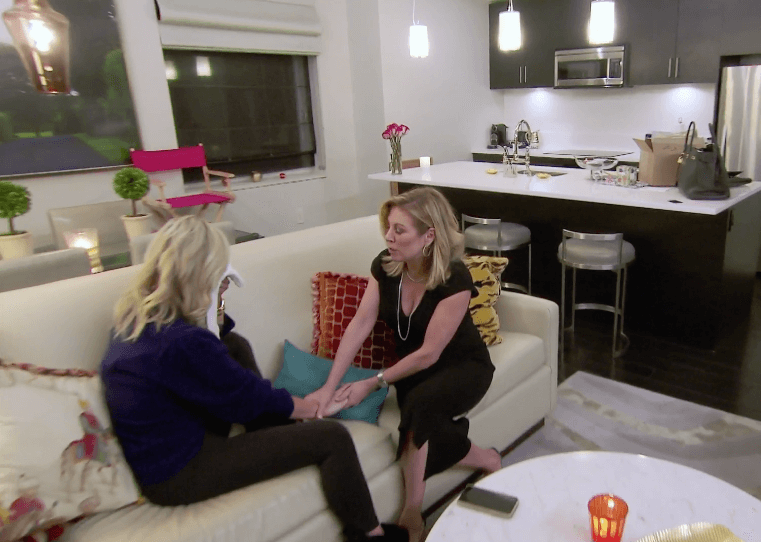 Sonja arrives, and the ladies comfort Tinsley Mortimer through her heartbreak. Sonja advises her to reconsider naming her first frozen egg after her unthawed chihuahua, before Tinsley shares that Scott commemorated the milestone by gifting her with a pair of gaudy sneakers. She decides to pass on wearing them to Dorinda's happy dance party.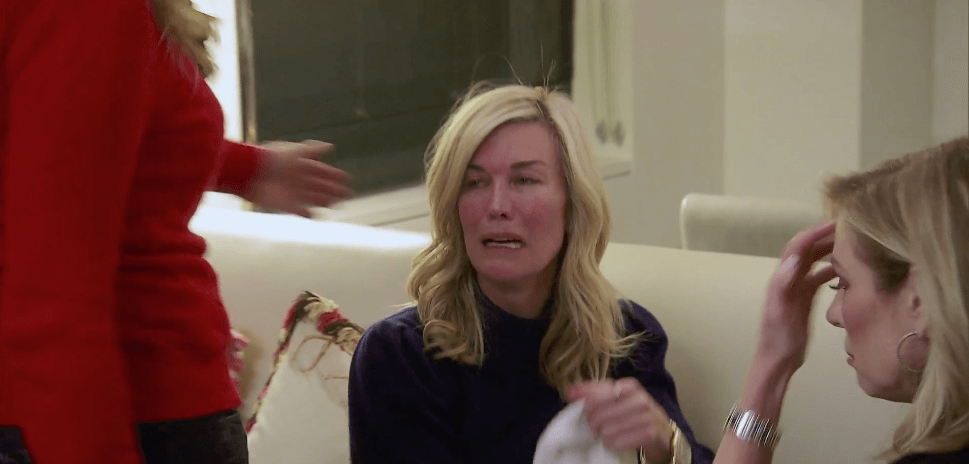 Luann pays Ramona a visit, and they discuss Mario's comeback. Ramona confirms that Mario is in her past, despite his melancholy desire to rekindle their family. Luann shares her true feelings about Bethenny's screech session, and likens herself to a seasonal punching bag. Luann reveals more details about her sober probation stint, and again confesses that she's been a bit self-absorbed lately. Luann reminds Ramona that the gals are invited to her Christmas cabaret — and Ramona informs her that they all have another plan.
Ramona assures Luann that they love and support her — just never in front of a microphone. She reminds her that she's too socially advanced for repeat performances, and invites her to the end of a strategically scheduled surprise party that she's throwing for Dorinda and Sonja. Luann challenges her for scheduling a bash on the same night as her show, and Ramona confirms her cabaret escape plot. Luann knows that she's been dissed — and is disappointed that the ladies don't want to experience her holiday dazzle.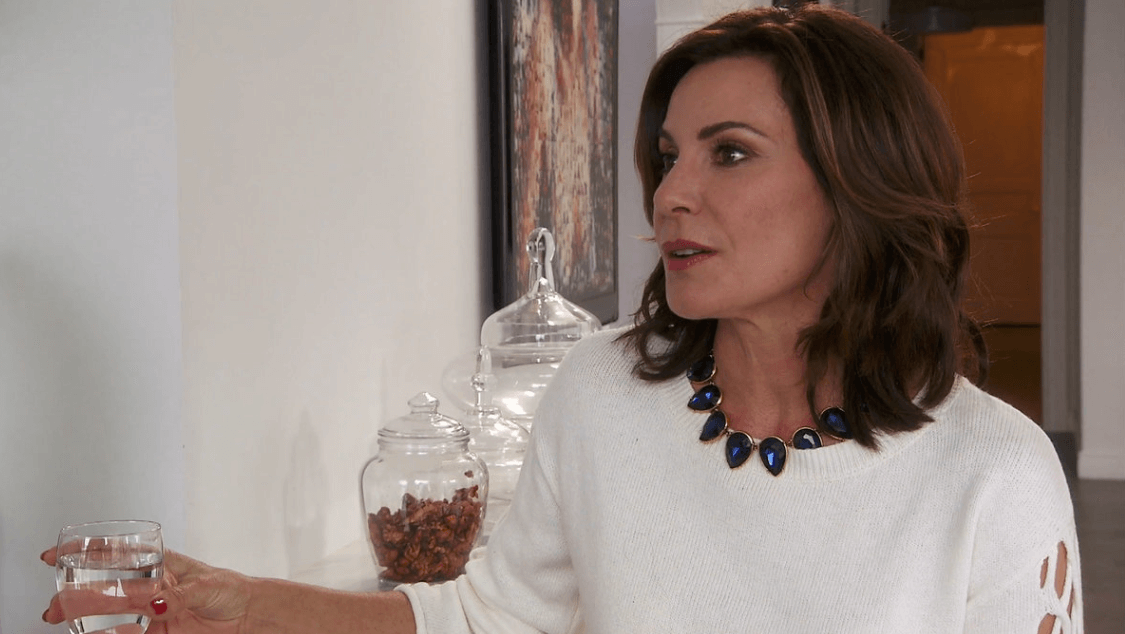 Dorinda arrives at the dance studio, and is ready to make it burn. Ramona shows up in a retro purple leotard, and is excited to relive the good ol' days. Dorinda and Ramona gossip about Tinsley and Scott until the rest of the ladies arrive. The cast banters and giggles, and Bethenny announces her plan to host a party with a marshmallow whore theme. We learn that Luann sent Barbara and Bethenny fuzzy makeup jackets, and Dorinda objects, because she never received the same courtesy after slamming Lu's mugshot in Cartagena. Luann rolls her eyes and orders her to mind her own biz. Dorinda shades Luann for setting a different standard for Bethenny — but doesn't add that everyone in the cast routinely does the same.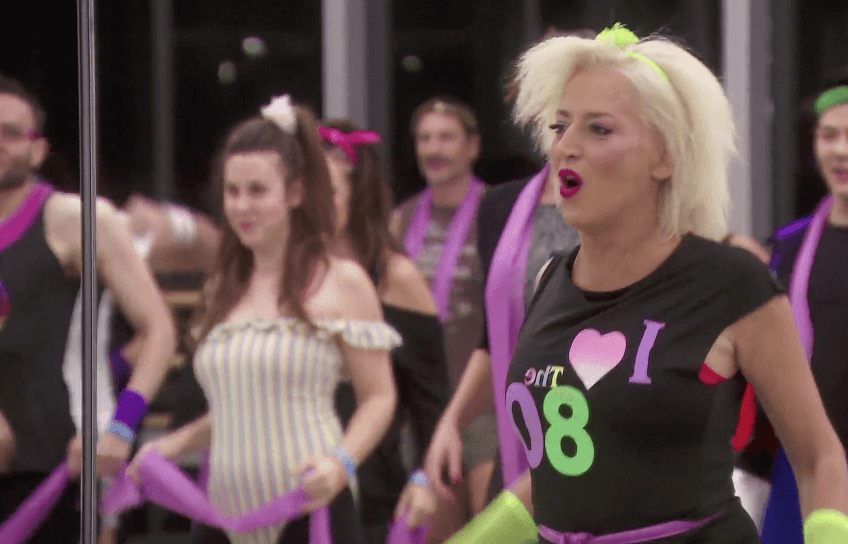 Dorinda summons the sea of neon and the crowd gets physical for the cause. Dorinda is thrilled that she can still move like Fonda, and the class is stoked. Luann laughingly remarks that the class is lame, but the ladies have a ball. Dorinda jokingly warns that her gnarly flashback show might just knock Luann out of the spotlight. Ramona invites Barbara to her party, assuring her that her attendance is not necessary. Barbara complains to Sonja about Ramona's cabaret dodge, and Sonja isn't cool with it. Sonja, who's in the dark about her guest of honor status, scolds Ramona until the shindig's theme is revealed. Luann complains about the party whammy to Bethenny, so Bethenny orders them to support Luann until their ears bleed, promising a group whoop afterwards. 
The Real Housewives of New York finale episode wraps the season next week — don't miss it!   
"Like" us on Facebook  "Follow" us on Twitter and on Instagram