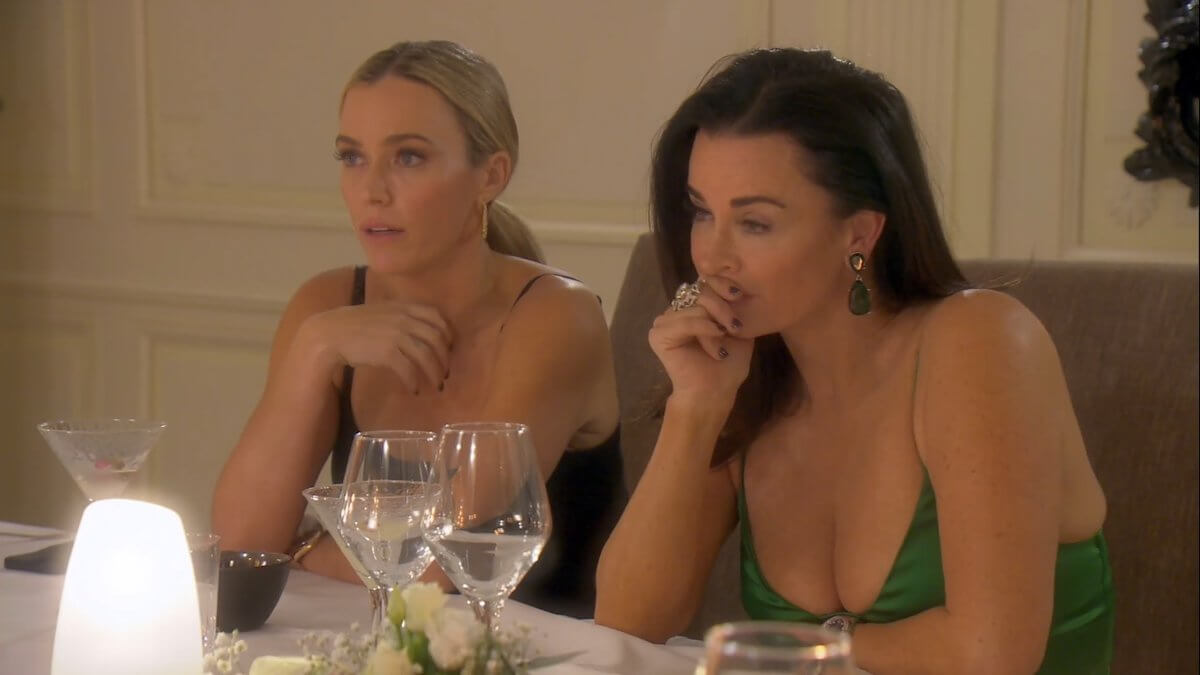 Tension exploded between Erika Girardi and Kyle Richards on Tuesday night's episode of The Real Housewives of Beverly Hills  after Kyle accused the singer of "being in a bad mood all the time" during their trip to Provence, France.
The friction started at breakfast —  Erika had a bad attitude and claimed to be suffering from a massive migraine.
"I'm not in a good mood. I have a vicious migraine brought on by lack of sleep and bitches that want you to be offended by something you're not offended by." Erika explained in a talking head confessional.
On last week's episode, Erika got irritated after Kyle and Teddi Mellencamp grilled her for not feeling offended over Lisa Rinna's vulgar impression of her on-stage persona, "Erika Jayne" at Kyle's daughter's Halloween party.
As fans recall, Lisa Rinna (dressed as Erika Jayne) flashed a middle finger at the ladies during a group photo and called Kim Richards a "c*nt" for returning a stuffed bunny.
Following a tense breakfast on Tuesday's episode, the ladies ventured off to a wine tour via helicopter, courtesy of Kyle.
After several glasses of rose, the other ladies played a game of impersonating of one another, but the game annoyed Erika as she said "no one is getting offended" unlike how the women reacted when Rinna wore her Erika Jayne Costume.
Erika did not drink due to her headache.
"When you don't drink, you get a little irritated with the drunks," Erika said in her talking head confessional.
Later, Kyle threw shade at "sober Erika" — telling Dorit Kemsley and Mellencamp, that Erika is boring.
Teddi agreed and called Erika a "Debbie Downer."
"Sometimes it feels she's annoyed to be hanging with us," Kyle said.
After the ladies returned to their French Chateau, they changed into formal wear for dinner.
Erika appeared to be in much better spirits as she admitted she's opening up more and feels she can trust the ladies in the group but the mood quickly changed when Teddi brought up dinner the night before. She tells Erika that she seemed "irritated" at dinner the night before when being questioned about Rinna's Erika Jayne costume.
Erika admitted she was irritated "because it was making something out of nothing."
"why did you want Erika to feel a certain way last night." Lisa Rinna questioned Teddi and Kyle.
Teddi pushed the issue and pressed Erika "to be honest" about her feelings.
"I didn't feel anything other than that it was a great time," Erika fired back.
Kyle then questioned Erika saying, "You're not going to say that when Lisa Rinna was giving the finger, you weren't thinking ,'That's not me.'"
Lisa then asked Kyle if she had a problem, to which she responded, "I thought it was weird."
"What's weird is that you care, what's weird is that you're pushing it, what's weird is that you're reaching for something," Erika clapped back.
And when Erika briefly left the room — Kyle told Lisa that "I feel she's in a bad mood with us … all the time."
When Erika returned, Kyle tells her that she's a party pooper, who does not enjoy being with them.
Erika blamed her migraine for her mood that one day.
Kyle said again that she believes Erika doesn't have fun with them and Teddi co-signed Kyle. 
"I feel like there's something else there," Erika said.
Erika explained that she feels bullied by Teddi and Kyle and says they "are in cahoots and want me to feel a way about something that never really bothered me. So maybe I should go to bed."
Erika then storms off — and Dorit Kemsley and Lisa Rinna urge Kyle to go and talk to her.
Kyle went to speak to Erika in her room, and continued to drill her over the Halloween incident and Erika determined it's best for them to speak in the morning.
Lisa checked on Erika."I'm not going to sit there and listen to this over and over again," Erika explained.
Meanwhile, back in California, Denise Richards' Malibu home escaped damage from the Wooley fires but Camille Grammer's home is completely destroyed. "This was the first house after my divorce," Camille said in a talking head confessional. "It was all mine and now that's taken from me. It's devastating."
The Real Housewives of Beverly Hills airs on Tuesdays, at 9:00 p.m. ET, on Bravo.
"Like" us on Facebook  "Follow" us on Twitter and on Instagram