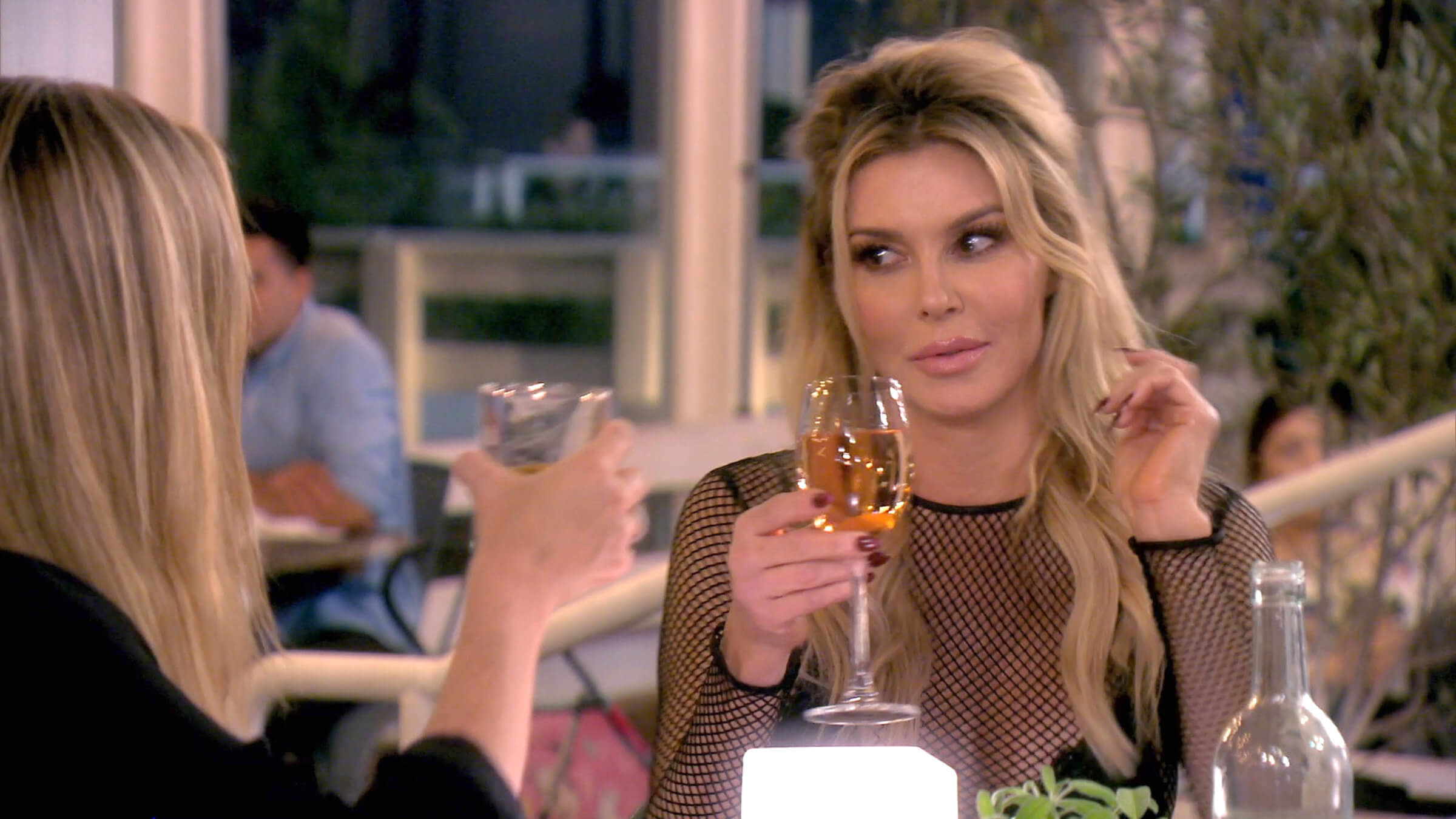 On Tuesday night's all-new episode of The Real Housewives of Beverly Hills, Brandi Glanville makes her big return as Lisa Vanderpump makes her exit.
During the episode, Denise Richards, 48, joins Brandi Glanville, 46, for dinner and the two engage in a gossip sesh about Lisa Vanderpump.
'RHOBH' RECAP: Kyle Tries to Cover-up Teddi's Involvement In Puppy Gate After Lisa Vanderpump Produces Receipts!
The comeback villain rehashed her feud with Lisa to pal, Denise. Over the years, Brandi has blamed the British restauranteur of getting her exiled from the show.
"I spent the past three years being punished for crossing her. She really, in her head, does nothing wrong," Brandi told Denise.
Brandi then inserts herself in the current cast drama surrounding #PuppyGate —  accusing Lisa of planting the infamous Dorit Kemsley doggie debacle in the press. 
"Whatever she wants out there she gets out there," Brandi informed Denise of Lisa.
Also during their convo, Denise invites Brandi on the cast's trip to Provence.
"We're going wine tasting," Denise tells her.
"Oh f*ck," Glanville chuckles and quickly responds, "I'm in!"
Camille Grammer Slams 'Puppy Gate Girl Gang' For Ridiculing Her Choice to Not Join Their Lisa Vanderpump Hate Brigade!
Also in the episode, as the ladies prepare to head to France, devastating wildfires take hold of Camille Grammer and Denise Richards' homes. The ladies were in a panic over the Woolsey fires which destroyed multiple homes in Malibu. Camille's Malibu mansion was totally destroyed by the fires.
"I've never seen anything like this in my life! I think our house might be burning down," Denise also cried out to her co-stars.
Lisa Rinna's family tackled the painful subject of her daughter Amelia Gray Hamlin's battle with anorexia.
Lisa and her husband, Harry Hamlin, had an outdoor family dinner at their home with their daughters Amelia, 17, and Delilah Belle Hamlin, 20. And when Harry brought out the food, Amelia stated, "I'm not hungry."
"Harry has a side to him that loves to make things nice," Lisa said about the father of two, who prepared a meal of hamburgers, hot dogs and pie.
Encouraging her daughters to have at least some of the meal, Lisa said, "You guys have to eat a little bit for dad."
"No, I'm just not hungry," said Amelia. "I'm allergic to everything."
When Delilah asked, "You're allergic to salad?" Amelia said, "No, I can have salad. But I don't like that salad."
"Amelia has issues with food. You watch Amelia take two steps forward, one step back. It is not an easy, clean, 'Okay great, you know, you did that, you had that, you got the help.' It's not like that. It's just, you know, one day at a time." Lisa shared in a talking head confessional.
The mother and daughter had a discussion that was filmed prior, and Amelia admitted, "No matter how many deaths anorexia causes, all I cared about was the skinniness."
The Real Housewives of Beverly Hills airs Tuesdays at 9:00 p.m. ET, on Bravo.
"Like" us on Facebook "Follow" us on Twitter and on Instagram