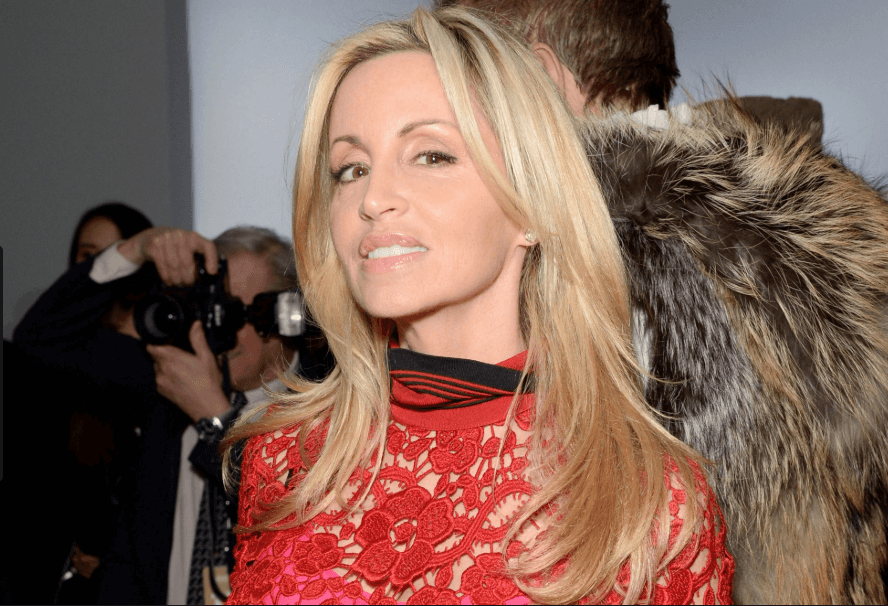 Tension between Camille Grammer and her Real Housewives of Beverly Hills co-stars erupted after the new bride made flattering comments about Lisa Vanderpump supporting her wedding in a People magazine interview.
During a recent episode, Teddi Mellencamp, Lisa Rinna, Kyle Richards, and Dorit Kemsley discussed the People magazine article while traveling to the airport in Hawaii. They were enraged over Camille expressing kind words about Vanderpump. Rinna loses it and says, "Camille needs to own her sh*t, and if she's been talking behind anyone's back here, she needs to step up and tell everybody because I know for a fact she has."
Camille took to her Bravo blog to address the chatter and begins her blog by calling out the women for being childish and hypocritical.
"Rather than being happy for me, they found a pretext for condemning me just hours after my nuptials. The origin of their derision was a People Magazine article in which I gave the interview a week before my wedding in which I acknowledged Lisa's words of encouragement to take the leap into marriage."
The newlywed calls out the 'PuppyGate Girl Gang' for having a mob mentality, who ridicules anyone for not following their Lisa Vanderpump hate brigade. 
"I guess it has come to the point that one cannot say nice things about Lisa without betraying the Puppygate Girl Gang. It appears that any positive words about LVP will put one in the doghouse, if not a kill shelter. This is surprising since some have been trying for weeks to get back in her good graces. " 
The Real Housewives of Beverly Hills alum clarifies her contrasting views on Lisa Vanderpump, who she previously admonished for skipping her wedding over drama with the other ladies.
"On my end, I see no reason why I can't be disappointed that Lisa missed my wedding while also having empathy for her for the loss of her brother and her harsh treatment by the women of "Puppygate." 
Camille wraps up her blog by sharing her two-cents on Lisa Rinna shading Kim Richards at her niece's Halloween birthday bash. 
"There are other indications that the least provocation will set some of them off. The appearance of Kim Richards at her niece's birthday caused Lisa Rinna's channeling Erika Jane to lambast her. Maybe it was because it was Halloween, but that was downright weird, inappropriate, and way over the top. I am also surprised that Kyle was not appalled and offended by it."

Camille takes a final jab at Dorit Kemsley for playing victim in the PuppyGate drama.
Meanwhile, Dorit is still acting like the victim here when the victim was clearly Lucy Lucy Apple Juice. I am happy to learn she has subsequently upgraded her environs with a less high maintenance owner. Atta girl, LLAJ! For the life of me, I still don't understand why the puppy wasn't returned to Vanderpump Dogs in the first place. That would have avoided all of this nonsense."
The Real Housewives of Beverly Hills airs Tuesday nights, on Bravo, at 9:00 pm EST.
"Like" us on Facebook  "Follow" us on Twitter and on Instagram