Christmas bells are ringing on the Real Housewives of New York  — and Luann de Lesseps is busily prepping for her holiday themed cabaret show. Sonja Morgan pops in at a rehearsal, hoping to jazz up Luann's ho-hum schedule.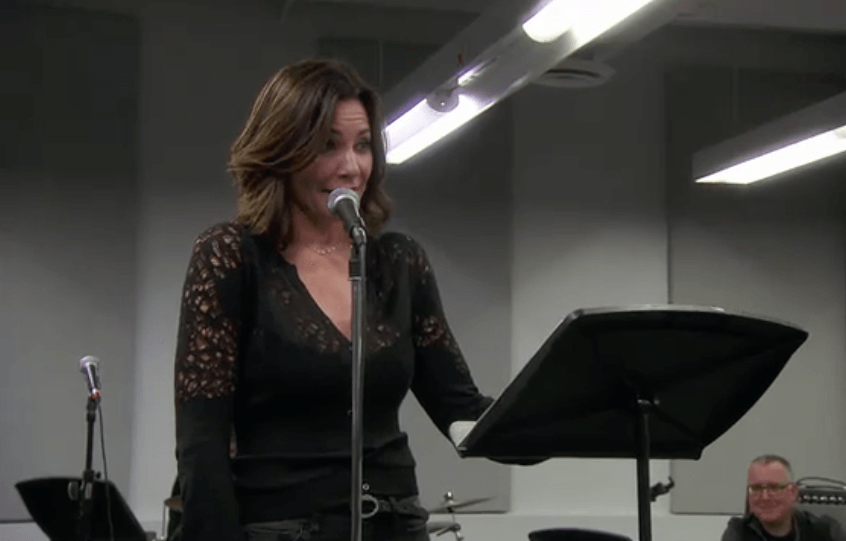 Sonja tries to steal the spotlight by jabbering up a storm, embarrassing herself in front of Luann's production team. Luann practices a Jovani zinger, adding yet more mileage to Dorinda Medley designer heckling gaffe. Sonja disagrees with the move, but Luann hopes that the snarky surprise will delight Dorinda.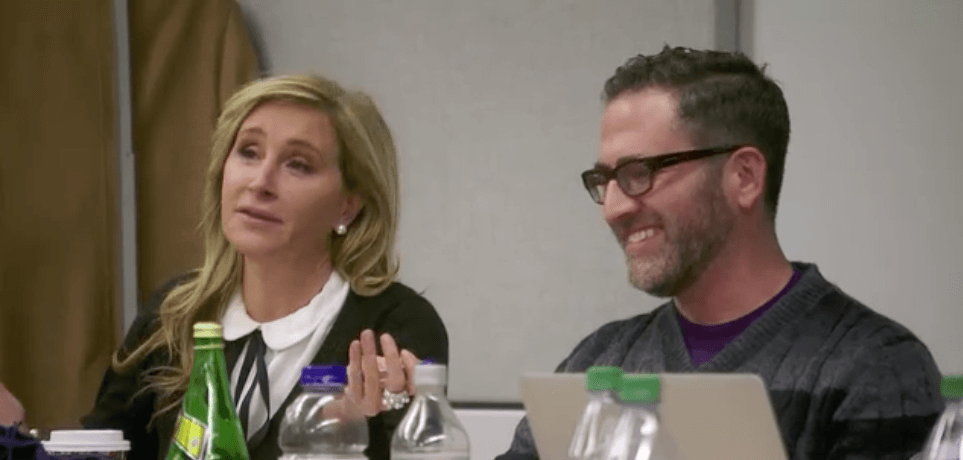 We shift gears and join the heckler — who was asked to light a VIP Christmas tree. The ladies are gathering to cheer her on, and it doesn't take long for Sonja to tattle on Luann for using Dorinda to score some cabaret laughs. Tinsley Mortimer joins in, ratting out Luann for implying that Sonja was popping uppers — the gossip sesh occurring during a separate scene, filmed on the previous night. Sonja chalks up the accusation to diva projection before Jill Zarin appears for a cameo, followed by Luann.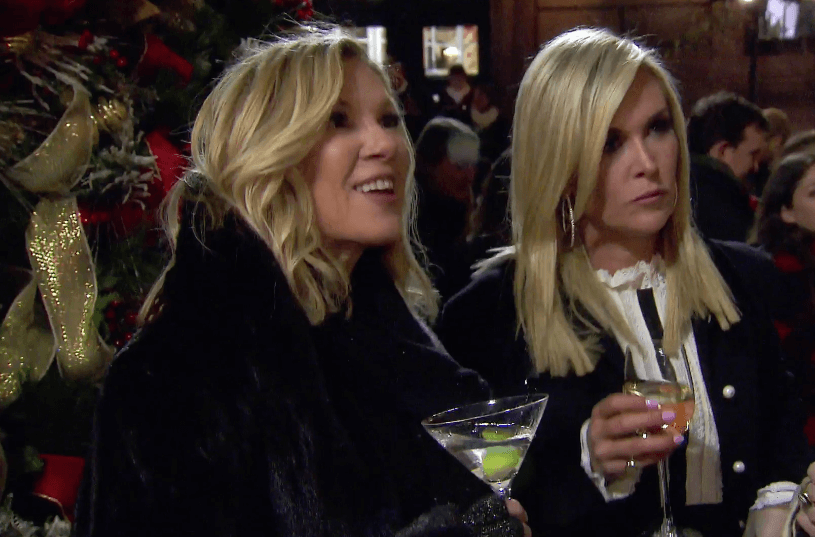 The women chitchat about the upcoming Miami trip, before Dorinda confronts Luann, asking her to kindly clip her name from her popular act. Luann is sucking the life out of the Jovani debacle, but Dorinda only wants credit for saving Luann from a knockoff wardrobe. Luann doesn't want to ditch her best showbiz shtick — so she advises them all to lighten up and butt out of her cabaret star life. Ramona Singer advises Dorinda to call her lawyer. Dorinda flips the big switch, and the tree is dazzling. Sonja blames plain old happiness — not happy pills — for her manic behavior, and performs a mini-jig to prove her point. Luann isn't buying it.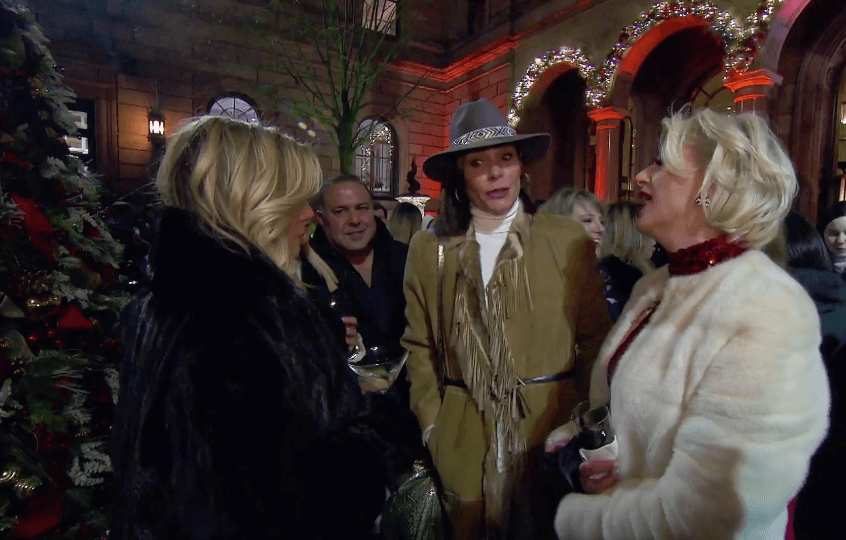 A shopping scene with Sonja, Dorinda and Bethenny Frankel goes down next, and after shading Sonja's wardrobe, Bethenny rewinds the night before, kicking off a fresh anti-Lu slam session. Luann's head is big and only getting bigger — and the ladies are over her ballooning ego.
Bravo jumps around the cast as the women pack for Miami, reminding us that Luann is still being monitored when cameras capture her communicating travel plans to her probation officer. The ladies arrive in Florida, and Tinsley celebrates by kicking off her dissed little sis act. Their rented house is blindingly spectacular, and the ladies are thrilled.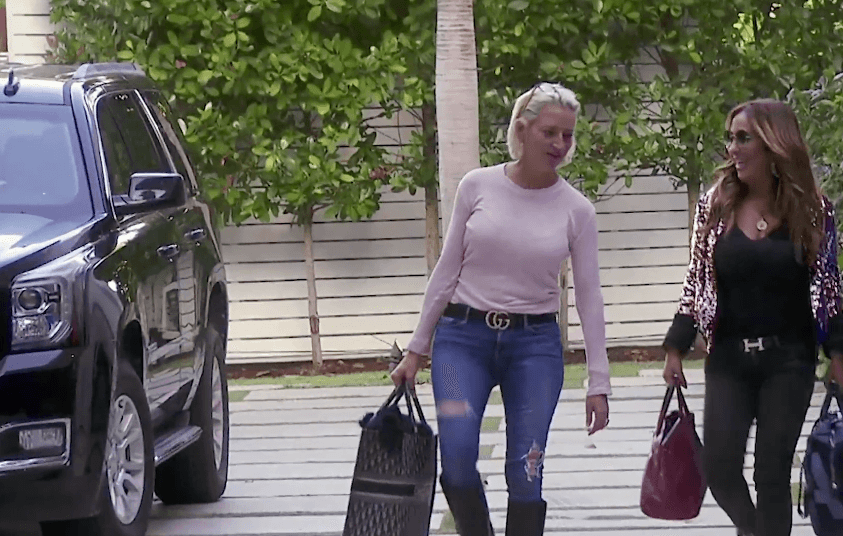 The Real Housewives of New York ladies check out the amenities and it only takes a hot second to get the party started. Tinsley dishes that she spotted Ramona and Harry Dubin swapping spit, which almost makes Sonja puke up an ice cube. The house manager shows off the modern mansion, and Ramona reveals that she is giving up scratching and clawing her way to the best room. The place is ginormous and luxurious so Ramona reverses her position, and scores the master bedroom. Luann goes for a swim while Ramona yammers about her wardrobe to an embarrassed staffer named Tej.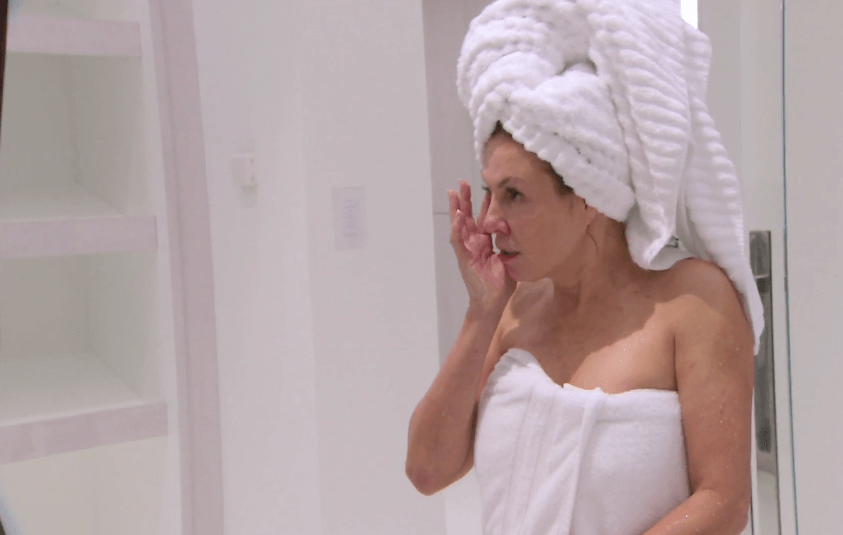 Sonja obnoxiously waves her underwear in Tej's face, while Dorinda slurs a cocktail tutorial at an innocent bartender. Sonja moves in on her closet helper, and Ramona astutely notes that Sonja is a messy drunk.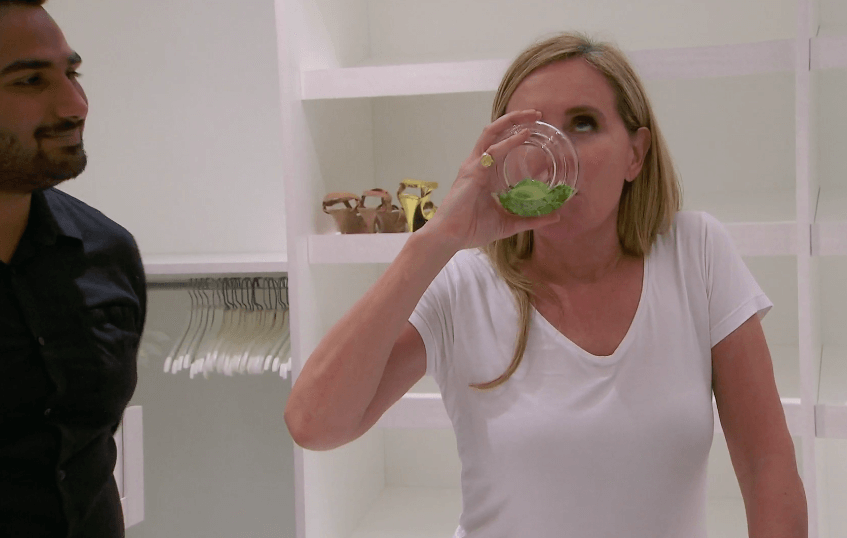 Bethenny makes her entrance and gets a report from Barbara Kavovit, who's shellshocked by the vacation spectacle. Sonja continues to amp the volume, screeching gibberish and ranting about Harry's sloppy downgrade. Tinsley stops her from peeing in a bathtub on camera before dinner is served. Sonja mauls another member of the staff before taking her place at the table — just in time to hear that Luann has invited some Miami men into the mix. Sonja requests a male that has not been boinked by Luann or Ramona, because she's tired of the ladies pilfering her playlist. Ramona points out that Sonja has bedded the whole UES, but Dorinda jumps on the anti-Lu train eagerly, sticking up for Sonja's sexual sensitivities. Dorinda slurs more objections to Luann's cabaret verbiage and promises that legal action will force her to comply and clip.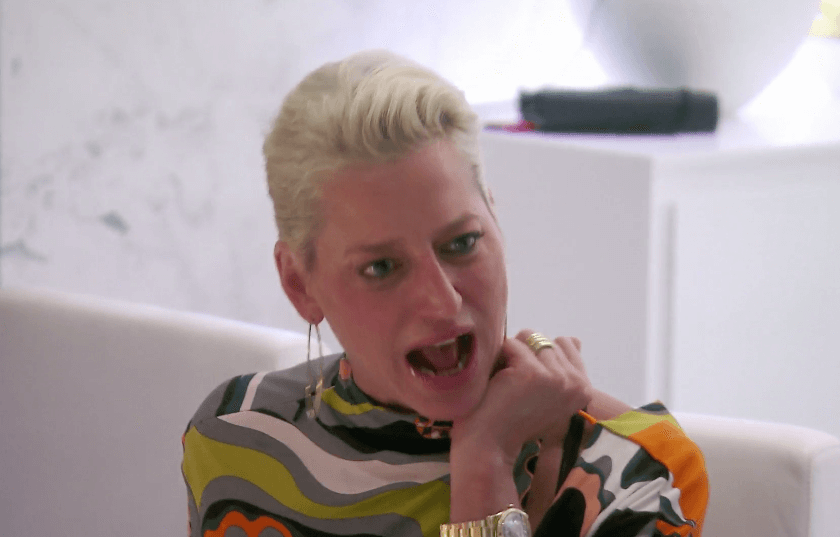 Sonja loudly steps in as chief pot stirrer, defending Dorinda's privacy rights while bellowing like a banshee at Luann.  Sonja screeches what many are thinking — but her boozy delivery needs work. Luann is labeled a cabaret diva and a high horse rider — but she dismisses the analysis, because both Sonja and Dorinda are blasted.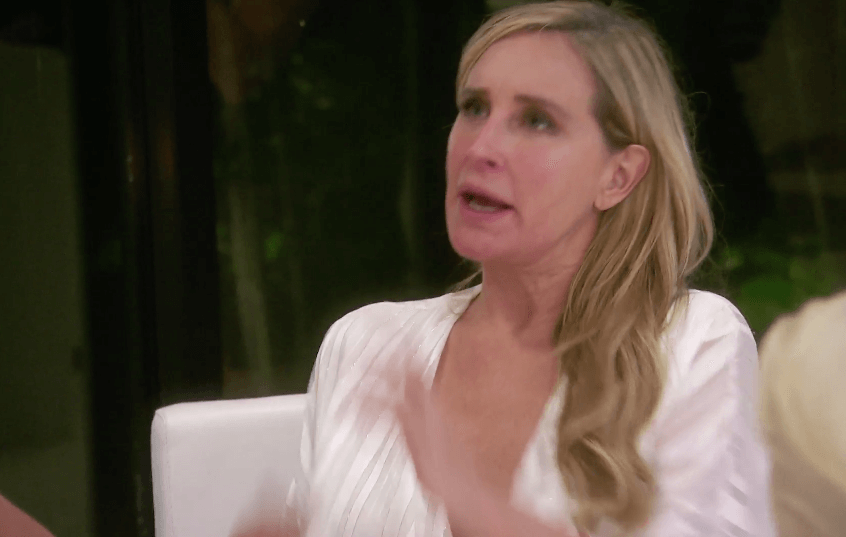 Bethenny enters the room, and sharply assesses the situation as Team Wasted vs Team Entitled. Bethenny confronts Luann and informs her that she's acting shamelessly self absorbed. Luann denies the allegation, but Bethenny sticks by Sonja's deafening opinion. Bethenny presents a clean case before returning to the dinner table, where Sonja is on the brink of blacking out.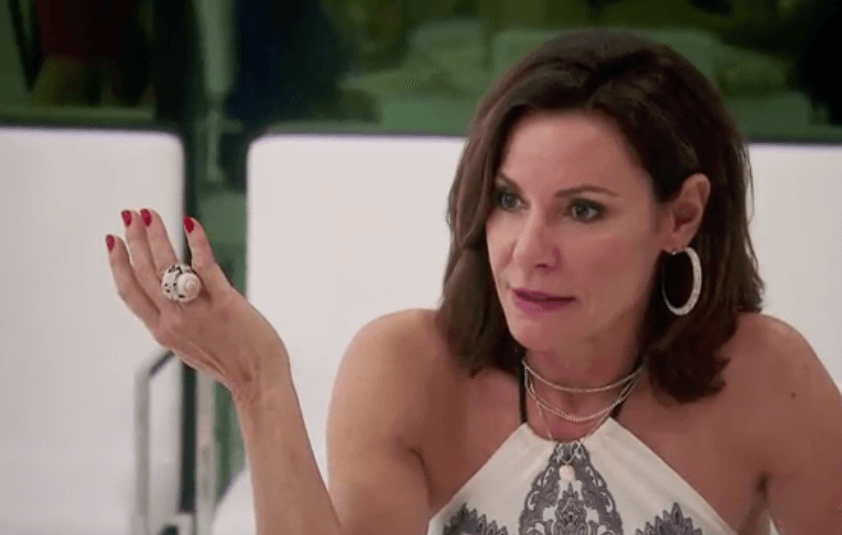 Bethenny and Ramona push Sonja to stay conscious for the next phase of the evening, but Sonja is fading fast. Ramona's navel deep neckline rudely freezes Barbara out of the outing, and Barbara reacts by shrugging off the nasty diss like a one season wonder. The vibe is awkward, so Tinsley and Bethenny call out Ramona's mean girl move. Dorinda and Sonja are too drunk to travel, so Bethenny delivers a Crazy Island oldie but goodie when she orders Sonja to GO TO SLEEP. Sonja takes a wrong turn, and lands under the table, leaving the audience on a cracked skull cliffhanger.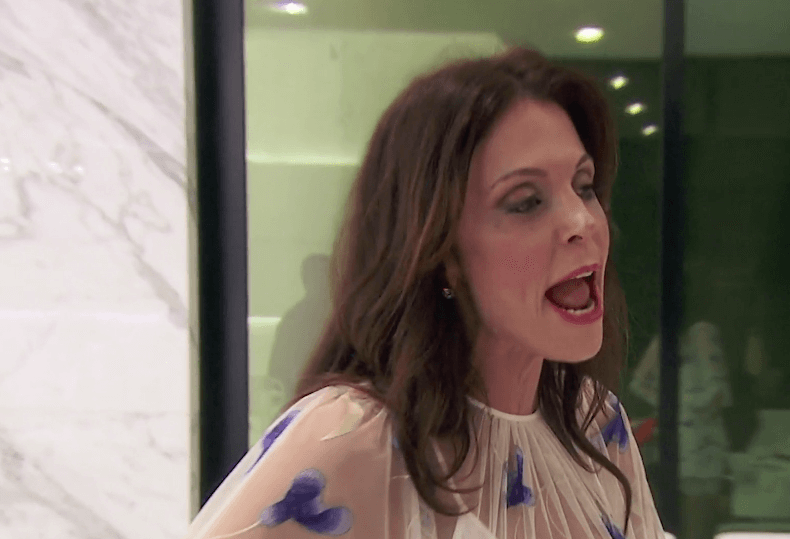 Next week on Real Housewives of New York, Sonja tries to sober up, the ladies explore Miami, and Mario slithers back to the Bravo stage.
"Like" us on Facebook  "Follow" us on Twitter and on Instagram