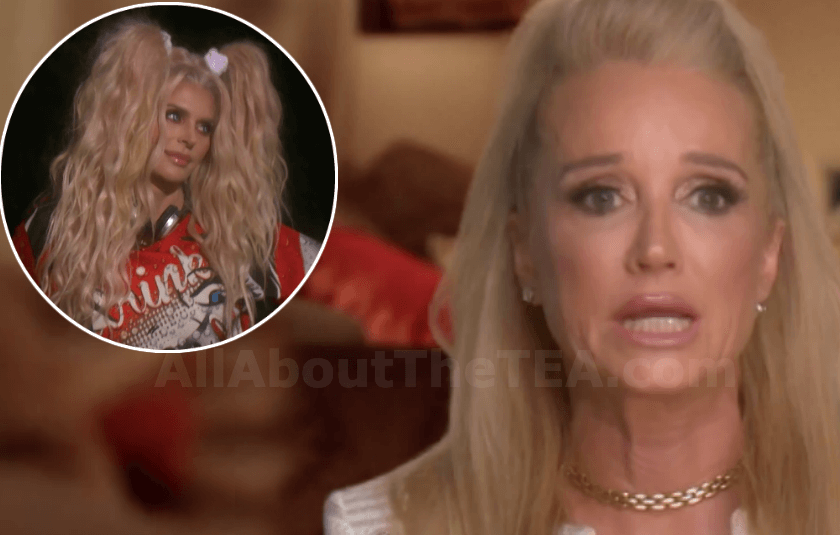 Tuesday night's episode of The Real Housewives of Beverly Hills revolves around Kyle Richards' epic Halloween-inspired bash for her daughter's 30th birthday. And Lisa Rinna confronts Kim Richards over the ancient and infamous BunnyGate drama.
The episode kicks off in Hawaii, the day after Camille Grammer's wedding. The ladies and Mauricio Umansky all gather for breakfast and of course the topic of conversation is Lisa Vanderpump and what else….PuppyGate and Vanderpump taking a lie detector test.
Back in Malibu, Denise Richards and hubby, Aaron, receive a wedding gift from Lisa Rinna and the card mentions a "many happy endings," referencing services from a prostitute. Denise had to explain the card — she tells Aaron that she may have said a little something she wasn't supposed to.
Meanwhile, back in Hawaii Teddi Mellencamp, Lisa Rinna, Kyle Richards, and Dorit Kemsley are traveling to the airport when they learn that a People magazine article came out with Camille showing a lot of gratitude to Lisa Vanderpump for being such a good friend and supporting her wedding. They are all enraged over Camille sharing kind words about Vanderpump. Rinna loses it and says, "Camille needs to own her sh*t, and if she's been talking behind anyone's back here, she needs to step up and tell everybody because I know for a fact she has."
Kyle is intrigued by the convo and perks up to indulge in the mean girl gossip. Rinna tells Dorit that Camille has been trashing her behind her back for months. And she feels it was hypocritical of Camille to invite Dorit to her wedding.
Dorit is shocked — SHOCKED! She was under the assumption that they were in a good place after their previous drama. The PuppyGate gang all agree that Camille is two-faced for singing Vanderpump's praises.
Over at Kyle's, the whole family is prepping for the Halloween bash for her daughter Farrah's 30th birthday.
Rinna dressed up as Erika Girardi's diva alter-ego, Erika Jayne, and used the disguise to call out Kim Richards for their reunion showdown a few seasons ago involving a fuzzy blue bunny that now resides at Andy Cohen's Watch What Happens Live club house.
"Giving Lisa that bunny was really c***y," Lisa said in front of Kim in her best Erika impression.
But the dig didn't go over well with Kim or her sister Kyle.
As fans know, Rinna gave Kim a stuffed bunny in season 7 as a present for her newborn grandson. But at the reunion, Richards returned the bunny, explaining that she could not accept the soap actress' peace offering because she'd made hurtful remarks about her sobriety. 
"I feel like that's intended for me," Kim said to Kyle, with a laugh.
"You know what? I want to say one thing, Kim. You giving Lisa Rinna that bunny was really c—y," Rinna called out, while in character. "Giving Lisa Rinna that bunny was really c—y."
Kim had a surprised look on her face — "She didn't need to be crude and rude and disrespectful," she said in a talking head confessional.
"That's Erika speaking," Rinna said, back-tracking.
"Erika does not do that," Kyle replied.
Added Kim: "I don't recall Erika being quite like that."
After walking away, Kim tells Camille and Dorit that she thought the joke was "wrong."
"When is somebody gonna grow up? And obviously it's not her, running around in Erika Jayne's ponytail," Kim said.
Denise Richards was not having it and checked Kim for insulting her  "best friend."
"I think she looks great," Denise said. "Why is she talking about her costume? … That has nothing to do with her costume. Isn't it a f—ing stuffed animal that we're talking about? And you know what? It really hurt her feelings."
"That is a lie," Kim insisted.
"It's not a f—ing lie, Kim," Denise said. "It hurt her feelings. … Let it f—ing go. It wasn't the best thing to say, no, but it's not anything to annihilate her [over]."
Surprisingly, Kyle had her sister's back but Denise was not backing down and continued to defend Rinna.
"They need to let it f—ing go," she said. "Who cares about some fuzzy f—ing bunny?"
Later the enemies, Kim and Rinna sat down for a one-on-one and they finally buried the hatchet.
"I'm not looking for a fight, Lisa. First of all, I think you look beautiful," Kim began.
"I have definitely been over-the-top and in character tonight. I will say that," Rinna acknowledged.
Kim apologized for giving back Rinna the bunny, and Rinna apologized for "whatever has happened between us."
"Can we move on?" Rinna asked.
"Let's just forgive each other, all right?" Kim answered. "Let's see how long we can do this."
The Real Housewives of Beverly Hills airs Tuesdays (9 p.m. ET) on Bravo.
"Like" us on Facebook "Follow" us on Twitter and on Instagram