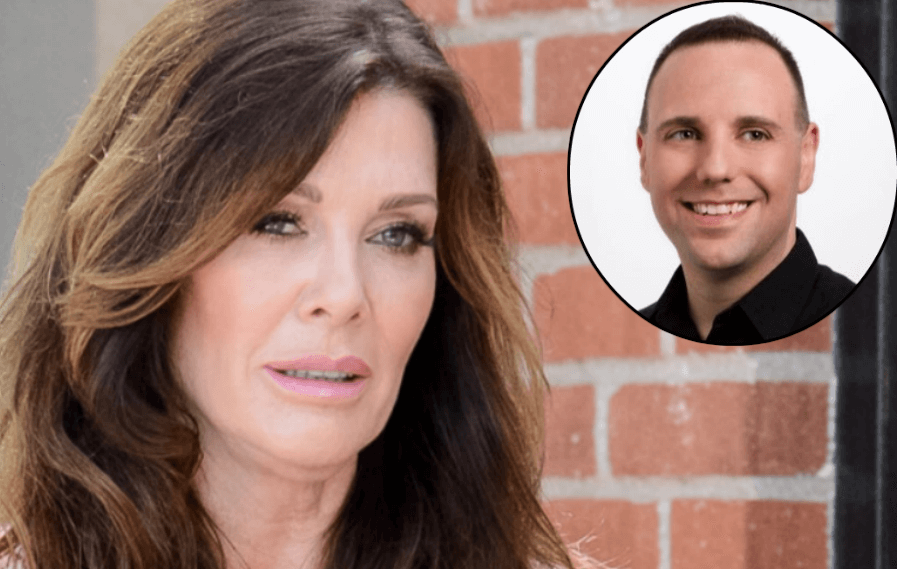 Lisa Vanderpump felt the heat after she made a crack about Real Housewives of Beverly Hills co-star, Erika Jayne, on Tuesday's episode. 
The British businesswoman took the snarky "tucking under" shot at the dance queen after taking a filmed lie detector test — the polygraph strategy designed to prove her innocence in the "Puppygate" controversy.
Real Housewives of Beverly Hills fans stepped into the drama after a People reporter, Dave Quinn, sounded off on Twitter — then later claimed to be a victim of a transphobic cyber attack.
Dave Quinn weighed in on Lisa's comment during the episode — taking the reality star to task.
Quinn later posted a screenshot of a supposedly received homophobic hate mail.
Dave Quinn's post invited swift sympathetic support from Lisa Rinna, Teddi Mellencamp, and Erika Jayne — all within minutes of each other.
Skeptical fans soon began raising eyebrows at Quinn's story — and  connected the RHOBH ladies as alleged accomplices. As soon as Quinn was accused of staging a fake cyber hate crime — he quickly deleted the hate mail tweet and made his account private.
Someone is having a slow Twitter day for writing a FAKE homophobic letter to himself. Funny how @lisarinna @TeddiMellencamp quickly ran to support him. @people stop hiring FRAUDS!!! #RHOBH https://t.co/j8yzImw3er pic.twitter.com/ygBEYHUuxD

— Real Housewives MOB (@reoryt) May 23, 2019
Dave Quinn is pulling a Jussie? Where is the letter? It's scary times when Ppl start manipulating all for fame and personal opportunities. #RHOBH

— Reality TV Bliss (@RealityTVBliss) May 23, 2019
@people @peopletv – would you be so kind as to verify the source of Dave Quinn's letter and why he felt he needed to go into hiding?

— notabotever (@notabotever) May 23, 2019
Hey @people. What happened to Dave Quinn's twitter account? Why did he go private? Seems strange for reporter with national magazine to have a private account. ?‍♀️

— Incredibly Blessed ❤️ (@mom2aw) May 23, 2019
His account is now private. But there was no email address on the email, it almost looked like a draft. And had all sorts of slurs and threats, even murder! I told him he should turn it over to the authorities so they can find out who is behind the email

— ☘️?☘️ (@VeganInMN) May 23, 2019
Dave Quinn got a hate tweet, people are saying he himself made the tweet. Odd at how Rinna EJ and Teddi are all over this..oh sorry Dave BS…oh please,,,SMH

— Dawn (@AutumnDawnIam) May 23, 2019
The fact Dave Quinn has made his account private is very telling. What reporter for a national magazine would do that ? Don't they want to reach as many people as possible on SM? ?

— Incredibly Blessed ❤️ (@mom2aw) May 23, 2019
According to the following Twitter user, the LAPD and FBI have launched an investigation into the alleged cyber hate crime since a death threat was made.
When I Confronted him about that well scripted, tick all the boxes hate message and reminded him that it's a Federal Crime to fake a hate crime he deleted everything and put his account on lock down. As soon as he ddI that I went to the LAPD who were already aware and now the FBI

— The Silence ? (@TheSile44395595) May 23, 2019
Do you believe that the People reporter pulled a Jussie Smollett — and did the RHOBH cast members knowingly throw in with his alleged act?
Let us know what you think — and watch The Real Housewives of Beverly Hills, Tuesday nights, at 9 pm, ET, on Bravo.
"Like" us on Facebook  "Follow" us on Twitter and on Instagram