Vanderpump Rules
RECAP: Tom Sandoval Accuses James Kennedy of Mixing Booze & Drugs On 'Vanderpump Rules' Reunion!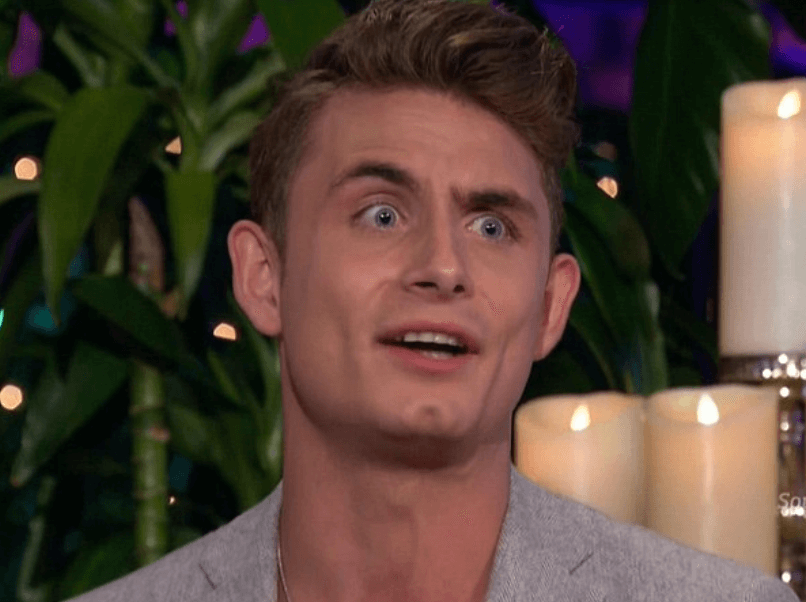 Part two of the Vanderpump Rules Season seven reunion was full of drama with James Kennedy in the hot seat for most of the hour. Everyone is at odds with the British DJ with the exception of Tom Sandoval — but he even accused James of mixing booze and drugs.
The reunion kicks off with Tom Sandoval, Jax Taylor and Brittany Cartwright screaming at each other after James Kennedy brought up Jax's deceased father and mocking Brittany's redneck roots. The co-stars go off ignoring Andy Cohen's pleas to take a minute. "Guys, shut the f—k up!" Andy screams!
While most took a breather backstage, James moved to the seat next to Lisa Vanderpump and began to sob. "I'm in shambles over here," he said. Lisa told him to relax, while comforting him that he's "got this."
Meanwhile, backstage Jax and Tom continue sparring over James, which pisses Jax off. "You're the only person that wants him here, it's the weirdest thing," Jax says.
Jax then tells Tom Schwartz, "Tom's not in the wedding. He's not in my wedding party anymore…No, it's cool, Beau's taking his spot."
Next to attack James is Katie Maloney! They rehash James calling her fat at Pride, which led to the end of his Tuesday-night DJing job. 
"Katie is it hypocritical of you to tell Lisa to get rid of James when we saw you yell at Lala at work?" Andy Cohen asked Katie Maloney about her move to get James Kennedy fired.
"I don't like ultimatums," Lisa Vanderpump chimed in.
"I've let a lot of things he's said about me roll off my back and he's apologized but I knew he didn't mean it and he said it again. At the end of the day I don't regret that at all," Maloney said about complaining that Kennedy called her "fat."
"I've taken it in stride for three years. Everyone has been talking about it. People like him have made me feel bad about my body." Katie babbled about the body shaming.
Tom Sandoval was not buying Katie's victim act — and pointed out her hypocrisy. 
"You called Lala a whore. You waited like two years to apologize," he yelled at her. "You're f**king hypocritical. You're all hypocrites. I'm not trying to get somebody fired because they tell me I'm dumb!" Katie told Sandoval in the previous episode.
"Were you surprised people called you the villain?" Andy Cohen asked her.
"Oh, very much," Katie responded. "I think a lot of people really missed the point. That this is the point that this is about standing up for yourself. At the end of the day I really did something that I was proud of and I thought was noble. And f**k it. It felt good. So, no regrets."
The focus then shifted to James' out-of-control boozing. He insisted that he was a changed man and no longer drinking.
"I'm so f**king tired of this narrative!" Kristen Doute blurted out.
Surprisingly, Sandoval suggested James mixes pills with alcohol.
"I think when I've seen with you, James, be at your absolute worst is when you're mixing alcohol with other things. I see you have a beer, be totally chill, totally fun, mix it with other things."
James interrupted him, asking: "What other things? I'm smoking weed. I drink vodka."
Sandoval sheepishly replied: "More uppers-type things," and Kennedy quickly shut that down.
"That's not my thing, so shut your mouth!" James angrily barked at Sandoval. Lisa and Kristen scolded James for speaking to his only ally in that tone.
"The one person who has had your back the entire time and you speak to him like that?"
"I think you had a drink at lunchtime," Lisa said, and he justified his anger as "I'm sitting on a show with eight people screaming at me."
He then ripped into Stassi Schroeder's "ugly" extensions but tried to explain his reasons for drinking.
"Sometimes I can go into social anxiety. I feel like I need to be on. It gets hard for me sometimes," he said, adding that "after a whiskey or two," he feels better.
James was asked if he's still financially supporting his family and a fight exploded. Kristen and Katie took offense — saying James didn't deserve sympathy for helping his family and he ripped into them. "I f**king hate you people," he said.
"I admire you for helping your family, but he uses it for justification for his behavior and that is bullsh*t," Tom Schwartz said.
Lisa Vanderpump defended James, "I don't think he does use it for justification," and Katie was pissed that she didn't get "compassion" for having a brain injury that gave her depression.
"I feel awful for him that he's raised by a bunch of f**king a**holes," she said but Lisa quickly put her in her place.
"You do not talk like that," LVP told Kristen as James stormed off the stage.
"I'm not going to sit there and listen to them talk sh*t about my family if you don't expect me to rip someone's f**king head off," he said.
Special guest Billie Lee dishes on the "Girls Night In" fiasco, her feud with Lala Kent, and her secret hook-up with another cast member.
"You took it as transphobic," Andy Cohen pointed out and Billie Lee also brought up her major blow out with Lala Kent.
"Lala why is it so hard to have a conversation with someone that disagrees with you without storming out," Cohen asked her.
It's just exhausting to school people on life," Kent snapped back.
"Lala, you say the meanest things to people," Billie Lee told her.
"You acted like trash that day," Kent clapped back, and Lee told her: "You act like a high class prostitute all the time."
Lisa interjected to scold Lala, "That's no way to behave and you damn well know it," but she didn't care and said she would "do it again."
Vanderpump Rules airs Mondays, 9 p.m. on Bravo.
"Like" us on Facebook  "Follow" us on Twitter and on Instagram