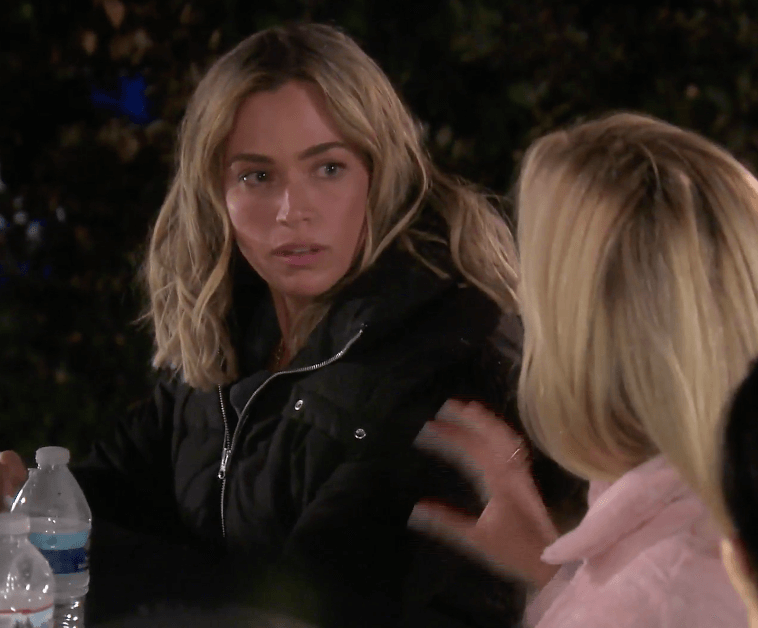 Tension between Camille Grammer and Teddi Mellencamp exploded during a recent episode of The Real Housewives of Beverly Hills — and Teddi is not done barking at Camille, via her Bravo blog. 
Dorit Kemsley Exposed For Delivering 'Vanderpump Dog' To Kill Shelter & Lying About PK's Dog Bite!
Mellencamp begins her blog by addressing the "entitled millennial" label Camille appointed her last week.
"First, let's talk about the "entitled millennial" label that Camille tried to use as an insult last week. I take millennial as a plus, as it makes me feel young! And entitled? Nah. I've worked since I was a teenager and built a business on my own from the ground up. No need for a divorce settlement here."
Next, Teddi calls out Camille for doing the exact same (interjecting) thing, she accused her of doing during a tense exchange between Kyle and Dorit Kemsley.
"Camille says I insinuated myself into Dorit and Kyle's conversation. Great. I did. I had an opinion. But… let's rewind the tapes, shall we? Just last week, Dorit and Kyle were having a conversation at my dining table and, gasp, Camille "insinuated" herself into that conversation by telling Dorit she hadn't heard about her until two years ago, something that was more insult than opinion. So I'll take know-it-all over just plain rude."
She continued: "Speaking of rude, Camille says she couldn't believe the things coming out of Rinna's mouth in the Bahamas. Well, I'm fairly certain nothing Rinna said was as crazy as the things Camille was spewing about LVP a few weeks ago at Beauty & Essex."
The accountability coach slammed Camille for being two-face with Dorit — playing nice to her face while insulting her behind her back.
"Camille has continuously made negative comments about Dorit behind her back, like that Dorit makes the hairs on the back of her neck stick up, yet she continues to act so kind to Dorit's face, even to go so far on tonight's episode to pretend that she was worried about Dorit's feelings the night of the Boy George concert."
"So yes, while Camille's face was right there tonight, she still left at least three others at home. Strap that on for thought."
The Real Housewives of Beverly Hills airs Tuesday nights, on Bravo, at 9:00 pm EST.
"Like" us on Facebook  "Follow" us on Twitter and on Instagram