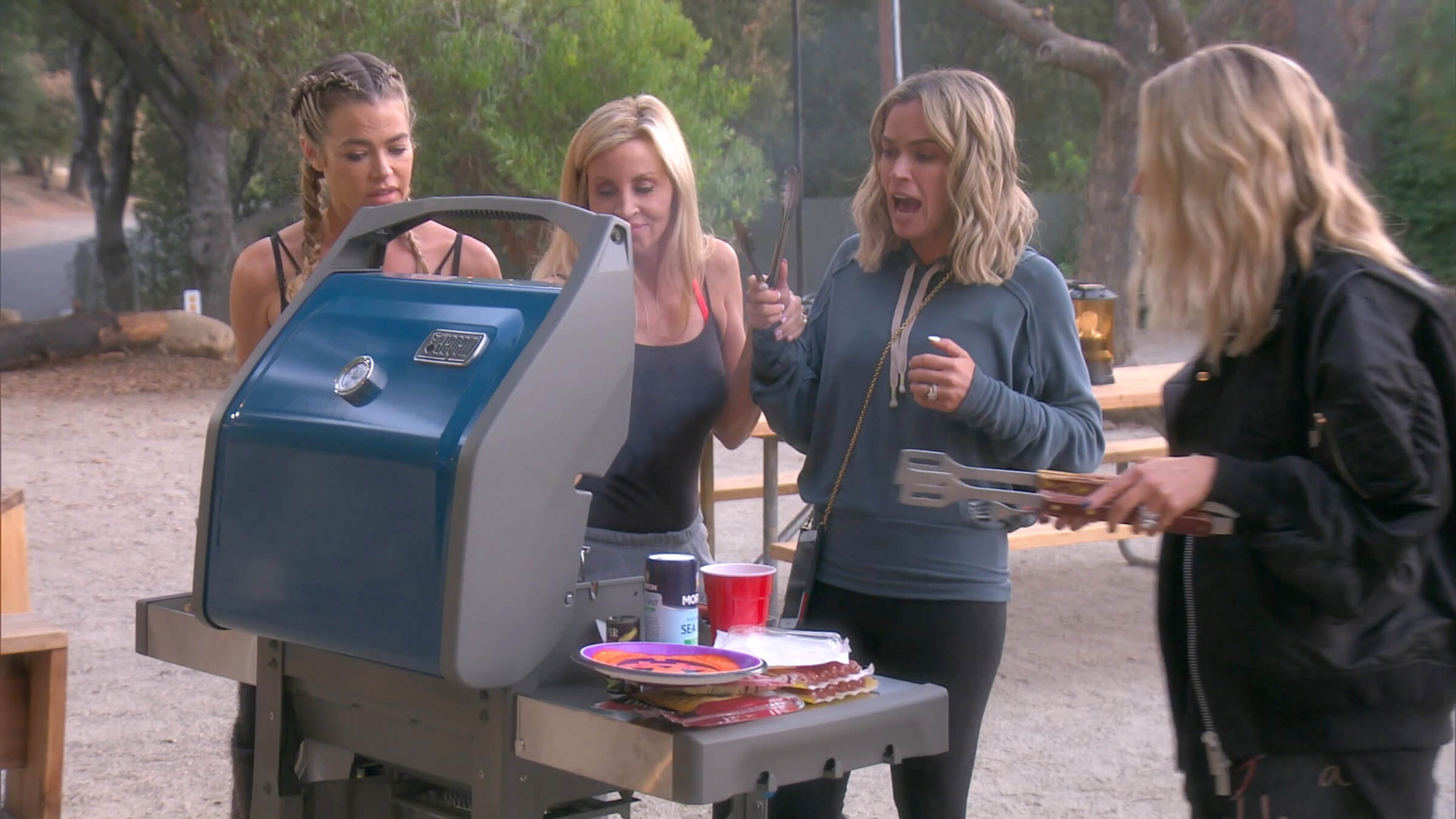 On Tuesday night's all-new episode of The Real Housewives of Beverly Hills, Denise Richards tells all on her risqué sex life with husband Aaron Phypers — revealing that she hires hookers to pleasure him and much more! Plus fireworks explode when Teddi Mellencamp confronts Camille Grammer for trash talking her. 
Lisa Vanderpump did not appear in episode but the ladies sure kept the OG's name in their mouths throughout the trip.
Teddi, Erika Jayne, Kyle Richards, Dorit Kemsley, Denise Richards and Camille Grammer all ventured into the woods for a glamping adventure — with cabin-sized tents equipped with hardwood floods and full-sized beds. 
The ladies arrive and pretend they know how to grill then engage in some beer pong before Dorit started talking about Lisa Vanderpump, prompting a bitchy response from Erika Jayne. "I care about the women at this table," she responded. "You want to be an asshole, be a f–king asshole."
"As far as I'm concerned, I care about the women in this group, the women that show up," she added. "I want to be friends with people that are easy to get along with, that don't keep score, that don't move chess pieces around on a board, that don't try to make themselves look great and you look shitty."
Then the ladies go from talking about Lisa Vanderpump to strap-ons and happy endings.
Camille Grammer tells the ladies that one of her exes had some "kinky sexy play" with strap-ons. Then Denise started talking about assisting her hubby to locate a massage parlor that would treat him to a happy ending. "Aaron never had a happy ending and we were on the hunt," she told her co-stars. "I wanted him to have one."
All the other women swear they would never let their men engage in such illegal activities, let alone seek assist in finding a hooker. "Aaron might be a little upset that I revealed this information," Denise Richards later admitted in a talking head confessional. "I might get in a little trouble when I get home."
Charlie Sheen's ex also revealed that she had a happy ending also, with a woman. Again, everyone clutched their pearls but Erika wasn't buying the faux outrage and shouted, "Why is everyone acting like such a f–king nun?" before she randomly added, "I don't know any man in my life that hasn't f*cked hookers. I've never heard that come out of Tom's mouth but I know he was a young man."
The ladies then moved on from the sleazy talk to Kyle and PK's riff. Camille calls out Teddi for inserting herself into the drama.
"Sometimes, Teddi, I think you insinuate yourself into a lot of conversations," Camille told Teddi by saying she's "insightful" for her age. "I hate when people talk down to me," Teddi replied.
Camille then admitted that she privately told Denise that she thinks Teddi is a "know it all."
"Why wouldn't you say that to me in the moment when we're all sitting there?" asked Teddi. "What I've noticed about you is you like to talk out of the side of your mouth but the second you're with somebody to their face you back down and you have a whole new story to tell."
Then somehow Lisa Vanderpump is blamed for all THEIR drama.
Real Housewives of Beverly Hills airs Tuesdays on Bravo, at 9:00 pm ET.
"Like" us on Facebook "Follow" us on Twitter and on Instagram