Vanderpump Rules
RECAP: Adam Confronts Scheana For Sleeping With Model & A Fight Ensues At Jax & Brittany's Engagement Party On 'Vanderpump Rules' Finale!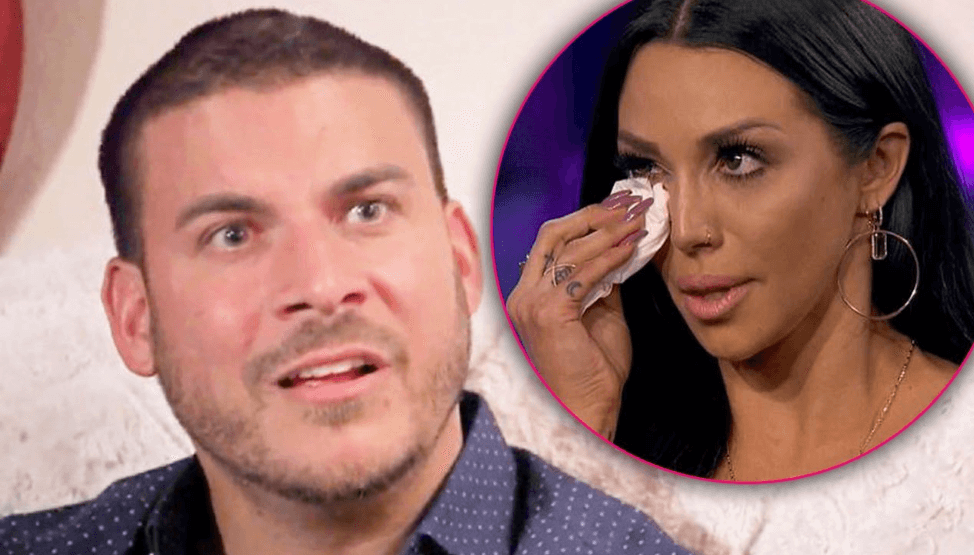 The Vanderpump Rules season finale was anticlimactic compared the drama happening on social media between 50 Cent, LaLa Kent, and her fiancé, Randall Emmett. Most of the episode surrounded Jax Taylor and Brittany Cartwright's elaborate fairy-tale engagement party which turned into an explosive cast fight, curtesy of Scheana Marie. 
On the last episode, Scheana Marie went on a date with a very attractive "friend" and Adam Scott became insanely jealous. Adam has made it clear he doesn't want a commitment with Scheana but informed her that he does not want her to date other men. Scheana admitted to sleeping with the other man and Adam looked at her like a two-bit tramping hoe was not not a happy camper. On the party bus traveling to Brittany and Jax's engagement party, Adam refused to even talk to Scheana.
"I hate the tension between Adam and I. I just want to sit and hug him and make this all better, but he won't even make eye contact with me," Scheana told Katie Schwartz and Stassi Schroeder.
Then Scheana went on to share vulgar details of her hook up with the model, Ethan.
"Two bottles of wine later he goes down on me for like 30 minutes," she said and revealed that Adam never does that.
A surprised Stassi replied. "Adam doesn't go down on you?" she asked. "No, that's not his thing," Scheana told her.
Scheana began drinking a lot once she arrived at the party and that can only lead to drama!
Adam spoke to Tom Schwartz about the situation, who advised him not to break up with Scheana but he wasn't convinced.
"Once a penis goes into a vagina that's very intimate," Schwartz said.
"She knew that it would upset me," Adam insisted.
"Dude this is not a deal breaker, in my opinion," Schwartz told him. "I think you should go talk to her."
A drunk Scheana takes Adam aside for a heart-to-heart talk that was a disaster.
"You look really handsome," she told him. "You look gorgeous you really do," he told her.
"I told you yes, I'm uncomfortable with this," he told her about their relationship and her date. "You f**ked him, there's no other way to describe it," he yelled at her.
"Do you love me?" Scheana questioned him.
"Answer the F*CKING questions. Stop. Answer the questions," she insisted.
"No," he told her. "Answer it," she said, not realizing what he meant.
"I just did. No!"
He said he couldn't get over her date. "You were just with another guy," and she told him: "I thought about you the entire time."
"Oh, thank you for the consideration," he sarcastically told her. "That makes it so much f**king better."
"I'm so f**king sorry that I did something that made you realize that you had feelings. But if I didn't would you have ever spoken up? No! We would have just kept doing what we were doing. So, I was like maybe I should do it just to see," Scheana rambled and then grabbed onto him.
"Give me a hug," she pushed. "Please, Scheana, I need to walk away," he said and broke off her embrace.
"Even though we're not in a relationship I feel like we just broke up," Scheana said in her confessional.
"I don't want to do this anymore," A tearful Scheana tells Kristen. 
Scheana essentially ruined the party by spending the entire night sobbing to Brittany's mama.
Meanwhile, James Kennedy and Raquel Leviss enjoyed a special date night at SUR, while everyone else is at Jax and Brittany's engagement party.
Share your thoughts on the Vanderpump Rules seven 7 finale!
"Like" us on Facebook "Follow" us on Twitter and on Instagram