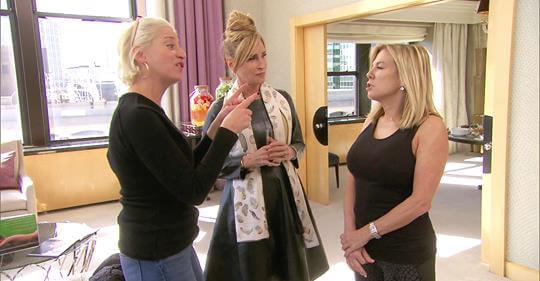 It's a sunny Real Housewives of New York day, and the episode begins with Bethenny Frankel picking up a hooker named Sonja Morgan on the sidewalk. We meet Bethenny's new driver, before the pair launches into a gossip sesh about her daring dinner party. It's determined that Scott and Tinsley Mortimer are using each other, in a hopelessly dysfunctional relationship. The ladies are headed to Brooklyn to visit an artist, but not before Bravo checks in with Luann de Lesseps and Tinsley, who are exiting an Al-Anon meeting. Tinsley felt awkward about sharing her personal story, and isn't sure if she'll go back.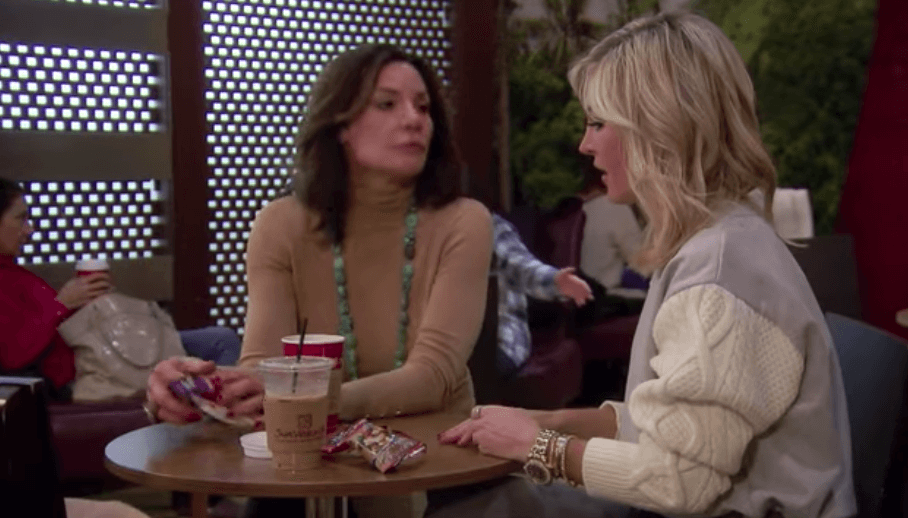 Luann asks if the internal struggle was behind her meltdown at Bethenny's dinner party, before offering crack analysis on the dare gone wrong. She surmises that Tinsley is stuck somewhere between reality star and desperate girlfriend, and Tinsley reveals that she and Scott had officially split. Scott didn't respond to Tinsley's gasping SOS after the pivotal party game — which proved to be a deal breaker. Tinsley finally realized that it was time to move on, and her emotional health is looking up.
Sonja Morgan and Bethenny Frankel arrive at Hunt Slonem's art gallery, and peruse his colorful work. Bethenny looks shellshocked, and things take an even odder turn when she stumbles into a squawking birdcage maze, in the same giant gallery space. In a more typical twist, one feathered fellow thinks Bethenny is hot, which puts her at ease. The outing is bizarre, but allows Bethenny a hazy glimpse into Sonja's eccentric past.
We shift over to Tinsley and Dorinda Medley, who are connecting with a Big Apple Circus rep, and checking out the vibe of Tinsley's upcoming gig. Trapeze artists are on hand, and Dorinda cannot wait to give it a whirl. Dorinda sways back and forth like a pendulum, and decides that she's a natural. Tinsley becomes overwhelmed by childhood memories, before she flies through the air like an emotional pro. The rep informs her that she will be dropped into ringmaster glory from the sky, and Tinsley knows that her dad would be proud. 
A few of the ladies gather in one of Ramona Singer's UES haunts, and Luann is strangely along for the boozy ride. Michael, a local bar flirt, is introduced, and Luann blushes like she has a between-the-sheets secret. Mario Singer struts a comeback appearance, and Ramona and Sonja squeal as if a rock star had entered the building. Sonja throws herself into his arms before Mario gives Luann a semi-awkward peck. Ramona and Sonja take turns breathing in the scent of a discarded cheater, and Sonja declares that all is forgiven, because Mario was possessed while he was boinking a rando instead of his wife. A midlife crisis dragged Mario helplessly into infidelity, and Sonja is overjoyed to inhale her unfaithful friend. Bravo rewinds some iconic memories, before Mario gifts the ladies with some closeout trinkets. The old Mario is back — and his groupies are ecstatic. Ramona, who is giddy with excitement, chatters at her ex about their once fabulous, crashed marriage. Mario believes that all married couples should renew, cheat or bolt every seven years, and Luann agrees. Ramona is positively glowing, but insists that Mario is a fun flirt…period.
We join Dorinda, who has planned a spa day for the gals. Dorinda dishes  that Ramona invited her to a recent gala, only to ditch her for a more chi-chi table. Bravo runs some flashback footage, exposing Ramona slyly switching seats, leaving Dorinda in the dust. Sonja and Ramona arrive,  and Dorinda confirms that she's prepping for a move. Her new place looks nice, and Dorinda is ready for the address change. Sonja shares that she plans to school Barbara on Housewives etiquette before Dorinda busts Ramona for the Angel Ball faux pas. Dorinda blasts Ramona for lying to Page Six about the episode, after demoting her to ugly stepsister status.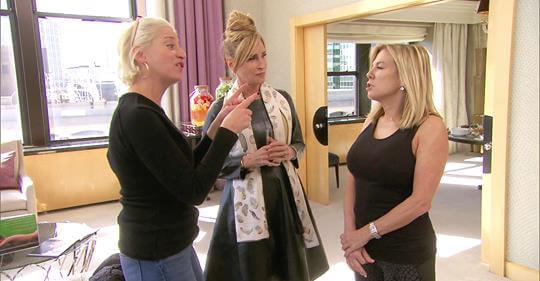 Dorinda says that Ramona invited her to the ball, but Ramona claims that the individual admittance tickets prove her crazy-eyed innocence. Ramona evidently forgot that cameras captured pre-event footage, and Bravo sneakily confirms that Ramona and Dorinda were to be seated at the same table. The event organizer spills the real tea in a captioned flashback, but Ramona hopes that yelling and popping a cheerleader pose will boost her defense. Both women are frustrated, but Ramona takes it over the top when she gives Dorinda a self-righteous shove. Dorinda delivers a stern warning — and although Ramona's game is busted wide open, she refuses to admit her déclassé move. Ramona decides to label the event coordinators dirty liars, and call it a day.
Barbara Kavovit arrives just in time for Sonja to advise her to kiss up to Dorinda and smooth things over Ramona — whom she dissed, after being baited at Bethenny's party. Tinsley confirms that Bethenny, Luann and Barbara will not attend her circus act, just before Luann makes her entrance. Barbara tries to make up with Dorinda, and the duo finally agrees to never debate stuffed sharks again. Tinsley keeps spreadin' the news about her breakup, and Bethenny bashes her positive spin in a confessional spot. Bethenny confirms that she knows it all — and declares that Tinsley's breakup narrative needs work. Luann retells the tale of Mario's bar comeback, and tattles on Ramona's adoring googly-eyes. Ramona confirms that she only gave Mario a branded cheek rub, but the others doubt her innocent act. Barbara cozies up to Ramona, and Ramona responds by slamming her fashion sense. Barbara keeps her cool and asks Ramona her to be her stylist. She apologizes for her dinner party snark, and Ramona sheepishly admits that she was disarmed by a dowdy wrap dress.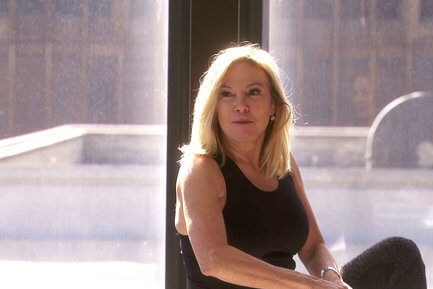 Still to come on The Real Housewives of New York  — the cast visits the cabaret star's round house and travels to Miami. Dorinda cries on a dock, Sonja falls off a chair, and Bethenny loses her mind — so hold on tight!
"Like" us on Facebook  "Follow" us on Twitter and on Instagram