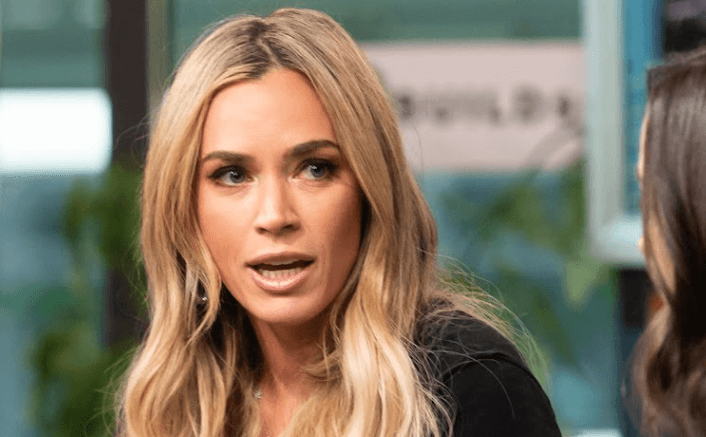 Camille Grammer blasted Teddi Mellencamp as a know-it-all on Tuesday's episode of The Real Housewives of Beverly Hills — and Teddi fired back a testy reply, via her Bravo blog. She aptly entitled the entry "Mrs. Know It All."
One thing Teddi "knows" points to an upcoming cast trip.
"I know that using the word "camping" while traveling around in a souped-up RV is a stretch."
Dorit Kemsley Exposed For Delivering 'Vanderpump Dog' To Kill Shelter & Lying About PK's Dog Bite!
The accountability coach threw shade at PK Kemsley, for taking an on-camera shot at Kyle Richards.
"I know that the Boy George concert was a great time. I also know that when I'm backstage at my dad's shows, I will forgo making any of PK's 'jokes.'"
Lucy Lucy Apple Juice Suffered Extreme Trauma In the Care of Dorit Kemsley — Dog's New Owner Speaks Out!
Teddi interjected herself into a tense exchange between Kyle and Dorit Kemsley, but writes that her butt-in was proven valid.
"I know that I inserted myself into the Dorit/Kyle conversation, but I think my instincts about what was happening were validated by that PK/Ken phone call."
Teddi held Camille accountable for playing nice to her face — while dissing her behind her back.
"Yep, I know that I have a big mouth (thanks, Camille). I also know that Camille would rather open hers to talk badly behind people's backs and then quickly turn around and talk nicely to their face."
"That's all I know for right now. Because if I truly knew it all, I would have known how Camille actually felt about me and not wasted my time going to her wedding."
So who wins Tuesday's shadiest Housewife title — Teddi Mellencamp  or Camille Grammer? Let us know what you think!
The Real Housewives of Beverly Hills airs Tuesday nights, on Bravo.
"Like" us on Facebook  "Follow" us on Twitter and on Instagram