Vanderpump Rules
'Vanderpump Rules' RECAP: Billie Lee Explodes After Lisa Vanderpump Declines James Kennedy DJ Her Party!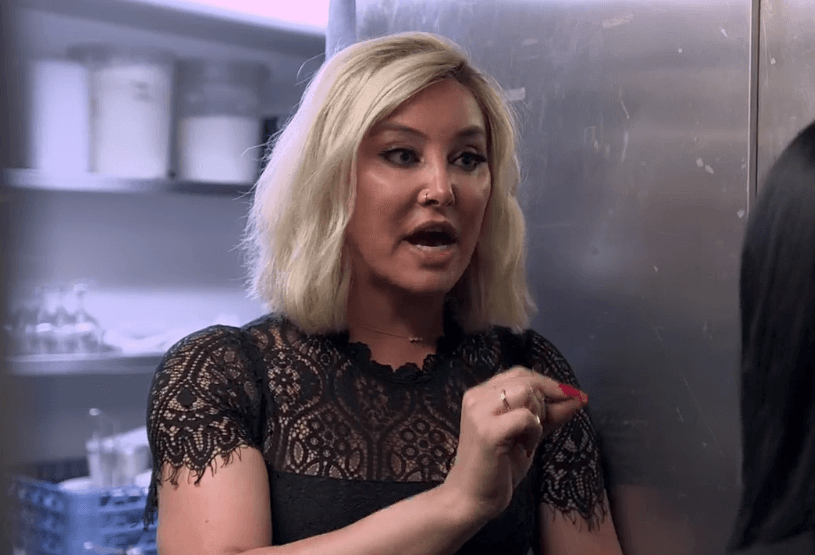 Monday night's episode of Vanderpump Rules kicks off with a hung over crew the morning after in Mexico. Lala Kent and Scheana Marie hang out at the pool, attempting to figure out last night's drunken debauchery and discuss Lala's panic attack. Stassi Schroeder and Beau kiss and make up.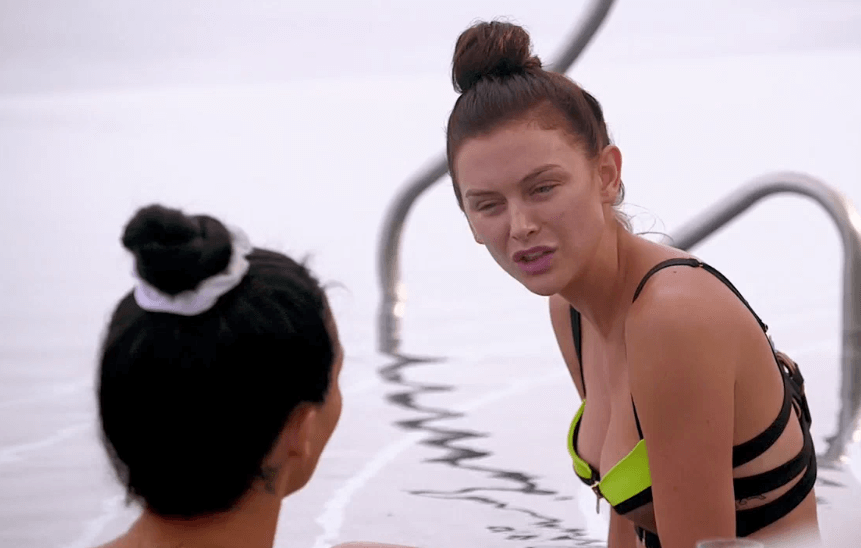 Meanwhile, Lisa Vanderpump is busy at SUR in Los Angeles. She finds Adam scrolling through his phone in the kitchen and he shows Lisa an inappropriate photo of Scheana posing in her bathing suit with Tom Sandoval in bulging diving trunks. Lisa encourages him to be kind to Scheana ….because you know…she needs kindness.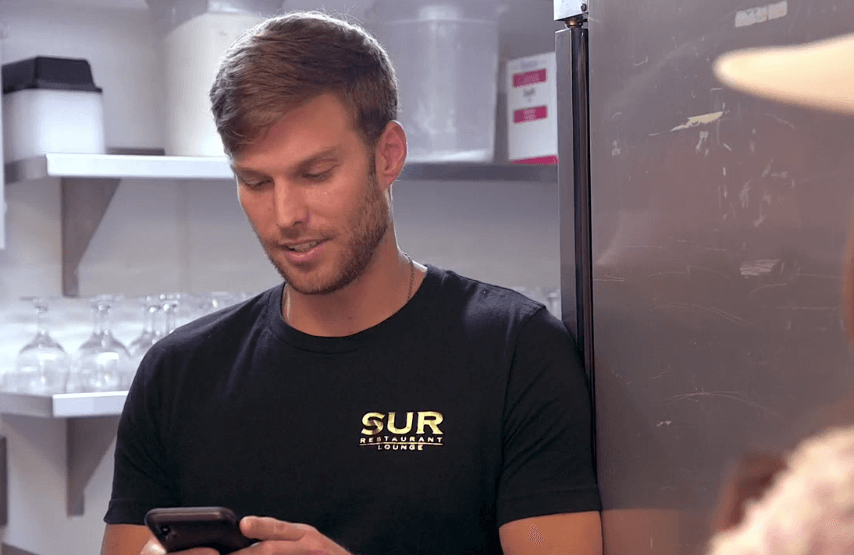 Back in Mexico, the crew gathers for a beautiful dinner but Lala's anxiety is front and center. She insists everyone put their hands on her to help ease her anxiety. She has hands all over her face and is taking her condition to a dramatic over the top level. At one point, Scheana is palming Lala's face. Later, Scheana slams Lala's emotional management. Scheana's pissed that Lala did not make out with her the night before and says the group is up Lala's ass but she doesn't return the favor.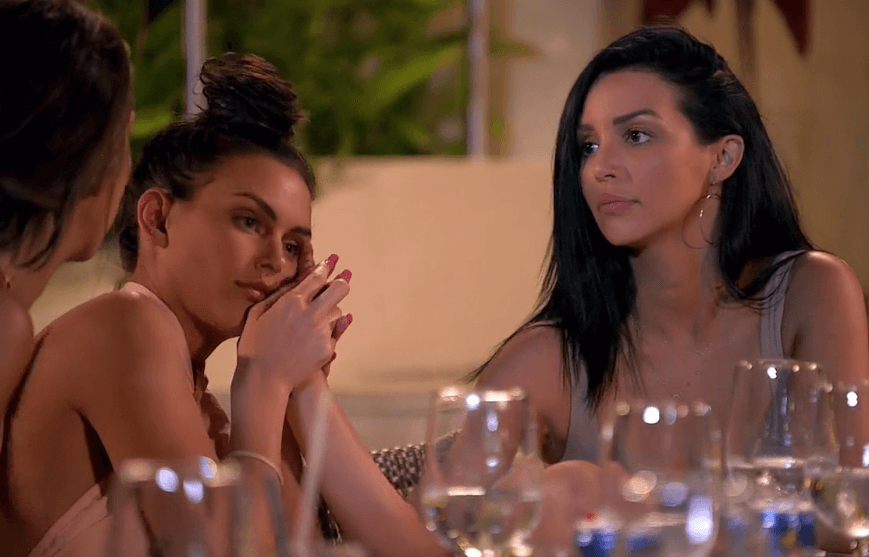 Meanwhile, Schwartz plans a night of seduction for Katie Maloney. He knows the way to his big girl's heart and covers the bed with potato chips, skittles and snicker bars to get her in the mood. He also surprised her with a violinist. Katie is smitten and ready to tear into the Cheetos and hump the snickers but it's not clear if Schwartz got any action that night.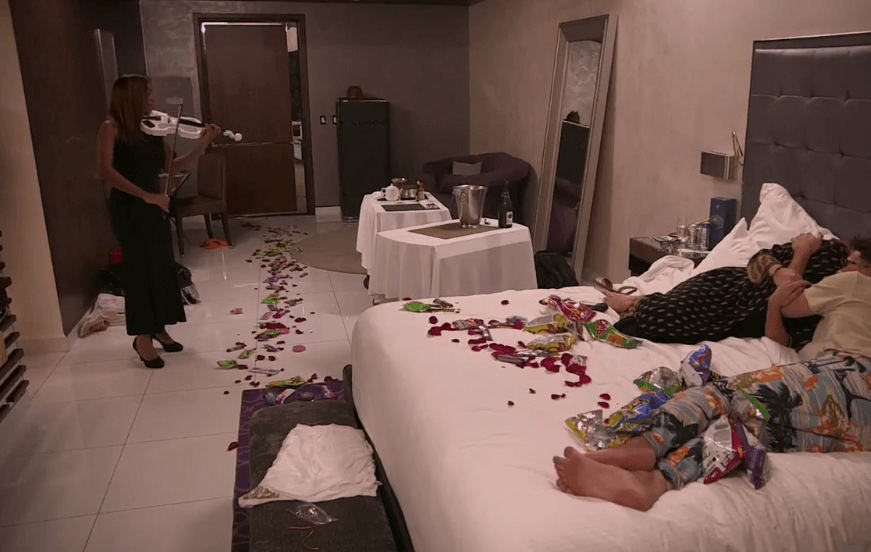 The group returns from Mexico, and they're all spewing sh*t — literally — everyone got diarrhea after their Mexican getaway and talking about it in the restaurant. Ewww. At SUR, Lala strolls in wearing a sports bra, ready to work but Lisa is not having it and makes her change into a SUR tee.
Billie Lee and Lisa Vanderpump discuss James Kennedy possibly DJ'ing her White Party brunch. Lisa is not on board, "I would prefer you to get another DJ," the boss lady tells Billie. She's worried that James may be drinking again after he revealed his dad bought him a cocktail the other day. At the same time, Lala approached them to get approval for the t-shirt that she put over her outfit. And Billie explodes — staunchly defending James' character — she insists that he brings amazing energy to the party. Then brings up Lala's bullying ways while dropping a few F-bombs in Lisa's face.
"She gets to run around here half-naked and she's a b**ch to everyone. I've gone through serious sh*t in my life, she makes people feel like sh*t," she said about Kent, but Vanderpump warned her to calm down.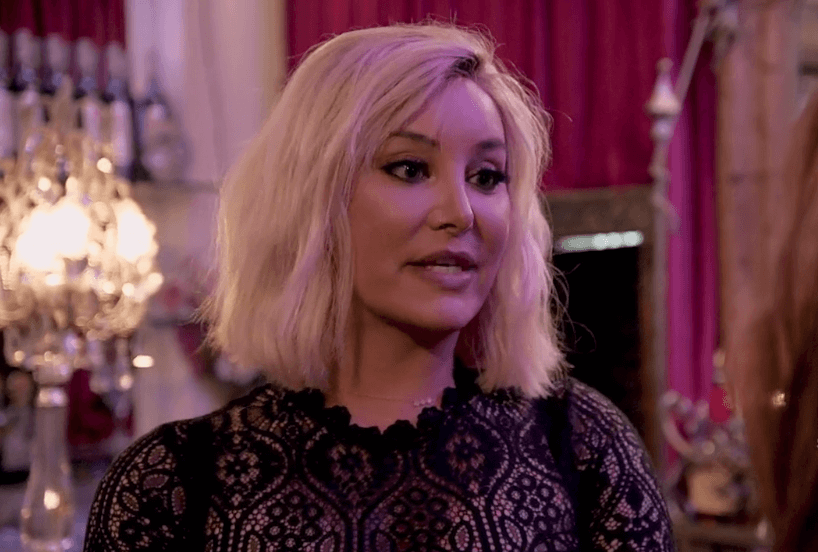 Billie then storms off with Lisa quickly on her heels. 
"I'm going to go breathe because I'm f**king pissed off," Lee said, stomping away, which infuriated Vanderpump.
The boss lady checks her for talking to her in such a disrespectful manner. 
"You cannot talk to me like that. I don't care. You do not talk to me like that. You're using the f bomb. I am the decision-maker here, not you," LVP told Lee. "I've done nothing but support you."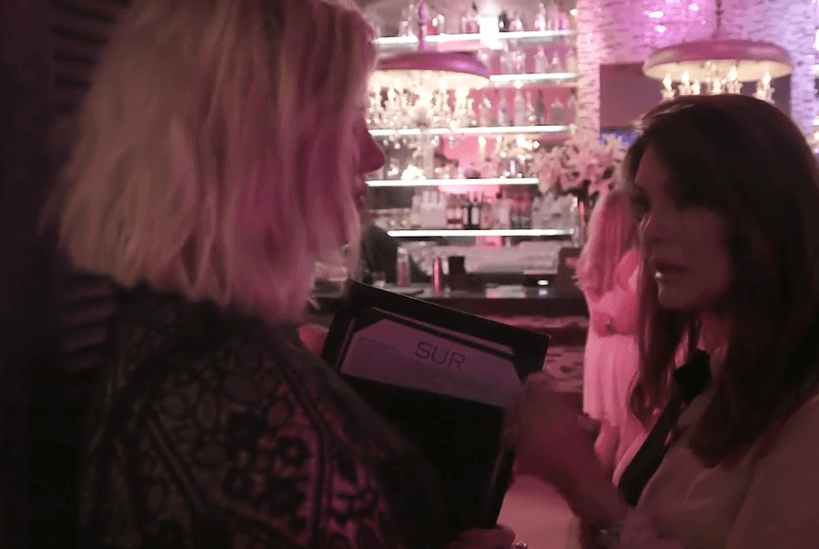 Across the restaurant, Scheana tells Brittany that she and Adam hooked up again almost immediately when she returned from Mexico. Only problem was he got a leg cramp and needed to use her foam roller to work out the kinks. 
An emotional Billie goes into the kitchen and corners Scheana to vent about getting "into it with Lisa," over James. Since Billie's in such an emotional state so Scheana decides it's a good time to inform her that she and James aren't invited to Brittany and Jax's engagement party. Great timing! Smh. 
"I love James too, he's my friend," Marie said. "I've learned how to separate myself." Then she told Lee that Cartwright and Taylor weren't inviting her to their engagement party because "They don't want you there because you remind them of James."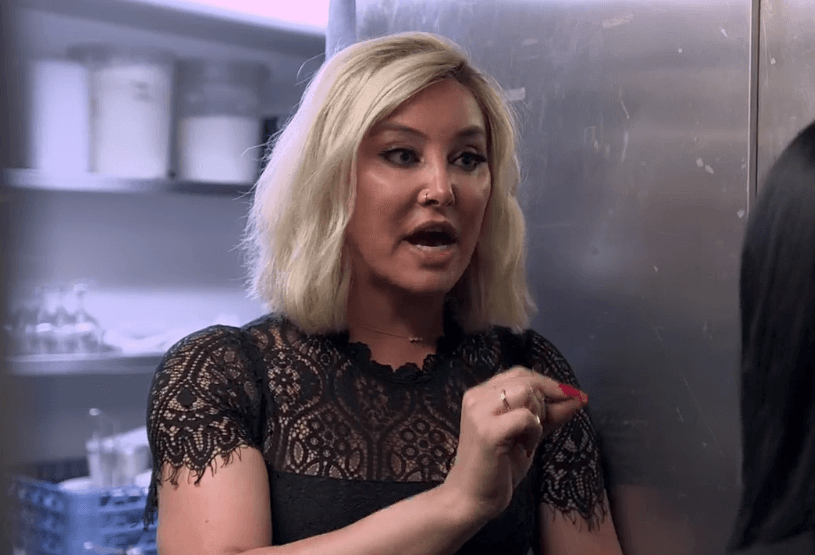 A distraught Billie, confronts Brittany about the engagement party diss. Brittany is sweet as can be but tells her that Jax doesn't think she's a trustworthy person. 
"Scheana told me you don't want to invite me to your engagement party because I have a connection with James," she told Brittany.
"It's not that I don't want to invite you because of that. Whenever I talk to Jax about it he doesn't think you're a very trustworthy person," Brittany told a defeated Billie.
"Whenever it comes to $75 a plate and we have to go with people we really know," Cartwright said in her confessional
"A lot of things have happened with our group of people and we don't want to have that fighting going on," she told Lee, who begged to be invited.
"I'm not a couple with James. I have so much love for you. Why aren't you including me?" she asked.
"Some of the people you're not getting along with are going to be my bridesmaids. And I don't want that at all with my family coming in. I don't want there to be all this tension going on," Brittany told her.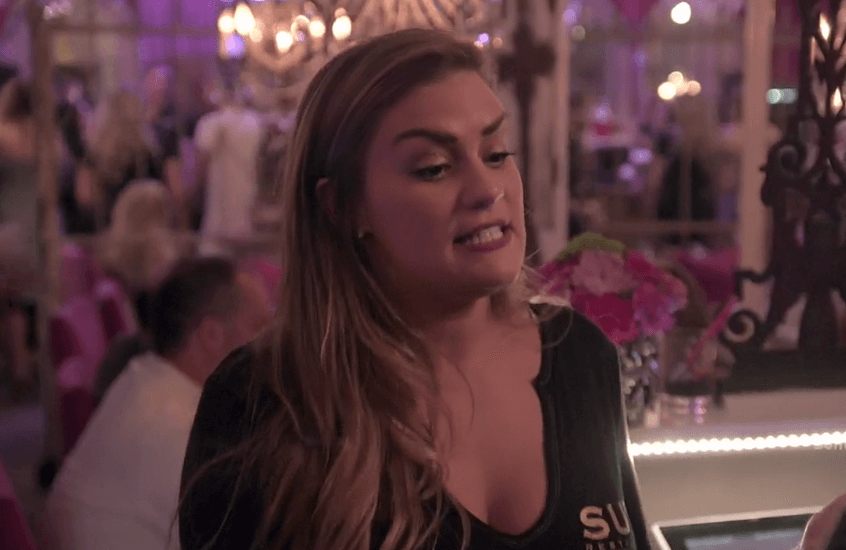 Raquel Leviss shows up with invites for Brittany and Jax to her puppy party. She then walks up to TomTom and invites Schwartz and Stassi who are dumbstruck as to what the definition of a puppy party is. She explains it's like a baby shower but for a puppy. Stassi says she doesn't want to be around James and that Raquel is like the woman who married Charles Manson. 
"I would actually rather light one of my arms on fire before I went to something as boring as a puppy shower. There is no amount of alcohol that could make this fun," Schroeder said in her confessional after turning down the invitation.
"It kind of sucks that James' relationships with these people are affecting my relationships. with these people," Leviss said and when she tried to explain to Schroeder that she knows the real Kennedy.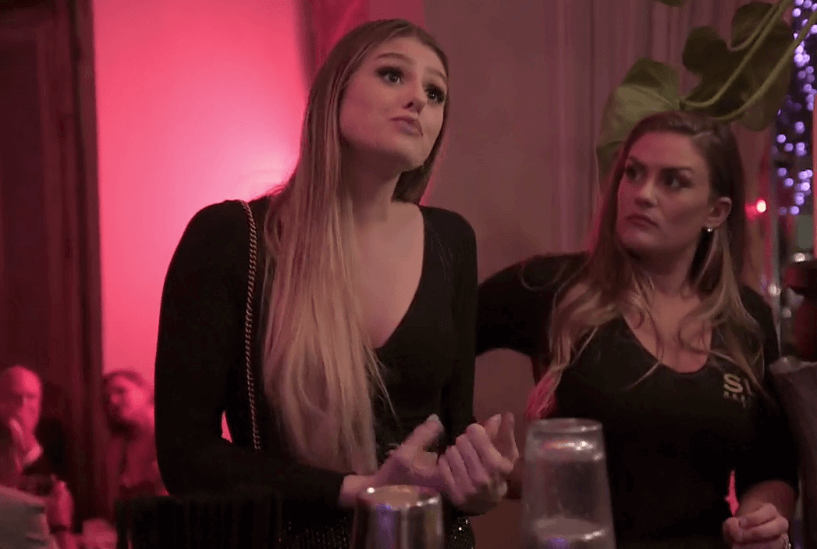 Adding to the drama of the evening, Lisa Vanderpump fires Sandoval from SUR so he can focus full-time on TomTom. Then notifies Schwartz that his $50,000 check for TomTom bounced! Sandoval paid for his percentage of the business, but Vanderpump is done if Schwartz can't pay up.
"What constitutes a partner exactly? What makes somebody worthy of being a partner?" she asks the boys.
"Attitude, first and foremost. Commitment. Professionalism and dedication," Schwartz, 36, rattles off.
"But where does it start? Investment, right," Vanderpump coaxes. "Uh, your check. Yeah. They both bounced."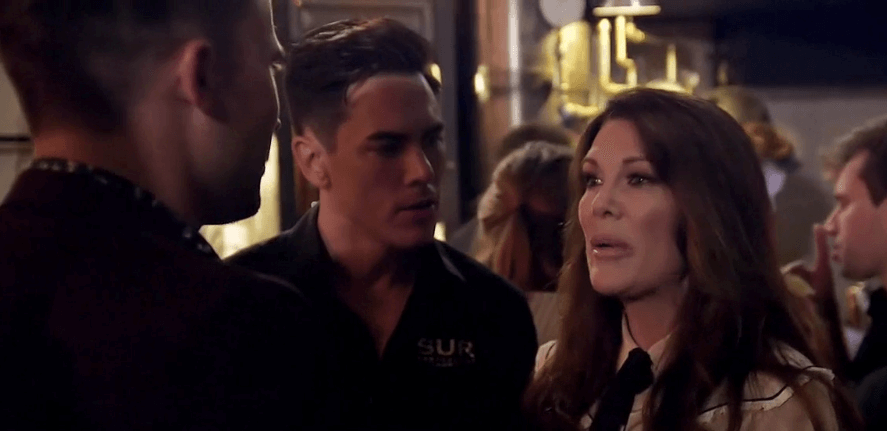 Vanderpump Rules airs Mondays at 9 p.m. ET on Bravo.
"Like" us on Facebook  "Follow" us on Twitter and on Instagram