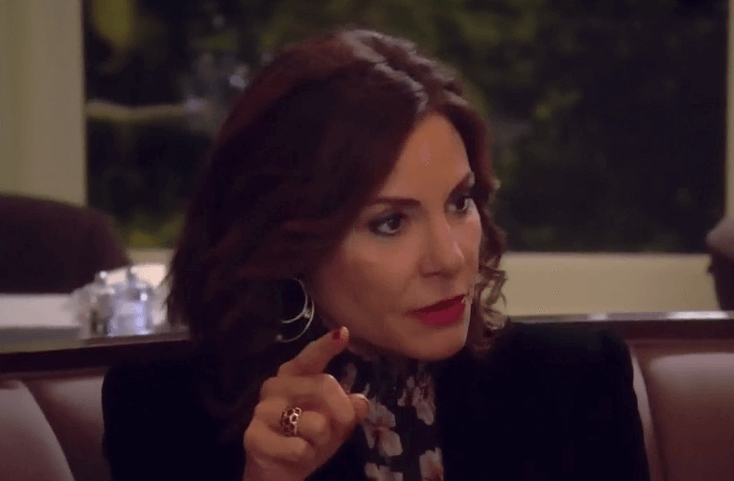 The Real Housewives of New York begins with Tinsley and Dale, who are seeking a professional remedy for Tinsley's teeth-gnashing anxiety. Tinsley Mortimer has been sucking on vodka for the pain, but hopes that a shot of botox will deliver more effective relief. We learn that Tinsley is leading a charity "Strut your Mutt" event, and is hoping to get back in the swing with the NYC charity scene.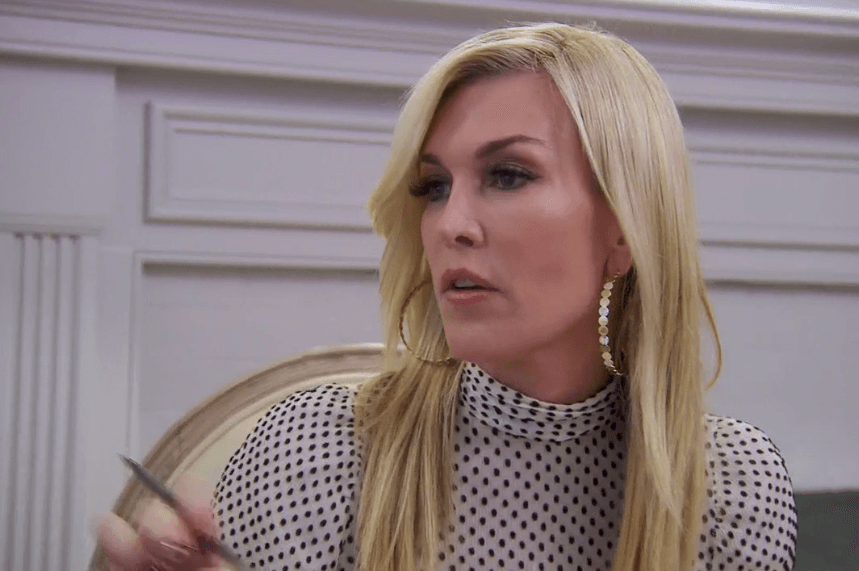 The doc confirms that a truckload of botox will help out her jaw — which has been clenched since her famous mugshot was snapped. Tinsley blames her desperate past along with her vague relationship with Scott for her ongoing struggle with intense stress. Dale cheers on her daughter, while the dermatologist freezes her worried mug.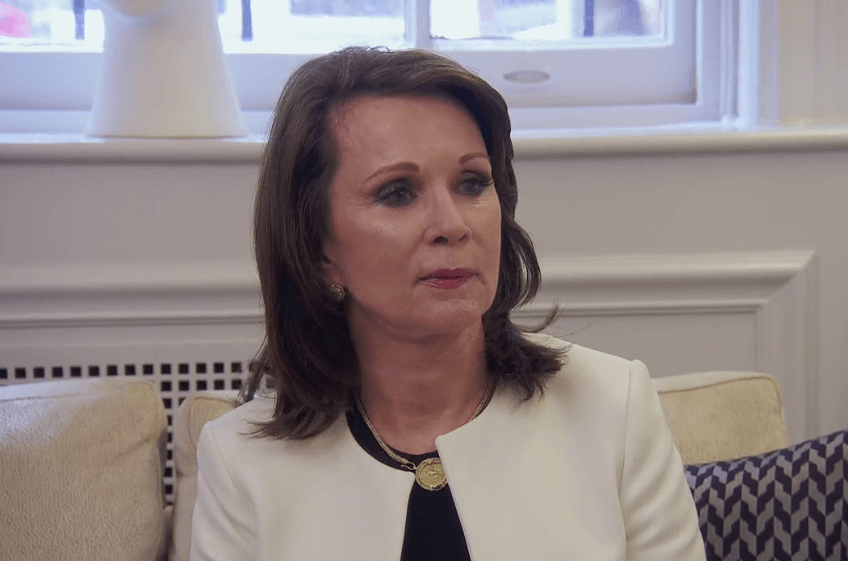 We check in with Ramona Singer and Sonja Morgan, who are strolling in the park and chatting about Ramona's chaotic love life. Ramona spills the lukewarm tea about her bind date, and the duo agrees that Marc was a real dud. Sonja advises her friend to nail some washboard abs stat, before the convo shifts to assessing the cast chemistry. Ramona hopes that Luann de Lesseps and Dorinda Medley's reconciliation will translate to harmonized drama, and that the group will gel in the Berkshires. Bravo rewinds the Berkshires most horrifying hits — really selling this year's scary theme.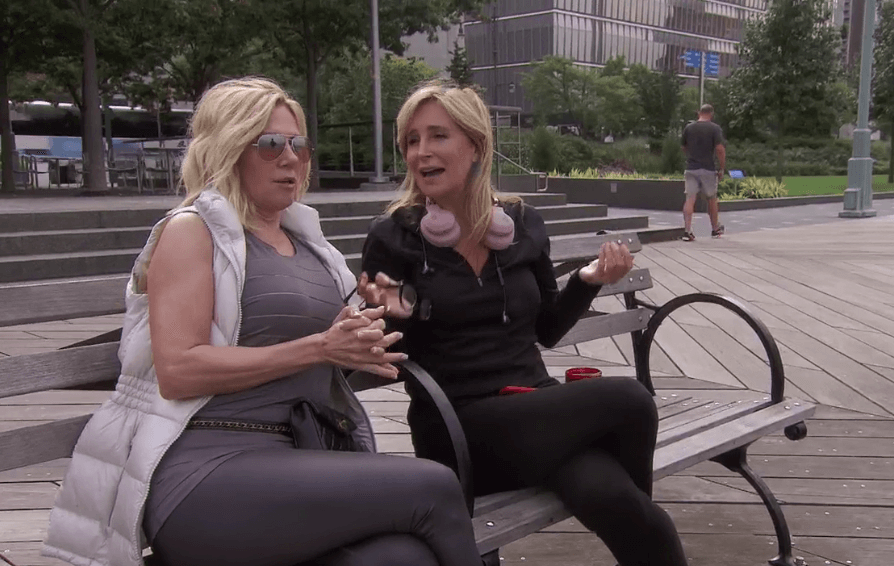 We check in with Bethenny Frankel, who's packing her Skinnygirl wardrobe for a visit with her latest gentleman caller. Bethenny reveals that she's being pursued/courted, but clarifies that things didn't get hot until Dennis exited the scene. She explains that she reached out to a house-calling grief counselor for help, and Counselor Norman rings in, right on cue. Bethenny gives Jill Shields a shout-out, and admits that Dennis' wife was left with the most complicated fallout. Bethenny hashes out her ongoing emotional struggle with the expert, ditching the engagement narrative when she reveals that she planned to escape the love affair before Dennis died.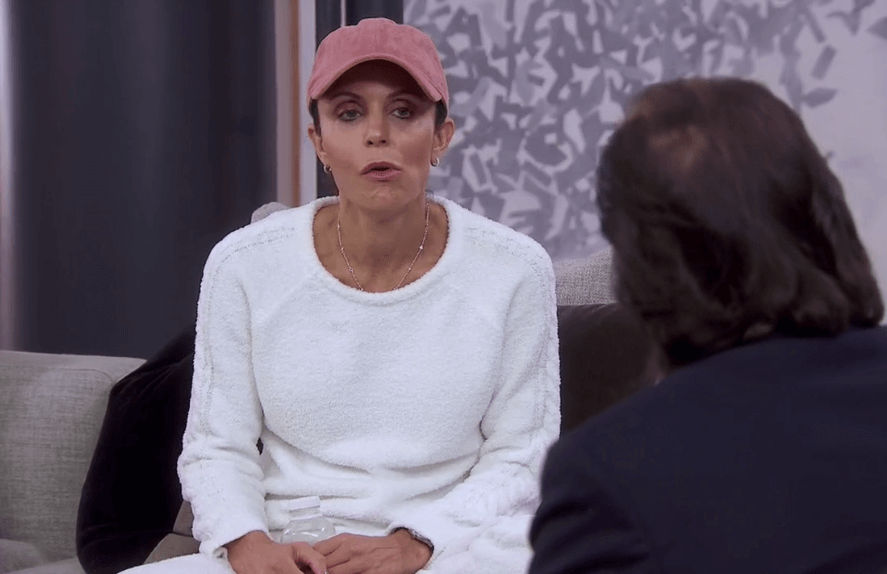 Bethenny is feeling guilty for ditching her beau before his demise, but adds that their romance was muddled with guilt, because Dennis was trying to manipulate her into a commitment. Norm tells  Bethenny that every grief story is different, and encourages her to jump into her next emotional romp with confidence. He reminds her that good days and bad days are normal — and his encouraging words appear to soothe Bethenny's jangled nerves.
We jump over to the posh pooch event, where the ladies are gathering with their pups. Dorinda greets Luann de Lesseps with excitement, because her ex-bestie will attend her Berkshires spook-fest. Dorinda ignores the obvious, that buttinski Barb — Lu's number one cheerleader—had already spilled the beans about being tossed out of her apartment. Dorinda has arranged a naked chef especially for Sonja, so Luann submits her own request, as if Dorinda is running a resort. Luann wants a clothed yoga teacher, and Dorinda promises to deliver. Barbara Kavovit will arrive on the second day, and Dorinda hopes to deprogram Luann before she shows up.
Ramona reminds viewers of her oldie-but-goodie runway stomp — assuring us that she will not repeat that eye-popping spectacle. Tinsley introduces the stylish pups, and the ladies take turns strutting their mutts. Sonja's dog is sporting a naughty french maid ensemble and Ramona's crazy eyes redeem themselves, with a polished glide down the runway. Tinsley is happy that she stepped out of her stress-bubble, and hopes that she can keep her confidence rolling.
The ladies head to a lunch hosted by a friend of Ramona's, and Bethenny joins the yacht party. The rather icky group dialogue soon turns to Tinsley's spinster status, which she blames on long distance business hurdles. Bethenny grills Tinsley about her long-shot in hell at marriage, but Tinsley insists that Scott is well aware of her taste in engagement rings. Bethenny suggests a practical ultimatum, but Tinsley is skittish about pushing Scott off the matrimonial ledge. Tinsley is dodgy about where she stands with her future husband, especially because her unfertilized eggs hang in the balance. Bethenny pegs her as insecure, clueless, and pretty darned hot.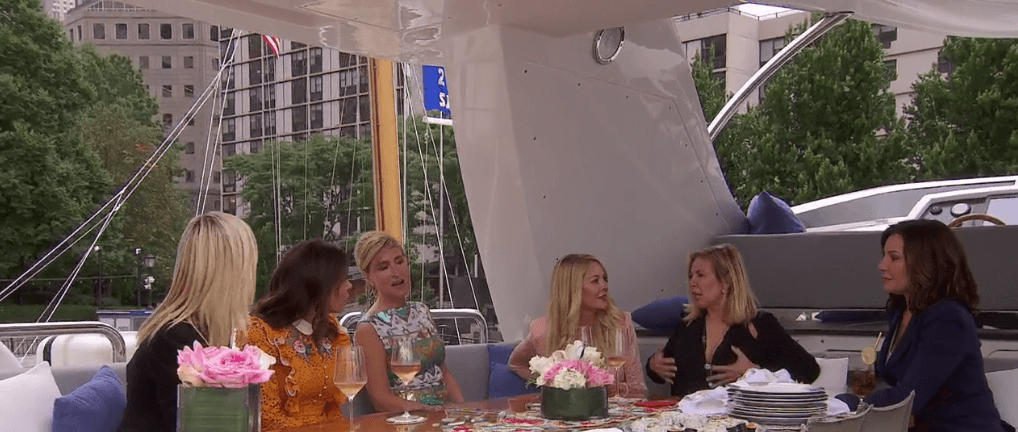 We head to the Berkshires, where Dorinda is decorating Bluestone Manor for Halloween. The decor is intense, and Dorinda can't wait to scare the poop out of the ladies. Ramona, Sonja and Tinsley are on their way, and Ramona barks out directions to their annoyed driver. Dorinda's local sis, Melinda, pops in to discuss the party, and the inda-siblings banter about the Halloween heaven awaiting the girls.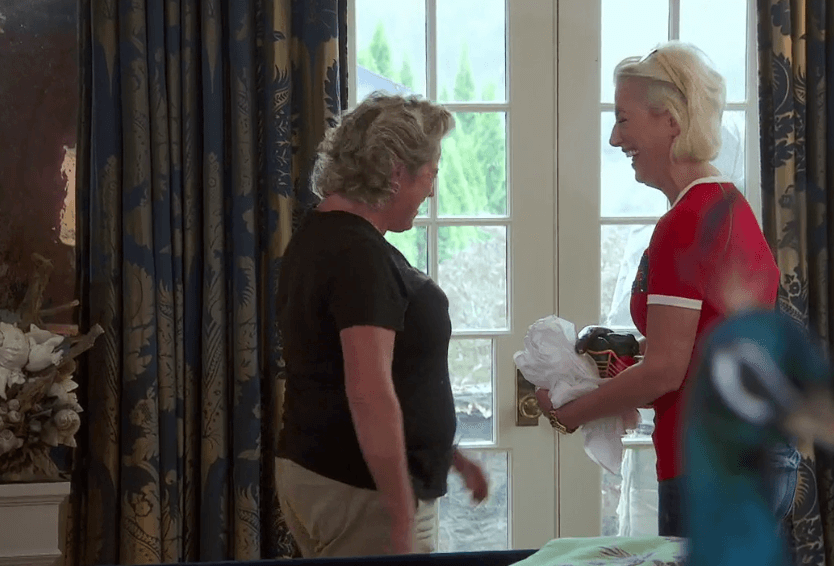 The ladies arrive at Dorinda's house of horrors, and Ramona compares a hunched ghoul to one of Bethenny's better days. The blondes catch up on the latest cast vibe, and Dorinda informs them that the best room has been exclusively reserved for Bethenny, who won't be there until the next day. No one wants the fish room, so Dorinda decides that the rehabbed cast diva will be sleeping with the fishes this trip.
They later connect with Luann at a fancy hotel restaurant, and Luann admits that it will feel strange to be welcomed back to Dorinda's country home. Dorinda runs down the plans for the next day, and Luann requests that a cabaret star massage be inserted into the schedule. Dorinda knows that she needs to jump through  hoops to please the countess — and just wants to know how high. Luann throws shade at Dorinda's oceanic bedroom when Dorinda leaves the room, and the ladies explode into hysterical giggles. They laugh until the cry, but Luann is ready to let Dorinda have it for plunking her into her most  hideous decor.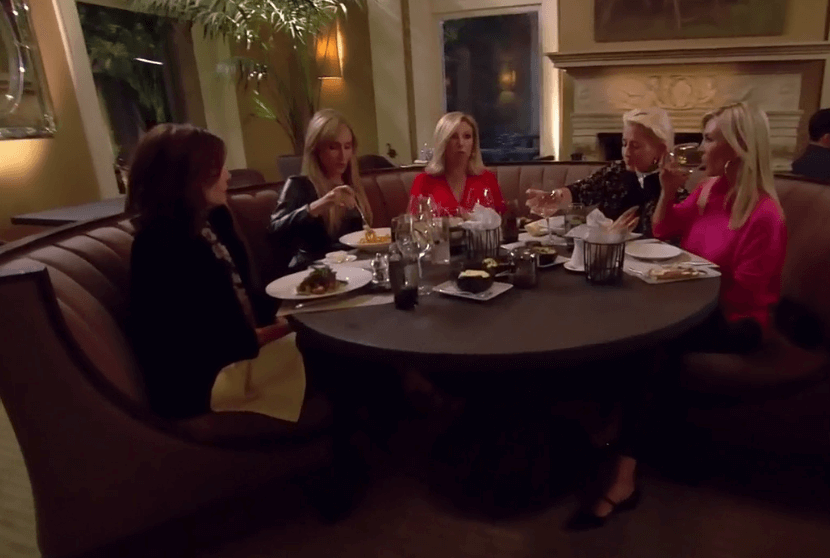 Dorinda returns and explains that Bethenny threatened to stay in a hotel unless she scored a solo room with no mounted fish. Dorinda caved to the skinny HBIC, which surprises no one, except Luann. Luann believes that Dorinda should have granted her the luxury suite, to score groveling points. Luann and Tinsley debate who's the most shafted of the bunch, before Luann points out that the backroom sharks reflect darker, drunker days.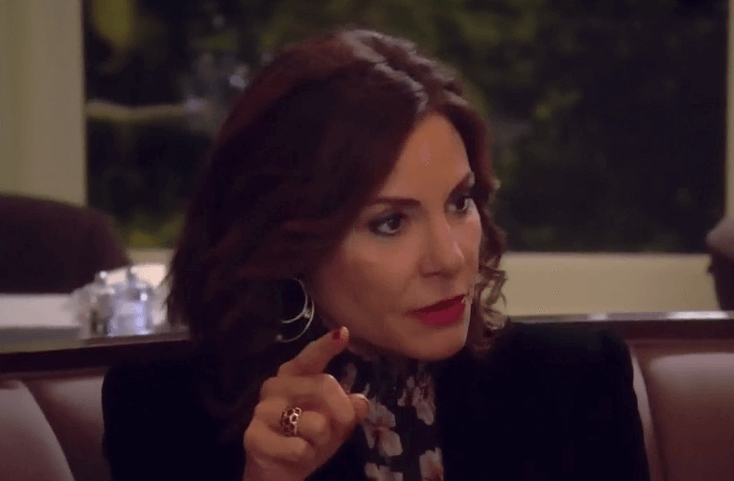 Tinsley takes one for the team and volunteers to give up her room, to sleep with the freakin' sharks. Luann wants VIP treatment or nothing, and doesn't let up in her rude thrashing of Dorinda's ugly guest room. The ladies giggle in agreement, before Luann indignantly storms out, like a petulant teenager.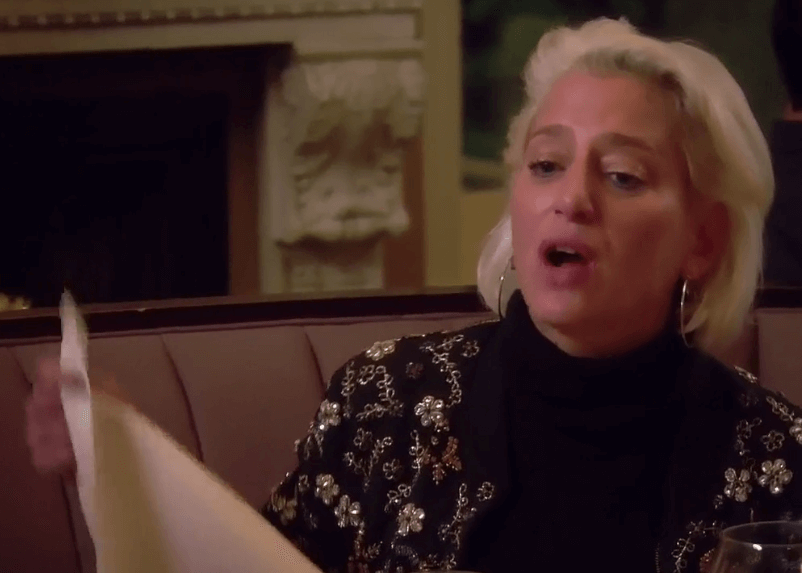 Next week on The Real Housewives of New York, Sonja loses her composure and a chef loses his clothes.
"Like" us on Facebook  "Follow" us on Twitter and on Instagram