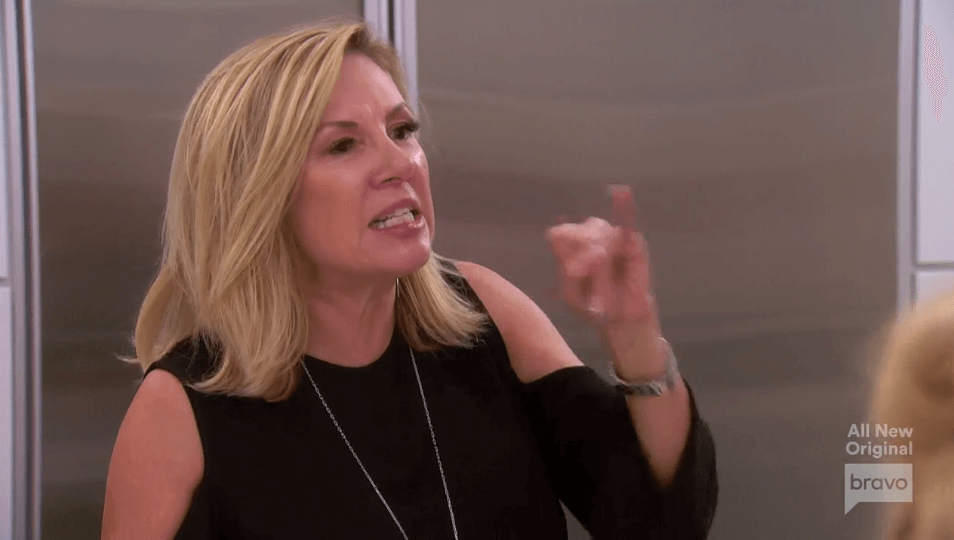 The clambake is on and the gloves are off, as The Real Housewives of New York picks up at Barbara Kavovit's East Hampton home. Ramona Singer's neon heels ominously enter, and Bethenny Frankel immediately predicts that the crasher will pilfer clams the first chance she gets. Ramona rewinds her connection to Barbara for viewers, admitting that she remembers forgetting the newbie for the first time, ten years ago.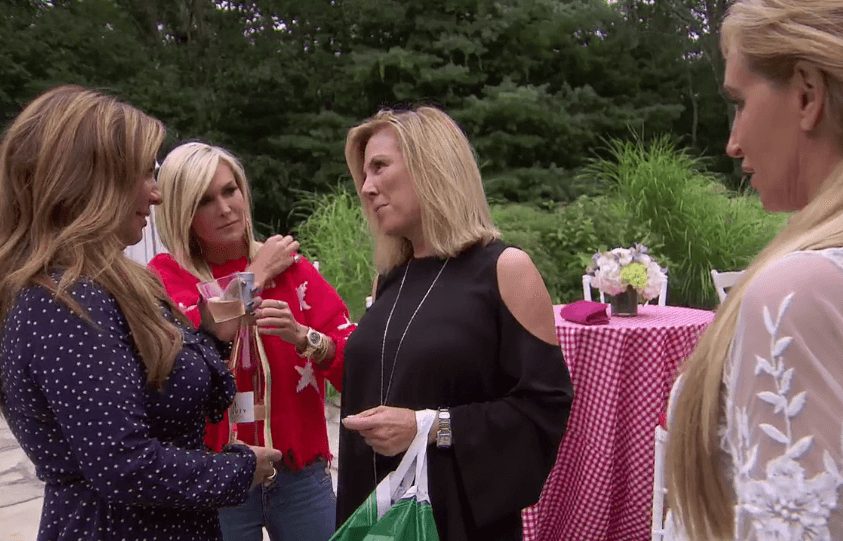 Ramona smirks that Barbara isn't her type of gal due to her handy manliness, but that doesn't stop her from showering her hostess with gifts. Ramona admits to shameless bribery before they all agree to put off discussing the D-word, until after the first party alarm rings. Bethenny is rocking an engagement ring from her deceased boyfriend, so she clarifies that while she managed to score a rock, she was only in preliminary engagement negotiations when her lover met his maker.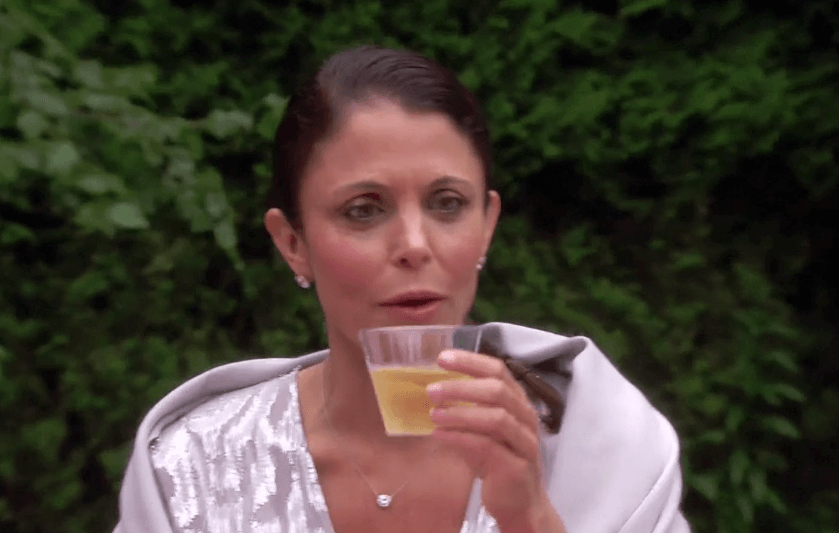 Luann de Lesseps confronts Ramona's crazy eyes right off the bat, accusing her of spreading rumors and lies, but Ramona refuses to engage. Barbara defends her hostess high wire act, and a flashback confirms that Luann shaded Dorinda during one of her cabaret cackles. Barbara confirms that Ramona is a legit liar-face, debunking one of her juicy anti-Lu reunion whoppers. Ramona shrugs off being proven a malicious fibber, because there's no shortage of scandalous Countess anecdotes.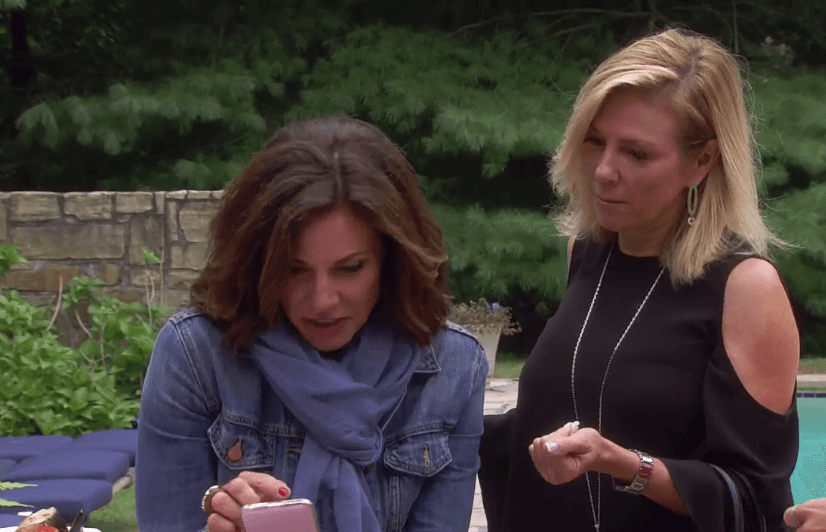 Bethenny Frankel stops weeping long enough to dish with the gals about her next beau — but no one dares to ask if she plans to take off her engagement ring before their first date. Sonja Morgan reminds Ramona about Bethenny's part-time broken heart, and the ladies nudge her to extend her condolences in person. Ramona is worried that she'll blurt something too ramonaish, so she passes on the suggestion. The first Dorinda alarm goes off, but Tinsley Mortimer is unconcerned, because she's having fun hanging out with the cool girls. The blondes soon decide that they must make their scheduled exit, but not before bagging enough food for the rest of the trip. The takeout dash is beyond tacky, but Sonja defends the grab as her signature move.
Ramona bags a half dozen lobsters before nervously gliding over to bid farewell to her snarkiest critics. Luann bans them all from the buffet before rudely ordering Ramona's innocently blinking eyes to bug off. Ramona doesn't appreciate Luann's bitch act, and Tinsley is mortified to be connected to the déclassé buffet raid. The blondes make a semi-clean getaway and Bethenny follows with a bug-eyed reenactment, before the ladies swan dive into a fit of giggles.
The blondes return to Ramona's house, and Dorinda is happy that her time-out was cut short. The ladies debrief the high drama hour, and while Dorinda basks in her clambake stardom, she complains about Luann spilling secrets to the press during the offseason. Luann hit a sister lush below the belt, so Dorinda throws in a reference to the lawsuit that triggered Lu's latest bender. Sonja makes mention of Dennis' financial smarts, and Ramona blurts a reunion worthy doozy, labeling Bethenny's almost hubby a for-sure druggie. She immediately knows that she slipped, but cannot undo her epic Bravo blooper.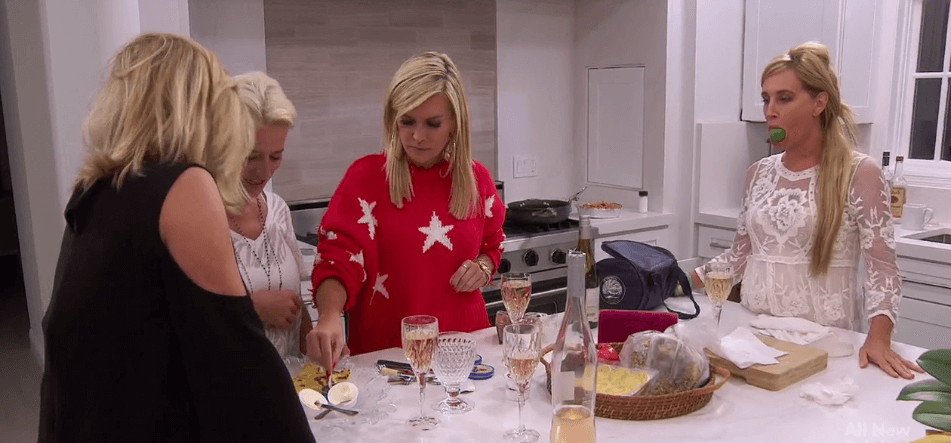 The girls are back in the city, and while Tinsley outfits her pooch in a fetching turtleneck, Bethenny heads south to support flood victims. We get our first look at Luann's new apartment, where she's chatting with her producer about her dazzlingly successful career. Luann has secured an upstate house after all, and is clearly enjoying financial success. Bethenny lands in North Carolina, where Bravo cameras capture her #branded compassion. Bethenny Frankel reminds viewers of her extensive disaster travels, and draws a parallel between suffering a lost love and weathering a battered life.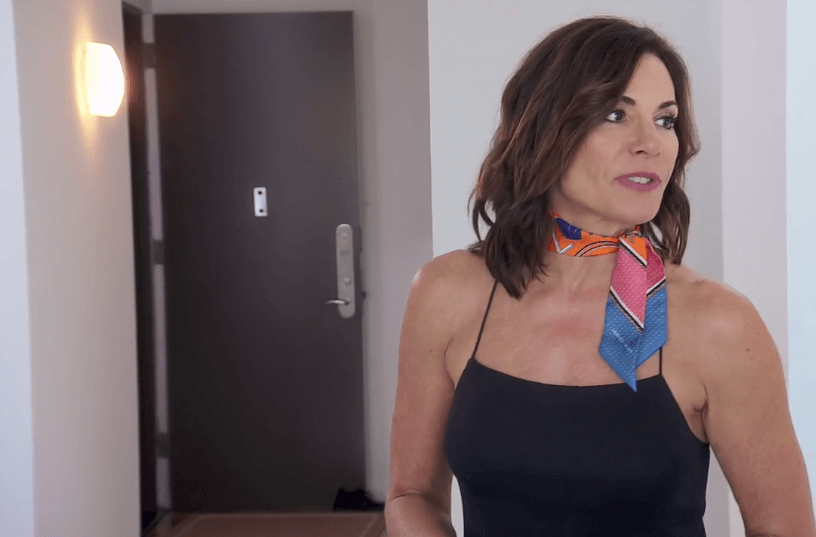 Back in NYC, Dorinda and Barbara meet up for lunch, because Dorinda hopes to squash clambake chatter, and plead her case. Dorinda discourages Barbara from being a rookie mediator, and reminds her of her own past relationship backslide with Luann. Barbara explains that it took her a long time to rebuild Luann's trust after she was caught gossiping into a production mic. She reminds Dorinda that she heckled Luann mercilessly during her cabaret show, but Dorinda blankly denies the filmed spectacle. Dorinda advises her to tell Luann's dress to get over it, and wishes that Barbara would take her problem-solving skills elsewhere. Dorinda hopes that she and Luann will have an opportunity to hash it out — no hecklers allowed.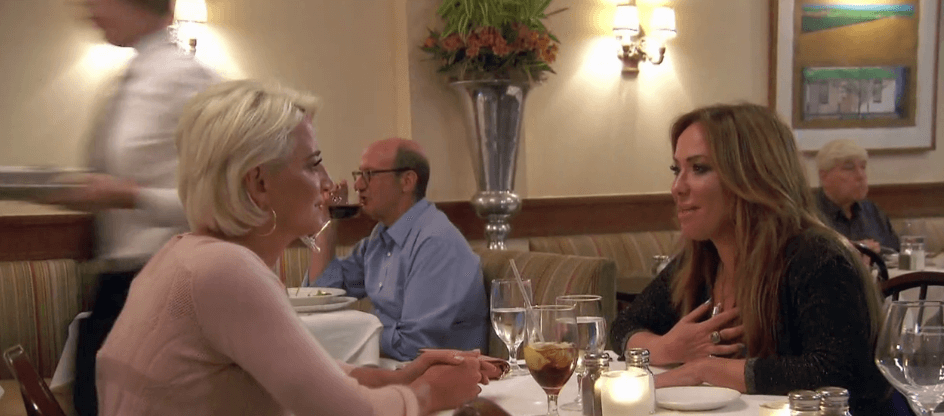 Sonja holds a non-judgmental, ego-free magazine party next, and lots of intense glamor shots set the stage. The ladies gather to celebrate the top blonde, and Tinsley's mother and Sonja's psychic, Roberta, make appearances. The ladies chitchat about life, death and Tinsley's future twins. Dorinda tries to connect with Bethenny as a sympathetic widow, triggering a fresh round of jabber about Bethenny's now confirmed engagement, and her stormy grief journey.
Ramona struts onto the scene, doing her best to flaunt her own bod for the cameras. Barbara joins the group, and Luann makes a white hot entrance. Meanwhile, Dorinda commits to breaking the ice with Luann to Bethenny, promising to not bring up their high volume past. Dorinda orders Barbara to butt out of her biz, because only Bethenny is allowed to boss her around. Barbara immediately reports the demand to Luann, and slams Dorinda for quaking in Bethenny's shadow. Bethenny barks out a "COME" to Luann from across the room, and commands Dorinda to drag her butt over to meet her halfway. The episode ends before we see if the ladies obediently sniff each other.
Next week, on the Real Housewives of New York, Dorinda and Luann try to mend their relationship, but Dorinda's friendship with Barbara hits the skids.
"Like" us on Facebook "Follow" us on Twitter and on Instagram