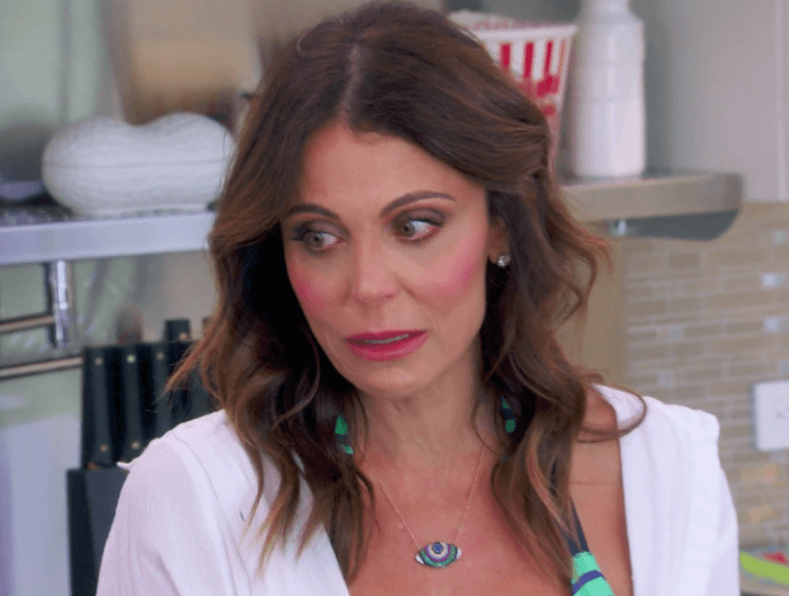 Somebody pinch me — because the Real Housewives of New York is BACK! Bravo gives a flashback nod to the divide between Luann and Dorinda, Luann's rehab repeat shocker, and Bethenny's "undefinable" relationship with the since deceased Dennis Shields — before Season 11 blasts off.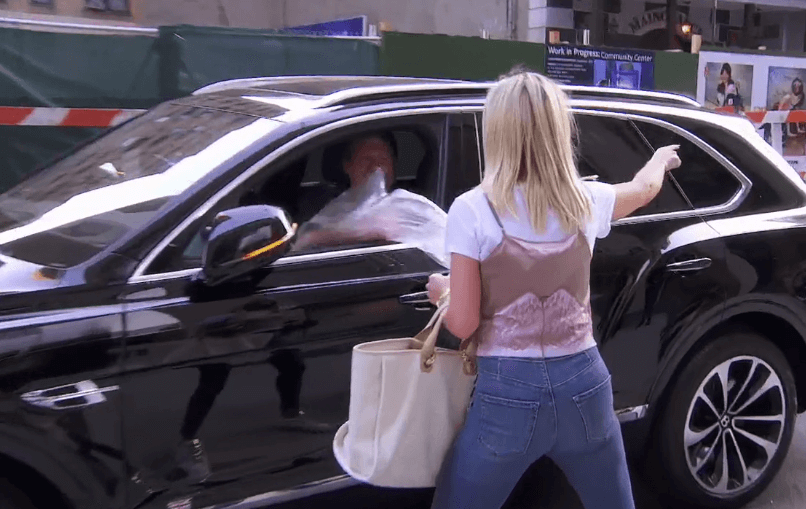 Bravo kicks off the party by jumping us around the cast — Tinsley and Sonja in the city, and Luann and Bethenny in the Hamptons. Ramona is meeting with realtors to discuss unloading her apartment, and Dorinda is meeting a pal to discuss unloading some flab in the park. Dorinda has been extra busy just being her — aka exercising, eating healthy, not slurring, and keeping her tanked antics off television. Dorinda rehashes Luann's reality rollercoaster with her walking buddy, because after all, her own boozy hijinks are nothing compared to a marriage blooper and a snappy mugshot.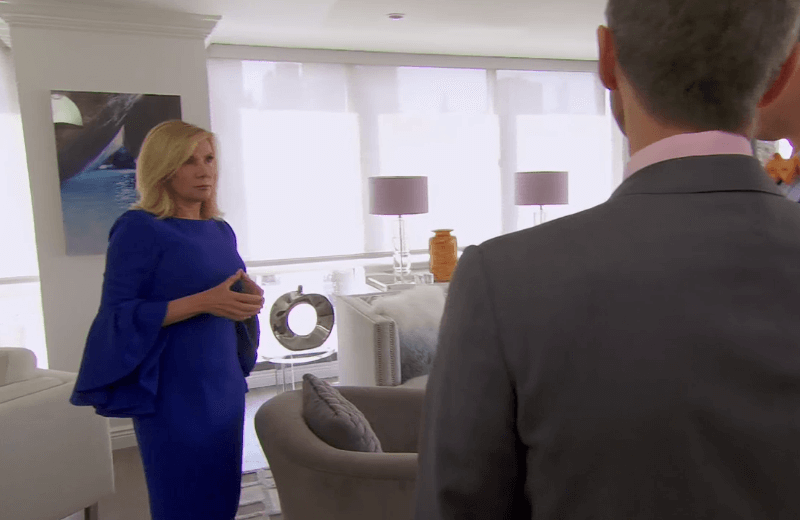 We shift over to Bethenny, who is entertaining friends in her lovely Hamptons home. The conversation quickly turns to Dennis' death, and Bethenny explains that her part-time boyfriend died in his apartment three weeks ago. It's clear that Bethenny is reeling from the loss, and deep in a grief hole. She reveals that she texted Dennis a posthumous goodbye, and even sputters the personal love note to the Bravo audience. Things get even stranger when she shares  that she allowed Bryn in on the confusing hereafter convo. She delivers a frantic confessional spot about the heartbreak — and manages to tearfully slip in that Dennis gave her an engagement ring, and died wanting her hand in marriage. Bethenny's friends try to encourage her — and remind her that she was on a pretty good roll as a sorta single lady.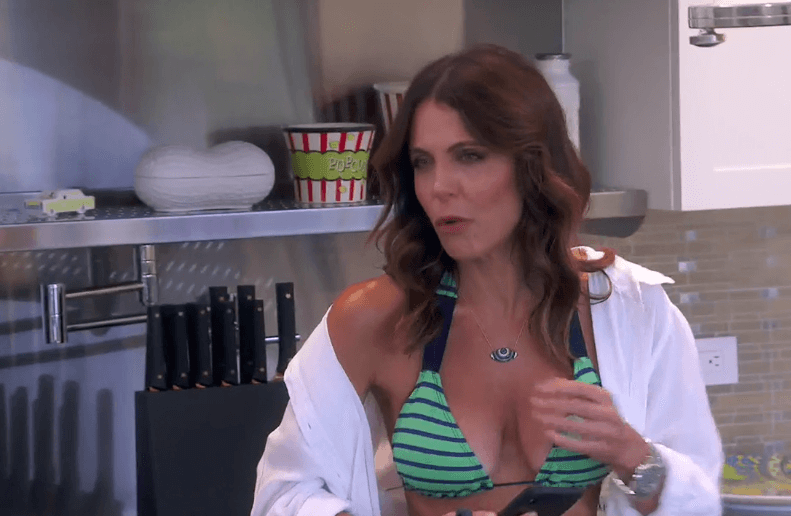 A smackdown between Sonja and her Spanx is featured, and we get our first look at her cute new apartment. Sonja is thrilled to be free of her crumbling UES townhouse, and Ramona drops in just in time to deliver a bossy interior design consultation. Sonja shares her plan to head to the Hamptons with Tinsley — promising to lend a supportive filming shoulder to Bethenny.
We skip back out to the Hamptons and join Luann, who is welcoming the rookie, gossip girl, Barbara Kay, from Season 9. Luann abuses an innocent flower arrangement while explaining that she blames an upsetting legal squabble with her children for her recent relapse. Luann is 53 days sober now, and admits that it's a daily struggle. She becomes uncharacteristically emotional, before declaring that she's determined to stay clean for her grown children. Barbara shares that she and Bethenny helped shove Luann back into rehab, and Bravo rewinds the captured audio that put the newbie on their radar. This friendship appears genuine — a refreshing dimension within this reconnecting cast.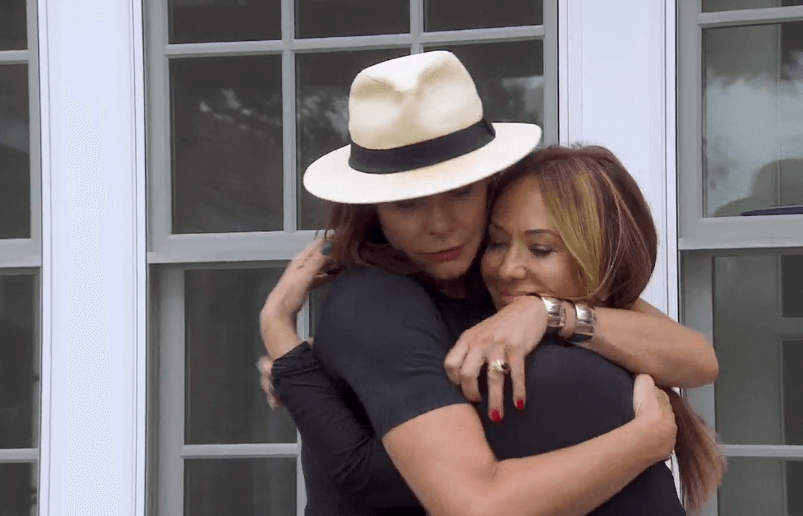 Meanwhile, Tinsley is doing what she does best — spending money. Dorinda joins in, and Tinsley catches her up on her boingy romance with her reluctant beau, Scott. Dorinda can't wait to reiterate that her relationship with Luann is on the rocks, a beef Tinsley chalks up to dueling egos. Sonja's latest intern is introduced next, "a breath of fresh air" named Taylor. She helps Sonja tape up towels for makeshift privacy curtains, making the new place look a little more like the old place.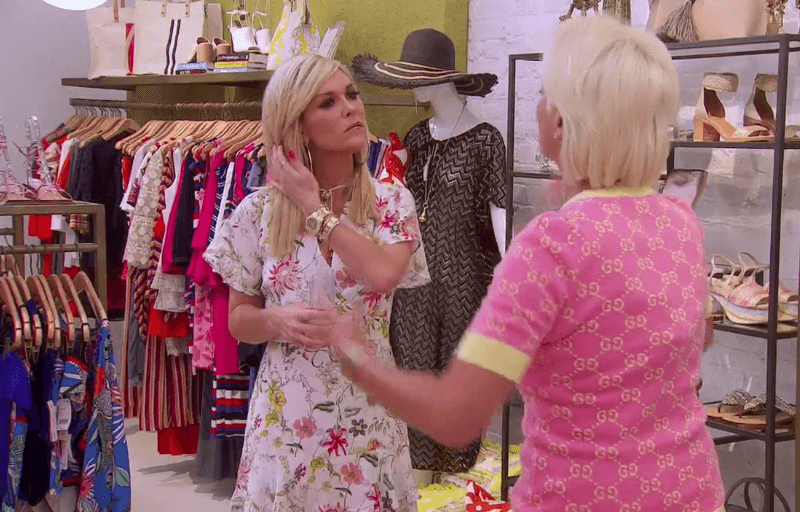 Ramona has hired an innocent swim instructor named Boris to help peel her off her pool noodles — and she likes what she sees. Ramona is nervous about learning to swim, but her near death experience last season has inspired her to to stay afloat in emergencies. Boris tries to guide Ramona through a beginner breaststroke, but almost drowns in Ramona's suggestive chatter. As a side note, the pro's swim trunks are sexy — but not as sexy as Ramona's chlorinated breasts. Ramona plans to sign up for more cringeworthy swim sessions, and hopes that she can teach Boris a thing or two.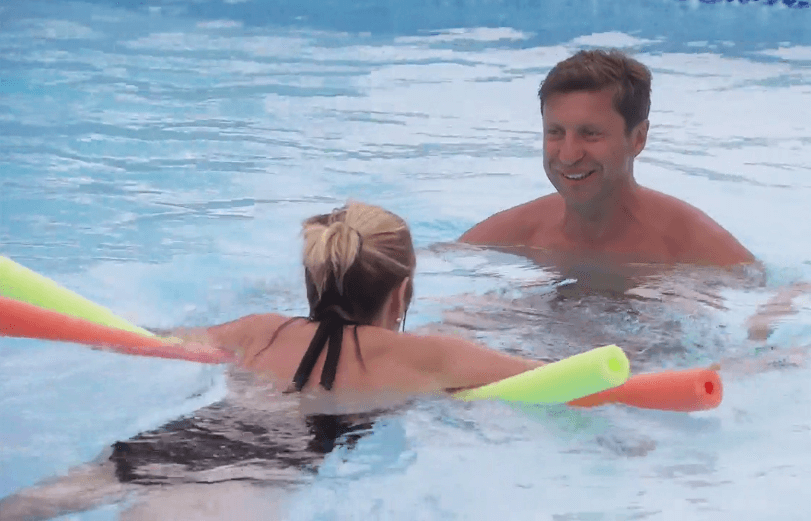 Back in the city, Tinsley and Sonja are heading to the Hamptons in Tinsley's new ride. Tinsley doesn't know reverse from drive, but is confident that her skills will eventually kick in.
Luann and Barbara pay Bethenny a visit, and the rookie clumsily introduces her pet product — a line of tools. Bethenny kicks off the frenemy reunion by veering back into jabbery sniffles, so Barbara advises pounding her broken heart into submission — preferably on camera, with her new hammer. They all share a giggle about Bethenny's good ol' slut-shaming days, lightening the mood.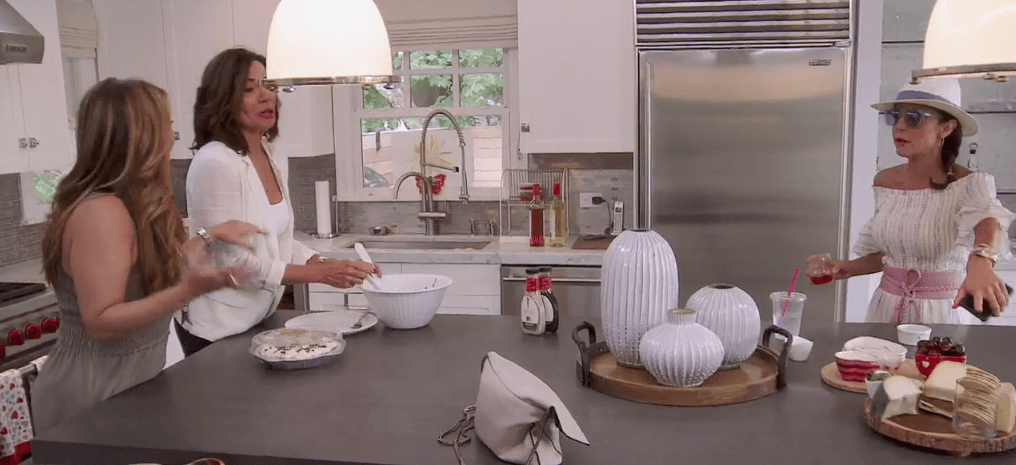 Ramona welcomes Dorinda into her home, who immediately launches into banter about Luann. Luann accuses Ramona of dropping lies at the reunion, and Barbara adds that Ramona's public snubs are getting old. Luann is ready to slay the Singer-stinger, but is worried about dealing with Dorinda. She believes that Dorinda is one angry bitch, and Bethenny describes the broken friendship as a standoff. Luann is peeved that she hasn't reached out to make amends, and Dorinda confirms that she hasn't seen or spoken to Lu since March.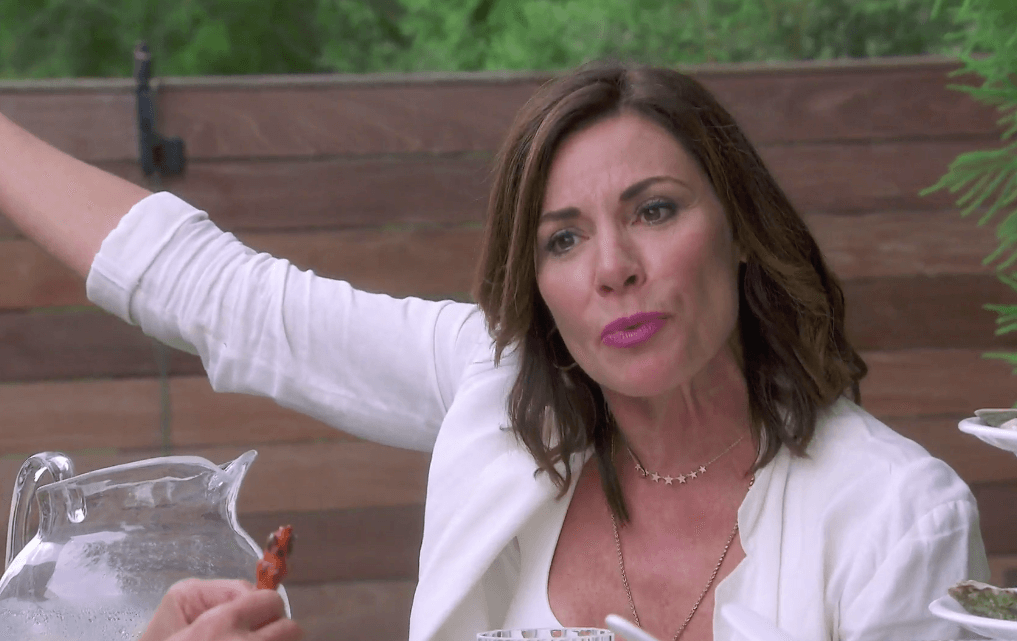 Dorinda has been hurt by Luann's cold shoulder shimmy, and is obviously bothered by the shattered relationship. Ramona busts in to remind us that Dorinda is a real peach — at least when she's in a good mood. Luann and Dorinda's Season 11 face-off is set to go down — but Ramona warns that Luann is in another "holier than thou" phase.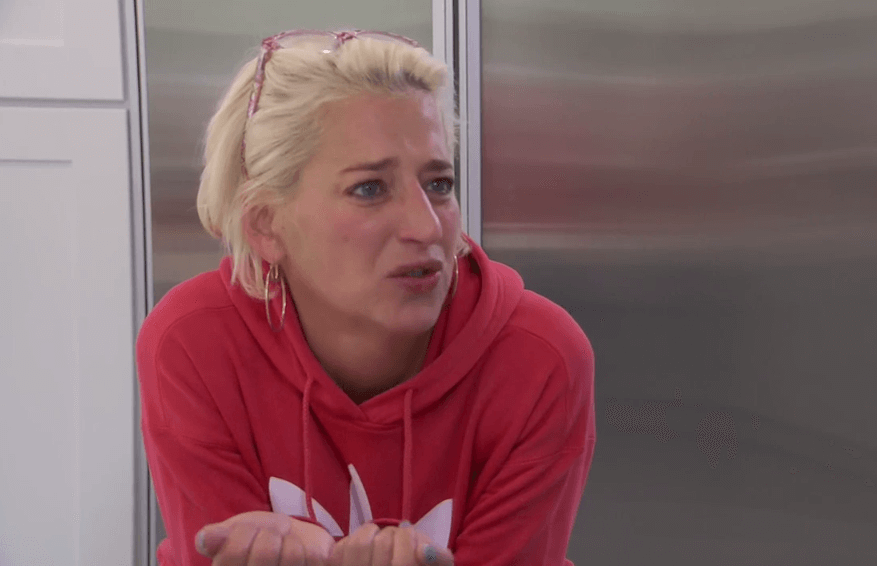 Bethenny advises Barbara to cut Dorinda from her clambake, and Luann adds that axing Ramona wouldn't be a bad idea either. Luann and Dorinda both need space — and lots of it.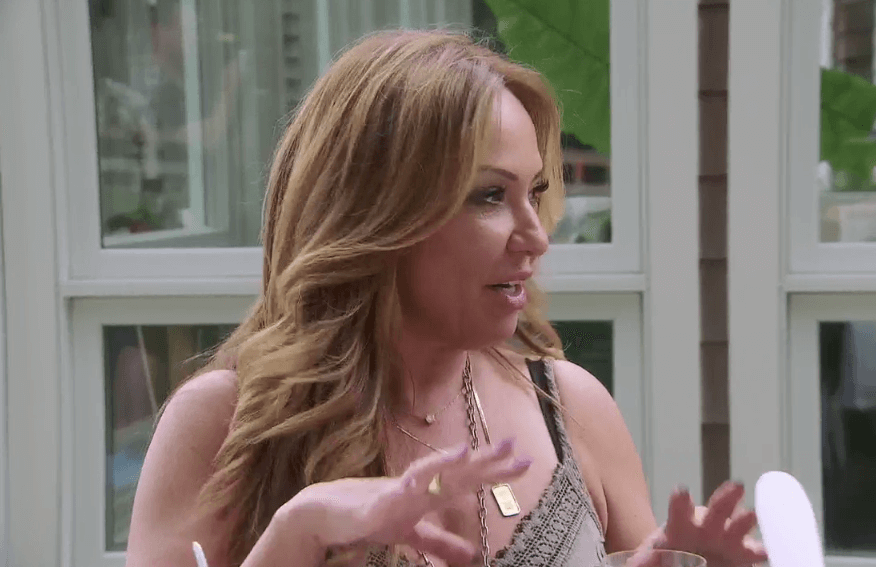 Season 11 of the Real Housewives of New York looks like another doozy — so hold on tight!
"Like" us on Facebook  "Follow" us on Twitter and on Instagram