RECAP: Teresa Tackles Cheating, Joe's Deportation & Barks At Jackie On 'RHONJ' Reunion!
We start the Real Housewives of New Jersey reunion part two where we left off last week — with Teresa Giudice losing her ever-loving mind.
Jackie Goldschneider accused Teresa of having a ghost writer for her books. In fact, Jackie met the woman at Milania's party. That accusation was all it took for the old table-flipping Teresa to make an appearance (hard blink, hard blink). She literally tried to rip the note cards out of Andy Cohen's hand to try and hurl them at Jackie. But ever the cool customer, Jackie reminded Teresa that throwing things wouldn't sit well with her parole officer. Zing! Point to Jackie.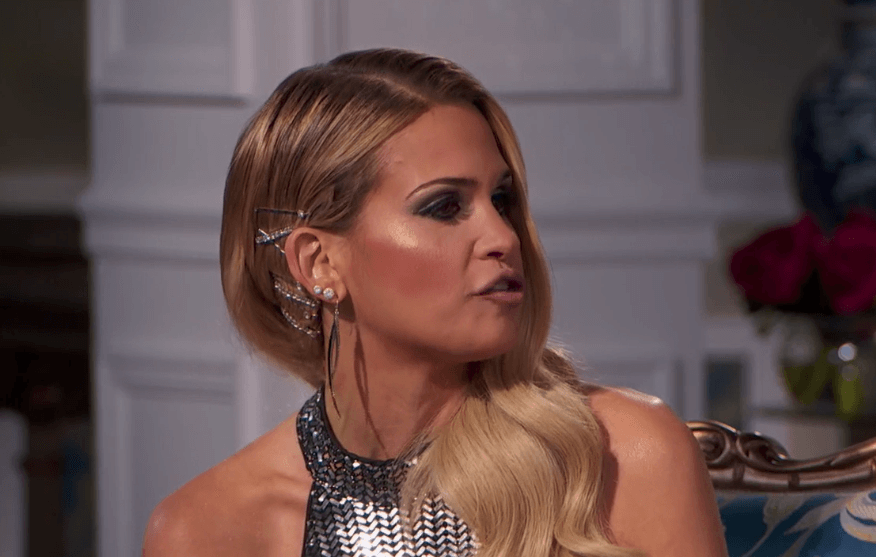 Andy moved the ladies along by questioning Jackie about the article — the one she wrote about Jennifer Aydin's over-the-top, lavish home and her spoiled kids. Although, everyone agrees (except for Jennifer) that Jackie was actually very complimentary towards Jennifer's children, Jennifer didn't appreciate the critique on her parenting skills. I think I can speak for most of us when I ask: what parenting skills? Anyway, Jackie realized that she should have told Jennifer about the article beforehand.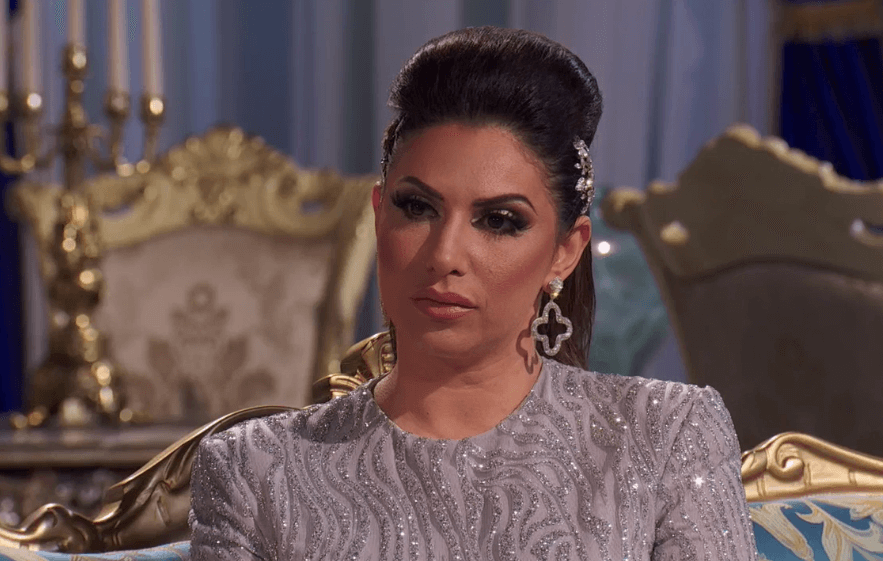 And now for the family feud portion of our program. Andy wondered why Dolores Catania could speak for Teresa, but when Jackie stood up for Melissa Gorga, Teresa thought Jackie was out of line. The conversation centered around Teresa insisting that Melissa should force husband, Joe, to visit his dad more often. Melissa pointed out that she doesn't control Joe. But at the reunion, Teresa said Melissa should have been able to "persway" her husband. Andy had to school Teresa on the correct pronunciation.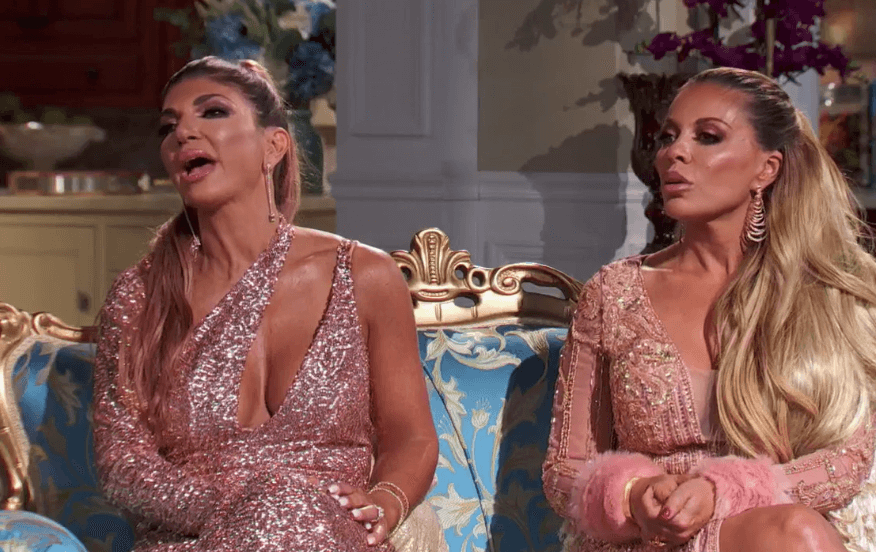 Next, Jackie clarified her parents' legal situation. When she was in high school, her mom and dad were sentenced to serve time, but her father went to a halfway house and then had six months of house arrest. Her mother also had six months of house arrest, but they served at different times. Apparently, Jackie's parents didn't want to be homebound together. Those two don't even live in the same house these days, so I guess that makes sense.
And speaking of parents, we watched a montage of the oldsters acting loony. Marge Sr. got her hooha tightened, Jackie's mother received a makeover, Dolores's mom refused to eat vegetables, and Tre's father performed a little dance. Sadly, Jackie's mom didn't keep up her new look, but Marge Sr. took her vagina for a spin with an old boyfriend. Jennifer admitted that though her mother might be fun now, but during Jennifer's teen years her mother's only objective was to marry her off to a rich man. Once she hooked her plastic surgeon husband, Bill, Jen's mom loosened up and stopped insulting her "fat ass."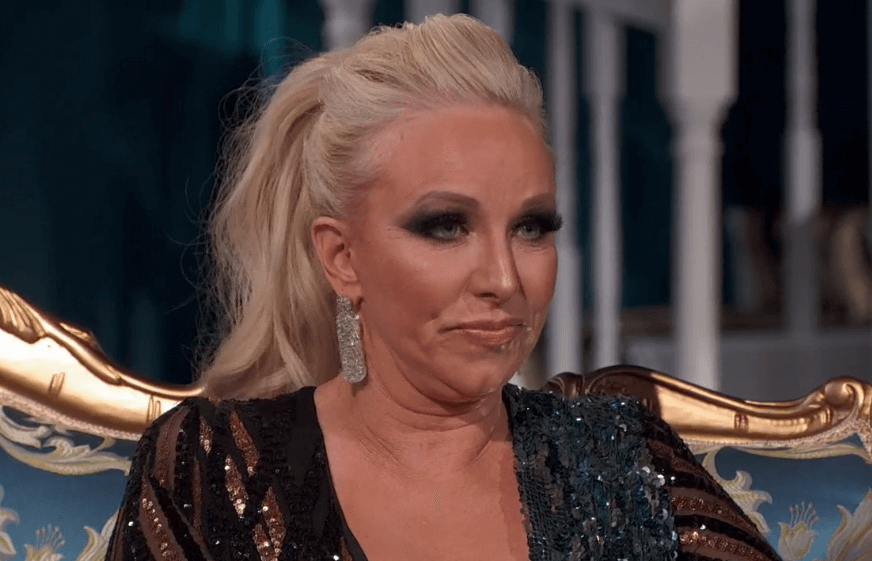 Jennifer's Turkish community was shocked when she signed up for a reality show. They're a very private culture, never boasting about what they have or how much it cost. Pretty much the opposite of Jennifer in every way. Andy mentioned Jen's palatial home and asked if she had pooped in all sixteen bathrooms. Yeah. He went there.
In the battle of tacky houses, Jennifer shot at Marge Josephs by pointing out that Marge used a clothes rack, while Jennifer had a beautiful closet. Marge claimed that she spent the same amount of money for her house in tony Englewood that Jennifer spent for the manse in Paramus. Englewood is close to the city, unlike the Taj Mahal on the highway. Point to Marge!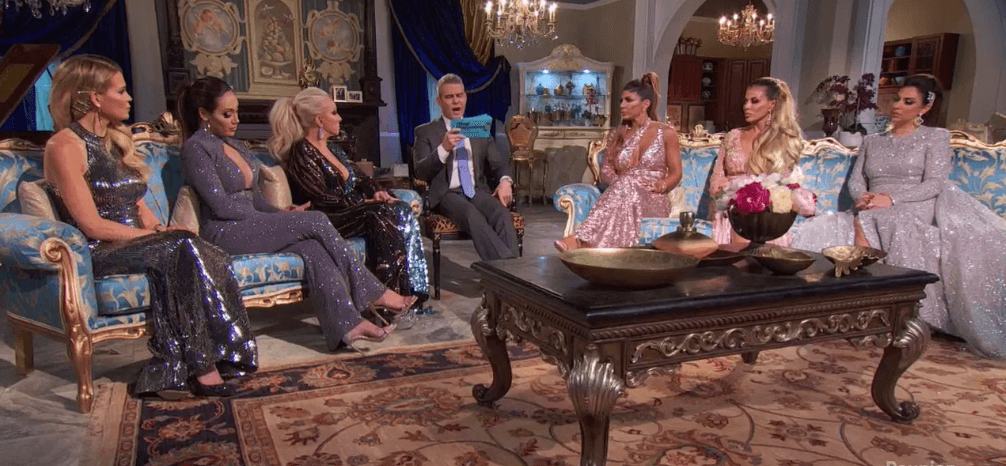 Jennifer spoke more about her culture, saying she waited until marriage to have sex with Bill. She assured us there was a lot of dry humping, though. When Jennifer refused to answer if she'd had sex with someone before Bill, her face said it all. Yep, Jen totally did the deed with someone other than her husband.
Over to Teresa. She's has been getting along just fine without her husband, Joe, sitting around the house chugging down the wine. She's become an independent woman, and that included entering a body building competition. Teresa's self-discipline toward her diet amazed all the women.
When Andy asked Teresa about her reported younger boyfriend, she admitted to a meet and greet on New Year's Eve. Lots of fans wanted time with Teresa. She kissed some, she hugged some, and she let some dude stroke her leg. And so what if she wasn't wearing her wedding ring? Nothing to see here, Andy. Just move along, sir!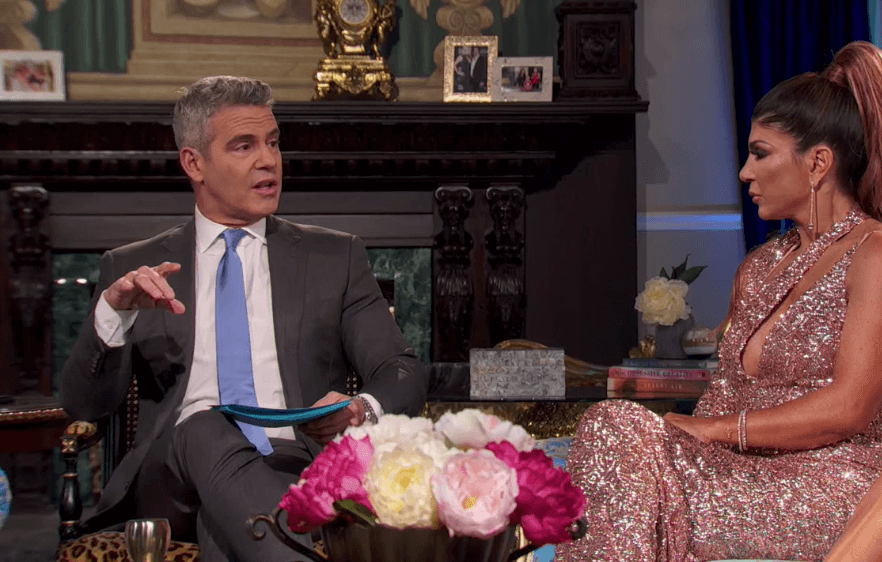 When Melissa touched on looking for her sister that may or may not even exist, Teresa reminded Melissa that she's a sister, and Melissa basically ignores her. Then Teresa criticized Melissa for sitting next to Jackie for the reunion. Melissa pointed out that the producers told them where to sit, but that wasn't a good enough answer for Teresa. She accused Melissa of siding with people like Jackie. You know, people who don't kiss Teresa's perfectly toned ass. Teresa sent a few more jabs toward Jackie as she manically stroked her long ponytail. (Blink, blink, blink.)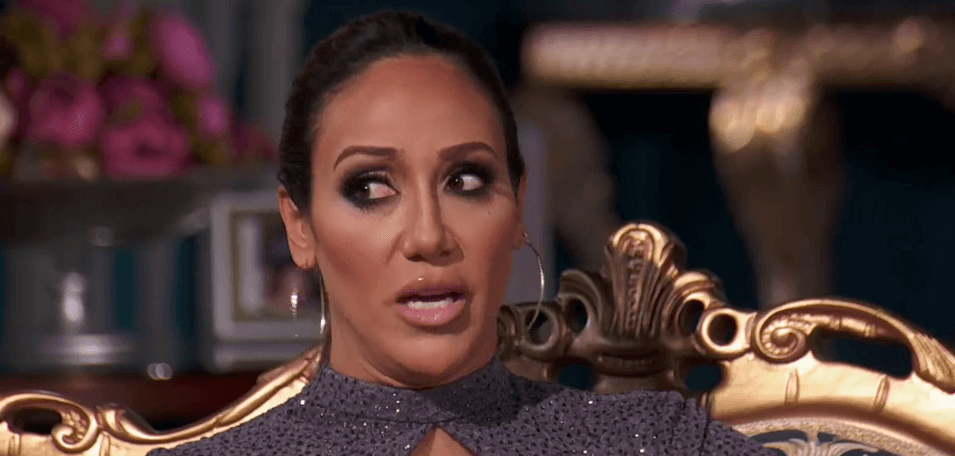 Then the argument between Melissa and Teresa heated up. Teresa insisted she loves Melissa. They're family, after all. But Melissa wasn't feeling it. Andy asked why Teresa kept placing Melissa in the middle of her disagreements with brother, Joe. To answer that question, Joe Gorga stepped onto the stage to speak for himself.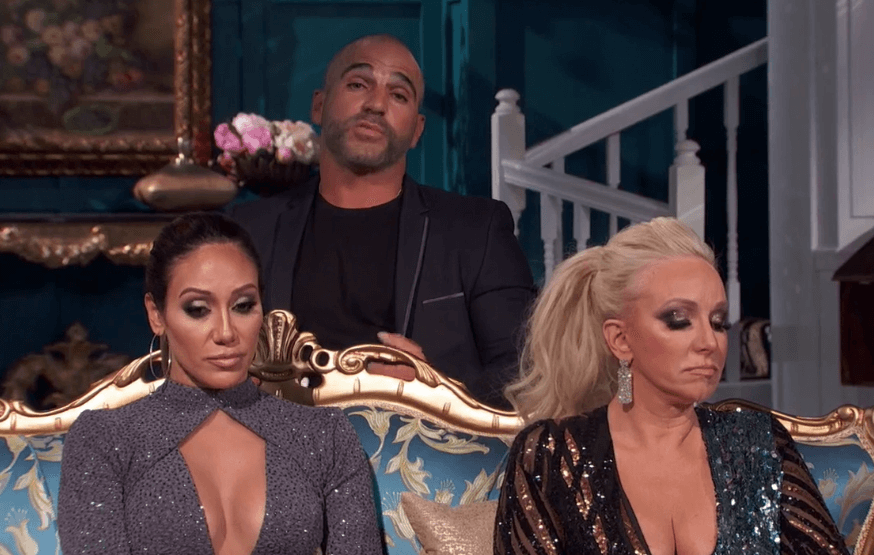 Joe's wife couldn't control him if she tried. Andy reminded us that Joe Guidice used to be in Papa Gorga's ear, running Joe down for not spending time with the family. Joe Gorga thought it was because Teresa's husband had too much time on his hands. If Juicy Joe had been running a legit business, the way Joe Gorga did, he would have been too busy to stir up tensions with the family. Oh, and he probably wouldn't be in jail right now either. Zing!
Andy pointed out that Teresa complained about Joe not spending enough time with his dad, but she left her Pop with the kids to go work out twice a day. Teresa turned it around, saying she had to work because she was a single mother and a sole provider. Once again, Teresa doesn't understand words. Work out, Tre, not work. Pay attention. Puh-lease.
Joe thought Teresa's problem was a lack of orgasms. He told her to use her vibrator more often. Teresa laughed. I cringed. Just when we thought Andy had put this subject to bed, he asked again if Joe could be controlled. Nope. Because unlike Danielle Staub's ex-husband, Marty, Joe has balls. He might suck every part of Melissa's body, even her toes, but she doesn't boss him around. Gross!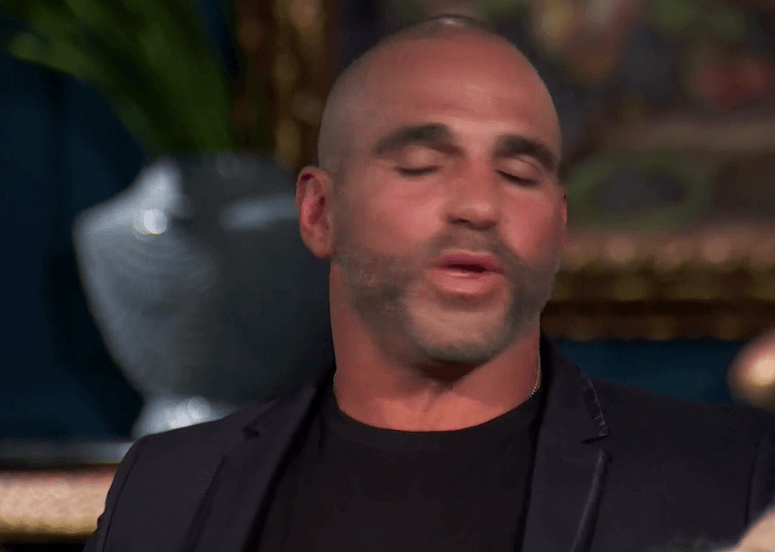 When Andy asked Jackie her opinion on the matter, Teresa blew up again. She's jealous of Melissa's friendship with Jackie. Besides, Teresa is still harboring a grudge about Jackie saying that if Teresa could control her husband, he wouldn't be in prison right now. Teresa whipped that ponytail over her shoulder and petted it like it was an emotional support dog.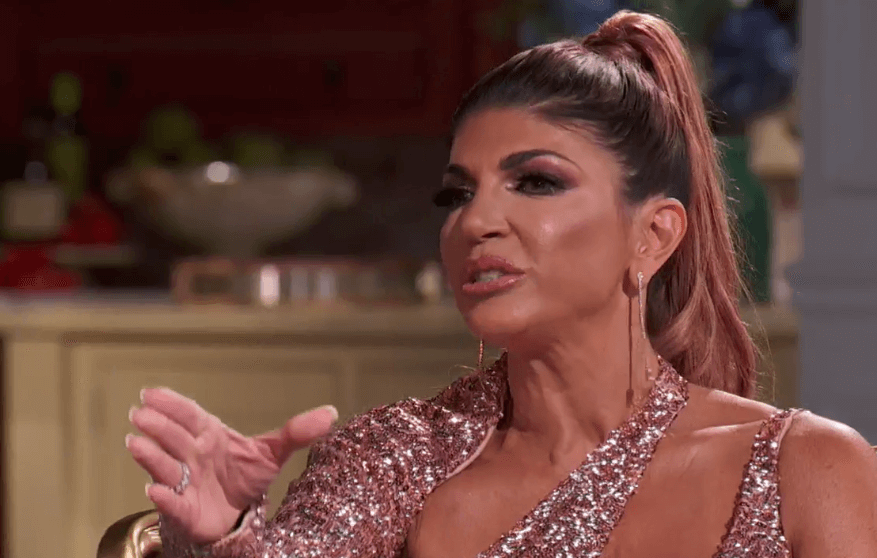 Joe broke up the squawking by to cut the shit and shut up. Thank you, Joe!
We were treated to footage of Joe Guidice and Teresa going through their past legal problems. Flashbacks of Teresa coming home from "camp" played out. In the corner of the screen, we saw the women react. Marge wiped away tears as Teresa stoically watched her life play out on the screen.
Admitting no responsibility in her situation, Teresa blamed Joe for sending her to prison and stealing time with her mother. If Joe were to be deported, Teresa said she wouldn't uproot her kids. He'll be heading for Italy alone.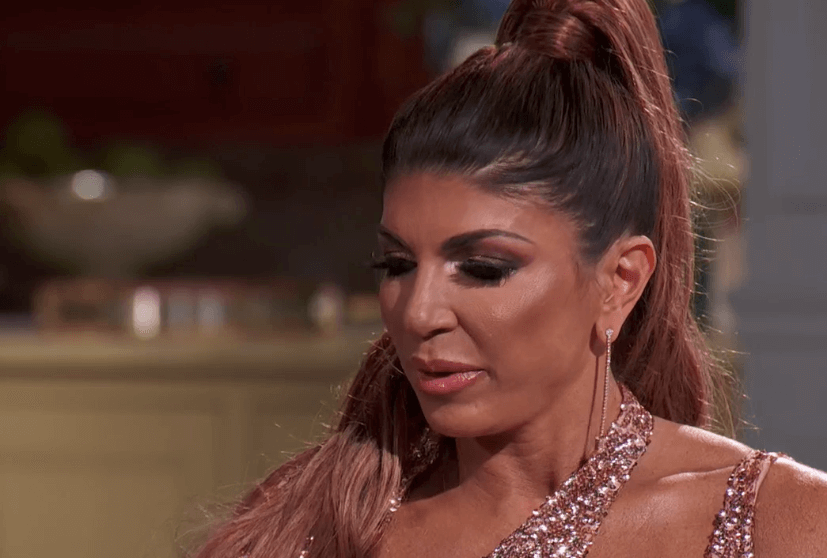 The teaser for next week's reunion episode showed Danielle Staub joining the women. Can't wait to see a Marge/Danielle showdown.
So, do you think Teresa's hatred of Jackie is irrational? And has Teresa been faithful to Joe or was that man stroking her thigh more than a friend?
Tune into The Real Housewives of New Jersey Reunion Part 3, Wednesday night, at 9:00 p.m. ET, on Bravo.
"Like" us on Facebook  "Follow" us on Twitter and on Instagram 
I'm a fiction writer by day and a reality TV addict by night.