Sister Wives
RECAP: 'Sister Wives' Christine and Meri Try to Recover Their Relationship!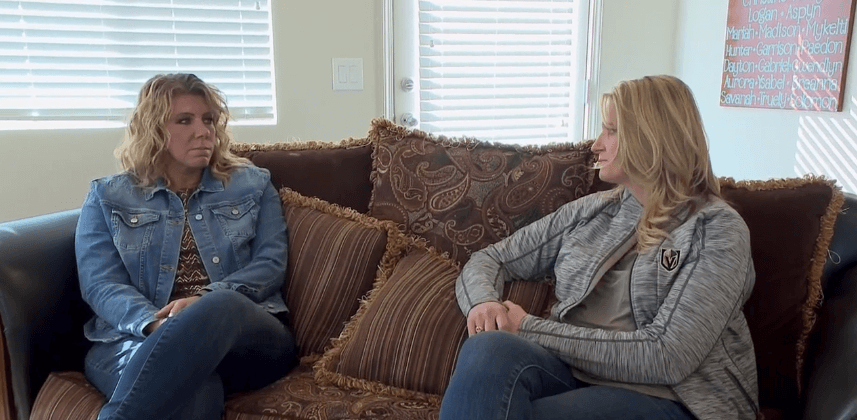 The relocation debate is raging on Sister Wives , and Kody Brown is busy selling Meri on a move to Arizona. Kody is even kicking around the disastrous idea of building a single home, or even a condo complex, to house his harem. The ladies finally decide that they're up for a cul-de-sac redo, but agree that there's no way that they can live in the same space.
We hear that Mariah and Audrey will be freeloading for the summer, until Mariah's grad school phase takes off. Kody's furrowed brow wants the gal lovers in separate homes, but Meri reminds him that she has lots of separate rooms. Kody is worried about facing a dicey sex lecture, but Meri assures him that she will keep the girls from romping under her roof. Kody shifts gears and reiterates that he's itching to ditch the Vegas scene, because after all, he's no city slicker. The wives are bucking his country boy dreams, and Meri is ready to throw in with the naysayers to really tighten Kody's man bun. 
An awkward dance lesson goes down next, because Mitch and Aspyn want their first wedding dance to be epic. The ladies are up for the secular tradition, and cheer the lovebirds' initiative. The Browns are dancing fools, and can't wait to mosh it up on Aspyn's big day. Mitch and Aspyn tiptoe through a few moves, and are happy with their first go-round.
Meri and Christine are ready for Round 2, in their ongoing pursuit of sister wife tolerance. The duo evidently decided to wait for TLC cameras to pick up from last season's mashup — and Phase 2 begins on Meri's couch. Christine apologizes for putting Meri in an "unsafe" place in Round 1, realizing that her approach was harsh. Christine points out that they're virtual strangers, and the ladies agree that they need to actually talk once in awhile. Christine admits that being buried in children has been isolating, and Meri admits that she should have fessed up about her own struggle with Kody. Meri promises that she's not a perpetual angry bitch, even though she perpetually looks like one. Meri hates being on the outside looking in, but Christine notes that she sure seems mighty comfy out there. The ladies high-five to pulling off the filmed exchange, and agree to resume their peace talks next season.
Mariah and Audrey have a big announcement, and the wives are hopeful for another engagement. The ladies simply adore them as a couple —and enthusiastically screech their support for a same-sex wedding. Mykelti and Tony make a supersized appearance, but Kody and Robyn aren't present, because they're scouting Flagstaff for a new cul-de-sac. Mariah announces that they're Chicago bound, and the wives are thrilled at the prospect of having somewhere to booze on St. Patty's day. Meri is proud of Mariah, and the family hopes that the duo will eventually head down the aisle.
Kody and Christine take off for Flagstaff, which Kody has determined is liberal, in an uptight-groovy kind of way. Christine is thrilled to have Kody all to herself for her birthday, and Kody hopes that a gigantic move will be the perfect gift. The kids are coming around to the relocation idea, and Christine believes that the Vegas shooting horror has lots of people spooked. Kody knows that Flagstaff will be pricey, but doesn't really care.
Janelle holds a family powwow, because due to her imperceptible passion for hiking, she's all in for the move to Arizona. The kids are a mixed bag, but Gabriel is a strong no. Janelle comforts her son by congratulating him for not being depressed, adding that the great outdoors is better than a girlfriend, any day. Gabriel points out that his mom is a dumbass, and adds that he's heartbroken about arresting his high school roll. Meanwhile, Kody and Christine meet up with their realtor, who's giddy to nail her first quadruple sale. Kody is building on last week's sweaty presentation, and hopes to shove all the gals into one home, after he drags them out of Vegas. Kody is freaked about downsizing, because he knows that getting rid of crap will be a challenge for two wives — who shall remain nameless. They check out some model homes and property, but Kody's wind-whipped mop has doubts. 
Meri and Robyn later get together for a chat, Meri taking a break from her glamorous jet-setting career for the meeting. Robyn and her daughter share that they were dramatically won over by the majesty of Arizona trees. A patch of sparkly land captured Robyn's family's heart, but only time will tell if Meri caves to the captivating landscape. Back in Arizona, Christine and Kody escape the wind and check out another model home, and Kody is forced to confront the fact that less is more in Arizona. They visit Robyn's sparkly dream dirt, and Christine feels the magic. It's cold and breezy, but Christine votes yes anyway. Christine believes that Janelle will shuffle-hike over to Team Sparkle — but Meri remains a wild card. 
Next week on Sister Wives , Meri checks out the Flagstaff property — but will she feel the blustery love?
"Like" us on Facebook "Follow" us on Twitter and on Instagram