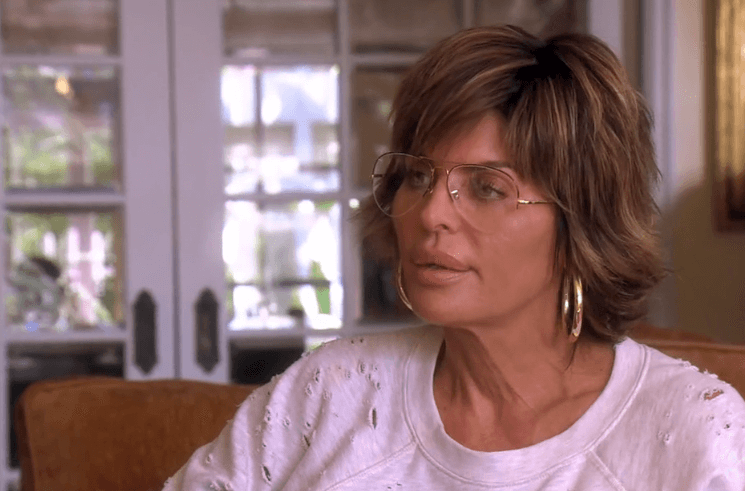 Welcome back to The Real Housewives of Beverly Hills! The RHOBH ladies are gearing up for a girls' trip next week where the fighting commences, but for now, we are still in the "getting to know you" and "let's be nice" phase. The highlight this week is hearing Charlie Sheen's voice!
We begin with Kyle Richards and Lisa Vanderpump, thick as thieves, going to get some "treatments" because it's Tuesday? Lisa is getting her neck shot up with fillers while getting high on laughing gas. Like a porn star, Lisa says, "Oh, I like that. Ooohhh, it's so good." Ken should install one at home. Meanwhile, needles are going into Lisa's neck whilst she chuckles, but thankfully the doctor doesn't hit an artery. Kyle has no clue what procedure she wants. It's so tough to choose, you know. It's like going into Hermes and picking out just one bag. The doctor recommends scotch tape for Kyle's forehead. We recommend scotch tape for her mouth.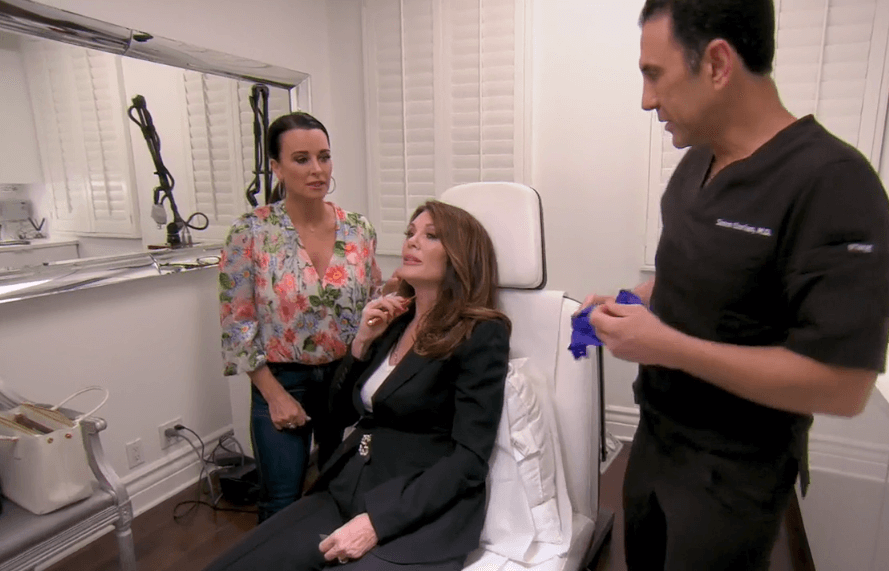 Up next we check in with Erika Jayne, Lisa Rinna, and Dorit Kemsley, all of whom are dressed horribly. They order drinks, and Erika does something crazy. She orders a beer. OMG. Dorit and Rinna gasp, then call Erika brave when she drinks from the bottle. Yawn. Dorit tells the girls about her house getting robbed and the dog going to the shelter, and this has exhausted her so much she needs a girls' trip. Guess Utah didn't do the trick. Anyhow, they decide on the Bahamas because that's who provided the most free stuff Dorit's sister said it was fabulous.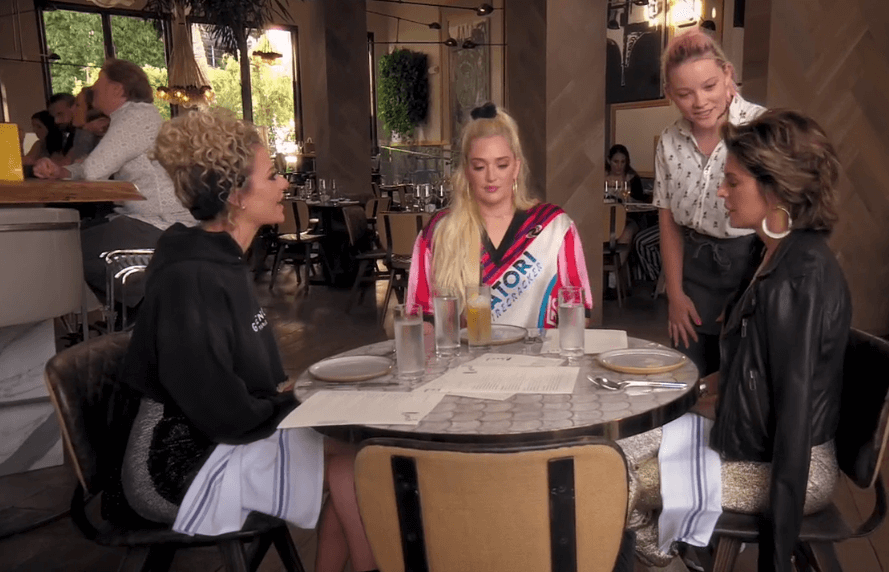 Next we visit Denise Richards' house. She's hanging out at her Malibu home, front row on the beach, with her daughters and her boyfriend, Aaron. Sami and Lola are the beautiful daughters of Charlie Sheen. Denise thinks because she and Charlie are both nuts, this gives their daughters a shot of being normal. Me thinks her rationale is nuts. Her third daughter Eloise was adopted and is not the daughter of Charlie and a hooker, despite the rumors. My money's on this kid for being the most successful.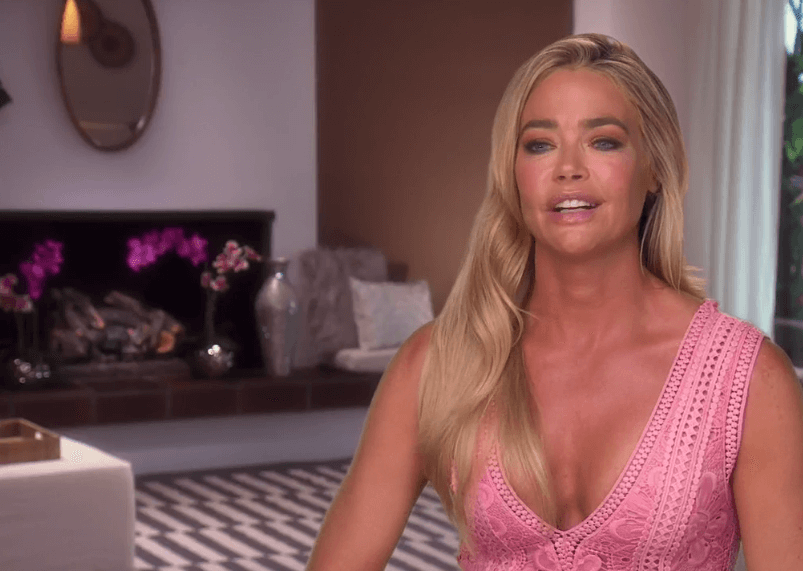 Aaron has just moved in and Denise says he's her soulmate. He can grill, too, so bonus! Aaron does frequency work??? Whatever that is. Denise says he's the opposite of Charlie Sheen (except in looks) in every way. We finally hear from Charlie.  Sami wants to go to the homecoming dance if a boy asks her. She's 14 and Denise says she can't date until 16. Sami calls "Dad" to see what he thinks. Charlie tells Sami he trusts her daughter's judgment more than his own and she can go. Denise disagrees, but gives in, or at least doesn't argue about it in front of the cameras.
Next we join Dorit and PK for a cocktail in their home they won't have for long and pretend life is wonderful. When Dorit tells PK her idea for a girls' trip, his first response is, "You're not going to ask, Teddi." Dorit says she's willing to throw Teddi another bone, especially since there are no dogs in the house who need one. PK thinks his wife is supercool to give Teddi another shot. Of course he does.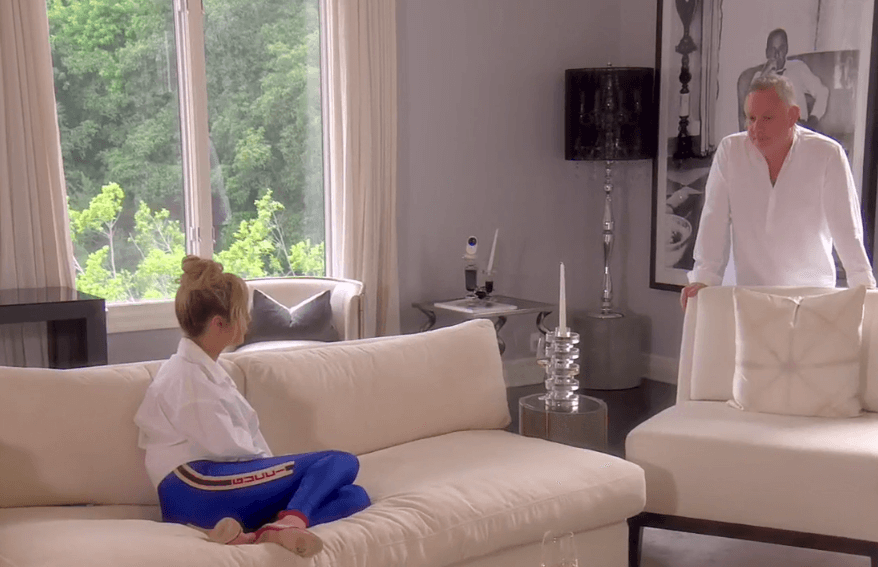 Lisa Rinna and Teddi Mellencamp meet up on a trail that is loved by Harry Hamlin. They don't make it very far before seeing a rattlesnake and sit down at the first bench they come across. Teddi tells Lisa how busy she is with her business and her new acting career. Back in the day, Teddi used to want to be an actress, but was told to lose weight. For some reason, Rinna – the skinniest chick ever – is shocked by this news. Teddi says she quit acting after this, but is back now and being accountable. They show a clip of Teddi acting and she doesn't suck.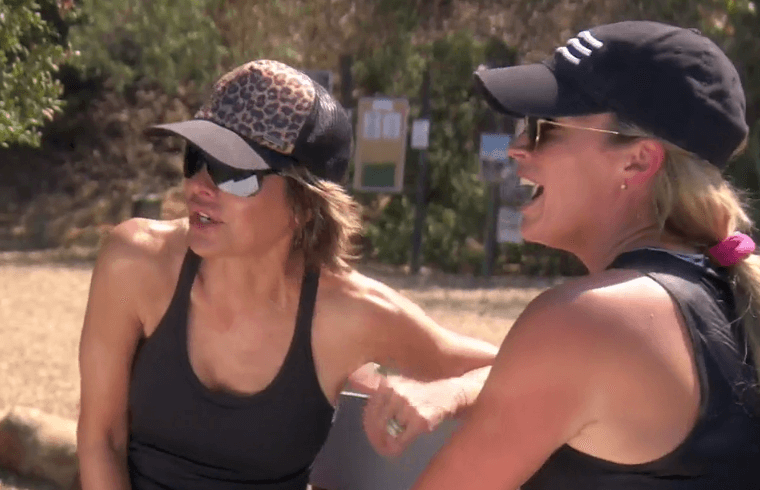 Next, Kyle stops by The Agency to see her husband, Mauricio. Speaking of weight, he might be stress eating. Mauricio Umansky says his neck is killing him and Kyle's eye is still irritating her. These two obviously need help. Kyle thinks her slow-blinking-eye is because Sophia is leaving home. Mauricio reminds her that all the children have left home and they have all returned because they are rich. Kyle only feels complete when all her children are home…or her many dogs. Mauricio tells her Portia will leave soon, too, kicking Kyle's SBE into high gear.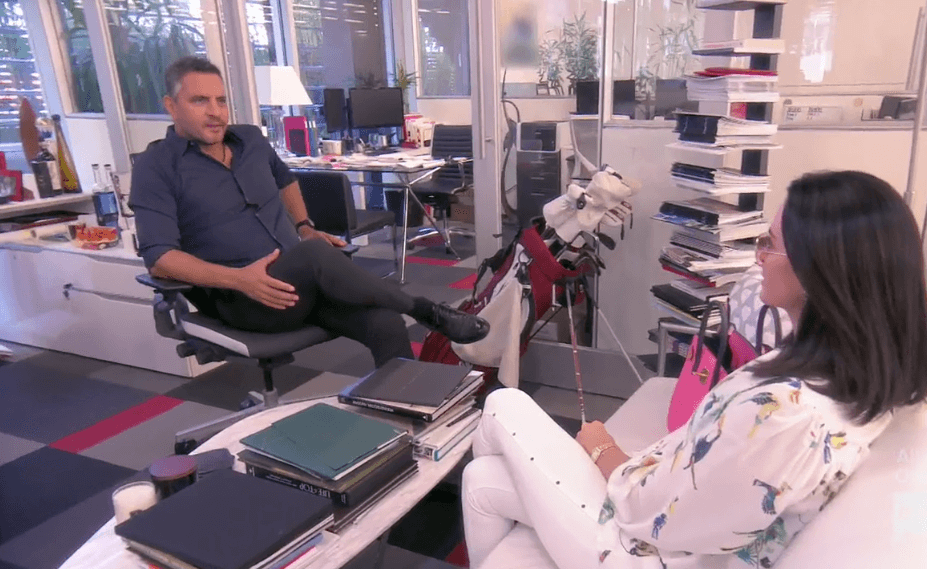 Up next, we are at Rinna's house. Daughter Amelia has a new puppy who wants to nurse her boob. Amelia describes a sad situation of a mom and daughter at the nail salon who looked like they were suffering. Rinna asks if they were skinny, which is weird because suffering can take many forms, but she was right. Amelia is upset because she doesn't want others to have an eating disorder like she does/did. And she wants people in the entertainment industry to stop putting up the façade of perfection. Rinna denies ever having anorexia in her testimonial and crickets can be heard chirping. But no matter what, she is very proud of Amelia's progress and passion.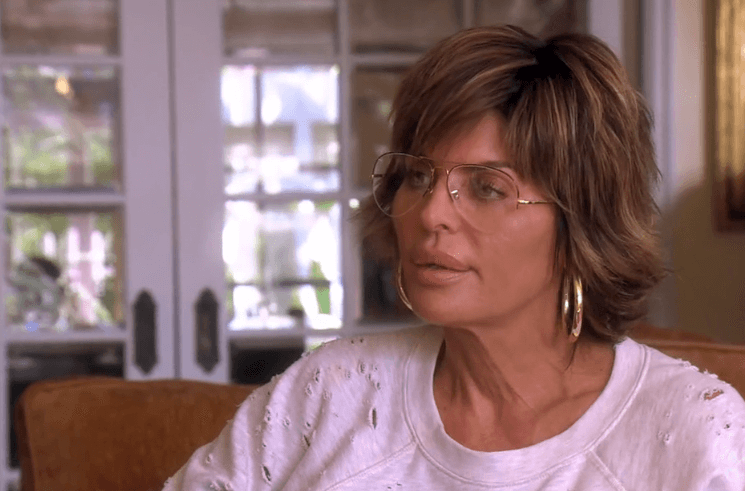 Later that week, Rinna has the girls over for a sexy pastry party because she's tired of posting bikini selfies and getting slammed for it. Everyone will be there but Kyle who's tasting Tequila with a friend and Lisa who is emotionally depleted and can't take these female dogs bitches right now. Lisa joins Ken for lunch and they discuss the Bahamas girls' trip. Ken says she must go, but Lisa doesn't want to leave Giggy. Poor little fellow is very sick and needs a pacemaker. Ken promises to keep Giggy close and check in on club TomTom. Lisa says she wants to have fun with Kyle and Dorit even though Dorit handled the whole dog thing wrong.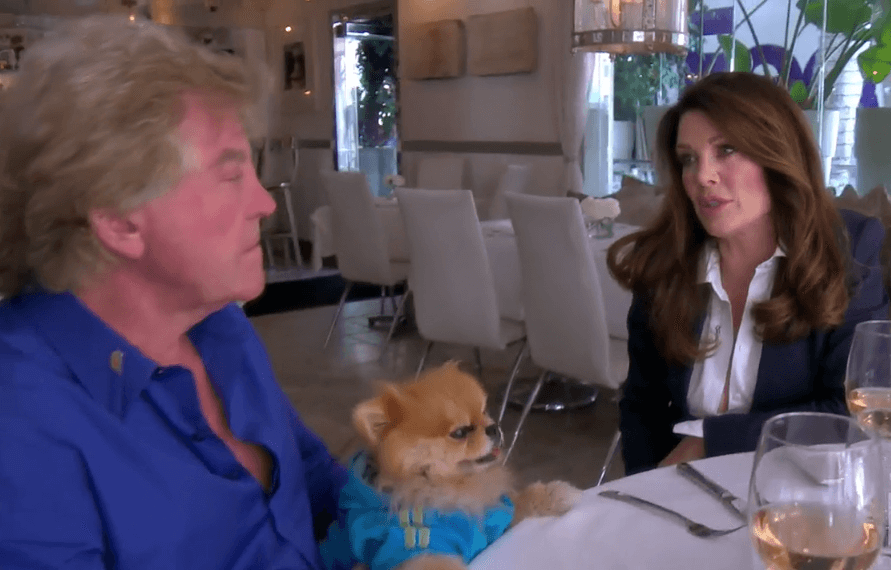 Back at the pastry party, the ladies are enjoying filling their chocolate hearts with goodies and decorating them with gold. The next room is set up for free love with edible flowers. I'm not sure if they're the pot kind, but champagne is also served. Erika asks Denise how she met Aaron. Turns out they met at his anti-aging wellness center where they had sex in one of the rooms. Strictly for anti-aging purposes, I'm sure. Erika shares that her porn star dreams feature Denise and Aaron. That's so Erika. Yawn.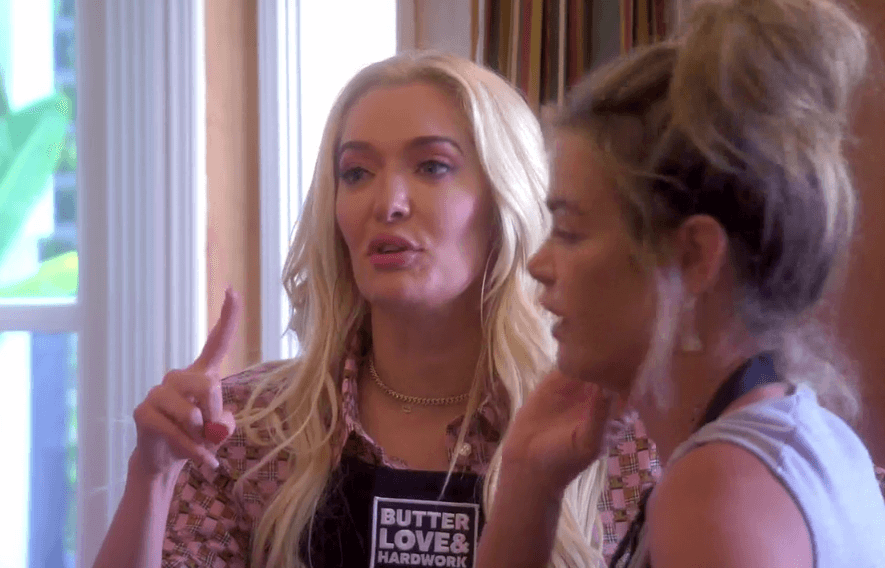 So Denise and Rinna have something very interesting in common – Nicolette Sheridan! She was the ex-wife to Harry Hamlin and she is the soon to be ex-wife to Aaron. Six degrees of Kevin Beacon! Denise says as soon as the divorce is final she and Aaron will be married. Rinna says Nicolette left Harry for Michael Bolton and she thanks Michael every day that his ponytail and saxophone lured her away.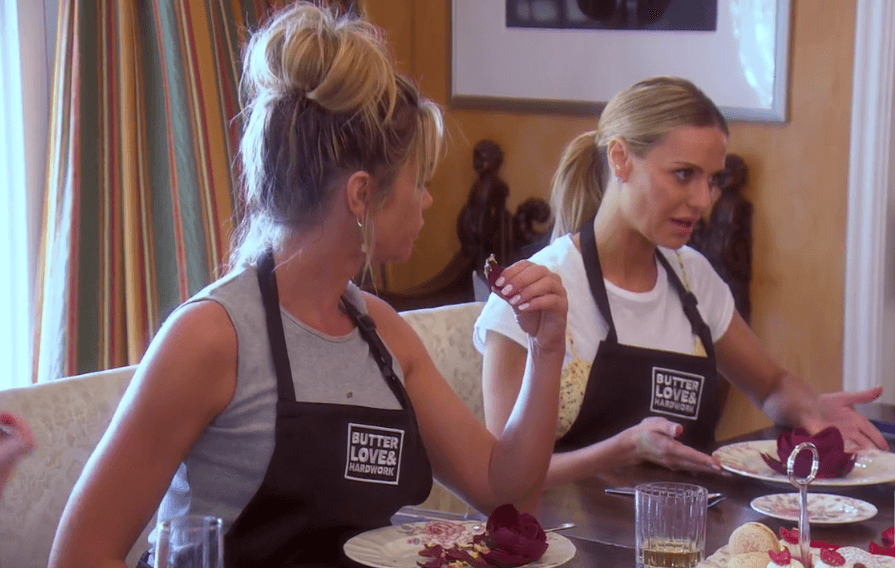 Denise asks Teddi how she met Edwin – at a bar, they slept together right away, and now have sex twice a week. Denise can top that, she and Aaron have sex every day, even if they're not together. Of course, they're not married yet. We'll check back five years from now. With both of them.
The ladies are packing for the Bahamas, but of course, Erika needs her glam squad. Real quick side note on Erika's hair/wig in her testimonials. Is it me or is she channeling Carol Channing? Anyway the girls meet at the airport and board the Baha Mar private jet. It's the only way to fly. Dorit tells the girls about the plans for the private island and their rooms. She offers to share a suite with Lisa Vanderpump but Lisa isn't interested. Ouch!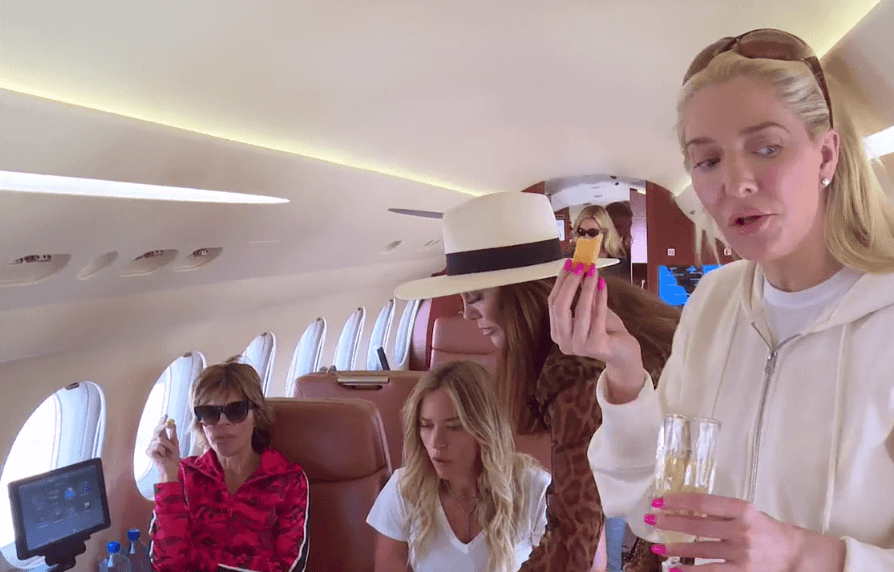 Next week on RHOBH! The weather and water might be beautiful in the Bahamas, but storm clouds are brewing as the women gang up on Lisa Vanderpump.
"Like" us on Facebook "Follow" us on Twitter and on Instagram