Featured
RECAP: 'Sister Wives' Kody Tells The Wives They Need To Sell Their Houses and Move — Janelle Freaks Out!!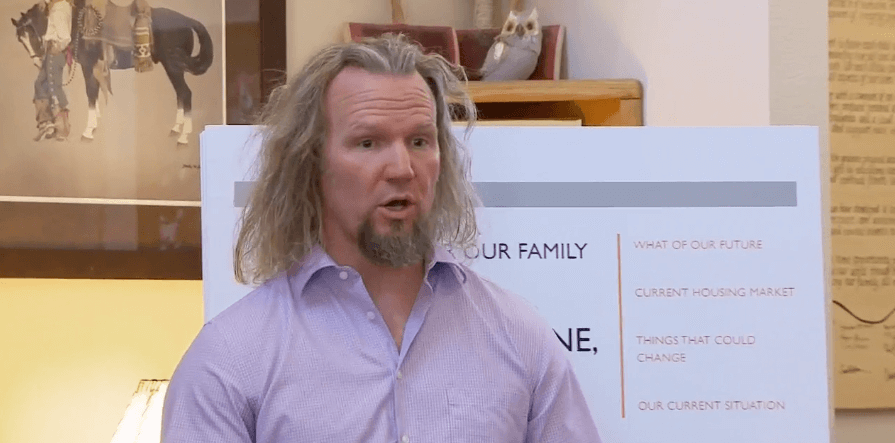 Sister Wives begins with Kody Brown preparing to present Project Relocation to his resistant wives. Kody breathlessly gasps his way through his professional setup, designed to convince the harem that he's not a complete idiot. He finally summons the ladies to the dramatic family summit, hoping to sell the plot hard. Janelle smells a shaggy haired rat, and Kody is sweating bullets. Kody takes a deep breath, and after droning through a recap of their harrowing escape from Utah, drops the bomb. Kody admits that the family is a dysfunctional mess, and adds that he'd love to lead them to a united utopia. He explains that their janky businesses actually lose money in Vegas, before outlining his plan to run for Utah office and change the world. 
The Utah legislature has dismissed his desperate bully act, and Kody believes that their destinies hang in the balance. Christine tries not to giggle, Meri Brown votes no thanks, Janelle votes heck no, and Robyn votes um no. Kody must escape his personal exile, but Janelle is willing to sacrifice "equity" in order to keep the kids stable. Kody gives them a pop quiz at the conclusion of his pitch, and the ladies come through, obediently nodding and agreeing that unloading the mcmansions now would make financial sense. Janelle doesn't want to freak her kids out by another move, and Christine agrees. Meri assures them that she only desires a Plan B life in Utah, her enthusiasm visibly shocking everyone in the room. Janelle  is a wreck over the prospect of leaving Vegas, but Kody's mind is made up. The group continues to debate the decision, and shares concerns about being accepted as a polygamous cult in another state. The kids aren't deemed freaks in Vegas, and the women are scared to throw a wrench into their futures. Kody believes that God is on his side, and hopes that the wives will get with the program. They end the high pressure powwow with a prayer.
A girls trip to Seattle is on the schedule, where the wives plan to score hats for Aspyn's wedding. The gals gather to talk it over, but first group-bash Kody for his nincompoop plan. They agree that another move will be rough, before shifting gears to nail down details for the girls trip. They'll meet up with Mitch's mom, hat-crafter Hannah, and are excited about bashing Kody in a fresh new environment.
Another wedding dress shopping jaunt is next, and Aspyn wisely cuts Meri and Janelle from the fashion narrative. Aspyn's dream dress is white, drapey, modest, and off the rack. The gaggle chatters endlessly about naked backs and covered fronts, before deciding on a bedazzled winner.
The ladies prepare to take off for the great hat adventure, because in case you hadn't heard — Seattle Hannah MAKES HATS. Christine runs down household instructions for Kody, but Robyn has full confidence that Kody can pull off feeding the kids for a few days. The gals are excited to cruise around on segues, and leave cul de sac drudgery behind. They arrive in Seattle, and continue to banter about the logistics surrounding their possible move. Christine is extra concerned about Gwendlyn, who is socially excelling at school. She reveals that she put in a request to stay behind, but Kody turned her down. They agree that they can all downsize, and like the idea of moving to St. George, Utah. Robyn melodramatically mumbles about her abused "free agency," adding that it's un-American to diss their icky lifestyle.
The ladies flood into Hannah's home, a cute apartment full of hats. Janelle is scared to death to sport a chapeau, but Christine can't wait. The ladies take turns trying on options, and Meri  informs us that she's a sucker for fashion "edge," aka general hideousness. Janelle conquers her headwear phobia when they all decide to strut to lunch in some sample hats. Hannah shares her mixed feelings about plural marriage, and her thoughts on her son marrying into a TLC nightmare.
Meanwhile, Kody's spending dad time with and the kiddos, while basking in  his genius strategy success. Back in Seattle, the women are zipping along on segues, touring the city. Janelle quips that plural marriage is great, except for the first twenty years — which are always horrible. We've noticed.
Next week on Sister Wives, Christine and Meri  hash out their relationship, and Kody and Christine check out a potential new home city.
"Like" us on Facebook "Follow" us on Twitter and on Instagram